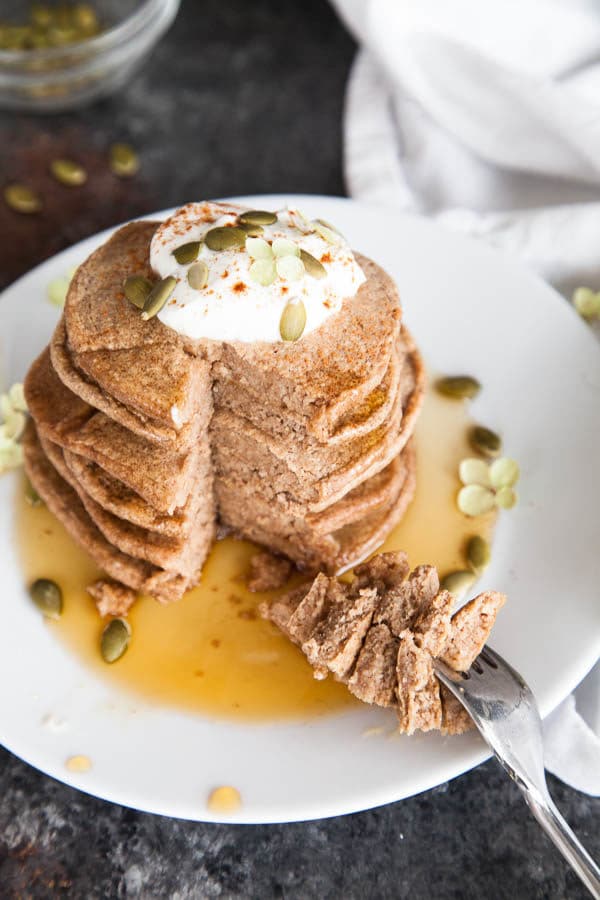 Lately, I've been exploring the many virtues of oat flour. Did you know that oat flour is just rolled oats blended so finely until they resemble flour? It's a miracle!
Second bonus: oat flour is gluten-free (as long as you are using certified gluten-free oats)! Major win!!
Oat flour can be substituted for regular all-purpose flour in many baked goods (muffins and cookies especially), which makes it so versatile! Note that oat flour makes baking more dense, so the addition of baking powder maintains a lighter consistency.
Chai Spice Oat Flour Blender Pancakes are made using oat flour and can be whipped together in literally 1 minute. If you have a high-powered blender, such as a Vitamix, all of the ingredients can be dumped in, blended on high until smooth and silky, and as soon as your griddle is sizzling, pancakes will be comin' atcha!
(And if you don't have a high-powered blender, I recommend taking the extra step to pre-pulverize the rolled oats into oat flour before adding the remaining ingredients to blend into pancake batter.)