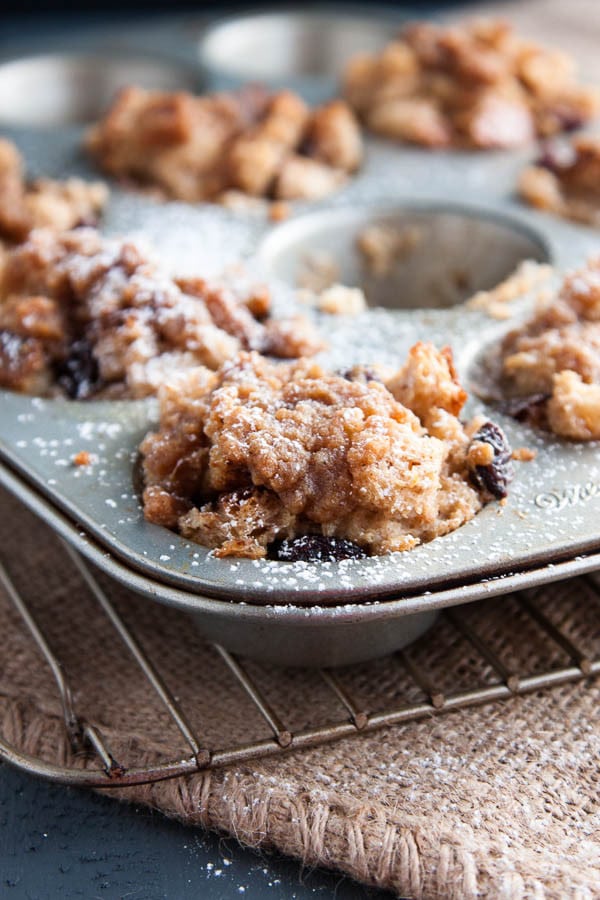 Soft, cinnamony, French Toast in the cutest bite-size form are sprinkled with chewy raisins and drizzled with a sweet and crunchy brown sugar cinnamon topping: it's Cinnamon Raisin French Toast Bites! It's French Toast To-Go!
…Is there nothing better than taking French Toast to-go? I think not. (And for real, I did take two of these Cinnamon Raisin French Toast Bites to work and ate them from tupperware at my desk yesterday. Not fancy, but so fun and portable!)
If I had to rank my favourite sweet griddle breakfasts, I would say:
1. French Toast
2. Waffles
3. Pancakes
There's just something about cinnamony sweet French Toast that makes it my absolute favorite! I love that French Toast transforms depending on the bread you choose – here I've used a basic country bread (pain de campagne, my neighbourhood bakery insists). You could use any white or whole wheat bread – be it a baguette or a sliced packaged loaf from the grocery store.
Once your bread of choice is cut up into cute little 1" squares, it gets drenched with a egg-milk-vanilla-cinnamon mixture. The key is to let the bread soak for at least 10 minutes, tossing once or twice. You want the bread to really absorb the liquid, which will create the softest French Toast Bites. Once it's good and soaked, spoon the bread mixture into individual cups on your muffin tray, mounding each like a muffin. Then drizzle each with the cinnamon melty butter and bake.
Cinnamon Raisin French Toast Bites are great served for brunch because you can pop them into the oven right when your guests arrive and not be slaving over the stove! They are also wonderful on a regular weekend morning – and I have even gotten up early on a work day to make them for a special treat!
Why save all the most delicious breakfasts for the weekend? 😉

Cinnamon Raisin French Toast Bites
Take French Toast TO GO! These French Toast Bites are sprinkled with chewy raisins and drizzled with a sweet and crunchy brown sugar cinnamon topping.
Author:
breakfast for dinner
Ingredients
For the french toast:
1 baguette / loaf of bread, cut into 1" cubes (approx 12 cups of bread)
6 eggs
1 cup 1% milk
1 teaspoon vanilla
1 teaspoon ground cinnamon
½ cup raisins
For the melty brown sugar drizzle:
3 tablespoons butter
2 tablespoons flour
2 tablespoons brown sugar
1 teaspoon cinnamon
½ teaspoon nutmeg (optional - but adds more depth of flavour!)
Instructions
Preheat oven to 350 F degrees.
Cut a baguette / loaf of bread into 1" cubes and set aside.
In a large bowl, whisk together eggs, milk, vanilla, and cinnamon. Add bread cubes and raisins and toss to make sure bread is fully coated with egg mixture. Let sit for at least 10 minutes to soak, tossing occasionally.
Once bread is soaked, spoon approximately 1 cup of bread mixture into each cup of a muffin tray, heaping like a muffin.
In a small bowl, melt the butter. Add the flour, brown sugar, cinnamon, and nutmeg and stir. Mixture will look like a thin paste. With a small spoon, drizzle topping over each French Toast Bite.
Bake for 20-25 minutes, or until tops are springy and slightly dry.
Notes
Recipe yields 12 French Toast Bites, serving 6 people, if each person eats two.