It's no secret that I'm obsessed with Overnight Oats. They're simple, quick, and filling.
But there are just some days when I'm not into eating cold oats. I'd way rather dive into a bowl of creamy, toasty warm oatmeal that is bursting with tropical coconut flavour.
I love coconut – and this Coconut Cream Baked Oatmeal has triple  coconut flavour – coconut flakes, coconut milk, and a dot of coconut oil.  Top your oatmeal with diced mango and you've got Hawaii in a bowl… (Mangos aren't safe in my house because I eat them as soon as I possibly can, so I topped my bowl of baked oatmeal with sliced strawberries and more coconut.)
I've made Coconut Cream Baked Oatmeal twice in the past week, so it's already become a breakfast hit – the best part is that makes really easy leftovers for breakfast the next day too.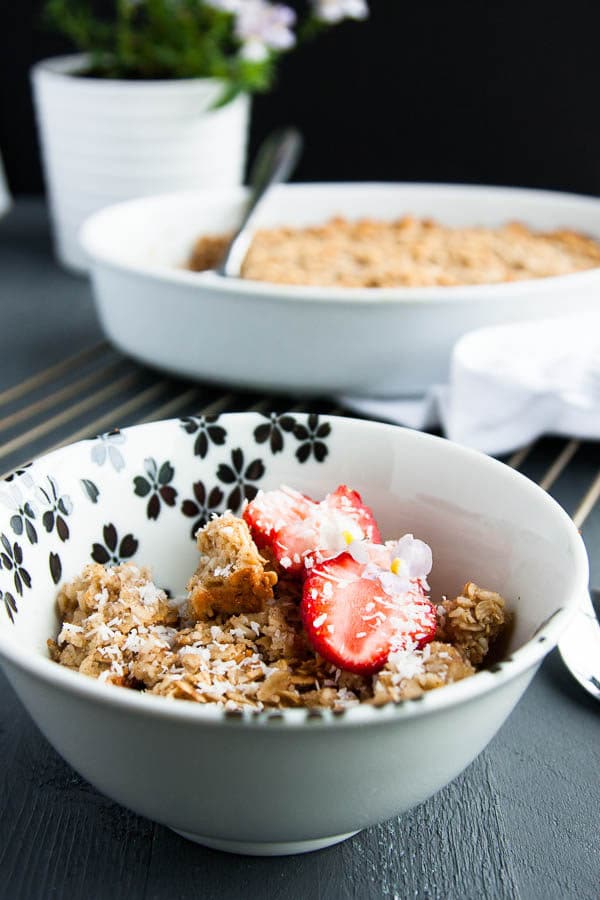 On Saturday morning, J and I ate quick bowls of this oatmeal and then brought iced coffees up to our rooftop garden to dig in the dirt a little – gardening is seriously my happy place! I harvested two large bowls of baby kale and lettuce greens, and we planted tomatoes, basil, scallions, cilantro, and dill – that's in addition to the other veggies that are already planted. It's quite the little jungle up on our roof 😉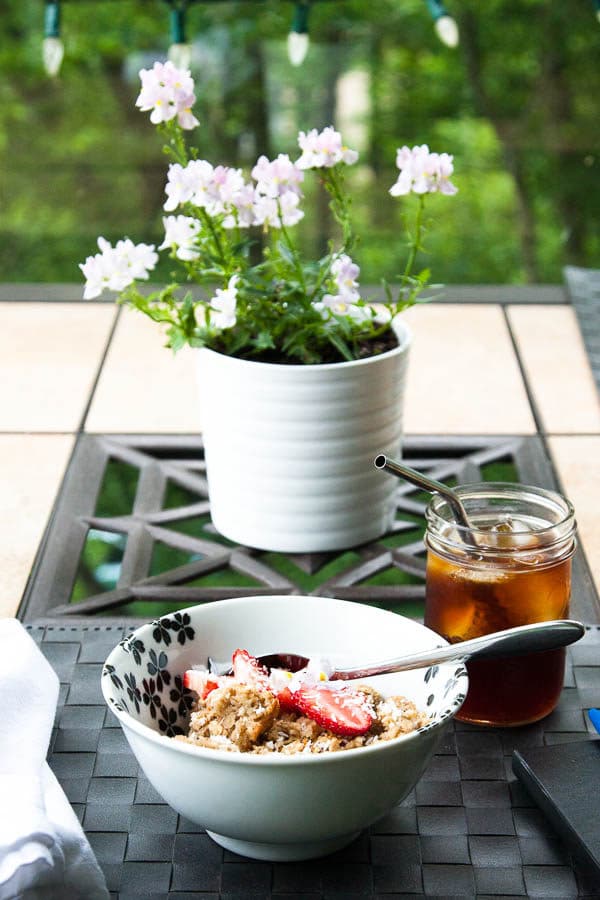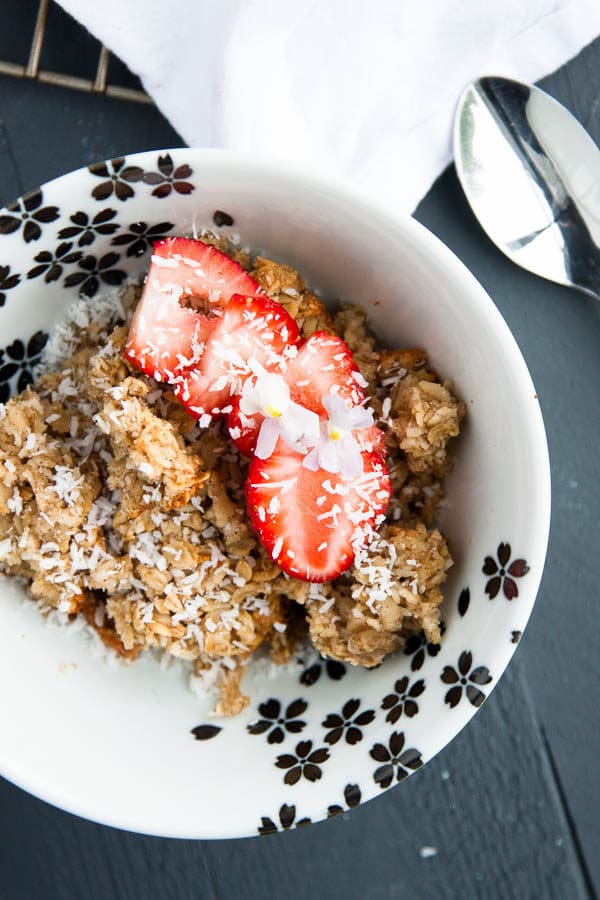 Coconut Cream Baked Oatmeal
Creamy, toasty warm baked oatmeal, bursting with tropical coconut flavour.
Author:
breakfast for dinner
Ingredients
3 cups oats
½ cup shredded unsweetened coconut
2 teaspoons baking powder
sprinkle cinnamon
2 eggs
1 cup coconut milk
¼ cup coconut oil, melted
½ cup maple syrup
Instructions
Preheat oven to 350 F.
In a large bowl, stir together the oats, coconut, baking powder and cinnamon.
In a separate small bowl, whisk together the eggs, coconut milk, coconut oil, and maple syrup. Pour the liquid ingredients into the oats mixture and stir well to combine.
Pour into a greased 8x8" or 9x9" square baking pan.
Bake for 40-45 minutes at 350 F, until lightly browned at the edges and dry in the middle.
Serve warm with berries and a splash of milk.
Looking for more oatmeal recipes? Try Overnight Oats, No-Bake Peanut Butter Chocolate Chip Oatmeal Squares, Simple Homemade Granola Bars, or No-Bake Peanut Butter Oatmeal Granola Bars.