Eggnog waffles!
Raise your hand if you love eggnog.
Raise your hand if you love waffles.
We love both in this house – and as if we need an excuse to drink more eggnog – I swapped out the milk for eggnog in my go-to fluffy waffle recipe that we adore.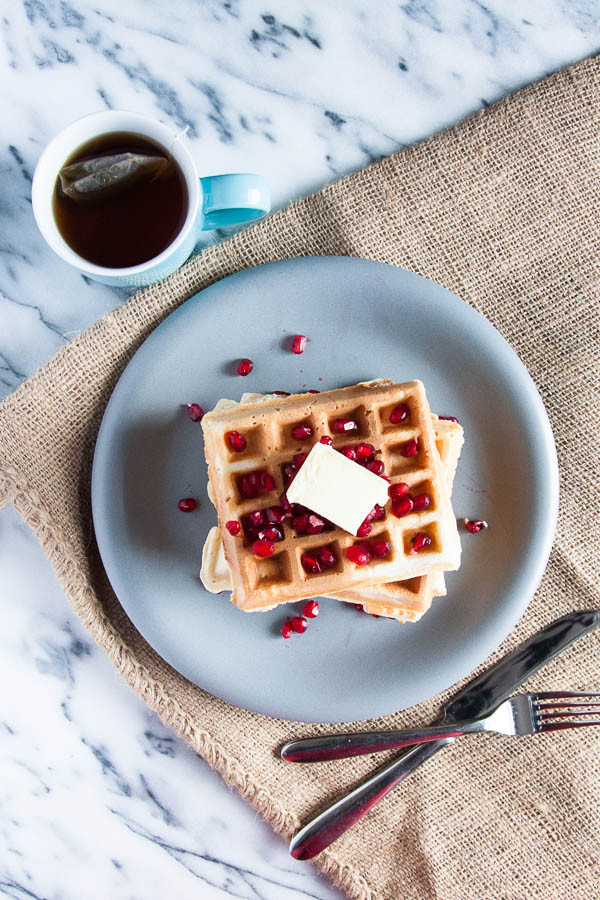 The only thing that would make Eggnog Waffles even more amazing is to use your own homemade eggnog. Have you ever made eggnog?! It's not as hard as you think and it is so.tasty. I love that you can use your favourite fresh organic eggs and organic cream.
I recently posted my favourite Homemade Eggnog recipe – I will never make any other eggnog recipe! Spike your eggnog with bourbon for a boozy brunch. 😉
Eggnog waffles are creamy, fluffy, and sweetly spiced with nutmeg – they make a lovely holiday breakfast. We'll definitely be making these over our holiday break!
I've survived the 4 (yes, I said FOUR!) office Christmas parties that J and I were invited to this year – we averaged 2 parties a week for these past 2 weeks! It was a bit crazy!! I'm excited to be a bit of a homebody this week and start on my holiday baking – it's my favourite time of year!
Have a happy holiday Eggnog Waffle breakfast!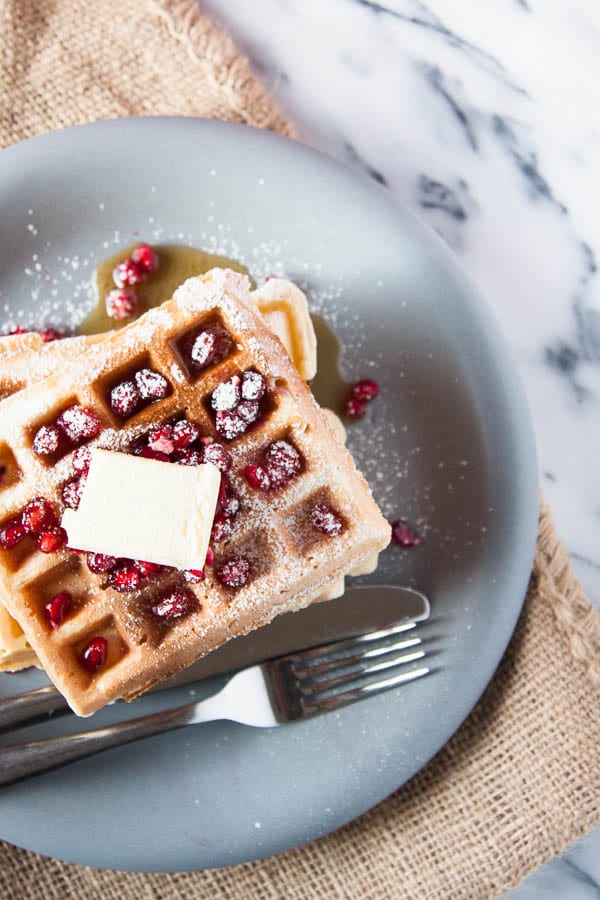 Eggnog Waffles
Eggnog waffles are creamy, fluffy, sweetly spiced with nutmeg, and make a decadent holiday breakfast!
Author:
breakfast for dinner
Ingredients
1 cup all-purpose flour
1 teaspoon sugar
1 teaspoon baking powder
½ teaspoon ground nutmeg
½ teaspoon salt
1 tablespoon melted butter
1 cup eggnog (see notes)
1 egg, separated
Instructions
In a small bowl, beat the egg whites on high until they form stiff peaks. Set aside.
In a large bowl, mix together the flour, sugar, baking powder, nutmeg, and salt. Pour in the melted butter and eggnog, add the egg yolk, and beat ingredients together until smooth.
Gently fold in the beaten egg whites.
Pour your waffle batter into your waffle iron and cook according to the manufacturer's directions.
Notes
Recipe yields approx 6 waffles, which feeds 2-3 people (depending on how hungry you are!)
Try
making your own Eggnog
!!
Eggnog waffles are adapted from our family favourite Fluffiest Waffles.
Make your own Eggnog!! This is my favourite Homemade Eggnog recipe.
Pin this recipe for later!