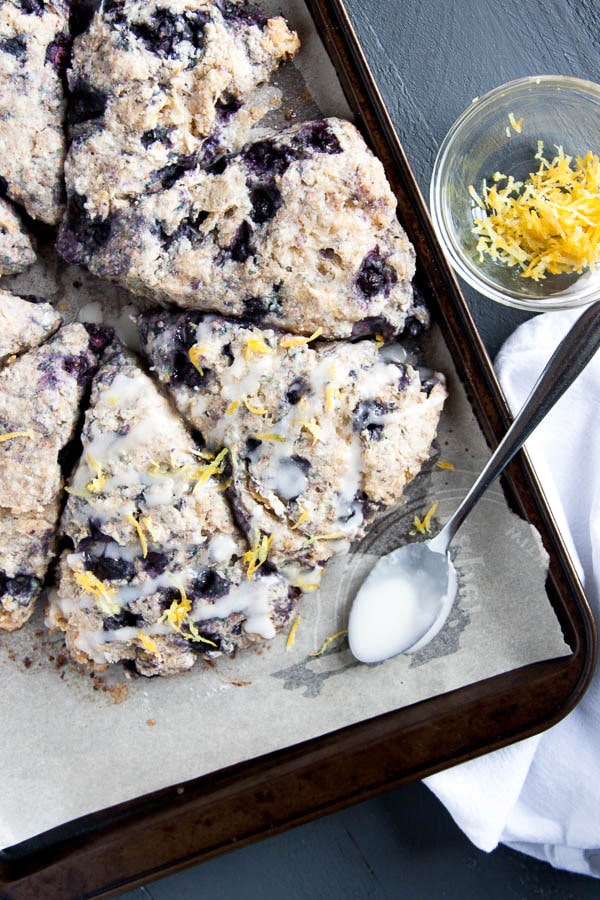 Maybe don't make these Lemon Blueberry Scones with frozen blueberries, like I did. I admit that the faint blue hue to these scones is not that appealing! But I've recently realised how amazing it is to have frozen fruit in the fridge – it is so much more inexpensive than buying fresh berries, especially in the winter! My giant bag of frozen blueberries was just begging to be used in these scones, and I couldn't resist.

I love how the tang of lemon pairs so nicely with juicy blueberry. For extra lemony flavour, I glazed a couple of these scones with a simple lemon glaze (little A's eyeballs bulged out when I gave her a scone with icing for breakfast – she isn't allowed much sugar!) but these Lemon Blueberry scones taste just as good straight up with a little soft butter.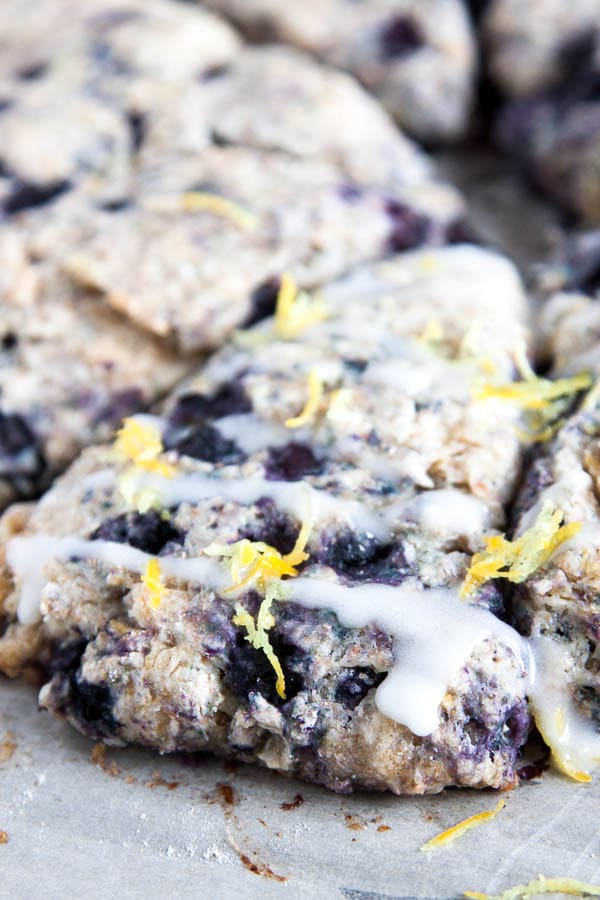 The weather is turning warmer here in the Pacific Northwest – the days of rain are outnumbered by days of sunshine – we planted our veggie garden last weekend, and already the lettuce, radish, and spinach seeds have sprouted! I love this time of year, when the spring and summer are stretched out before you and the days grow longer. I find myself becoming more relaxed, breathing a sigh of relief that we made it through another dreary winter.
Celebrate Spring with me and these Lemon Blueberry Scones!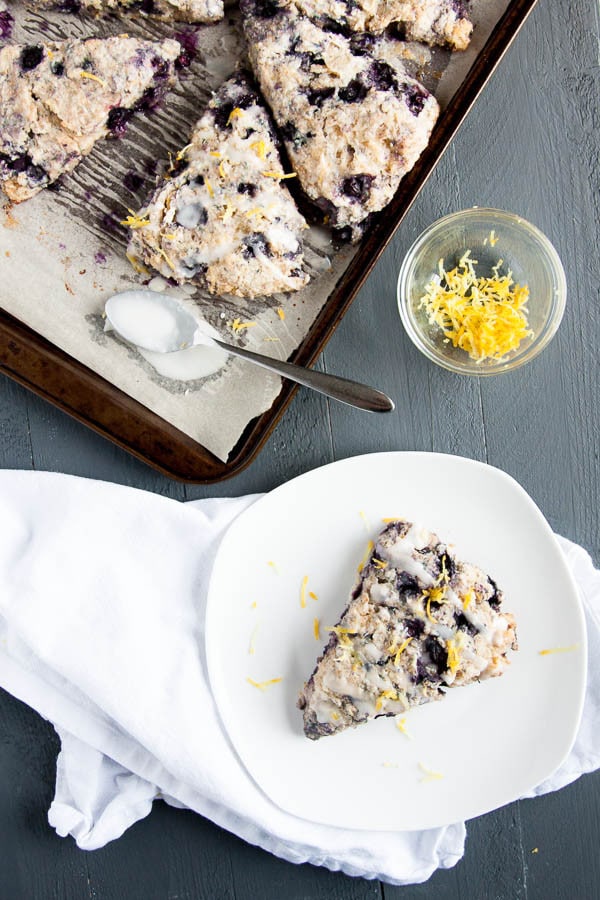 Lemon Blueberry Scones
Juicy blueberries pair so beautifully with delicate lemon in these scones to celebrate Spring.
Author:
breakfast for dinner
Ingredients
For the scones:
1 cup all-purpose flour
1 cup whole-wheat flour
1 tablespoon baking powder
½ teaspoon salt
2 tablespoons sugar
5 tablespoons unsalted butter, cold, cut in chunks
1 cup fresh blueberries (or use frozen, just be prepared for the dough to turn slightly blue!)
1 cup cream or milk, plus more for brushing the scones
zest of 1 lemon
For the lemon glaze:
juice of ½ lemon
1½ cups confectioner's sugar
1 tablespoon butter, melted
lemon zest
Instructions
Preheat the oven to 400 degrees.
In a large bowl, combine flours, baking powder, salt and sugar. Cut in the butter with a pastry cutter or two knives, until mixture is crumbly. Fold in the blueberries.
Make a well in the middle of the ingredients and pour in the cream and lemon zest. Lightly toss so all dry ingredients are moistened.
Turn dough out onto a floured surface, and give a few quick kneads to incorporate.
Press the dough into a circle approx 1.5 inches thick. Cut into 8 wedges. Brush each scone with cream/milk.
Bake on an ungreased cookie sheet for 15-20 minutes.
To make the lemon glaze, mix lemon juice, confectioner's sugar, butter, and lemon zest together in a small bowl. Drizzle over cooled scones.
Scones taste best eaten the same day! But will also keep in the freezer for up to 1 month.
Recipe very slightly adapted from here.
Looking for a muffin to stash in your freezer? Try my fav Orange Date Blender Muffins!