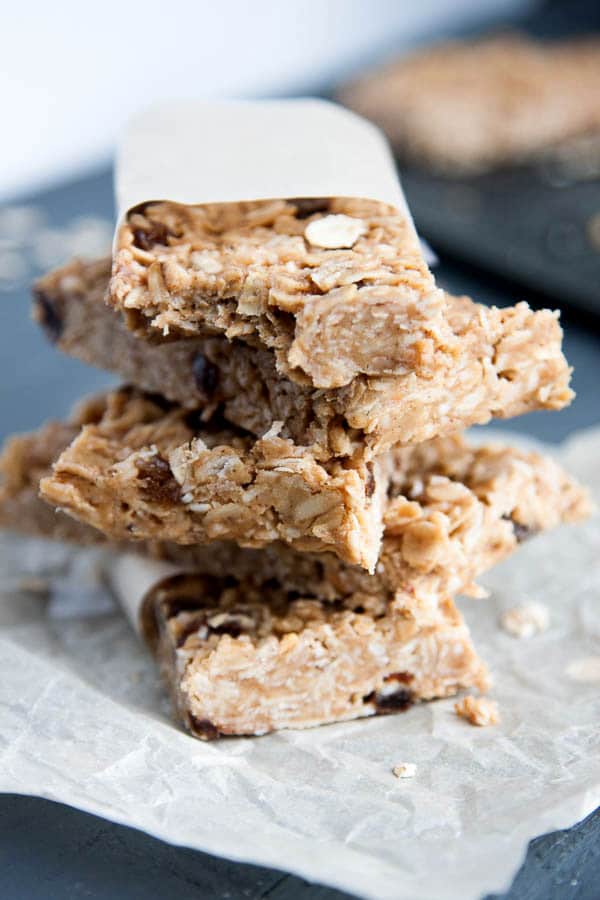 Dudes. These. are. the. best.
The best as in I may have already inhaled 3 granola bars today. And one before I got around to snapping the photos (see how there's only 5 bars in the pictures?!)
I have a granola bar addiction. I have granola bars stashed in my desk drawer at work, in our cupboard at home, and often I'll throw one in my purse. You never know when hunger might strike – and since I turn into the grouch when I'm hungry, they've saved me on many occasions!
No-Bake Peanut Butter Oatmeal Granola Bars are so quick to whip up – they have 6 ingredients, require one pot on the stove, and absolutely no baking. So simple!
They are chewy, peanut buttery (yummm) and full of healthy oats, shredded, coconut and raisins – and no refined sugars! The bars are sweetened with honey and held together with coconut oil.
It's best to store these bars in the fridge – as they warm up the coconut oil melts – which means they may start to fall apart a little (but will still be delicious!) Just a warning in case you like to throw granola bars in your purse like I do. Your purse might turn into a crumb factory.
Grab a No-Bake Peanut Butter Oatmeal Granola Bar on your way out the door to work for an energy fueled breakfast, or munch on one as your morning snack.
(And psst, these are endlessly customizable – don't like raisins? Use craisins or chocolate chips. Don't like coconut? Sub in more oats or a small seed. And add more or less honey according to your tastes. Enjoy!)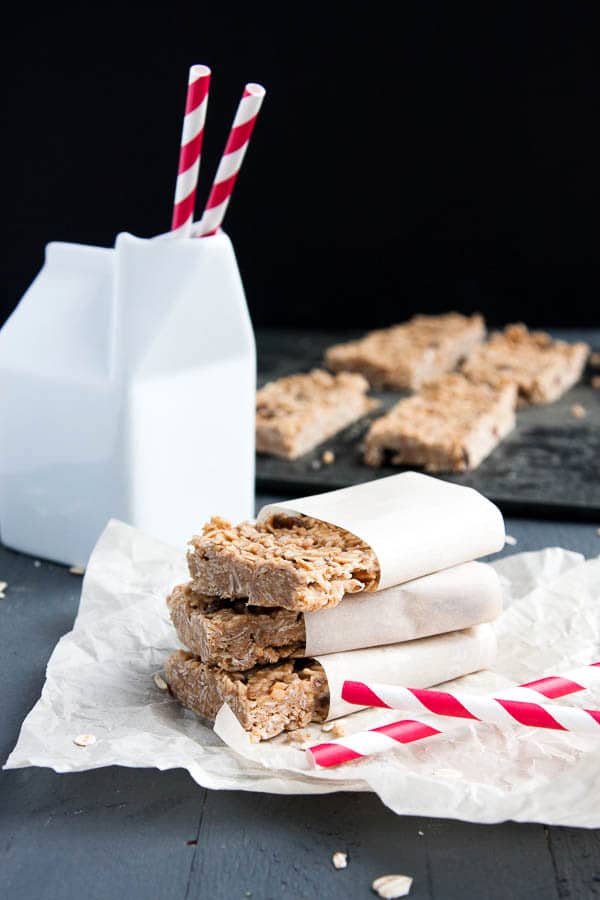 No-Bake Peanut Butter Oatmeal Granola Bars
No-bake, 6 ingredients, one pot, refined-sugar free, endlessly customizable = the best granola bars ever.
Author:
breakfast for dinner
Ingredients
½ cup peanut butter (I used organic chunky)
¼ cup honey
¼ cup coconut oil
1¼ cups rolled oats
½ cup shredded coconut
¼ cup raisins
sprinkle of ground cinnamon
Instructions
In a medium-size pot over medium heat, melt peanut butter, honey, and coconut oil.
After ingredients are melted, remove pot from heat and stir in rolled oats, coconut, raisins, and cinnamon.
Press bars into an ungreased 8x8" square pan. Chill in refrigerator for at least 2 hours.
Cut into 6 bars and serve.
Store uneaten bars in the refrigerator.
Pin this recipe for later!