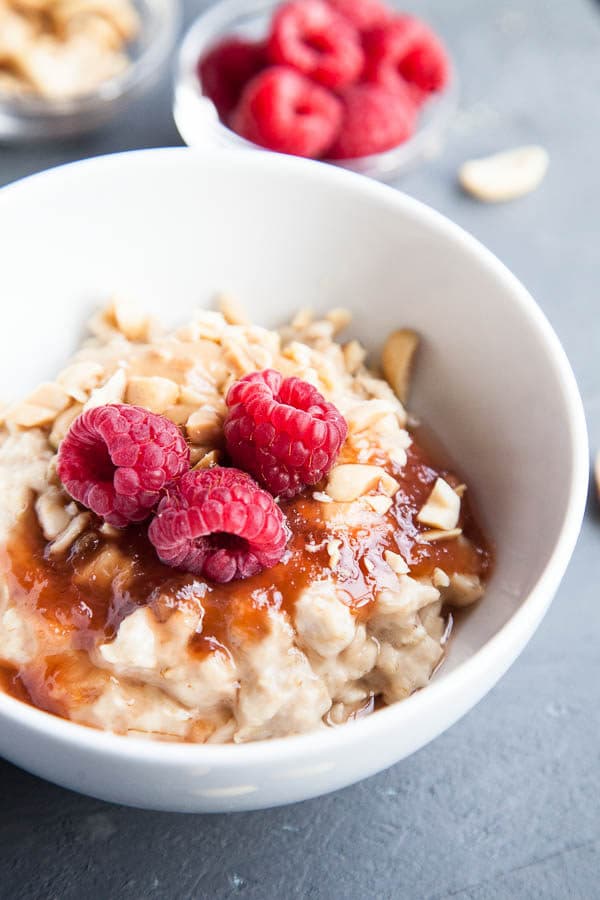 Last week I waxed on about the perfect pairing of peanut butter and banana. Now let's obsess about peanut butter's other match made in heaven: JAM.
Peanut butter and jam is a classic pairing. PB&J sandwiches have been stuffed into kids lunch boxes since the beginning of time. It's one of those classic combinations that is the perfect combination of sweet, salty, creamy, with a hint of peanutty crunch, and is just overall YUMS.
Peanut butter and jam isn't just a great sandwich – it makes a fun oatmeal! Like eating a sandwich with a spoon! …Is that weird?
Peanut Butter and Jam Stovetop Oatmeal will bring you child-like glee! It's got that delicious PB&J taste in the more adult vehicle of a bowl of oatmeal.
Stovetop oatmeal is mixed with two generous scoops of peanut butter, then served warm with a drizzle of your favourite jam, and garnished with fresh fruit and chopped peanuts.
I eat so many Overnight Oats, that this Peanut Butter and Jam Stovetop Oatmeal is such a tasty change! I used homemade Strawberry Rhubarb Jam to drizzle on top (and garnished with raspberries instead – is that a faux pas?!)
Give this recipe a try! Your kids will love it.
It's Peanut Butter Jelly time!
Peanut Butter and Jam Stovetop Oatmeal
Peanut Butter and Jam Stovetop Oatmeal will bring you child-like glee! Delicious PB&J taste in the adult vehicle of an oatmeal bowl.
Author:
breakfast for dinner
Ingredients
1 cup old-fashioned rolled oats
1 cup water
1 cup milk (dairy or non-dairy milk works)
1 teaspoon vanilla
2 tablespoons peanut butter, plus additional to serve
jam, to serve
fresh berries, to serve
chopped peanuts, to serve
Instructions
In a medium-size pot over medium-high heat, add oats, water, milk, and vanilla, and bring to a boil.
Once oatmeal boils, lower heat to a simmer and simmer until thickened, approx 5 minutes.
Stir in peanut butter, until fully incorporated.
Serve in bowls with a generous drizzle of jam, an additional scoop of peanut butter, fresh berries, and chopped peanuts on top.
Notes
Serves 2-4 depending on portion sizes.