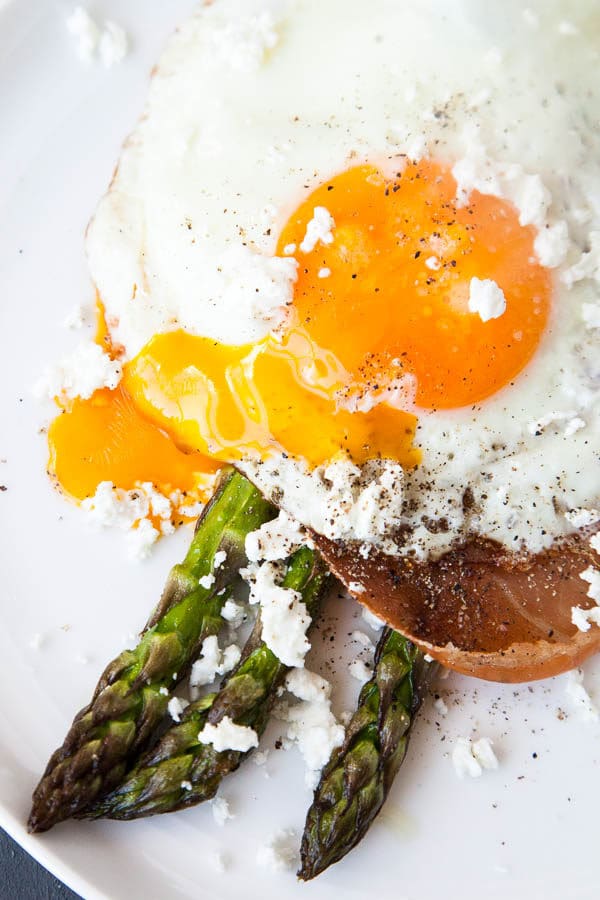 Just look at that #yolkporn.
Why is the internet obsessed with runny yolks? I have to be honest and say that I don't love a runny yolk. Does that make me a bad breakfast blogger?! 😉 There are just times when I'd rather my eggs be poached or fried hard! Or medium-hard. But definitely not soft.
I'm coming around to soft eggs though – I like how a soft egg creates its own sauce, to mop up with bread, or to douse over roasted asparagus and crispy prosciutto, like we have here with this Roasted Asparagus with Prosciutto and Fried Eggs recipe.
This is a simple sheet pan breakfast celebrating the Spring flavours of fresh asparagus. Roasted asparagus sprigs are stacked with crispy prosciutto, a soft fried egg, and crumbles of creamy goat cheese and it is the perfect combination of roasty, salty, and creamy.
And  mighty tasty.