Whenever I think of upside-down cake, I think about the Pineapple Upside-down cake that was popular in the 80s, when I was a kid – a piece of cake topped with an unnaturally bright red maraschino cherry in the middle of a ring of too-sweet canned pineapple.
This is not your typical upside-down cake from the 80s. This Upside-down Rhubarb Brunch Cake is the real deal.
Rhubarb is overflowing from my local farmer's markets and grocery stores and I'm taking full advantage this year! I've already made Strawberry Rhubarb Jam and Mini Banana Rhubarb Muffins – and now I'm baking it into a cake.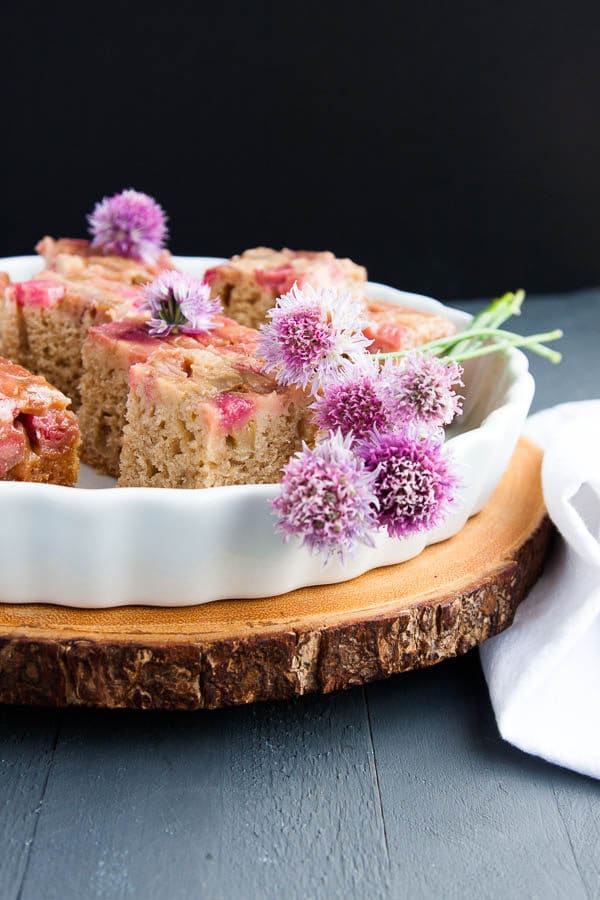 I don't make cakes too often because I honestly don't like cake all that much. (I know, the shock and horror of this admission from a food blogger!! I would much rather eat pie any day.) But this is a cake I can get behind. Upside-down Rhubarb Brunch Cake has a buttermilk cake base and is topped with tangy rhubarb laced with gooey caramel, which makes this already-moist cake irresistible.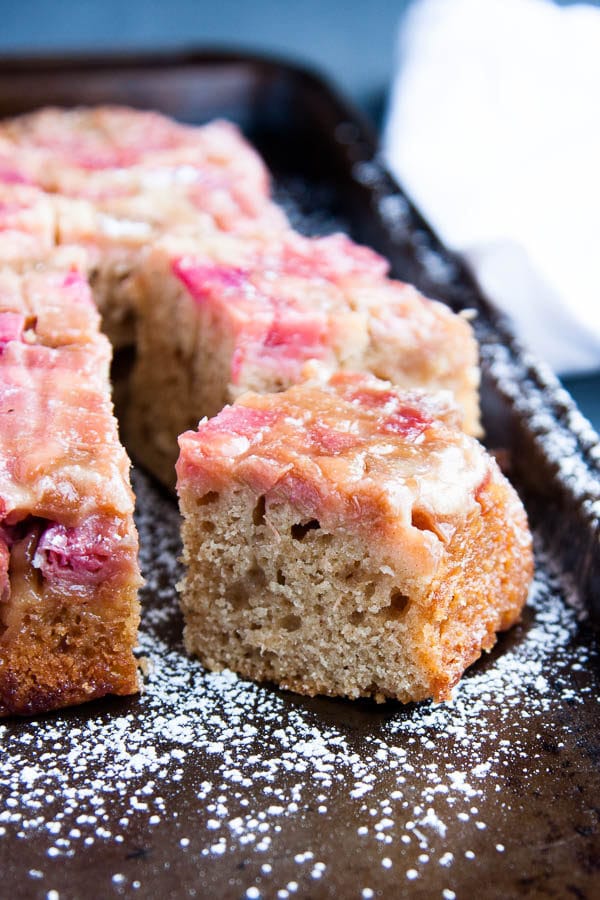 I would recommend baking this cake on the day you intend to serve it – as the days passes, the cake gets moister and moister – which isn't necessarily a bad thing (we've still enjoyed it 3 days later!), but optimal texture is definitely on day 1.
Serve Upside-down Rhubarb Brunch Cake with a strong cup of tea, and if you really want to wow your brunch party guests, serve it with vanilla bean ice cream!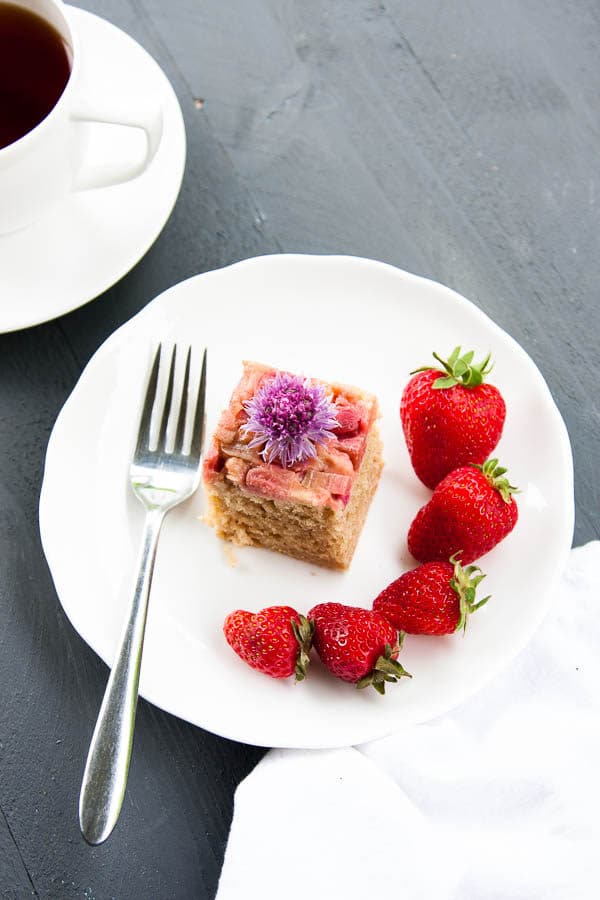 Upside-Down Rhubarb Brunch Cake
This is not your typical upside-down cake from the 80s. This Upside-down Rhubarb Brunch Cake is the real deal.
Author:
breakfast for dinner
Ingredients
For the gooey topping:
½ cup unsalted butter
1 cup packed brown sugar
2 teaspoons lemon juice
3 cups chopped rhubarb (approx 3-4 stalks)
For the buttermilk cake:
½ cup unsalted butter, softened
¼ cup granulated sugar
¼ cup packed brown sugar
2 eggs
1 teaspoon vanilla
1⅓ cups all-purpose flour
1½ teaspoons baking powder
½ teaspoon baking soda
pinch salt
¾ cup buttermilk
Instructions
To make the topping:
In a saucepan over medium heat, melt butter, sugar, and lemon juice, stirring until sugar is dissolved. Pour into greased and parchment-lined 8x8" or 9x9" square pan. Sprinkle chopped rhubarb evenly over top.
To make the buttermilk cake:
In a large bowl, cream butter and sugars together until fluffy. Beat in eggs and vanilla.
In a separate large bowl, stir together the flour, baking powder, baking soda, and salt. Add ⅓ dry ingredients to wet ingredients, stirring well. Then add ½ buttermilk to mixture; then ⅓ dry; then the rest of the buttermilk, and lastly the remaining ⅓ dry. Make sure to stir well between each addition.
Pour into pan over rhubarb, smoothing to edges of pan. Bake at 350 F for approx 35-40 minutes, until toothpick inserted in centre of cake comes out clean.
Let cool in pan for 10 minutes, then invert onto serving plate, remove parchment paper, and cut into 16 squares.
Adapted from this recipe.