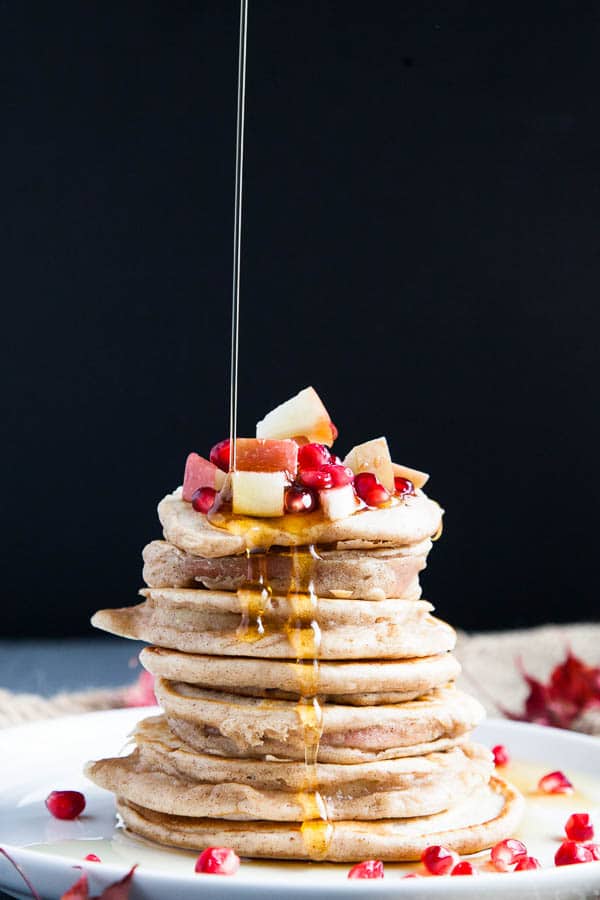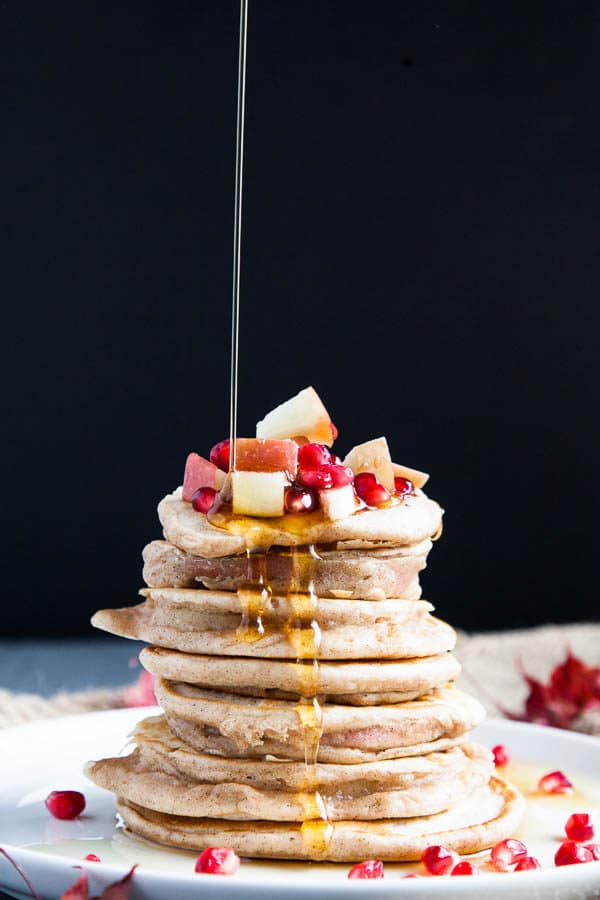 Apple Pancake Rings are sliced apples dipped in cinnamon pancake batter, and fried on either side just like a regular pancake – but with a healthy surprise inside!
Now that we've reached the end of October here in the Pacific Northwest, the days have blurred together in endless shades of grey and drizzle. My rain boots are a constant fixture outside our front door, drying after the end of every day.
I used to dread this dismal season that lasts from October to February. But ever since J proposed to me on a damp, grey day in January, I've had second thoughts about rainy days. Rainy days just mean you need to be prepared – you need to put on your rain boots, a rain coat, grab an umbrella and head outside.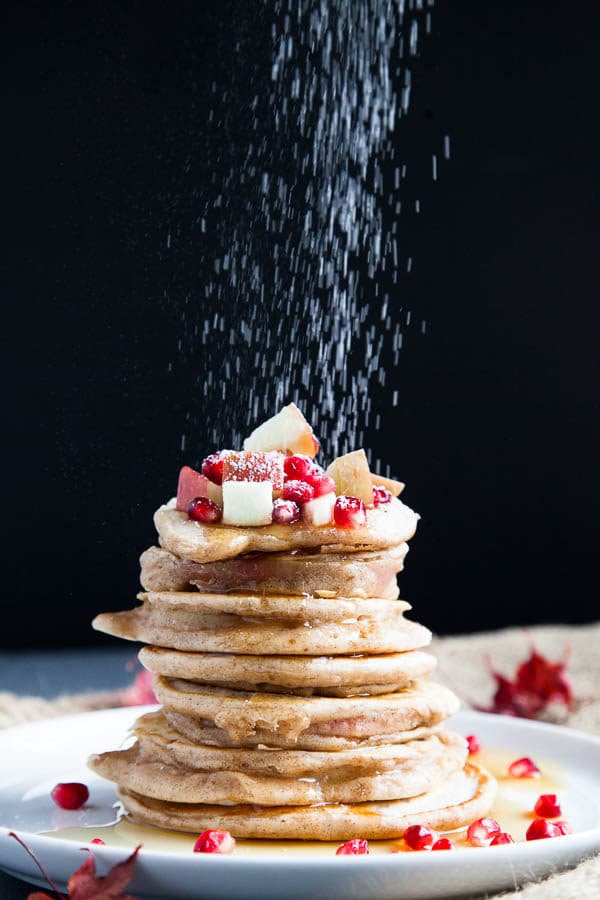 Today, on this particular grey walk, we bundled up in our rain gear and our toques and tromped through the forest. Our bellies were full from a warm breakfast, which kept us fueled in the cold, as I snapped away with my camera.
One such warm breakfast to help get you through the rainy season are these Apple Pancake Rings. Slice an apple into thin rounds, discard the seeds, and dip each round into pancake batter. Fry each apple pancake ring like you would a normal pancake, flip, and serve hot.
Each pancake ring will have a fluffy, cinnamony pancake exterior, wrapped around a warm, chewy apple.
Apple Pancake Rings are perfect for Fall – and may just entice you to get out into that rain 😉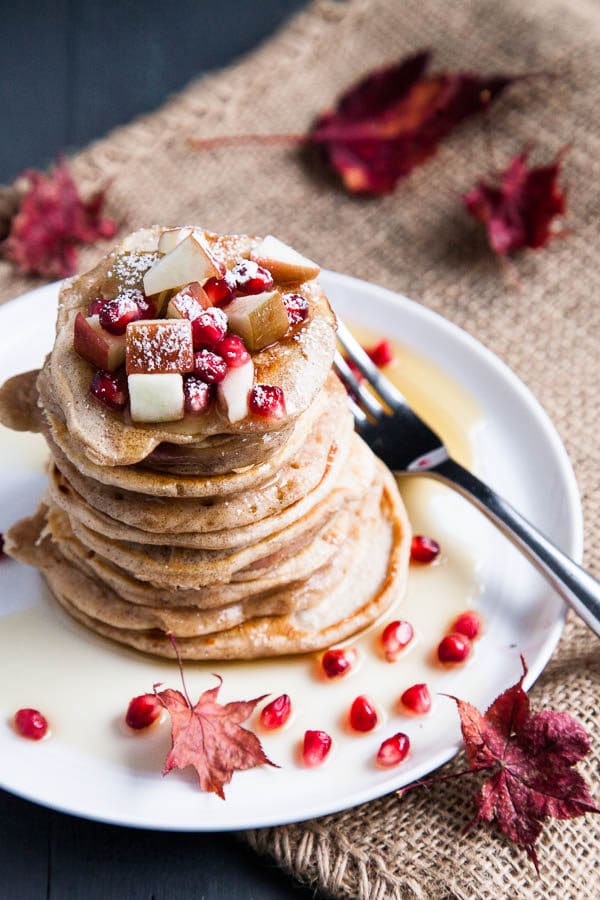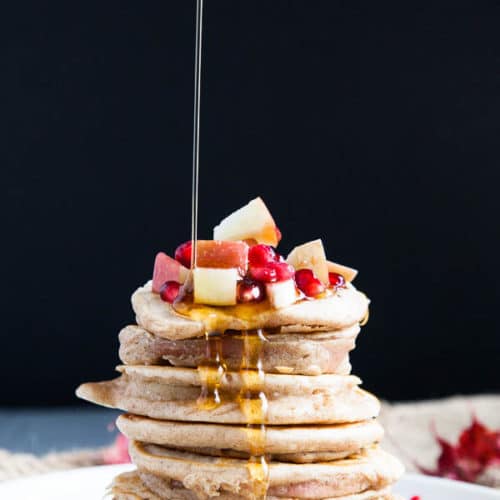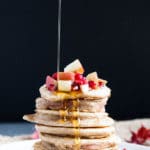 Apple Pancake Rings
Apple Pancake Rings are sliced apples dipped in cinnamon pancake batter, and fried on either side just like a regular pancake - but these are healthier!
Keyword:
apple, apple pancakes, autumn, pancake rings, pancakes
Ingredients
1 3/4

cups

all-purpose flour

1

tablespoon

sugar

2

teaspoons

baking powder

1/2

teaspoon

baking soda

1

teaspoon

cinnamon

1/4

teaspoon

salt

1

egg, lightly beaten

1 1/2

cups

buttermilk

(see note below)

3

tablespoons

vegetable oil

2

apples,

sliced into thin rounds, seeds removed
Instructions
In a large bowl, stir together flour, sugar, baking powder, baking soda, cinnamon, and salt.

In a small bowl, whisk together egg, buttermilk, and oil.

Add wet ingredients to dry ingredients and stir until just moistened (batter will be lumpy!)

Heat a griddle or large frying pan to medium heat and grease with a small amount of butter.

Using either your fingers, a fork, or a toothpick, dip apple rounds into pancake batter, making sure both sides of the apple round gets completely coated.

Place apple round onto griddle, cooking for 1 to 2 minutes on each side, or until pancakes are golden brown. Repeat for all apple rounds.

Serve warm with maple syrup.
Recipe Notes
*To make your own buttermilk: Measure out a scant cup of 1 1/2 cups of milk into a bowl. Add 1 tablespoon lemon juice, and stir to combine. Let stand 5-10 minutes. Use in place of store-bought buttermilk.
*Alternative: Replace all-purpose flour with whole wheat flour for an even healthier option!
Yield: Recipe yield will be different, depending on the size of your apples and how thinly or thickly they are sliced. Roughly, this recipe will feed 3-4 people.