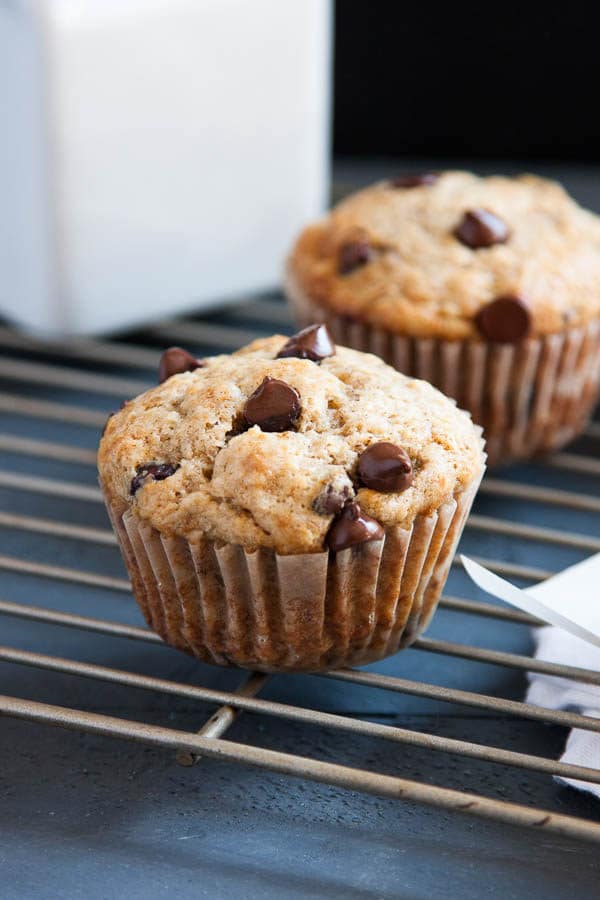 81 days until our wedding!
J and I just got back from a weekend away finishing the last wedding planning details – we are getting married in the Okanagan, which is region a 4 hour drive away from where we live, famous for its vineyards, lakes, and hot summers. We wont be back until it's time to get hitched! I had my trial hair appointment, we scouted a rehearsal dinner venue, and bought all of the wine we'll serve. Mmmm… Okanagan wine…
Needless to say, we spent many hours in the car this weekend, and whenever we are on a road trip there's always one must have – snacks. J's non-negotiable car snack are Wine Gum candies, but I like to be a bit healthier and usually pack a bag of mixed nuts and whatever baked goods we have on hand. I stashed a few of these Banana Chocolate Chip Muffins in my purse and kept the hangriness away.
There's nothing worse than being in the middle of nowhere and not being able to get a snack. Or having to pee.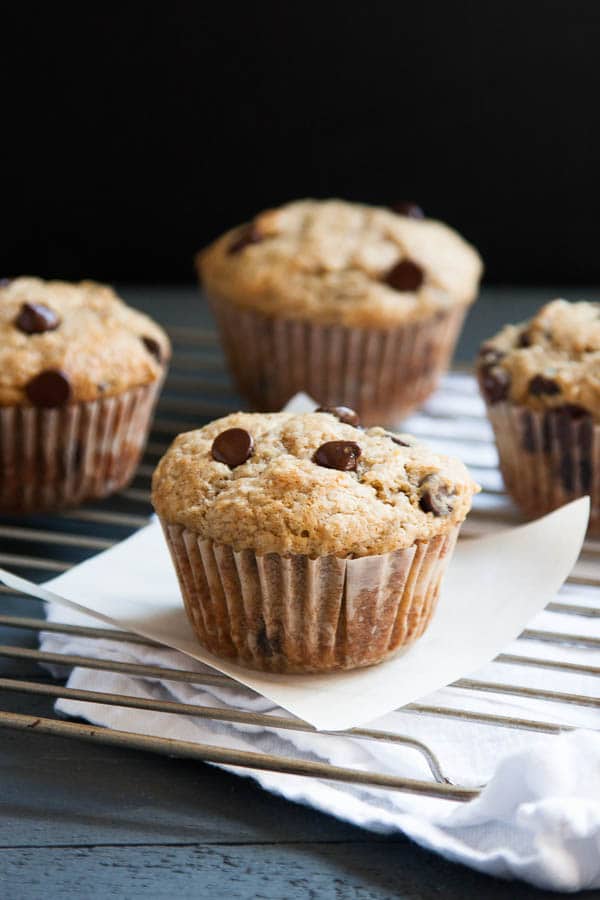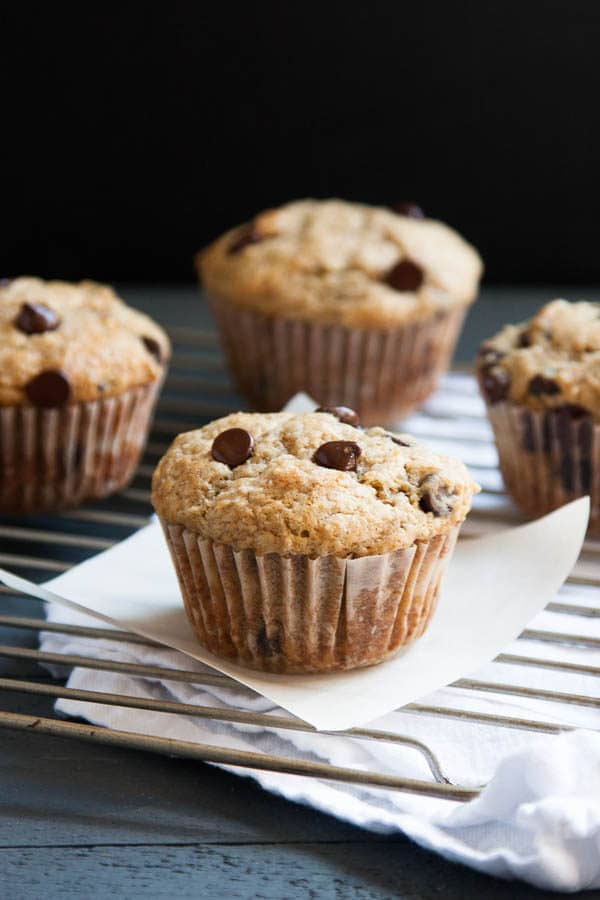 But I digress! Banana muffins are one of my most favourite muffins – as you can see from the many varieties of banana baked goods that fill this site: Banana Rhubarb Mini Muffins, Whole What Banana Bread, and Bourbon Banana Bread.
I use 3 bananas in these Banana Chocolate Chip Muffins to maximize banana flavour, and my recipe uses a splash of milk and a dot of sour cream to enhance the creaminess and keep these muffins super moist.
Bananas and chocolate chips are an undeniably tasty pairing – and why not treat yo-self and have a bit of chocolate for breakfast?! After all, we can't always eat healthy things like chia pudding for breakfast every day. 😉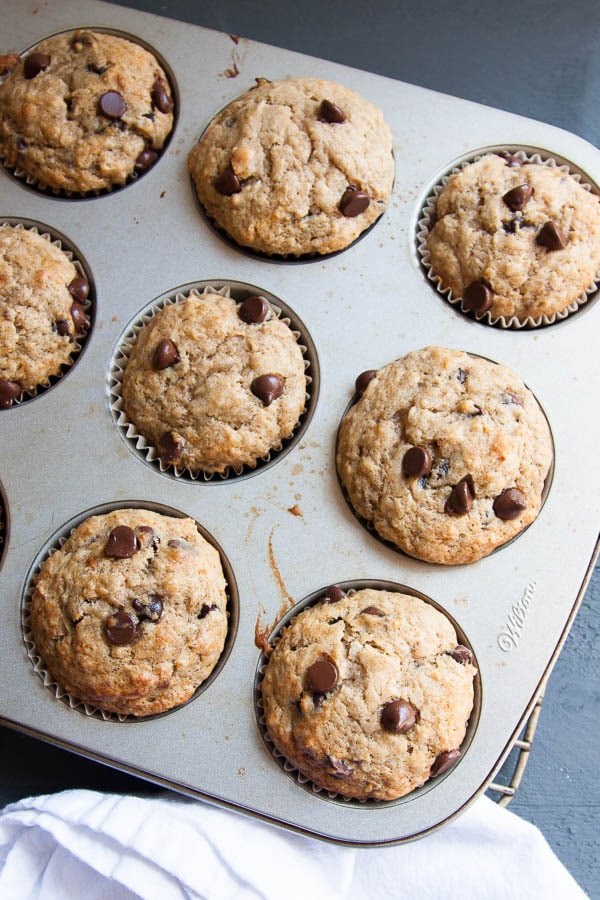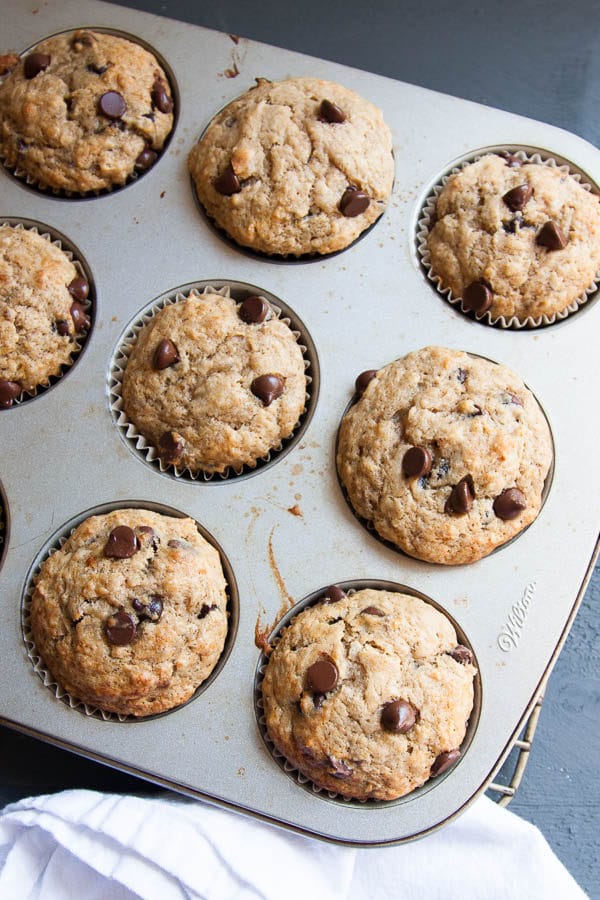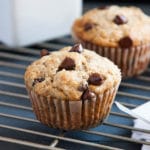 Banana Chocolate Chip Muffins
Chocolate for breakfast? Don't mind if I do...
Ingredients
½

cup

butter, softened

½

cup

dark brown sugar

2

eggs

1

teaspoon

vanilla extract

3

ripe bananas, mashed

2

tablespoons

milk

(I use 1%)

¼

cup

sour cream

1

and ¾ cups all-purpose flour

1

teaspoon

baking powder

1

teaspoon

baking soda

½

teaspoon

cinnamon

1/2

cup

dark chocolate chips
Instructions
Preheat oven to 350 F and grease or line a muffin tray with paper cups.

In a large bowl, cream the butter and brown sugar together. Add in the eggs and beat until combined. Stir in vanilla, mashed bananas, milk, and sour cream.

In a separate bowl, sift together the flour, baking powder, baking soda, and cinnamon. Add the dry ingredients to the wet and stir until just combined. Gently fold in chocolate chips.

Scoop batter into prepared muffin tray, filling each 3/4 full.

Bake at 350 F for 17-22 minutes, or until a toothpick inserted in the centre comes out clean.
Recipe Notes
Recipe yields 12 muffins.
Try these other tasty banana recipes: Banana Rhubarb Mini Muffins, Whole What Banana Bread, Peanut Butter and Banana Overnight Oats, and Bourbon Banana Bread.