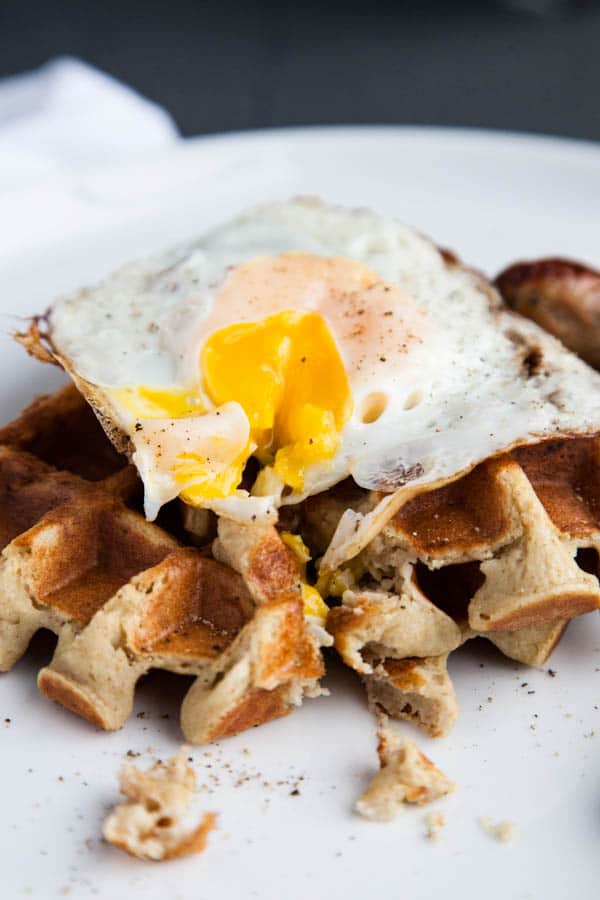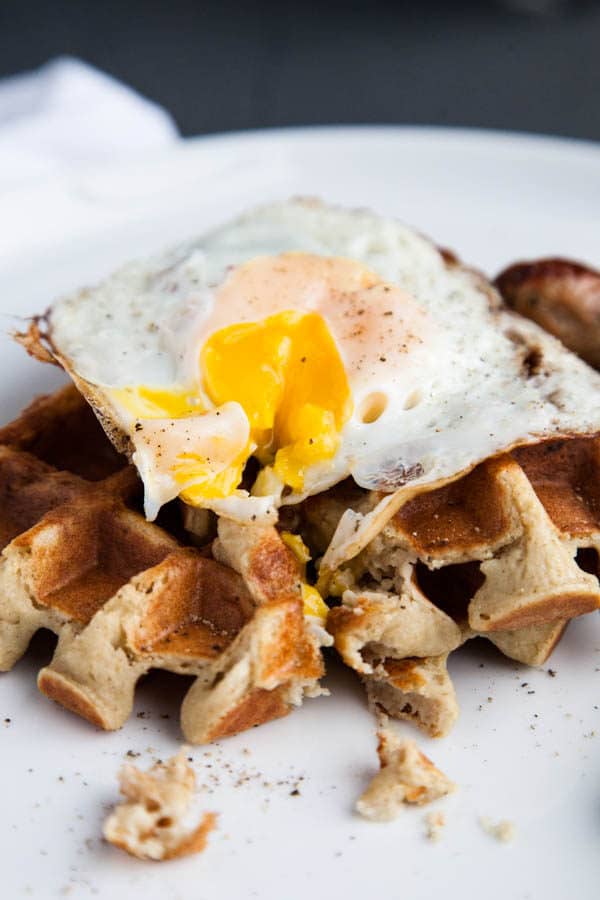 Sweet potatoes. Don't you just love, love, love sweet potatoes?!
I'm forever looking to find ways to simplify breakfast and make it healthier (you, too??). While my absolute favourite waffle recipe will always be Fluffiest Waffles, sometimes I just don't feel like busting out my electric mixer to whip egg whites, and a lot of times my body prefers to limit white flour and eat more gluten-free.
Enter Blender Sweet Potato Waffles. They use hearty sweet potatoes, oat flour, and are mixed entirely in the blender – it's truly a dump and blend recipe that can be poured straight from your blender into your waffle iron!
Today I've gone with a savory version of these waffles and paired them with fried eggs, slices of avocado, and sausages (YUM), but you could alternatively make these sweet by adding 1 teaspoon of sugar and 1 teaspoon of vanilla. And then smothering them with maple syrup. Which would arguably make them much less healthy 😉
Did you know that pre-made waffles keep in the fridge for a couple of days? Make Blender Sweet Potato Waffles, let them cool, wrap them in saran wrap and store in the fridge. Then on a busy morning, pop a waffle or two in your toaster and toast for a couple minutes – ta da! Quick weekday waffles!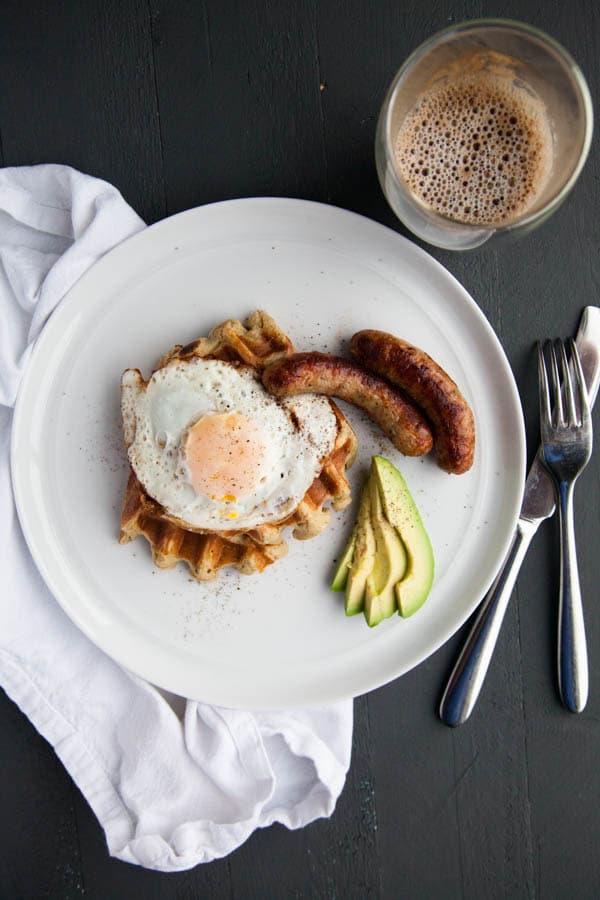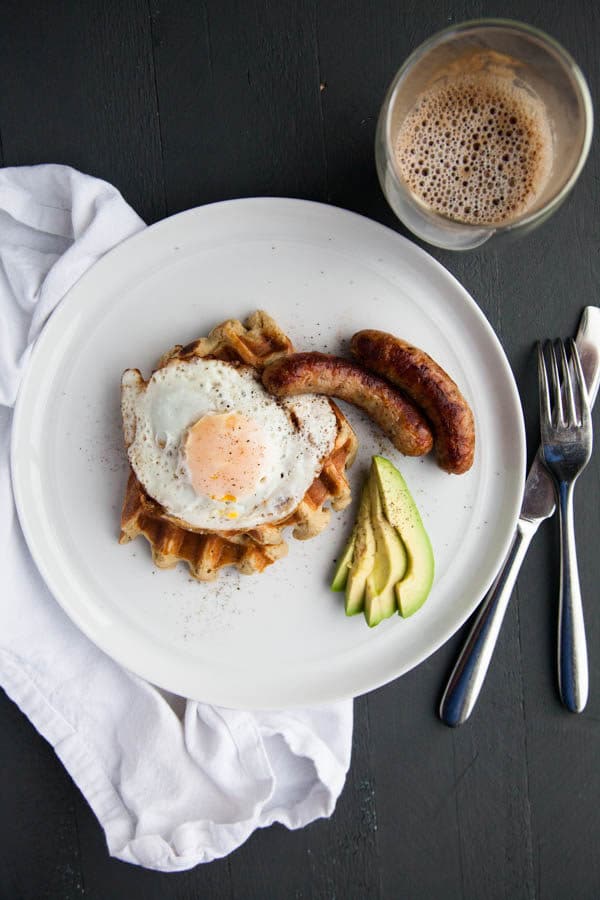 This Monday it's a holiday called Family Day here in Canada. Family Day. The day the government is giving me permission to hang out with my family. And hang out with my family I will! I'm heading away on a ski holiday with all of my in-laws. Four days of skiing, hot tubbing, and Bailey's – sounds pretty good to me 😉
I'm looking forward to a little R&R. It's been a stressful few weeks – my company announced it's merging and there's a possibility I could lose my job. Just goes to show that nothing in life is a guarantee and life plans can be interrupted at a moment's notice.
Now that all my tears and wallowing have subsided (mostly), I'm choosing to be grateful that I'm currently gainfully employed, learning to get comfortable with being uncomfortable, and taking it day by day. In hardship lies opportunity, right?
Happy weekend to you!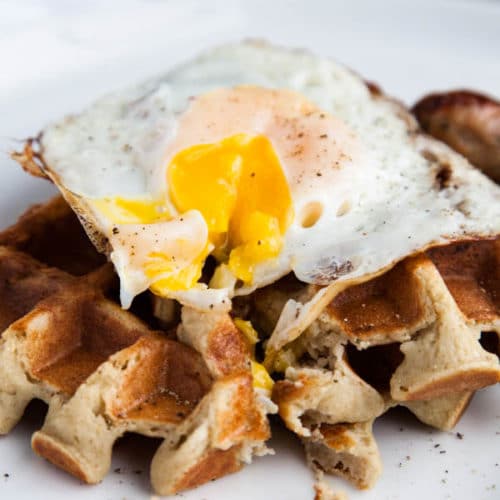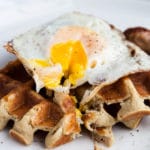 Blender Sweet Potato Waffles
Blender Sweet Potato Waffles are mixed entirely in the blender and are hearty and gluten free. Yields approx 6 waffles.
Ingredients
1

cup

cooked sweet potato

(boiled and mashed or cubed, doesn't matter)

1

cup

rolled oats

1

cup

almond/cashew/regular milk

2

eggs

1

tablespoon

melted butter or olive oil

1/4

teaspoon

baking powder

1/4

teaspoon

salt
Instructions
Add all ingredients into a blender and blend on high until smooth.

In a preheated waffle iron, add 1/3 cup of batter to each waffle mold.

Cook according to your waffle iron's directions. When light turns green to indicate the waffles are ready, cook an additional 30 seconds to 1 minute (otherwise they will be a little too soft on the inside).

Serve alongside eggs and avocado, or the savory sides of your choice!
Recipe Notes
To make sweet waffles, add 1 teaspoon of sugar and 1 teaspoon of vanilla.
Extra waffles will keep in the fridge for 2-3 days. Let waffles cool, wrap in saran wrap, and store in fridge. When ready to eat, pop in your toaster for a few minutes, and waffles will be perfectly crispy again!
Recipe adapted from Chef de Home.