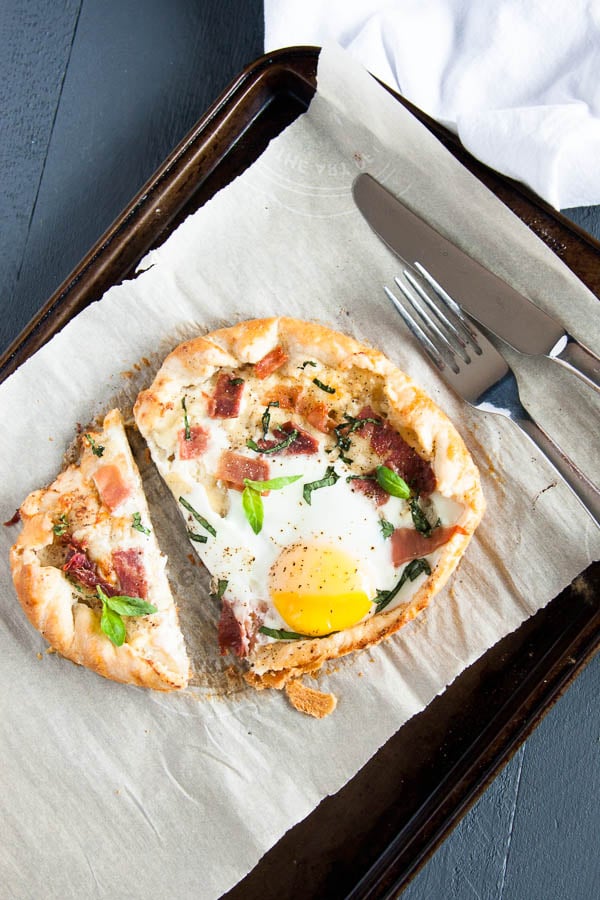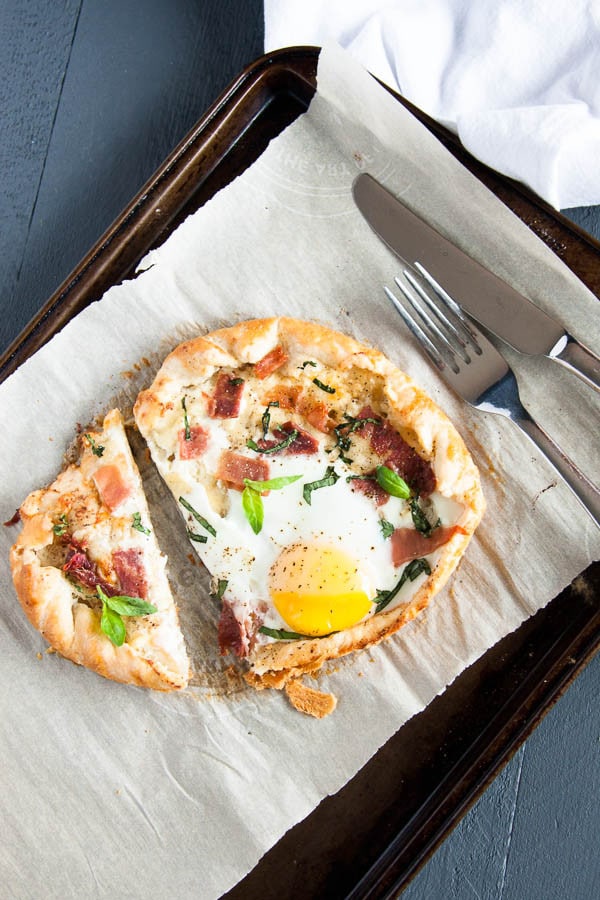 I have a soft spot in my heart for galettes – the pastry is supposed to look kind of messy, they're usually filled with fresh seasonal fruit, and they are just so rustic and lovely to look at and taste. In fact, we're serving fruit galettes instead of cake as our wedding dessert! So yes I do love them that much.
Here we have another take on the galette – a Breakfast Galette. Similar idea – the recipe uses the same sour cream pastry dough as I make for fruit galettes, but instead of filling the galette with fruit, it is filled with creamy ricotta and mozzarella cheese, and then topped with proscuitto, basil, and a big fat egg.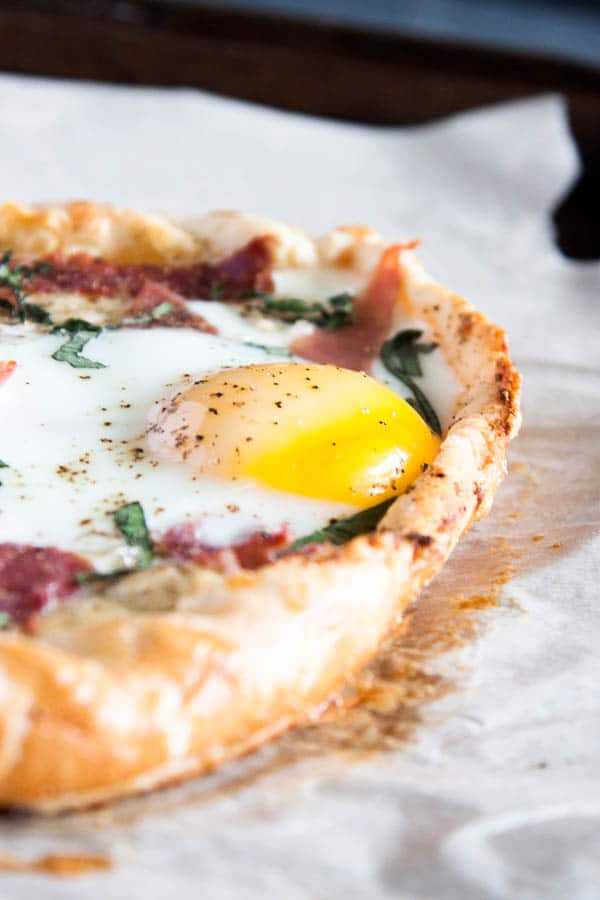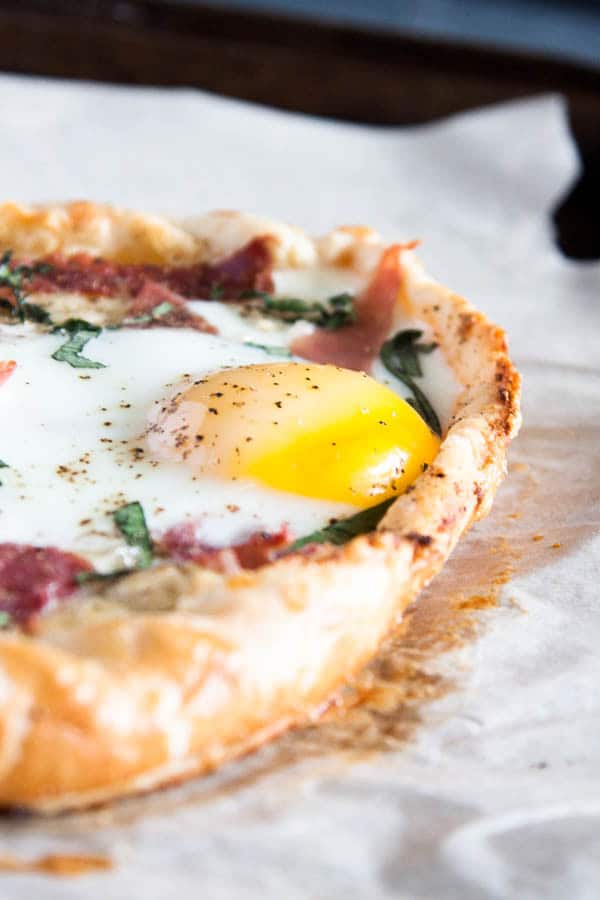 I've filled the galette with ricotta and mozarella cheeses, but the lovely thing about galettes is that they are very forgiving. Use other cheeses if you like – other toppings that would be delicious include crispy bacon, ripe tomatoes, mushrooms, or swap out the basil for thyme or sage…
Another tip for a quicker assembly in the morning: make the dough the night before and leave it in the refrigerator until 15 minutes before you'd like to roll it out. That's what I did, and it worked like a charm.
Breakfast Galettes are perfect for a special weekend breakfast – in my opinion, the best weekend mornings are spent making brunch and drinking coffee in our PJs 😉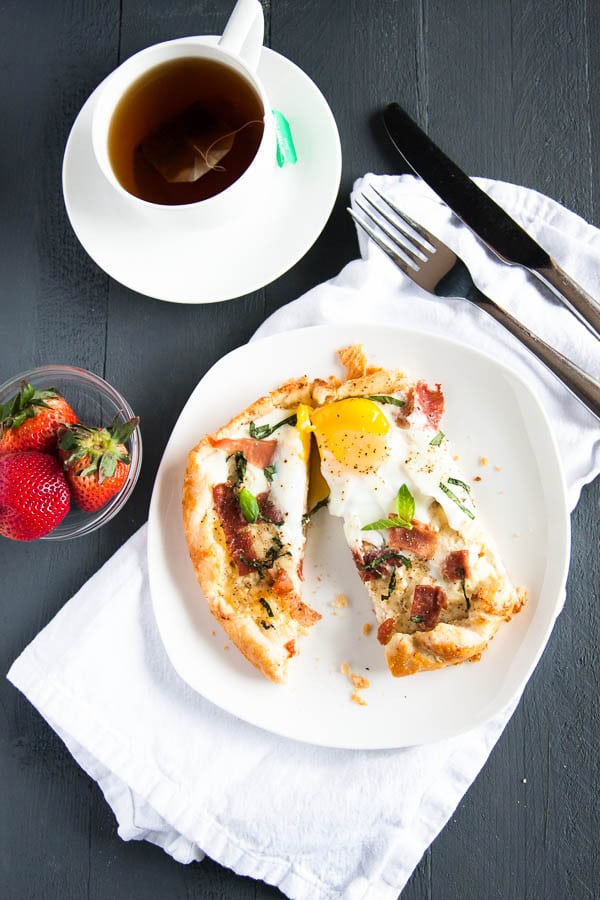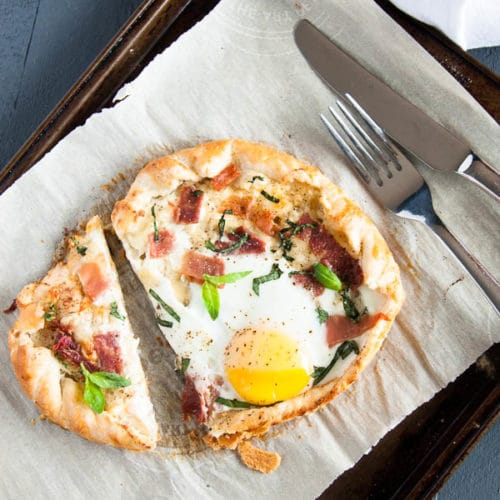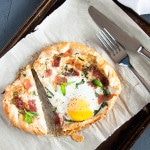 Breakfast Galette
A cheesy galette wrapped in sour cream pastry with prosciutto, basil, and an egg baked onto it - a special weekend brunch!
Keyword:
baked egg, basil, breakfast, galette, prosciutto, sour cream pastry
Servings
:
4
individual-size galettes
Ingredients
For the pastry dough:
2

cups

all-purpose flour

1/2

teaspoon

salt

1/2

teaspoon

baking powder

1

cup

cold unsalted butter,

cut into small pieces

1/2

cup

cold sour cream
For the galette:
3/4

cup

ricotta cheese

1

cup

grated mozzarella cheese

slices

of proscuitto

thin slices of basil

5

eggs
Instructions
To make the pastry:
In your food processor, add flour, salt, and baking powder and pulse briefly until combined. Add butter pieces and pulse until crumbly. Add sour cream and pulse briefly until dough comes together.

(If you don't have a food processor, whisk together the flour, salt, and baking powder. Add the butter, working it in with a pastry cutter or 2 knives until crumbly. Leave most of the butter in large, pea-sized pieces. Gently stir in the sour cream; the dough may still be crumbly.)

Turn your dough out onto a floured work surface, and bring it together with a few quick kneads.

Pat the dough into a rough log, and roll it into an 8″ x 10″ rectangle. Dust both sides of the dough with flour, and starting with a shorter end, fold it in three like a business letter.

Flip the dough over, give it a 90° turn on your work surface, and roll it again into an 8″ x 10″ rectangle. Fold it in three again.

Wrap the dough, and chill for at least 30 minutes. Or chill the dough in the fridge overnight and remove 15 minutes before using.
To assemble the galette:
Preheat your oven to 375°F and place a rack on the middle shelf. Line 2 baking sheets with parchment paper.

Break dough into 4 pieces and roll each quarter out to a rough circle approx 1/4-1/2" thick. Transfer dough circles to the parchment-lined baking sheets.

Smooth approx 3 tablespoons of ricotta cheese onto each round, stopping 1 inch from the edge, then sprinkle each with approx 1/4 cup of mozzarella. Fold edges of dough over cheese. Transfer baking sheets to the refrigerator to chill for 15 minutes.

Whisk one egg in a small bowl and use it as an egg wash, gently brushing the edges of each galette.

Bake the galettes for 25-30 minutes, until the pastry is just golden brown.

Sprinkle on slices of proscuitto, slices of basil, and then crack an egg on top of each galette. Bake again for 15-20 minutes, until whites are set and yolks are a bit runny.

Serve.
Recipe Notes
Recipe makes 4 individual-size galettes.
I've used the same sour cream pastry in my Homemade Raspberry Poptarts.