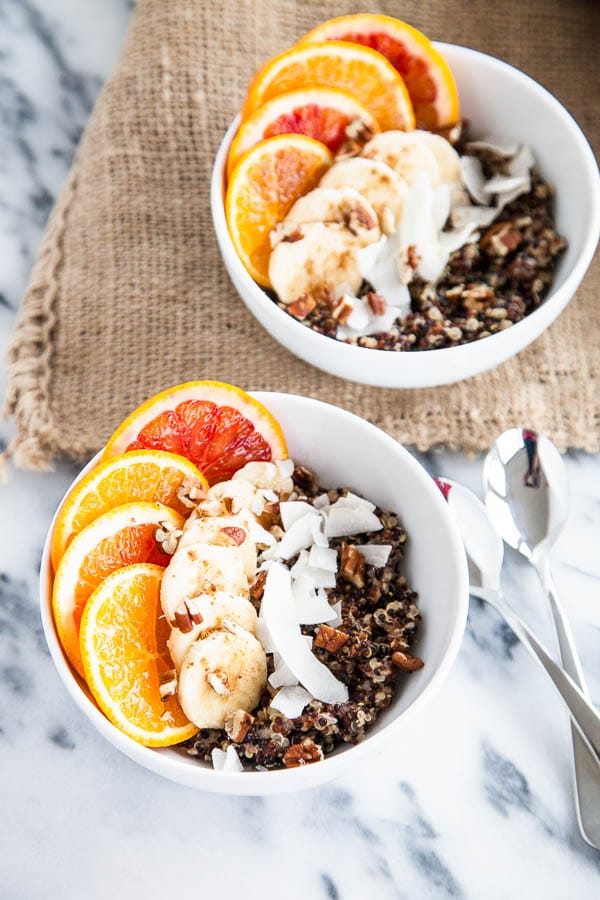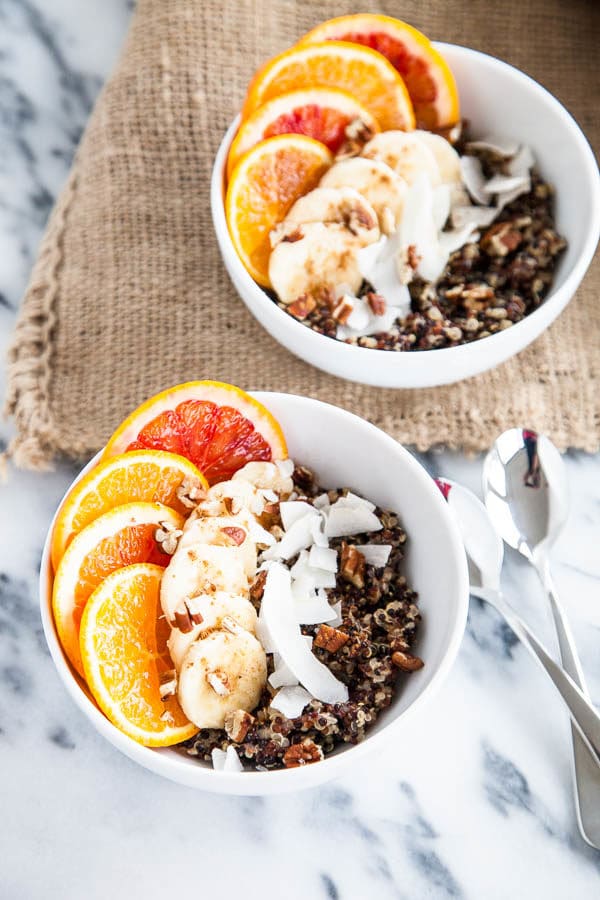 It's the last day of January! How the heck did this month go by so quickly?! Especially when it's the worst month of the year, in my opinion! Christmas is over, it's still dark, cold, and rainy, and there's no holidays or days off to look forward to. At least by February, we've got a little more light in the day and we can start looking forward to March and Spring, glorious Spring!
Good riddance, January! 😉
But because we're still in the depths of Winter, I'm still on the cozy breakfast train. And because most of us are tired of eating oatmeal for the past few months – let's switch it up!
Today let's eat QUINOA for breakfast!
Are you keen on quinoa? Because I sure am. 😉
Quinoa is most often eaten as a side on your dinner plate, or as part of a hearty salad. But hear me out – quinoa also makes a delicious and very nutritious breakfast bowl.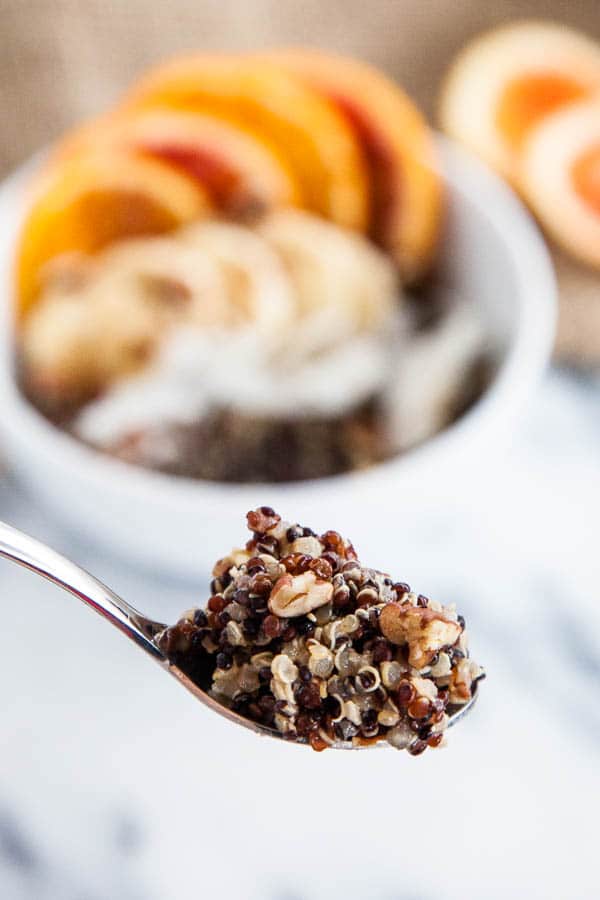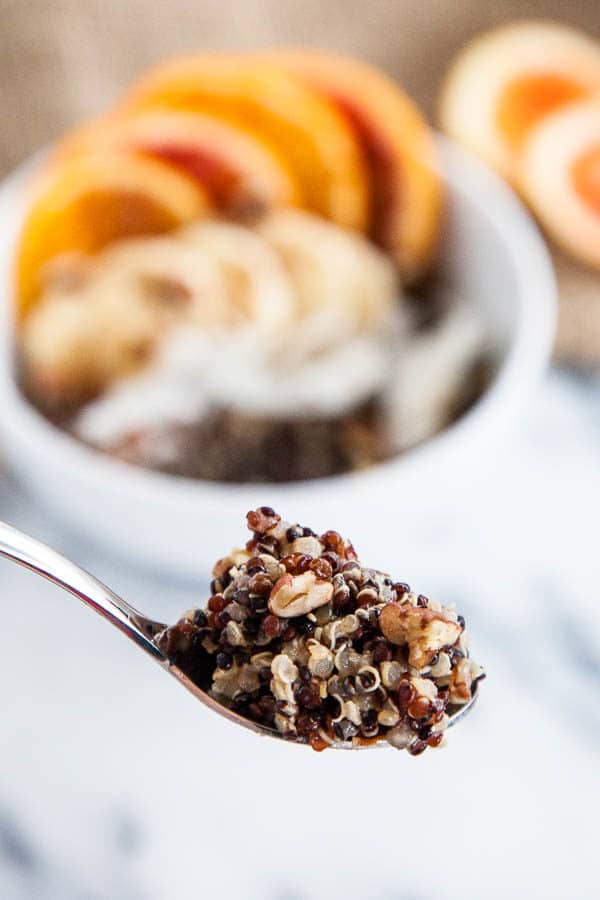 Quinoa is:
gluten-free
non-GMO
low glycemic index
high in protein (8 grams per 1 cup!)
high in fiber – more than any other grain
high in magnesium, B-vitamins, iron, potassium, calcium, phosphorus
high in antioxidents
Making quinoa for breakfast is a similar process to making it for dinner: before you start, make sure to rinse the quinoa. Quinoa seeds are coated with a compound called saponins, which, if not rinsed off, can leave a slightly bitter taste. Rinse quinoa in a fine-mesh sieve with cold water for a few minutes before using.
Instead of boiling the quinoa in water or broth, like you would for dinner, for breakfast quinoa bowls, we're using a mixture of water and milk for more creaminess. Any milk will work: regular dairy milk, almond, cashew, coconut, oat… Unicorn milk… Shooting star milk… (I can't keep up!)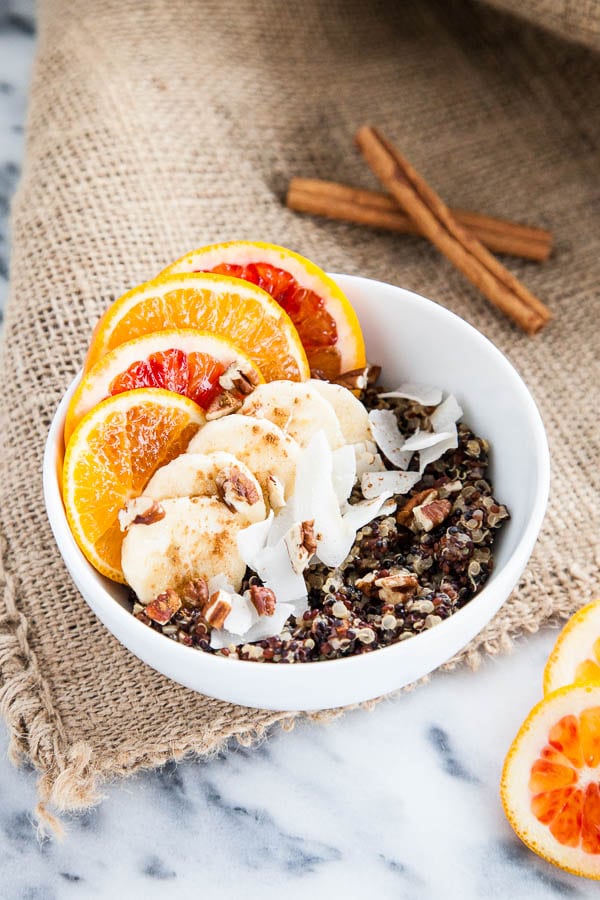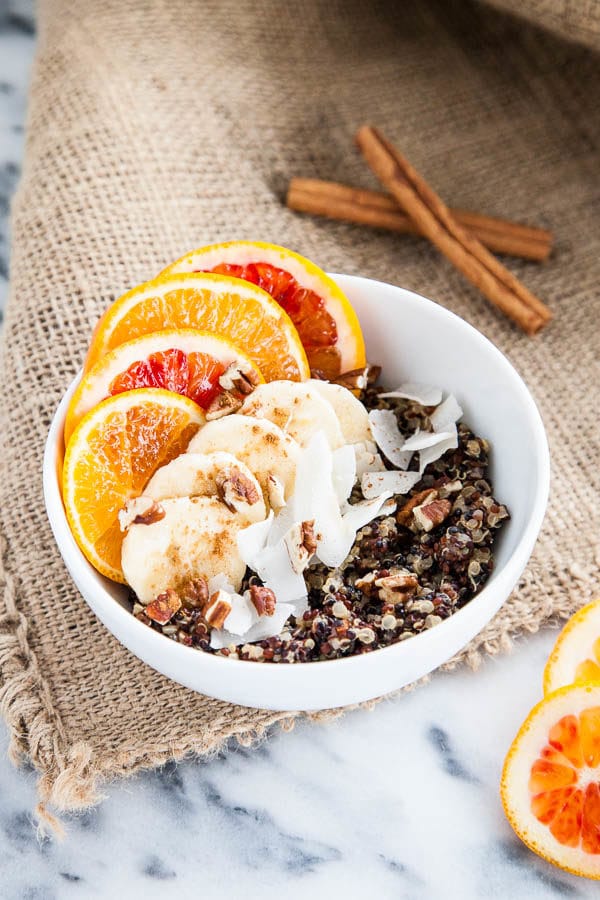 The quinoa is brought to a boil, along with yummy vanilla, cinnamon, and maple syrup, and then simmers for approximately 15 minutes, covered. Then it's left to rest off the heat for a further 5  minutes.
And then… it's time to eat! I like to portion the quinoa into bowls and add more milk, maybe some extra maple syrup, another sprinkle of cinnamon, sliced banana, and pecans. You can add any of your favourite fruits or nuts!
Let me know if you try this recipe by leaving a comment and a review!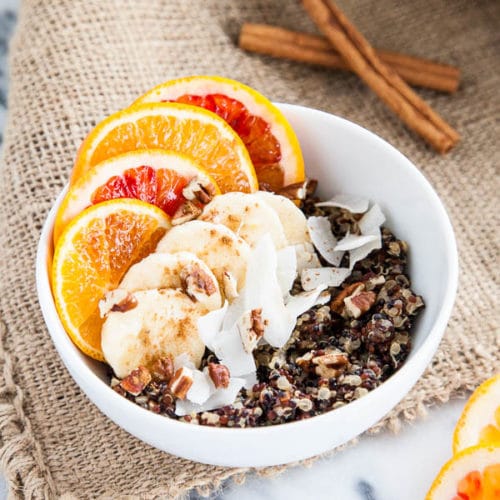 Breakfast Quinoa Bowls with Vanilla and Cinnamon
Quinoa is not just for dinner - try it for breakfast with these hearty, nutritious breakfast quinoa bowls, swirled with vanilla, cinnamon, and creamy milk.
Ingredients
1/2

cup

quinoa

1/2

cup

water

1/2

cup

milk

(can use almond/cashew/coconut milk)

1/2

teaspoon

vanilla

1

teaspoon

maple syrup

(increase to 1 tablespoon for more sweetness)

1

teaspoon

cinnamon
Instructions
Measure out quinoa and put into a fine-mesh strainer. Rinse under tap water for a few minutes, tossing and swirling the quinoa with your hand. (Rinsing the quinoa prevents it from tasting bitter.) Drain completely.

Add rinsed quinoa to a small saucepan, then add water, milk, vanilla, maple syrup, and cinnamon. Turn on heat to medium-high, and bring quinoa to a boil.

Reduce heat to a simmer, and cover the saucepan. Simmer, covered, for 15 minutes.

Remove from heat and let stand, covered, for a further 5 minutes.

Remove the lid and fluff with a fork. Portion into bowls and add a splash more milk, additional maple syrup, sliced banana, pecans, or any of your favourite fruits or nuts.
Recipe Notes
Recipe yields approximately 2-3 portions. To serve 4-5, just double the recipe.
If you're looking for other stovetop oatmeal alternatives, try: