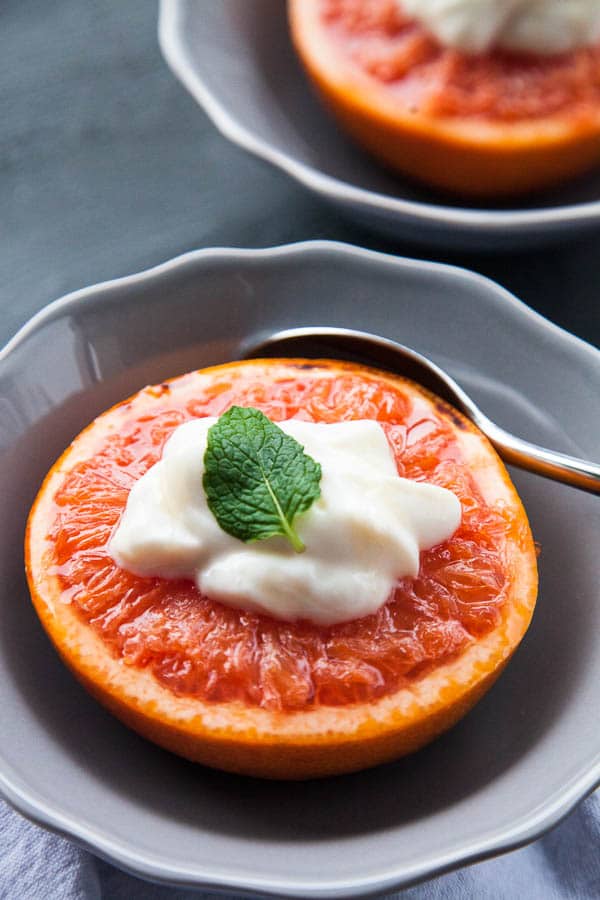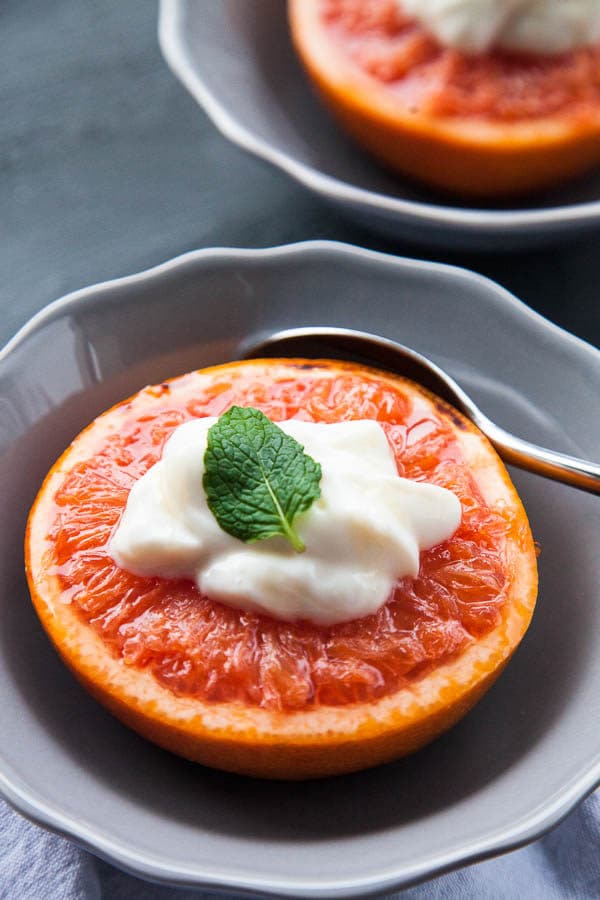 Do you ever wonder, if you were given a second shot at life, what career you might pursue instead? What you might study? What passion you might follow?
I've been watching a lot of the new Netflix documentary series Abstract: The Art of Design lately, and it's been inspiring. My favourite episodes have been Paula Scher on Graphic Design and Bjarke Ingels on Architecture. Have you watched it yet?
In my alternate life, I would pursue design. As a kid, I doodled floor plans of houses, which often accompanied the fictional stories I wrote. I loved planning the entirety of a story: designing the home where the characters lived and even plotting their family tree.
As an adolescent, I was fascinated with web design and graphics. I taught myself basic HTML coding and loved messing around on Photoshop, playing with fonts, making logos, and editing photographs. (Nerd alert!)
Of course, this blog is an outlet for my passion for art and design, but it's interesting to wonder what an alternate life might look like in a graphic design or architecture career.
What alternate career would you pursue in another life?
… and these thoughts have literally nothing to do with grapefruit! Ha! Boss ladies need quick breakfasts in the form of broiled grapefruit….?! 😉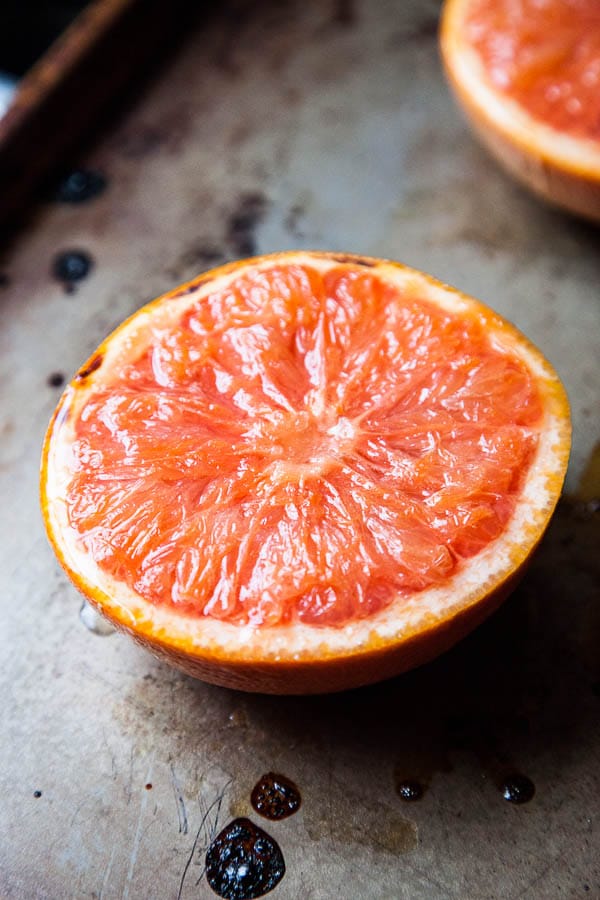 Anyway! Let's talk about broiled grapefruit.
Have you ever made it?  The grapefruit becomes warm and toasty and caramelized from the drizzle of honey on top… and then adding a dollop of creamy Greek yogurt and it's really almost like dessert for breakfast.
Healthy dessert.
And that's something worth getting up for.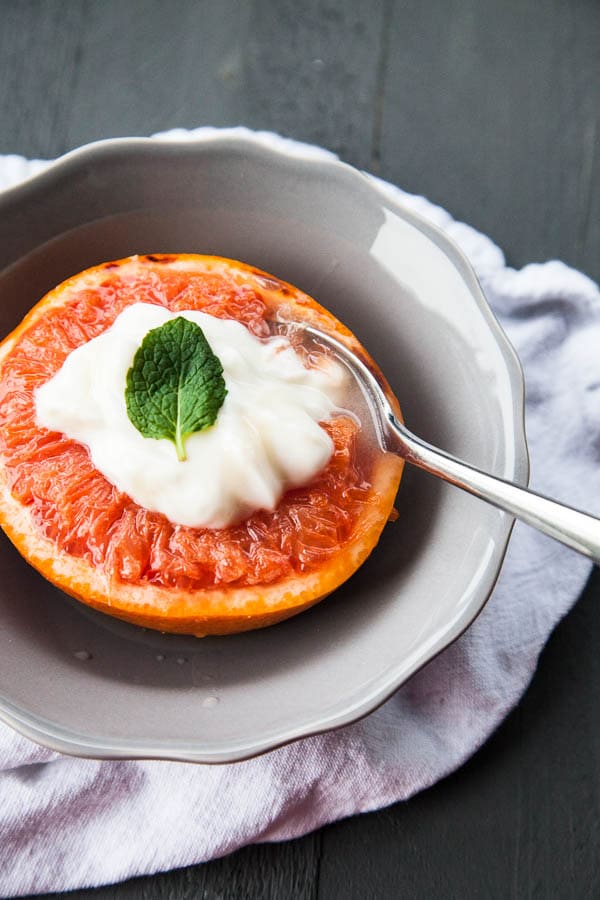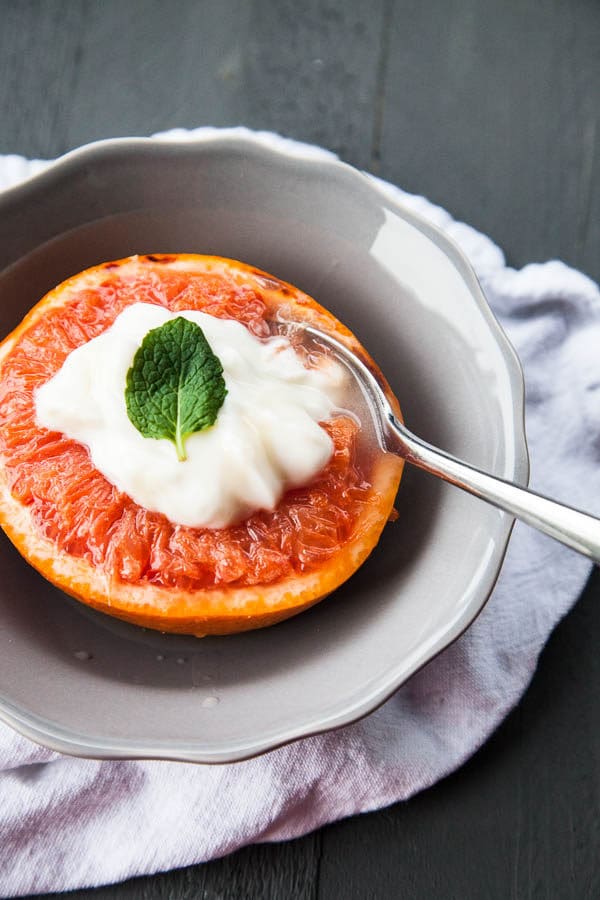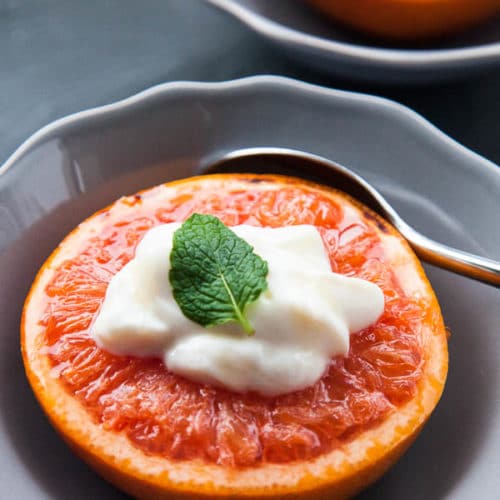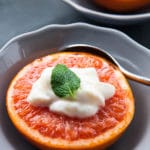 Broiled Grapefruit with Honey and Yogurt
Grapefruit becomes almost like dessert with a caramelized sugary topping, served with honey and creamy Greek yogurt.
Keyword:
broiled, grapefruit, greek yogurt
Ingredients
1

grapefruit, cut in half

2

teaspoons

honey,

plus more for serving

plain Greek yogurt

mint sprigs, for garnish
Instructions
Heat oven to broil.

Place grapefruit halves on a parchment or foil-lined baking sheet. Using a small, sharp knife, loosen the grapefruit segments in each half by carefully cutting around the circumference between the fruit and the peel, and between each segment, if desired.

Drizzle each half with 1 teaspoon of honey.

Place baking sheet into the oven on a high rack and broil for approximately 3-5 minutes, until the honey starts bubbling and the grapefruit turns golden.

Serve each half with a dollop of Greek yogurt and more honey, if desired. Garnish with mint sprigs.
Recipe Notes
Ruby red grapefruits are sweeter than yellow grapefruits, so if you're using yellow grapefruits, you may want to increase the honey quantity.
Tip: Cut a small slice off the rounded bottom of each grapefruit half so they sit flat and are less wobbly!