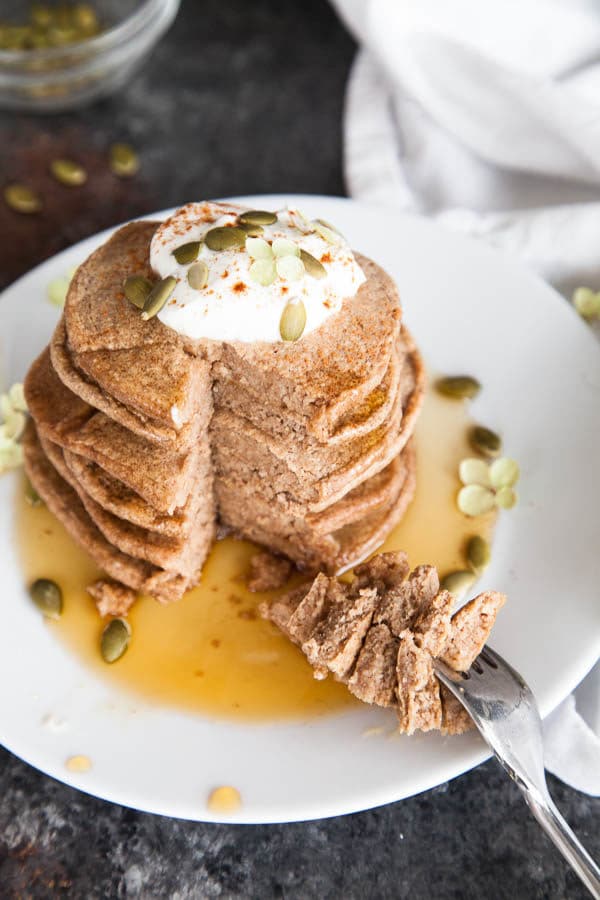 Lately, I've been exploring the many virtues of oat flour. Did you know that oat flour is just rolled oats blended so finely until they resemble flour? It's a miracle!
Second bonus: oat flour is gluten-free (as long as you are using certified gluten-free oats)! Major win!!
Oat flour can be substituted for regular all-purpose flour in many baked goods (muffins and cookies especially), which makes it so versatile! Note that oat flour makes baking more dense, so the addition of baking powder maintains a lighter consistency.
Chai Spice Oat Flour Blender Pancakes are made using oat flour and can be whipped together in literally 1 minute. If you have a high-powered blender, such as a Vitamix, all of the ingredients can be dumped in, blended on high until smooth and silky, and as soon as your griddle is sizzling, pancakes will be comin' atcha!
(And if you don't have a high-powered blender, I recommend taking the extra step to pre-pulverize the rolled oats into oat flour before adding the remaining ingredients to blend into pancake batter.)
These blender pancakes are flavoured with the warm chai spices of cardamom, cinnamon, ginger, and cloves. Because chai tea is the only tea I want to drink these days, as the leaves curl and yellow, and my breath steams in front of my face in the cold air.
Last weekend on a rainy Saturday, my 7-year-old step-daughter made these Oat Flour Blender Pancakes all by herself and gave them her seal of approval – I bet your kids will approve too!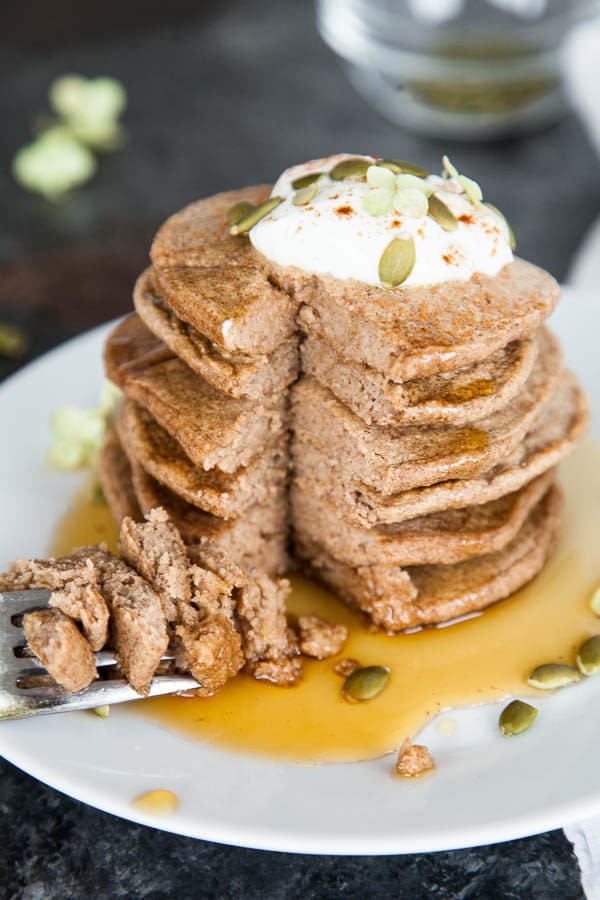 One week until Halloween, guys! Since we moved in July, we now have a house with a front door, which means we'll get to hand out candy to trick-or-treaters! While simultaneously trying not to eat all the candy before the little kiddies knock on our door…
I picked up an eagle costume from Ikea of all places which is essentially a feather cape that I'll be wearing to work and to hand out candy – easiest and most comfy costume ever! Now that I've exited the years of my early 20s when I was only interested in tight/low-cut/scandalous costumes, my requirements for costumes now exist on one sole criteria: comfort. 😉
What are you or your kidlets dressing up as this year?
Chai Spice Oat Flour Blender Pancakes
Ingredients
1 1/2

cups

rolled oats

1/2

teaspoon

baking powder

1

teaspoon

ground cinnamon

1

teaspoon

ground cardamom

1/2

teaspoon

ground ginger

1/8

teaspoon

ground cloves

1

egg

1

cup

milk

1

teaspoon

vanilla
Instructions
In a blender, add the oats and blend on high speed until they have broken down to resemble flour. Then add all remaining ingredients and blend until smooth. (Alternatively, if you own a high-powered blender such as a Vitamix, you will be able to add all the ingredients at once and blend until smooth.)

Set aside the oat mixture for 5 minutes to thicken.

Meanwhile, grease and heat your griddle to medium heat. With a 1/3 cup measuring scoop, pour each pancake onto the griddle. Cook for approximately 2-5 mins per side, flipping when the edges have cooked.

Serve hot with maple syrup.
Recipe Notes
Recipe makes 8-10 medium-size pancakes, serving approx 2-4 people, depending on your appetite!
Psst – put your blender to good use and try these other blender recipes: