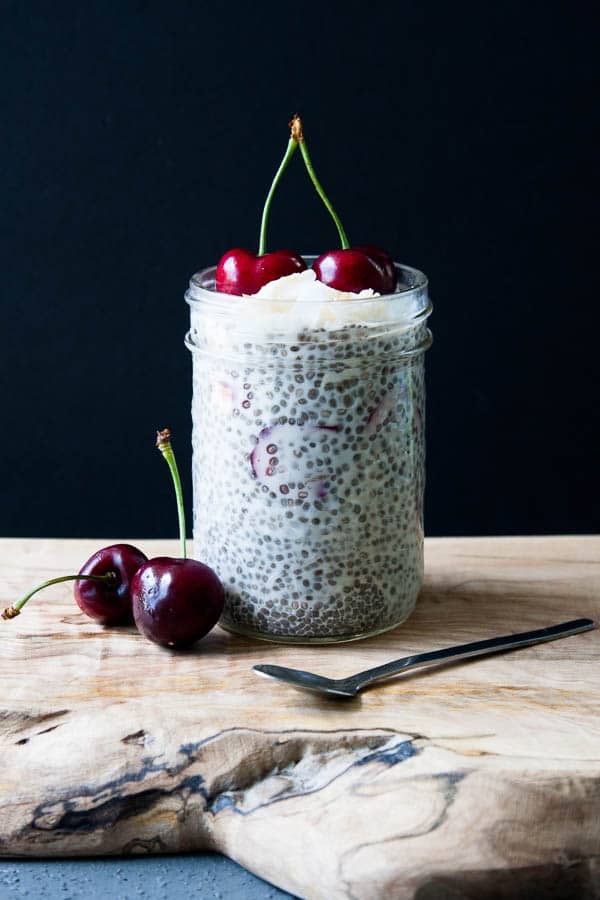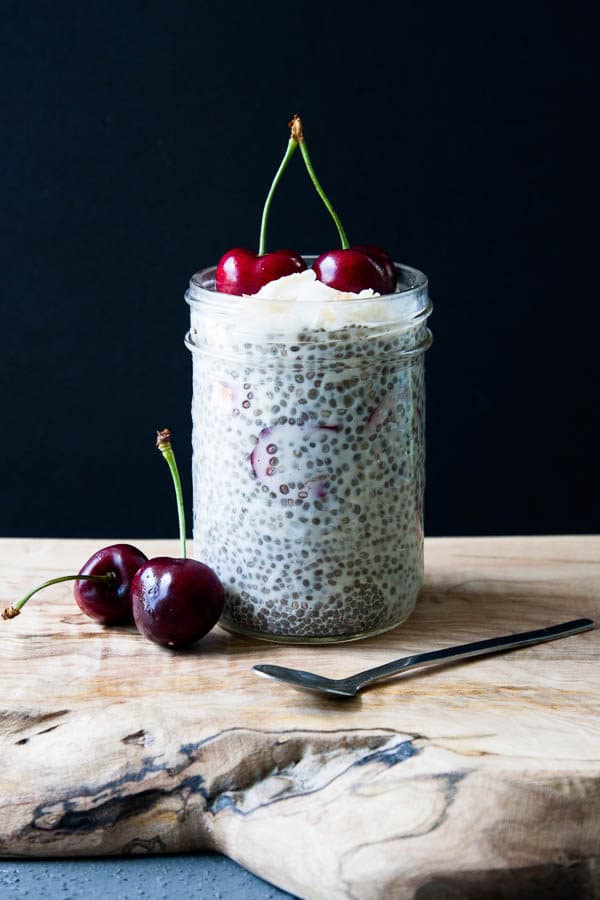 I've just had the most lovely soul-reviving weekend. My husband J was out of town and I was left with two glorious days with absolutely nothing on my calendar. It's been a long time since I had a weekend so open! I did the perfect amount of errands and cooking and relaxing and am now approaching this week feeling rejuvenated.
On Saturday I knew I wanted to get an early start on some errands, and so I'd set Cherry Coconut Chia Pudding in my fridge the night before. Cherries and toasted coconut pair so lovely together, they were perfect additions to this chia pudding.
I'm working through a giant basket of the first local cherries of the season – I just can't get enough!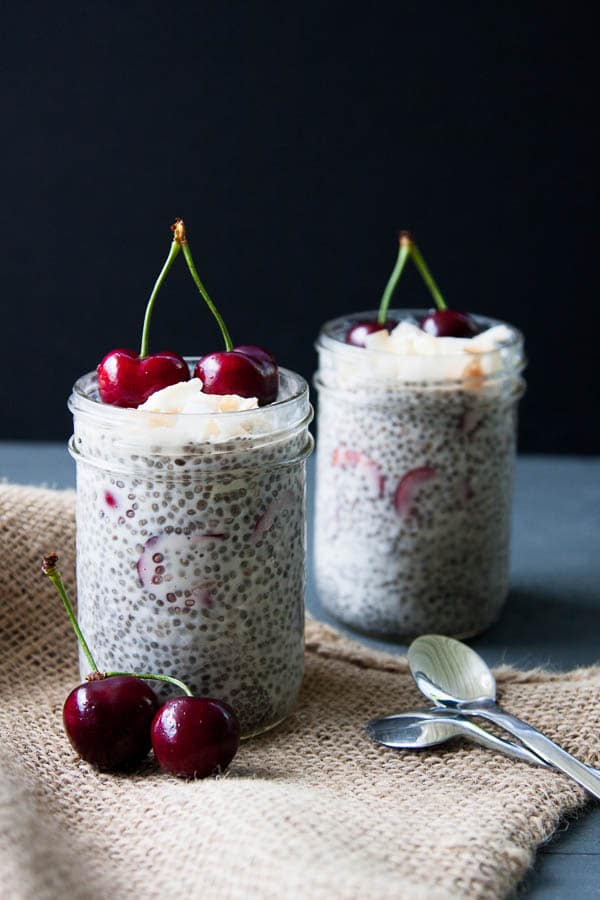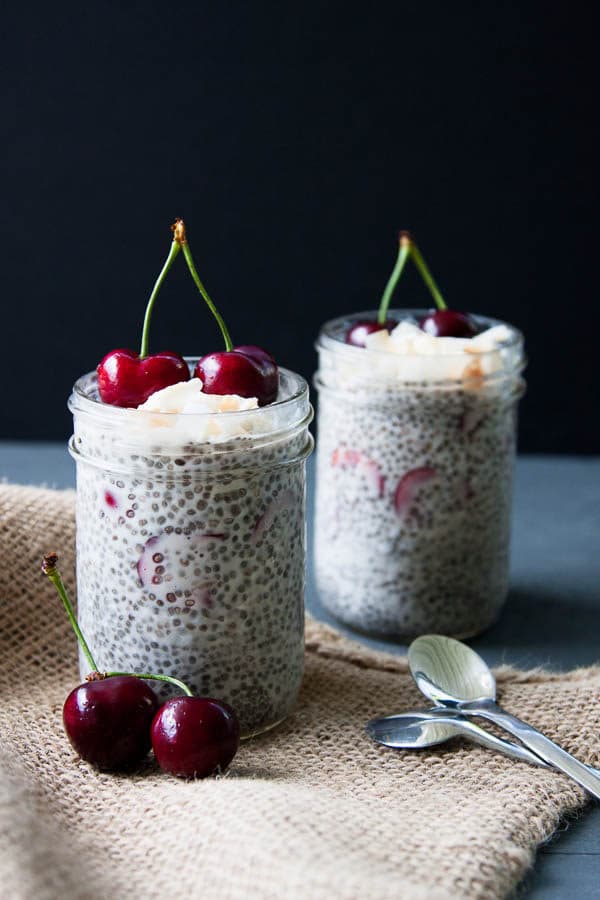 Never made Chia Pudding? The trick is to set the jars overnight in the fridge – otherwise the magical chia seeds won't grow and you'll be left with lumpy milk. If the Chia Pudding mason jars are left undisturbed, the chia seeds grow to absorb the moisture in the milk and transform into a a thick and healthy pudding.
Do a quick google on chia seeds, and you'll be amazed with all their health benefits.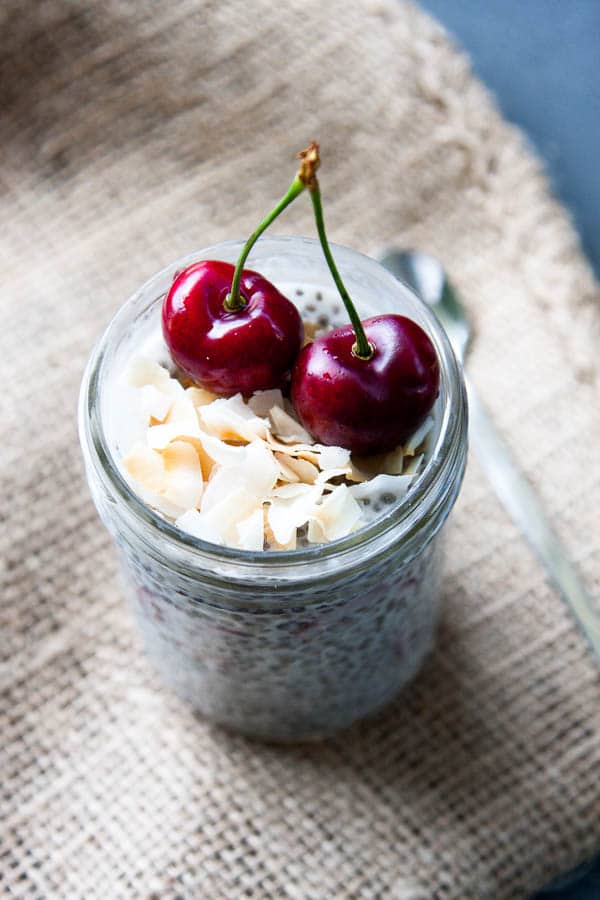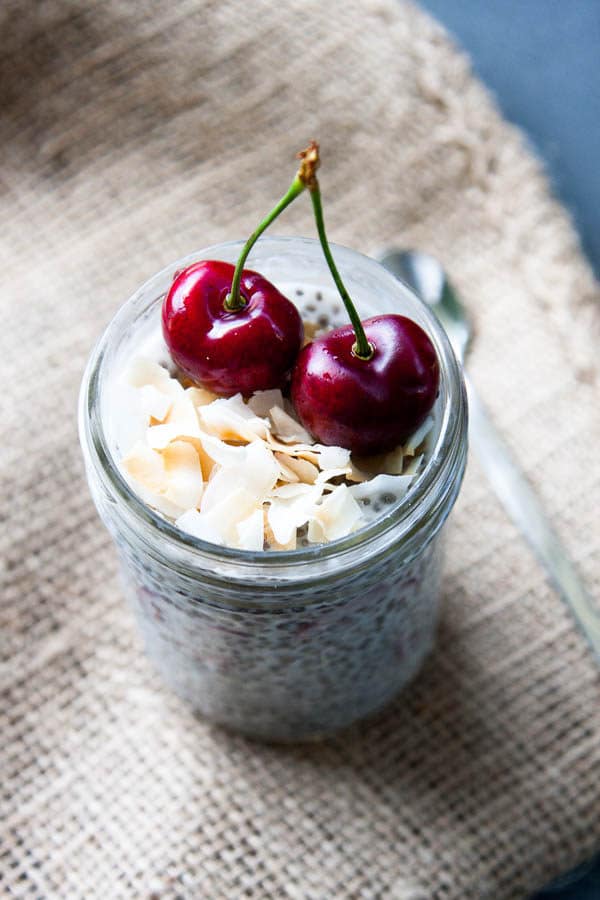 Chia Pudding and Overnight Oats are my favourite workday breakfasts – simple, fast, and super healthy. Aren't mason jar breakfasts just the best?!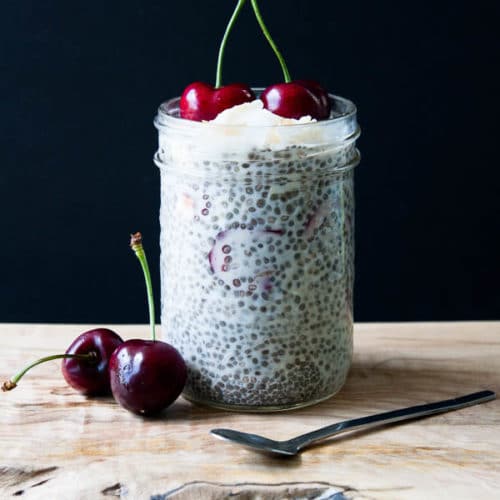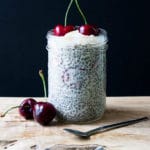 Cherry Coconut Chia Pudding
One of my favourite healthy breakfast recipes to take to go! Recipe makes one half-pint mason jar.
Keyword:
cherry, chia seed, chia seed pudding, coconut, mason jar, overnight
Ingredients
¾

cup

milk

(any dairy or plant-based milk works)

2

tablespoons

chia seeds

½

teaspoon

vanilla extract

1

teaspoon

maple syrup

1

tablespoon

toasted unsweetened coconut flakes, plus more to garnish

(see note)

handful of cherries, washed, pitted, and halved, plus more to serve
Instructions
In a half-pint (8 oz) mason jar, add milk, chia seeds, vanilla and maple syrup. Screw on the lid tightly, and shake the ingredients together.

Set jar in the fridge for 8 hours, or overnight.

In the morning, pudding will have gelled together and thickened. Stir in coconut flakes and cherry halves.

Garnish with more coconut flakes and cherries and serve.
Recipe Notes
To toast coconut: put coconut flakes on a baking sheet and broil in a hot oven for 5-10 minutes. Mine take about 7 minutes, but it will depend on your oven. Make sure to check on it regularly - it burns quickly!