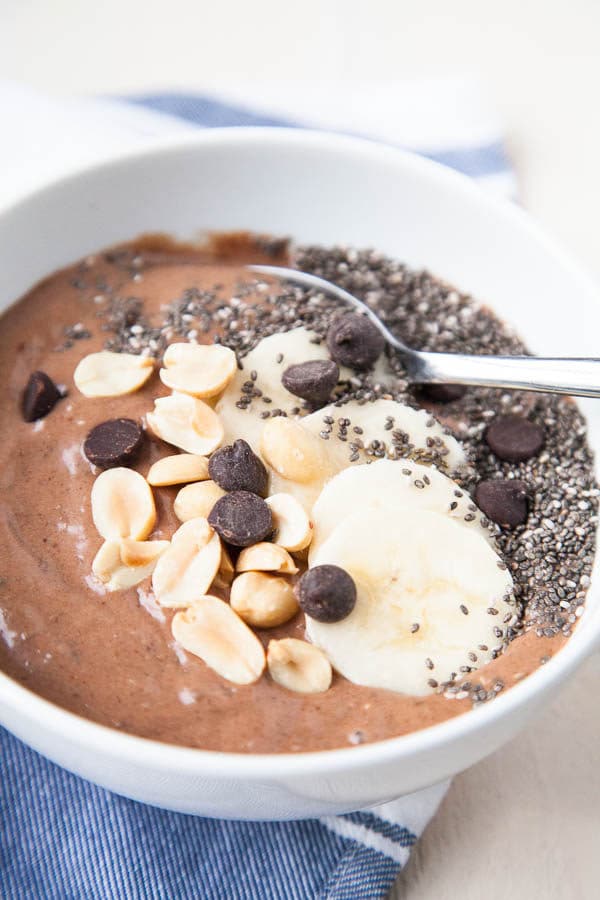 I've been obsessed with breakfast bowls lately! They are such a simple way to combine so many flavours into one delicious bowl – and then you have the best excuse to load up on all your favourite toppings. I've been eating tons of oatmeal bowls and rice pudding bowls  sprinkled with my favourite fresh fruits, crunchy granola, chopped nuts, drizzles of homemade jam… the toppings are the best part, really 😉
But for this recipe, the toppings definitely come second. This Chocolate Peanut Butter Smoothie Bowl tastes like DESSERT in a bowl. The first time I made this recipe and dunked a spoon in my blender to give it a taste, I actually audibly breathed, "OHMYGOD" and forced a spoonful into J's mouth so he could taste it too.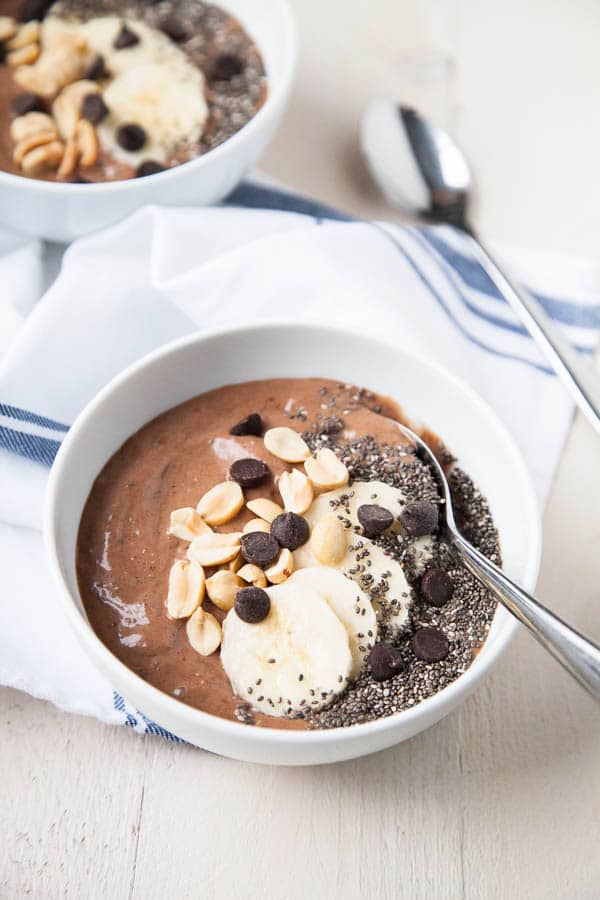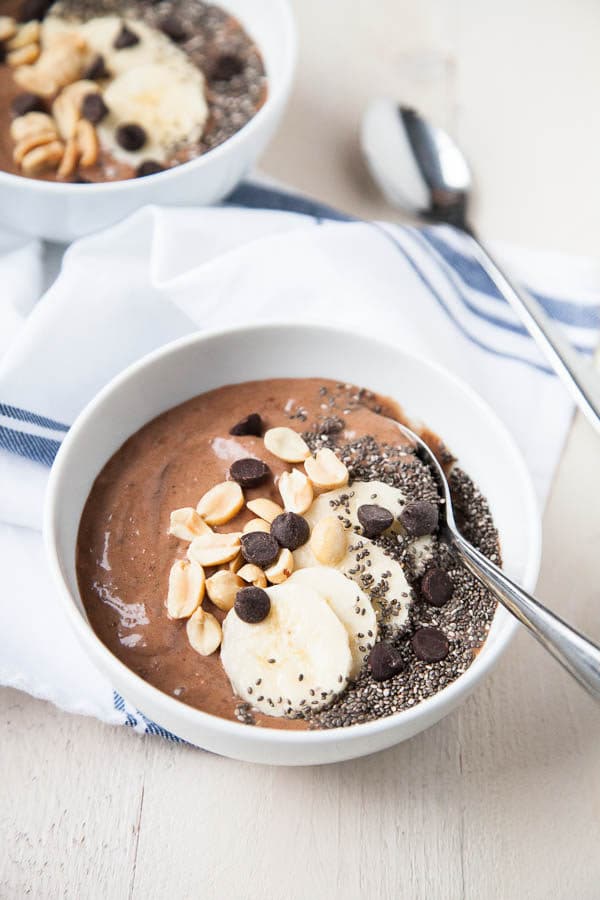 The very best part about this Chocolate Peanut Butter Smoothie Bowl is that it tastes like a treat, but is so HEALTHY! The base is frozen bananas, mixed with a little almond milk, peanut butter, cocoa powder, dates for sweetness, and chia seeds for thickness. And all those healthy, whole ingredients really make me smile.
Everything gets popped into your blender, blended until smooth, poured (or scooped if yours is really thick!) into bowls, and topped with more crunchy peanuts, banana slices, and chocolate chips if you're feeling naughty.
I mean, who wouldn't want to start their day with chocolate?!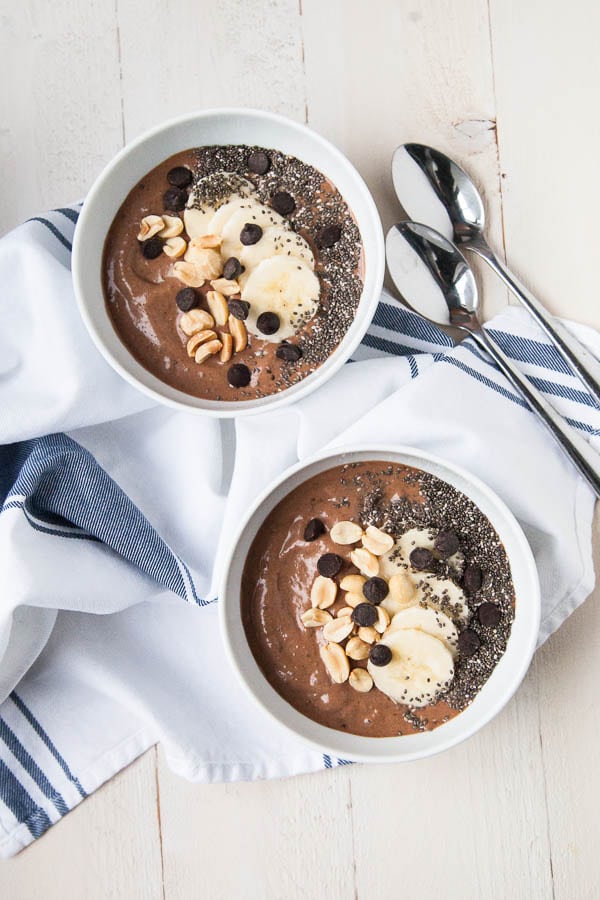 And if you're looking for a healthy dessert alternative – this smoothie bowl has got your back! It's going to get some heavy rotation in my house when it's summer and I want a healthy dessert alternative to ice cream – because I love ice cream.
Oh summer, you're so close, I can [literally] almost taste it!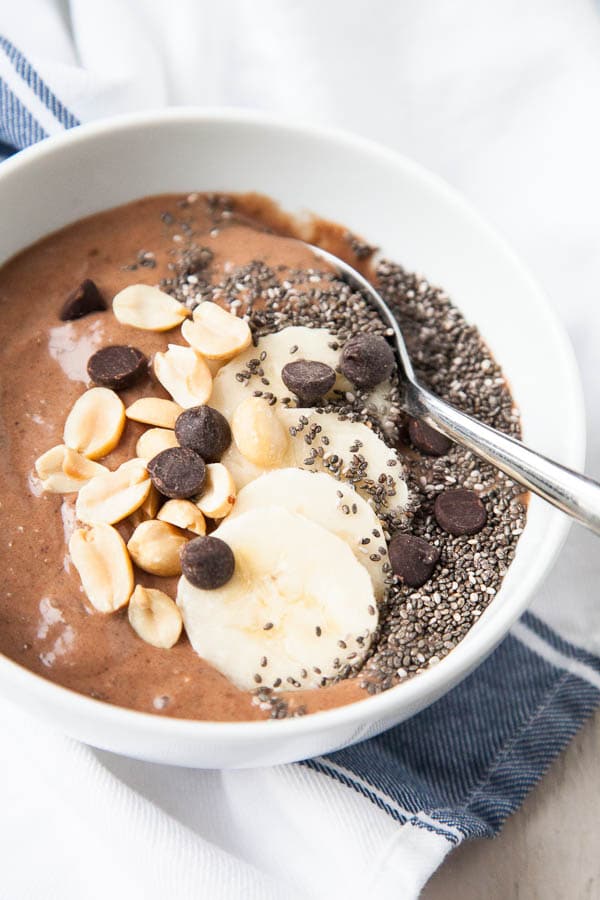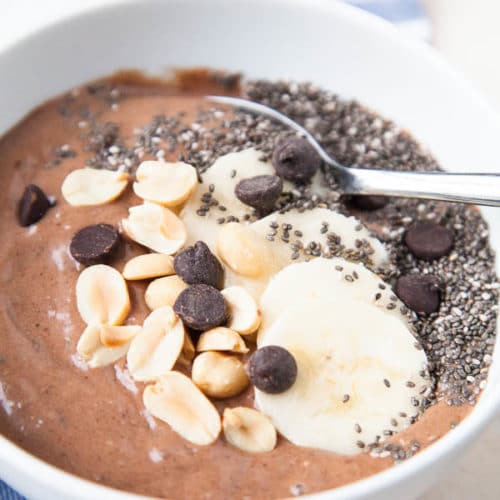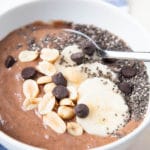 Chocolate Peanut Butter Smoothie Bowl
This Chocolate Peanut Butter Smoothie Bowl is tastes like a treat, but is so healthy! Recipe yields 1 very large or 2 smaller bowls.
Course:
Breakfast, Brunch
Keyword:
blender, chocolate, healthy, nice cream, peanut butter, smoothie bowl
Ingredients
2

frozen bananas

(see note)

1/3 - 1/2

cup

milk of choice

(I prefer almond or cashew milk)

2

tablespoons

natural peanut butter

2

tablespoons

cocoa powder

(cacao powder also works!)

2

Medjool dates

pitted

1

tablespoon

chia seeds

chopped peanuts, for garnish

extra chia seeds, for garnish

semi-sweet chocolate chips, for garnish
Instructions
Add frozen bananas, almond milk, peanut butter, cocoa powder, dates, and chia seeds to a blender. Start with 1/3 cup of milk and blend on high until smooth. You may need to add additional milk (up to 1/2 cup), depending on how large your bananas are, and how powerful your blender is.

When ingredients are smooth and desired thickness is reached, pour or scoop out smoothie into a bowl. Top with chopped peanuts, additional chia seeds, and chocolate chips.