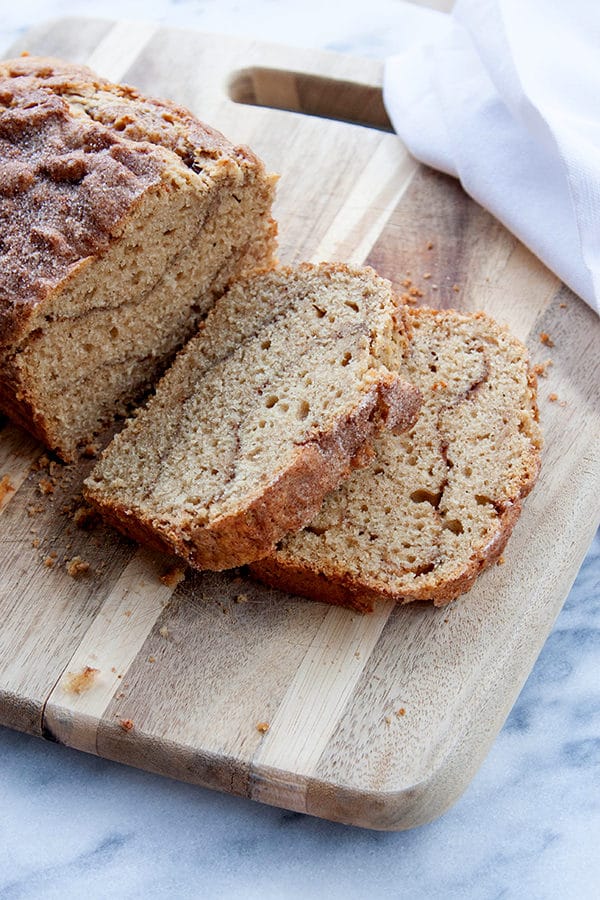 Ribbons of cinnamon!  Oh how I love thee, cinnamon!
There's a lot of cinnamon in this loaf – the more the better, in my opinion! Cinnamony batter is layered with generous sprinkles of cinnamon sugar, creating visible "ribbons" of cinnamon flavour explosions throughout the loaf.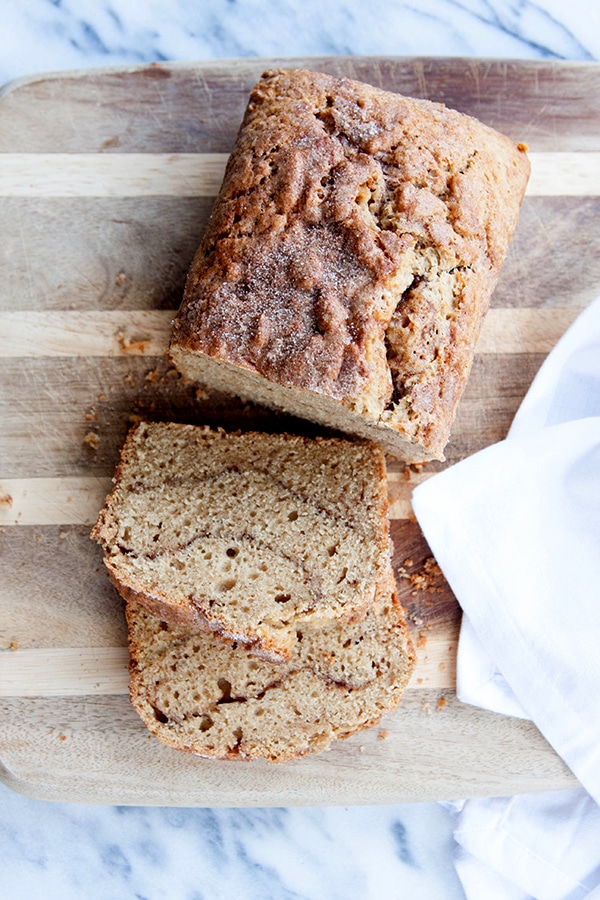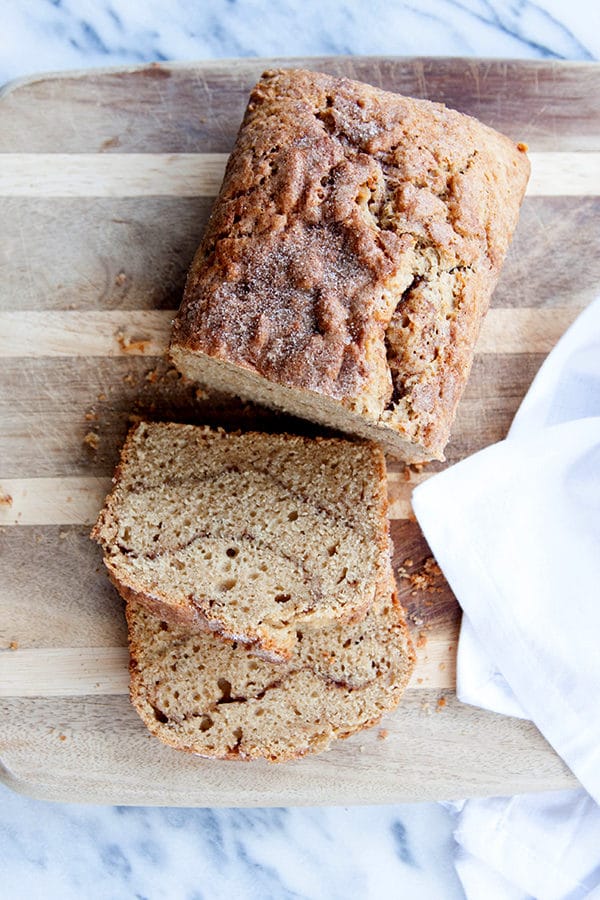 The best part: this Cinnamon Ribbon Loaf is  CINCH to whip up. All you need is one bowl and a whisk and once you've quickly whisked the cinnamon batter together (which takes all of 5 minutes), then you're ready to assemble the loaf and with cinnamon ribbons!
Making those pretty cinnamon ribbons is simple – pour in 1/3 of your batter, level it, and then scatter 1/3 of the cinnamon and sugar all over top. Pour the next 1/3 of batter on top, level, and scatter more cinnamon sugar. Then add the last 1/3 of batter, and sprinkle the last 1/3 of cinnamon sugar on top of the loaf.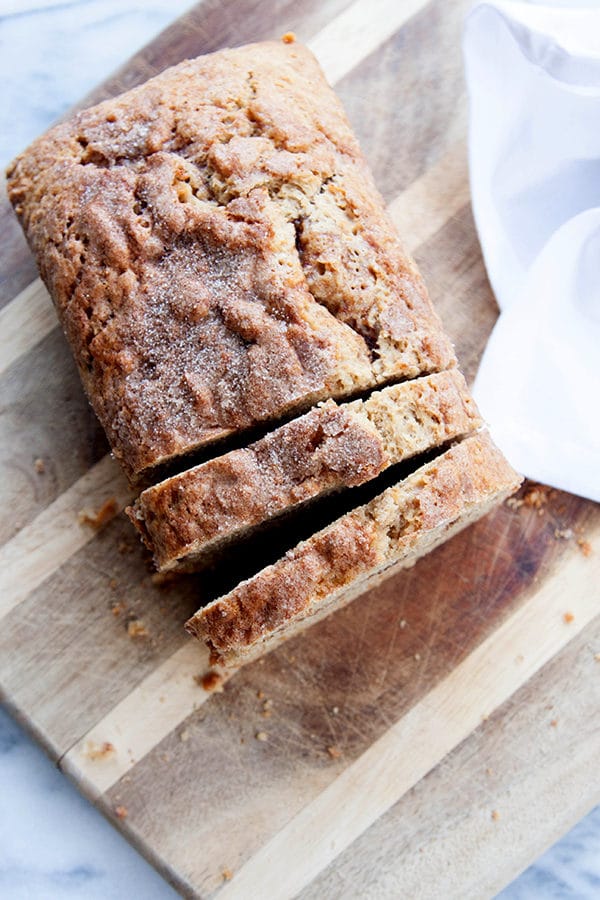 When the loaf is baked and you slice yourself a generous piece, you'll see waves of warm cinnamon sugar rippled through.
And just in case you're looking for the most decadent breakfast treat EVER, slice up some Cinnamon Ribbon Loaf to use as the bread for French Toast. Your mouth will thank me.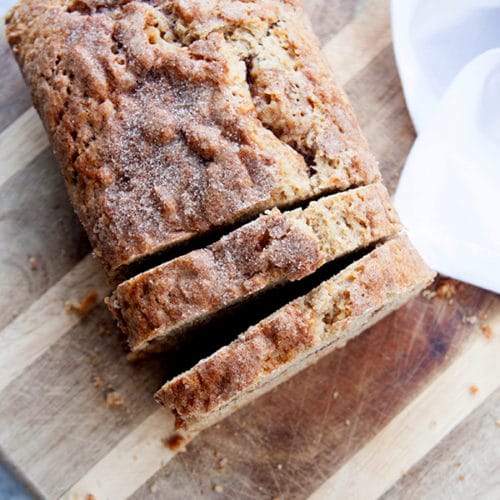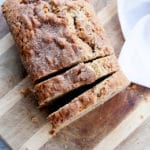 Cinnamon Ribbon Loaf
Cinnamon lovers unite! There's no skimping on cinnamon in this loaf.
Keyword:
bread, cinnamon, loaf
Ingredients
For the loaf:

1/4

cup

unsalted butter, melted and slightly cooled

1/4

cup

coconut oil, melted and slightly cooled

1

large egg

1/2

cup

brown sugar

1

tablespoon

vanilla extract

1

cup

buttermilk

(see note)

2

cups

all-purpose flour

1

teaspoon

ground cinnamon

pinch

ground nutmeg

1

teaspoon

baking soda

For the cinnamon sugar ribbon:

1/2

cup

granulated sugar

2

tablespoons

cinnamon
Instructions
Preheat oven to 350 F and grease a 9x5" loaf pan.

In a small bowl, stir together the ingredients for the cinnamon sugar ribbon and set aside.

In a large bowl, whisk together the melted butter, melted coconut oil, egg, brown sugar, and vanilla extract. Then whisk in the buttermilk.

Add the flour, cinnamon, nutmeg, and baking soda and lightly whisk into the wet ingredients, until just combined.

Pour 1/3 of the batter into the prepared loaf pan, spreading it evenly across the bottom with a spoon or a spatula. Sprinkle 1/3 of the cinnamon sugar over the batter. Pour another 1/3 of the batter into the loaf pan, spreading it evenly, and again sprinkling 1/3 of cinnamon sugar over top. Spread the remaining batter on top, and finish with the remaining sprinkle of cinnamon sugar.

Bake for 45-50 minutes until lightly browned on top, and a toothpick inserted in the centre comes out clean. Let cool, then turn loaf out of pan and serve.
Recipe Notes
Make your own buttermilk by adding 2 tablespoons of lemon juice into a 1 cup measuring cup, then filling the rest of the measuring cup with milk. Stir and then let it stand for 10 mins before using.
Recipe first published on my now-defunct blog, The Lovely Kitchen; adapted from Averie Cooks.