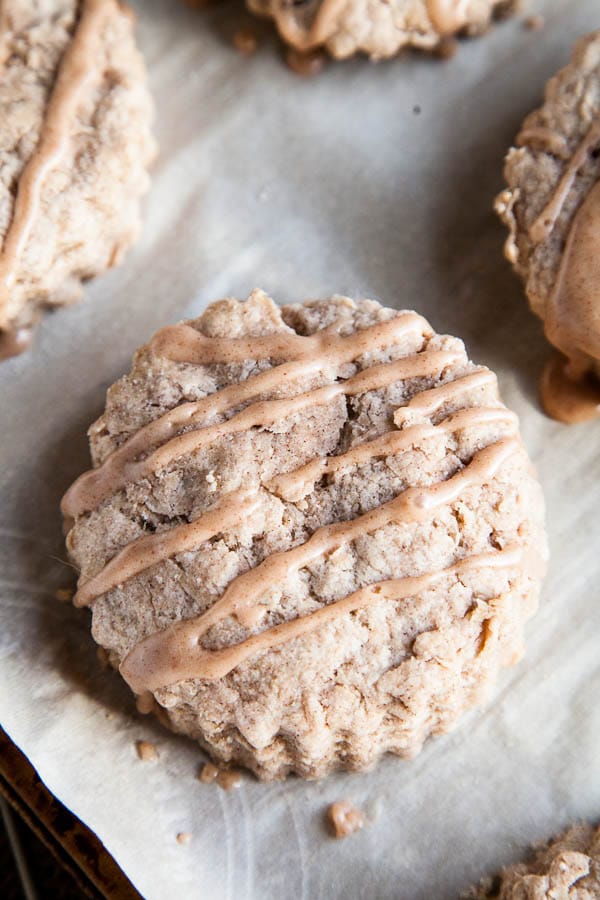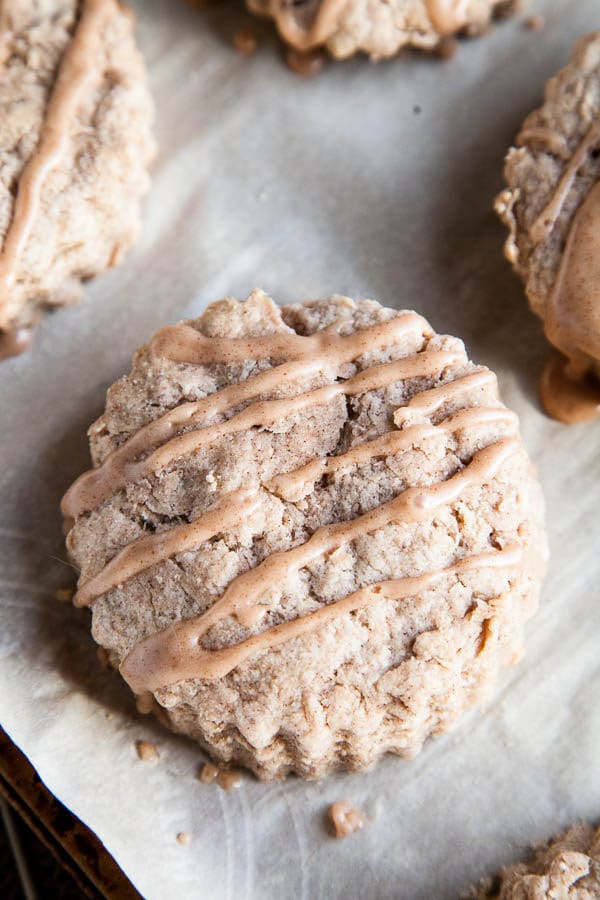 I've come down with a cold in the last week (me, you, and everyone we know 😉 ) and have been drinking incredible amounts of tea. Peppermint, Lemon Ginger, Apple Cinnamon, Moroccan Mint green tea, real ginger slices with lemon juice and honey… I've been gulping tea like there's no tomorrow.
And guess what pairs perfectly with tea? Scones. So when I still had an ounce of energy to do a little baking this weekend, scones were on my mind.
And not just any scones – Cinnamon Scones.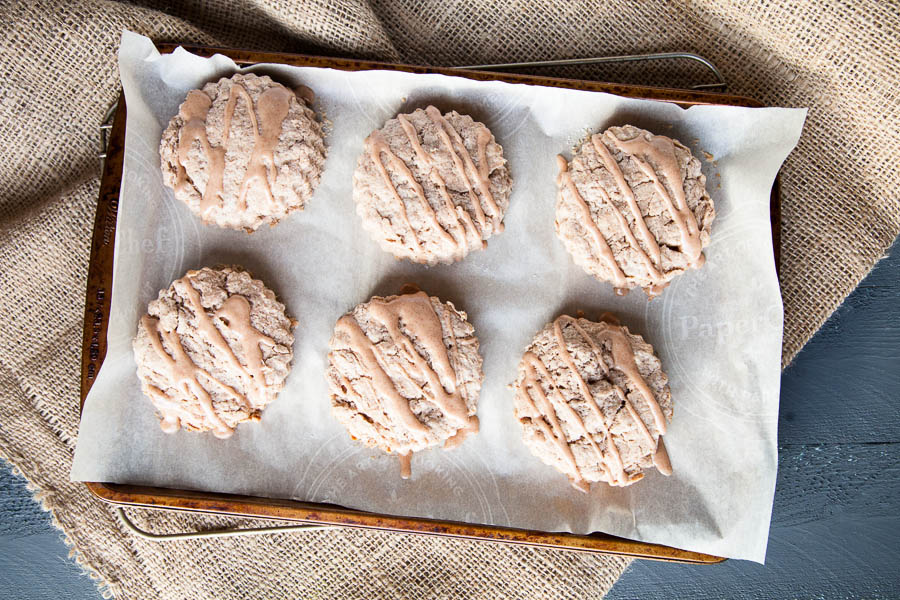 There's a lot of cinnamon in these scones.
FOUR generous teaspoons of cinnamon are swirled into the dough, as well as a cinnamon glaze coating the tops.
These are not healthy scones. 😉 These are scones to enjoy on a frosty winter morning with a hot cup of tea. In a lovely tea cup and saucer. The kind with roses on them that are found in grandmothers' china cabinets. Because a pretty tea cup and saucer just feels so much fancier!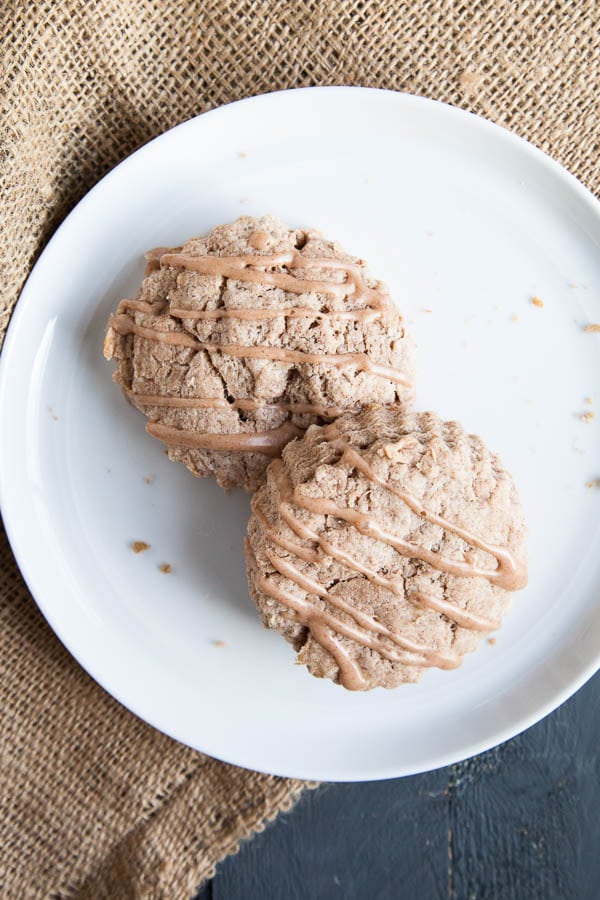 Scones are a little tricky to make, and I'll admit that I am not a pro. (Unfortunately I don't get the opportunity to practice much, because if there's one baked good that J hates, it is scones! So if I make a batch of scones, all of them end up with my name written on them. And hoovering 12 scones into my mouth isn't the best idea.)
Here are the best scone tricks I've learned:
DON'T OVER-KNEAD THE DOUGH. If you do nothing else, do this. Otherwise your scones will end up rubbery like tires. No one wants to eat Cinnamon Tires.
Use cold butter! I like to pre-cut my butter into smallish squares, and then keep it in the fridge on a plate until needed.
Try to touch the dough with your hands as little as possible. Your hands are warm, and that will melt the butter. And again, that means don't over-knead!
Feel free to leave the cinnamon glaze off the scones – but I don't know why you'd want to do that. 😉
Cinnamon Scones taste best on the day they're made, and I prefer them still warm from the oven. With that fancy cup of tea I mentioned.
Cinnamon Scones
Cinnamon lovers unite! There's a lot of cinnamon in these scones. FOUR generous teaspoons of cinnamon are swirled into the dough, as well as a cinnamon glaze coating the tops.
Course:
Breakfast, Brunch, Dessert
Keyword:
baking, cinnamon, scones
Ingredients
For the scones:

1

cup

sour cream

1

teaspoon

baking soda

1

egg

1

teaspoon

vanilla

4

cups

all-purpose flour

1/2

cup

sugar

4

teaspoons

cinnamon

2

teaspoons

baking powder

1

teaspoon

salt

1

cup

cold butter

For the cinnamon glaze:

1

cup

powdered sugar

plus more if needed

1

teaspoon

cinnamon

2

tablespoon

milk

1/4

teaspoon

vanilla extract
Instructions
Preheat oven to 350 F degrees.

Line two baking sheets with parchment paper.

In a small bowl, stir together sour cream, baking soda, egg, and vanilla. Set aside.

In a large bowl, mix together flour, sugar, cinnamon, baking powder, and salt. Using a pastry cutter or two knives, cut in butter until mixture resembles coarse breadcrumbs.

Pour the sour cream mixture into the dry ingredients, stirring together until just moistened.

Turn crumbly mixture onto your counter and knead briefly to bring ingredients together - do not knead more than 10 times.

Divide dough into two, and using your hands, pat each dough round into 3/4 inch thickness. Using a round cookie cutter, cut out 6 scones. Alternatively, cut dough round into 6 wedge-shaped pieces. Repeat with second dough round.

Bake for 15-20 minutes or until bottoms are lightly golden brown.

While scones are cooking, make the cinnamon glaze. In a small bowl, stir together powdered sugar, cinnamon, milk, and vanilla extract. Add more powdered sugar if needed, for desired consistency. Set aside.

Once scones have cooled at least 5 minutes, drizzle with cinnamon glaze. Serve.