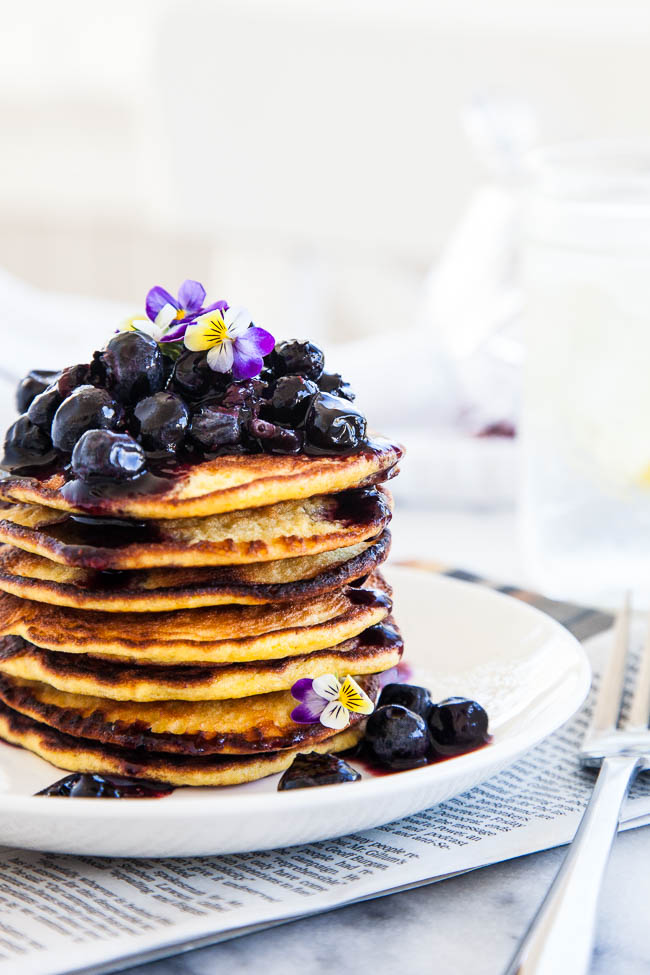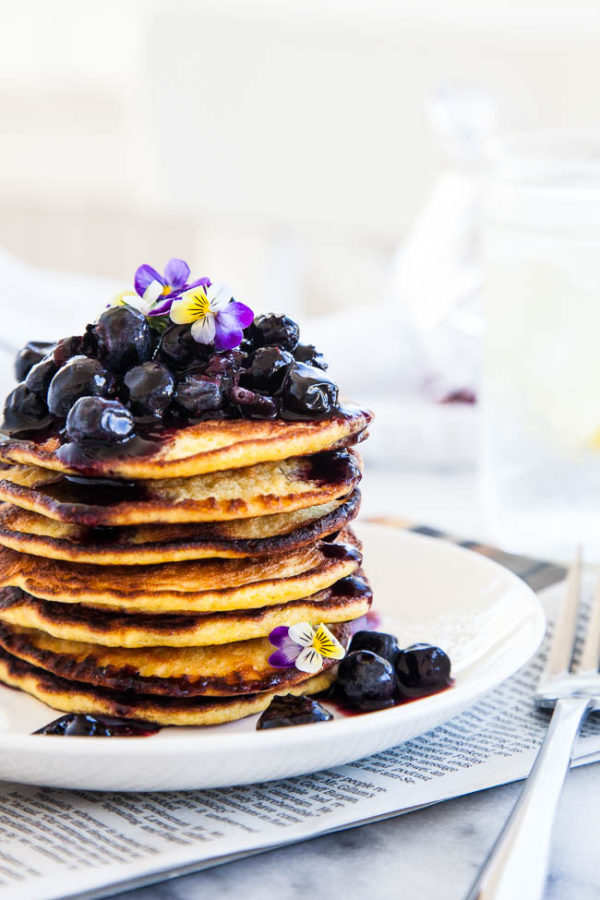 I've been doing a deep dive into pancake alternatives lately – I've shared Almond Flour Pancakes, Oatmeal Pancakes, and Chai Spice Oat Flour Pancakes. The pancake train is not stopping – all aboard!! 😉
Today I'm sharing Coconut Flour Pancakes. Coconut Flour is a hit in the low-carb world because it is gluten and grain-free and high in fibre and protein. Coconut Flour is also nut-free, so if you have a nut allergy, this is a recipe for you!
Unfortunately, coconut flour can be a little tricky to bake with. You can never (and I repeat NEVER!) substitute coconut flour for regular all-purpose flour or any other flour in a recipe – or vice versa. Because coconut flour is so absorbent, you need very little – which means the ratio of liquids to dry needs to be very high. Make sure the recipe you're using is designed for coconut flour!
Now that my disclaimer is out of the way, let's talk about these scrumptious little Coconut Flour Pancakes!!
Coconut Flour Pancakes are small but MIGHTY! Since they're packed full of all that protein and fibre I talked about, you only need a few to be satisfied. The texture of coconut flour is coarser than regular flour, but these Coconut Flour Pancakes maintain their fluffiness with the binding agent of Greek yogurt.
The very best part about this recipe is that it is a BREEZE to whip up. Everything is mixed together in one bowl – or if you're feeling extra lazy, you could blend the ingredients in a blender.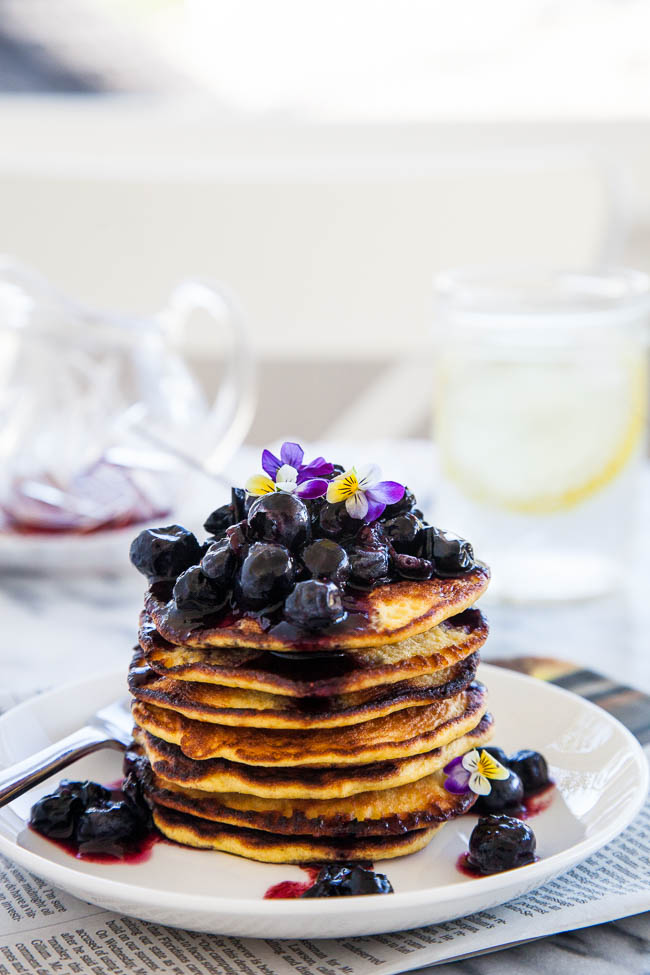 Once the ingredients are combined, it's important to let the batter sit for 10 minutes. This resting time will allow the coconut flour to use its absorbency to soak up the liquids and thicken. Please don't skip this step!
The other important note is that you need to keep these pancakes small. Pouring one tablespoon of batter into your griddle will spread to approximately 3″ size pancakes. Because they can sometimes be delicate to flip, you don't want to go any bigger than that! Make sure to use your thinnest spatula to do your flipping.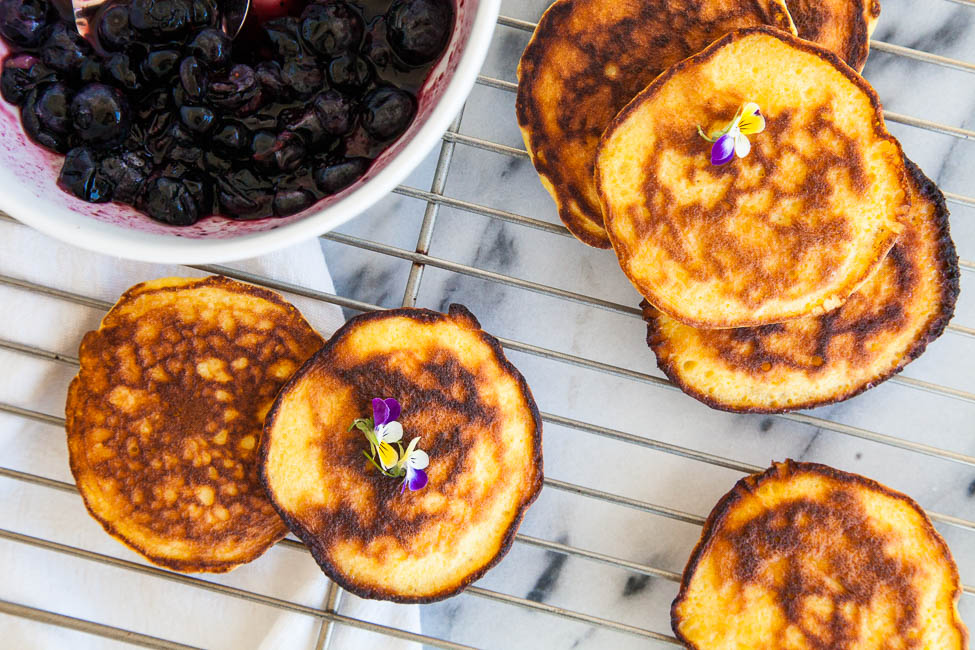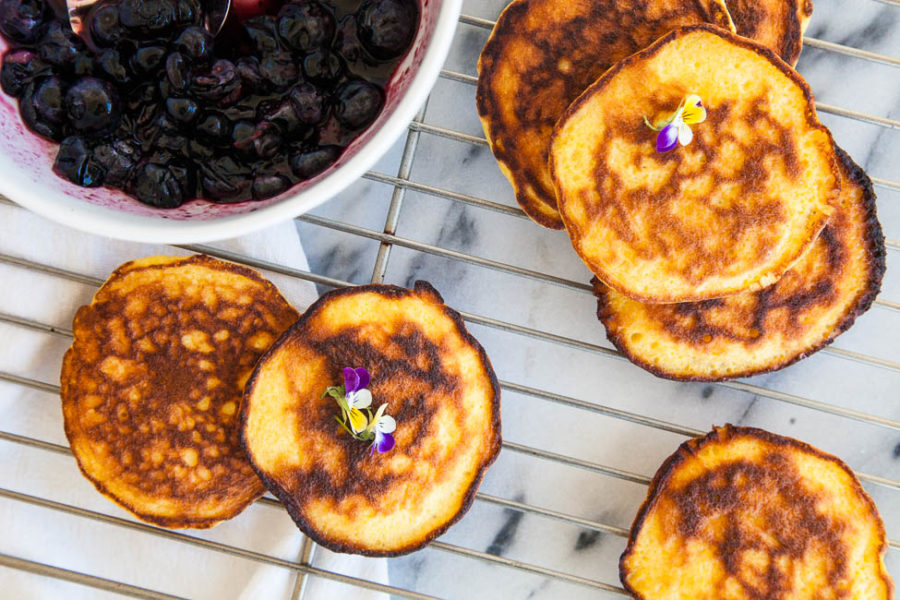 I like to serve Coconut Flour Pancakes with fruit (all I've done here is thaw and slightly mash some frozen blueberries, which turn into a sugar-free berry drizzle!). Other yummy alternatives are maple syrup (of course), drizzles of peanut butter, or Greek yogurt.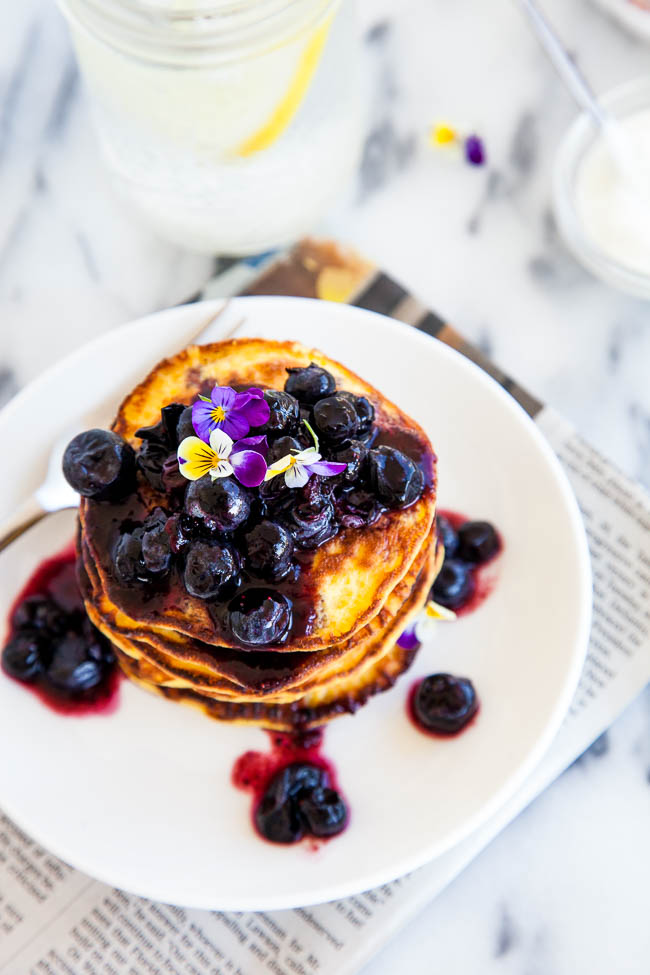 Happy weekending! (And psst, did you see the exciting news I shared last week?!)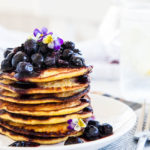 Coconut Flour Pancakes
Gluten and grain-free, high in protein and fibre, Coconut Flour Pancakes are a healthy and filling alternative to regular pancakes! Recipe makes approximately 15 3" size pancakes.
Keyword:
coconut flour, pancakes
Ingredients
1/8

cup

butter, melted

1/4

cup

Greek yogurt (plain)

3

eggs

1

tbsp

maple syrup or honey

1

tsp

vanilla

1/4

cup

coconut flour

1/2

tsp

baking powder
Instructions
In a large bowl, whisk together all ingredients. (Alternatively, you could blend the ingredients together in a blender). Let batter sit for 10 minutes to allow liquids to absorb (do not skip this step!)

Grease and heat your griddle to low-medium heat. Using a 1 tablespoon measuring spoon, scoop batter onto griddle. (Do not make pancakes any larger than 1 tablespoon, or they will be difficult to flip! Batter will spread to approximately 3" size pancakes.)

Cook for 3-4 minutes, flipping when edges look dry. Cook for another 1-2 minutes on the other side.

Serve warm with fresh fruit and maple syrup. Or try serving with peanut butter or Greek yogurt!
Recipe Notes
Important: Do not forget to let the batter rest for 10 minutes! Otherwise the batter will be runny and this recipe will not work properly.
Recipe yields approximately 15 3" size pancakes, serving 5 people if each person eats 3 pancakes. This recipe is easily halved to serve 2 people!
Any leftover pancakes are easily reheated in your toaster!