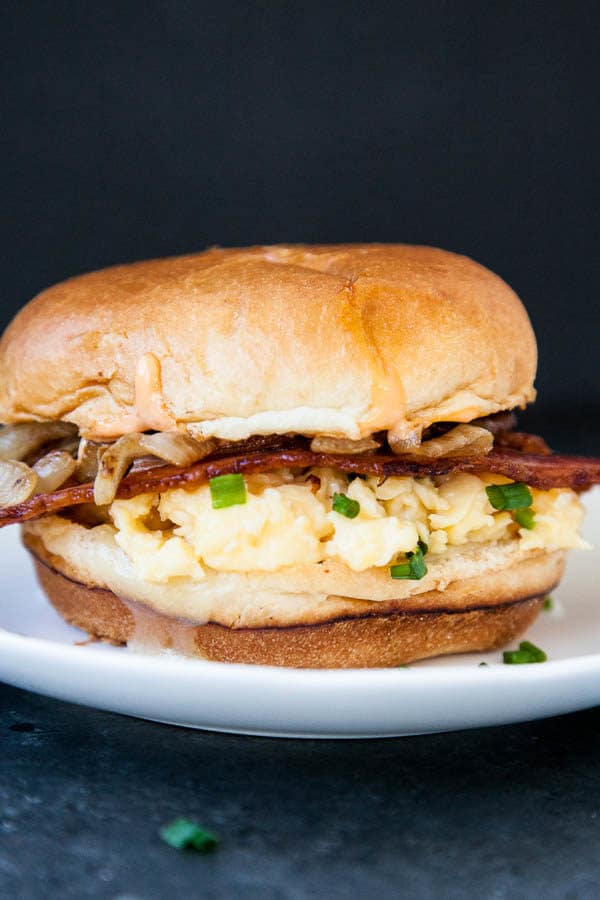 As I stare out the window at the relentless rain coating my window, I can't help but think back to a sunnier trip I took last Spring – to Las Vegas!
It was my second time visiting Vegas, and because I'm not a huge gambler, this trip was spent EATING!
At the top of my restaurants-to-try list: breakfast at Eggslut.
Eggslut has a huge cult following and serves up a small variety of egg sandwiches and egg dishes – all of which are DELICIOUS.
To give you an idea of just how delicious, of our 3 mornings in Vegas, 2 mornings we breakfasted at Eggslut. (The third morning we classed-it-up and ate brunch at Bouchon – also SO delicious in a very different way ;))
I COULD NOT get enough of Eggslut's Fairfax breakfast sandwich: creamy scrambled eggs and chives inside a lightly toasted brioche bun, with cheddar cheese, caramelized onions, and sriracha mayo. Then I added bacon and –
OH MAMMA.
After we returned from our trip, J and I couldn't stop talking about Eggslut's Fairfax sandwich and made it our mission to create a Copycat Eggslut Sandwich.
The caramelized onions and sriracha mayo really take this breakfast sandwich to the NEXT LEVEL. The extra time required for those few extra steps are so worth it!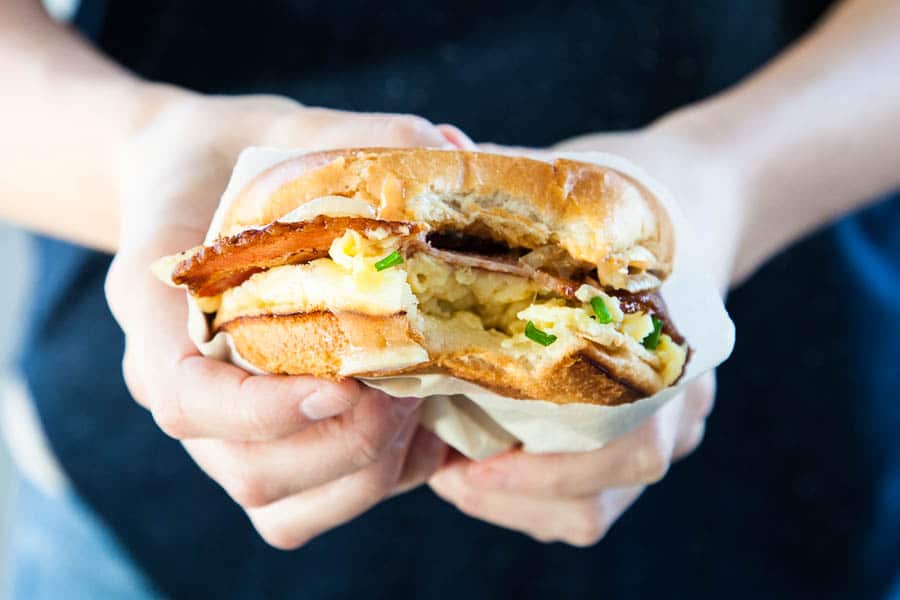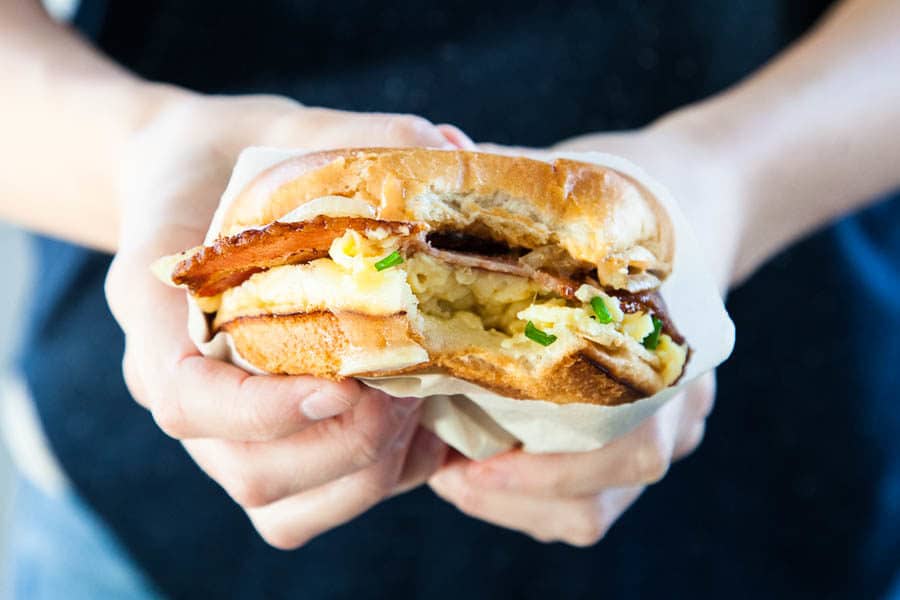 First, get your onions caramelizing in a frying pan. Those will take a little while. Start your bacon, if desired. Once those little babies are on their way, toast your brioche buns in the broiler, adding slices of cheddar cheese to one side so it gets all melty and soft.
Then, soft scramble your eggs, adding a sprinkle of chives. (Check out my recipe for Fluffy Scrambled Eggs for all my tips on how to make the most delicious scrambled eggs.)
Time to create the masterpiece! Spread the non-cheesy side of your bun with sriracha mayo, add a generous scoop of creamy eggs, some caramelized onions, and two pieces of crispy-but-still-soft bacon.
All you need is a lazy Sunday morning and a friend, and you can have Eggslut at home!
Late night Vegas hangover optional.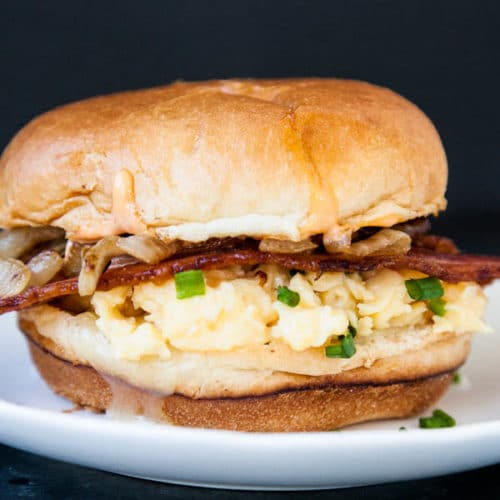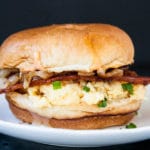 Copycat Eggslut Sandwiches
All you need is a lazy Sunday morning and a friend, and you can have Eggslut's Fairfax breakfast sandwich at home! Recipe makes 2 breakfast sandwiches.
Keyword:
breakfast sandwich, brioche bun, eggslut, fairfax, scrambled eggs
Ingredients
For the caramelized onions:
1

large yellow onion

peeled and thinly sliced

1

tablespoon

butter
For the sriracha mayo:
2

tablespoons

mayonnaise

2

teaspoons

sriracha

1/2

teaspoon

lemon juice
For the fluffy scrambled eggs:
5

eggs

1

tablespoon

of butter

1

tablespoon

of fresh chives

chopped
To assemble:
2

brioche buns

4

slices

of sharp cheddar cheese

4

slices

of cooked bacon

optional - Eggslut's Fairfax sandwich does not normally have bacon
Instructions
Make the caramelized onions:
The caramelized onions will take the longest, so get those started first.

In a large saucepan, melt the butter over medium heat. Add the onions and stir until they start to turn translucent, approx 1-2 minutes.

Reduce heat to low and simmer onions for 30-40 minutes, stirring occasionally so they don't stick.

If the onions do start to stick and/or burn, reduce heat lower and add a tablespoon or two of water, stirring to reabsorb.

Set onions aside.
Make the sriracha mayo:
In a small bowl, stir together the mayonnaise, sriracha, and lemon juice. Taste. Add another teaspoon of sriracha if you'd like more kick!
Make the scrambled eggs:
The last thing you want to do is make the scrambled eggs. They will be fast! Make sure all assembly ingredients are prepped before you start.

In a small pot or saucepan, melt the butter over low heat. Crack the eggs into the pot/pan and break up yolks with a wooden spoon.

Keep stirring the eggs over low heat, watching as the curds start to form. If the eggs start and cooking too quickly, remove the pan from the heat, stir, and then return to the heat once the curds are broken up again. The idea is you want to cook the eggs very slowly over low heat to form small, soft curds.

Once the eggs are set but still creamy-looking, remove from the heat. Stir in the chives, and get ready to assemble your sandwiches!
To assemble:
Turn your oven on to the broil setting (see note). Cut brioche buns in half and place the halves on a baking sheet. On two halves of the buns, arrange 2 slices of sharp cheddar cheese each. Place baking sheet in the oven and broil for a few minutes until the cheese melts. Remove from oven.

Transfer buns to plates to assemble. On the non-cheesy side, spread a generous amount of sriracha mayo. Add a large spoonful of scrambled eggs, then a serving of caramelized onions. Then place the bacon on top, if using.

Lastly, close the sandwich with the other half of the bun, and devour!