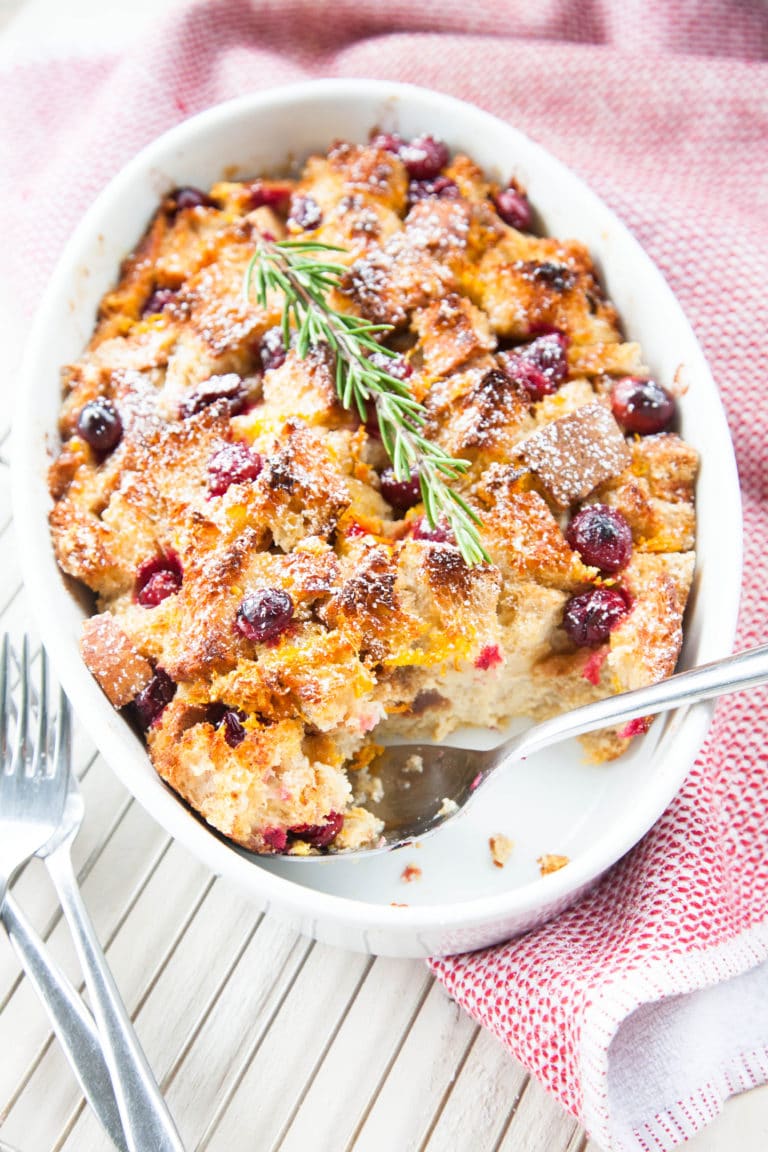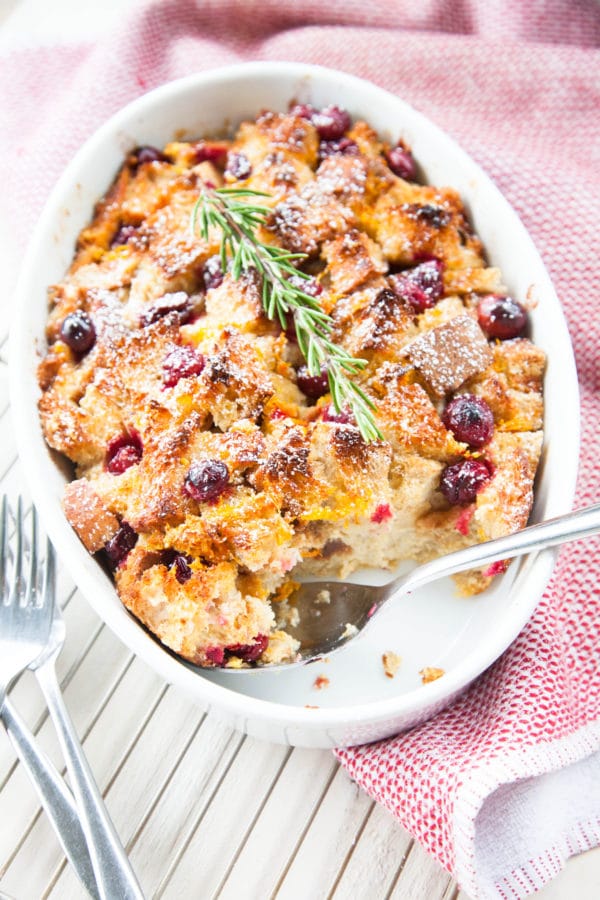 Who's getting excited about Christmas???
*Both hands up!*
Okay. I am really excited. It snowed here for the first time yesterday – and although I am from the great white north (aka Canada), I live in the mild, rainy city of Vancouver, and we have not had snow like this in 3 years! Exciting times, people!!! If there's one thing to get you in the Christmas spirit it's snow.
All this snow, and all the eggnog I've been drinking lately has got me thinking about Christmas breakfast and how much it absolutely stinks to cook on Christmas morning. All I want to do is spend the morning by the fire, beside my family, chatting and unwrapping gifts.
Which means I like to set myself up for success by putting breakfast together the night before so that all I have to do on Christmas morning is shove it in the oven.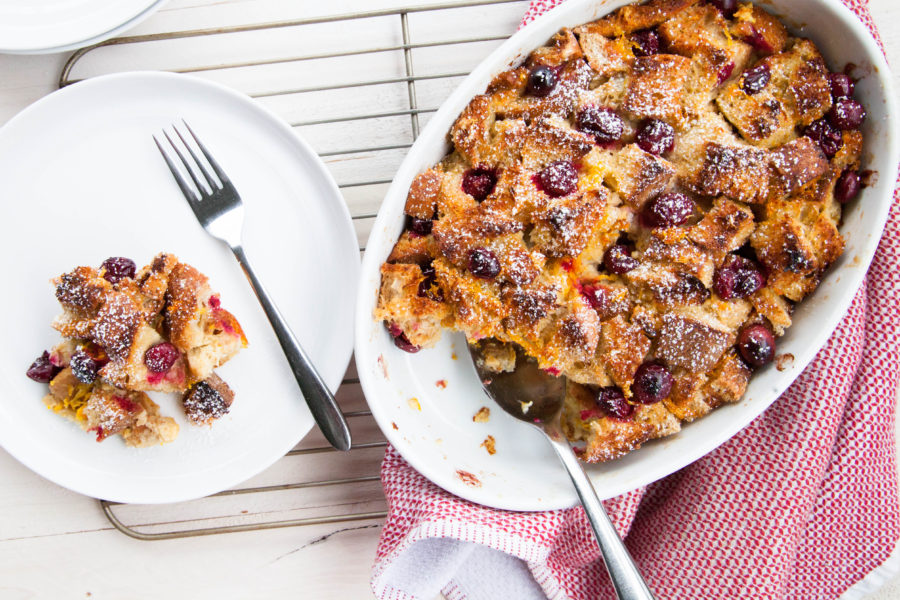 Cranberry Orange French Toast Bake is an overnight breakfast casserole you should serve this Christmas morning! It has all the festivity of cranberry and orange flavours alongside the sweetness of French Toast that will please your kids and the rest of the family too.
Only 17 days until Christmas! 😉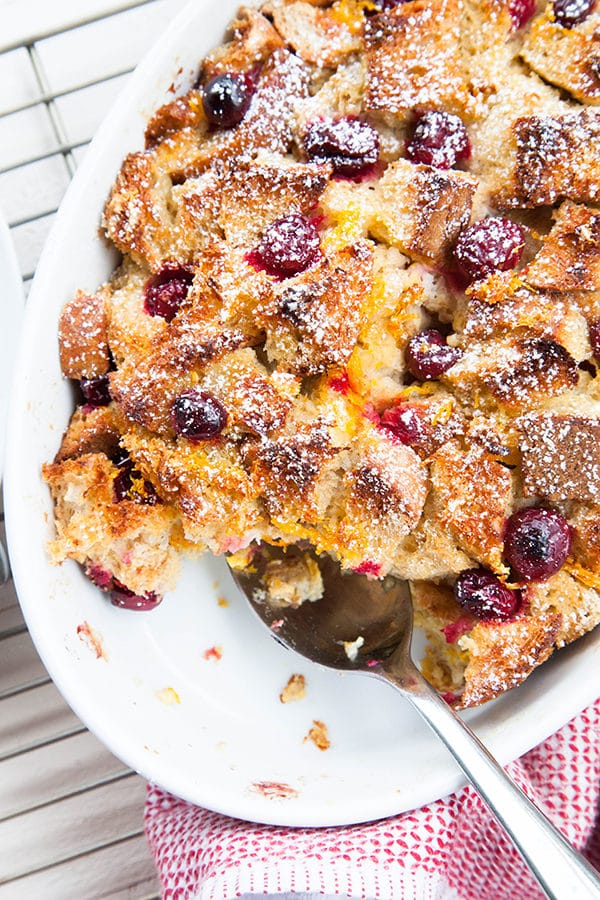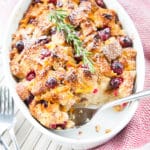 Cranberry Orange French Toast Bake
Cranberry Orange French Toast Bake has a festive Christmas flavour alongside the sweetness of French Toast that will please your kids and the rest of the family too!
Ingredients
1

white sandwich loaf

(approx 1 pound, cut into cubes)

6

large eggs

1 1/2

cup

milk

1

cup

orange juice

3

tablespoons

orange liqueur

(optional)

zest of 2 oranges

2

tablespoons

granulated sugar

1/2

cup

frozen or fresh cranberries

butter,

to grease your dish
Instructions
Lightly grease a 9x13" (or other 3-quart casserole dish) with butter and arrange bread cubes in an even layer in the dish.

In a large bowl, whisk together the eggs, milk, orange juice, and orange liqueur. Pour egg mixture over top of the bread, making sure all of the bread gets soaked.

In a small bowl, add the orange zest and granulated sugar, and rub together with your fingers. This will release the yummy orange flavour! Sprinkle orange zest all over the eggy bread pieces. Scatter cranberries over top, making sure to tuck a few cranberries into the crevices between the bread cubes.

Let the french toast bake soak at least 15 minutes at room temperature, or cover with saran wrap and place in the fridge overnight.

When you're ready to bake, preheat oven to 375 degrees. Bake for 30-40 minutes, until a knife inserted into the centre of the casserole causes no liquid to spill into the crack - you want the french toast to be moist, but no longer liquidy and not dried out either!
Recipe Notes
Recipe serves 12.
Psst, while you're thinking about Christmas brunch, add Homemade Eggnog to your menu plan!