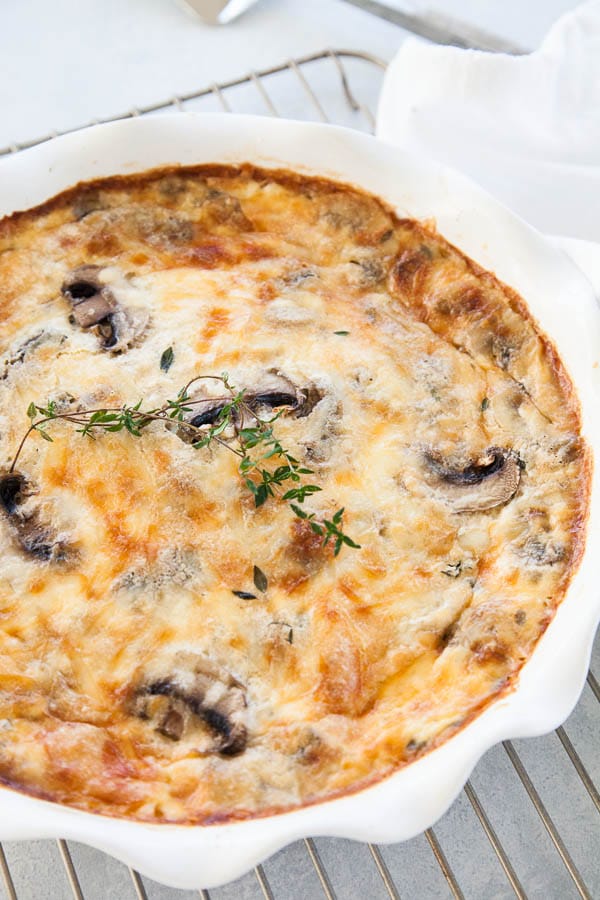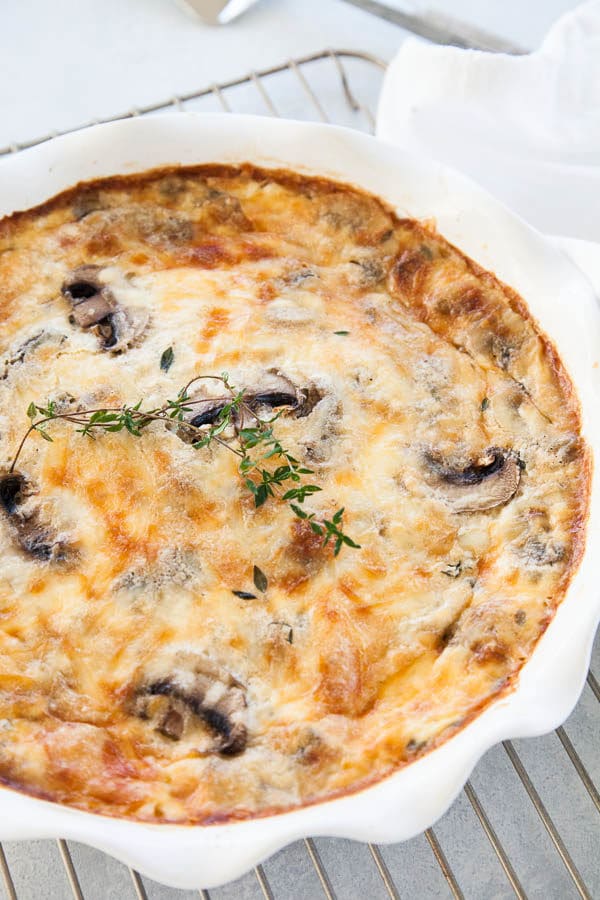 The countdown to Christmas is on!
Most of my shopping is done, and about half of the presents are wrapped, but I have yet to write any holiday cards. Must do that this weekend! (Does anyone still send out holiday cards anymore? Is it so old fashioned that I love mail?)
Planning Christmas morning brunch is a task that often gets forgotten in the chaos of present wrapping and tree trimming – so let's get thinking about it!
The question in my house is always: sweet or savory? One year I did cinnamon rolls, another year I did overnight french toast, so this year we're going savory! And this Crustless Mushroom Quiche is a top contender.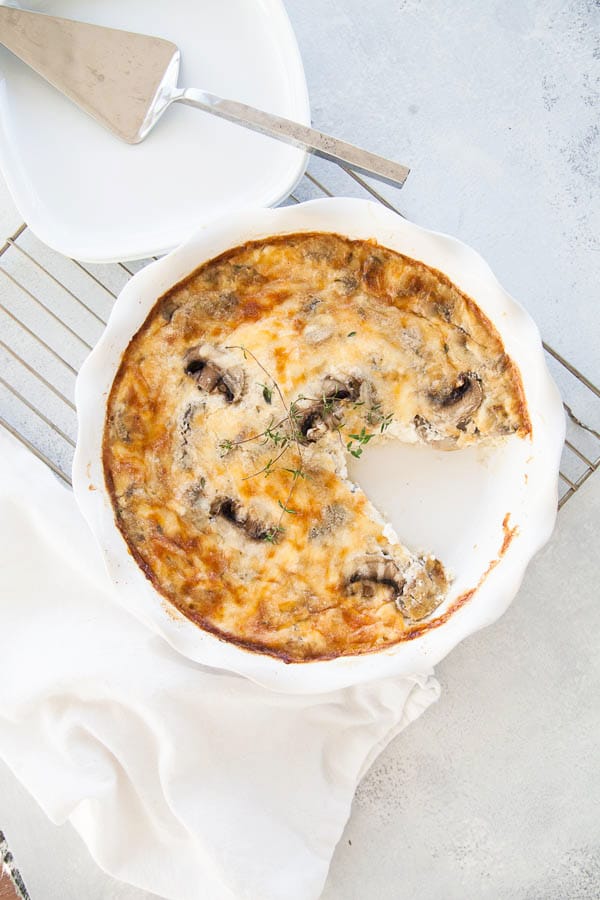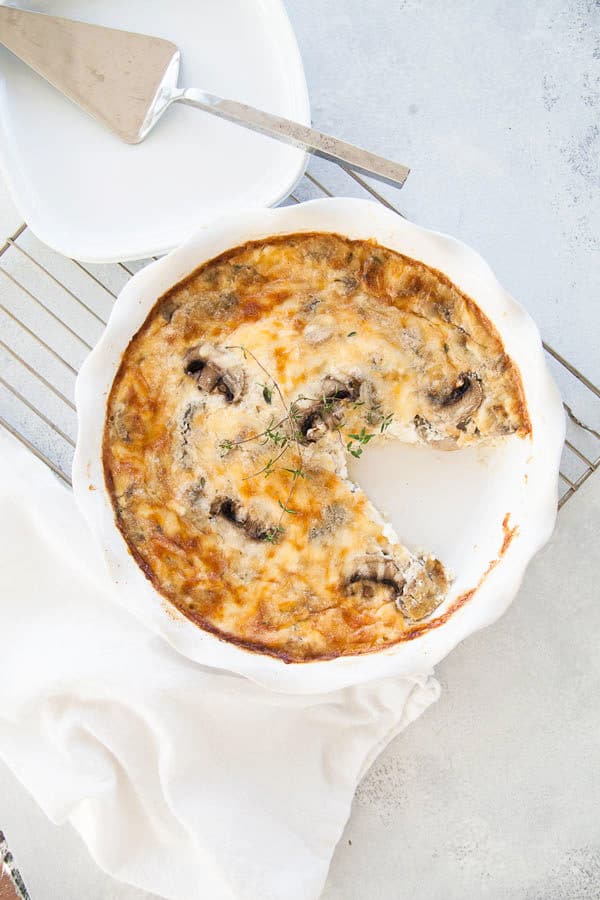 I've omitted the crust from this quiche recipe, which makes it gluten-free if you've got family members with dietary restrictions. Of course you could always add a crust back in, but I like it crustless, so that you can really focus on the creamy custardy filling, soft mushrooms, and layers of cheese. YUM.
The custard egg filling gets whipped together in a blender, which I'm sure you can rope a guest into doing for you  😉 That way, all you have to do is saute the mushrooms with a shallot and fresh thyme and get your kitchen smelling so cozy.
The trick with the mushrooms is to saute them at a medium-high heat in order to zap out most of the moisture. That way when the quiche bakes in the oven, the excess moisture won't seep out into the bottom of your dish. But nothing will stop this quiche from being light and fluffy and the perfect savory brunch to appease your guests' growling stomachs.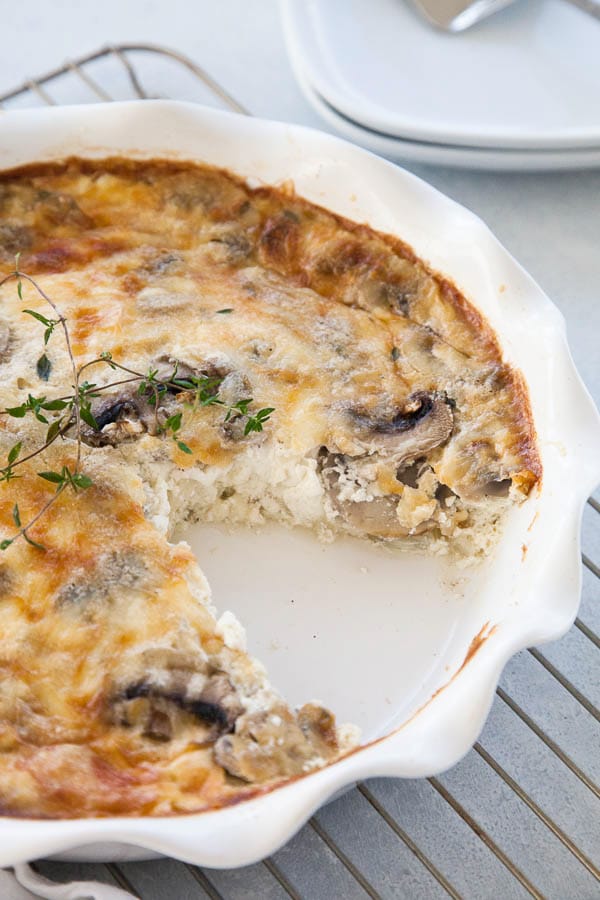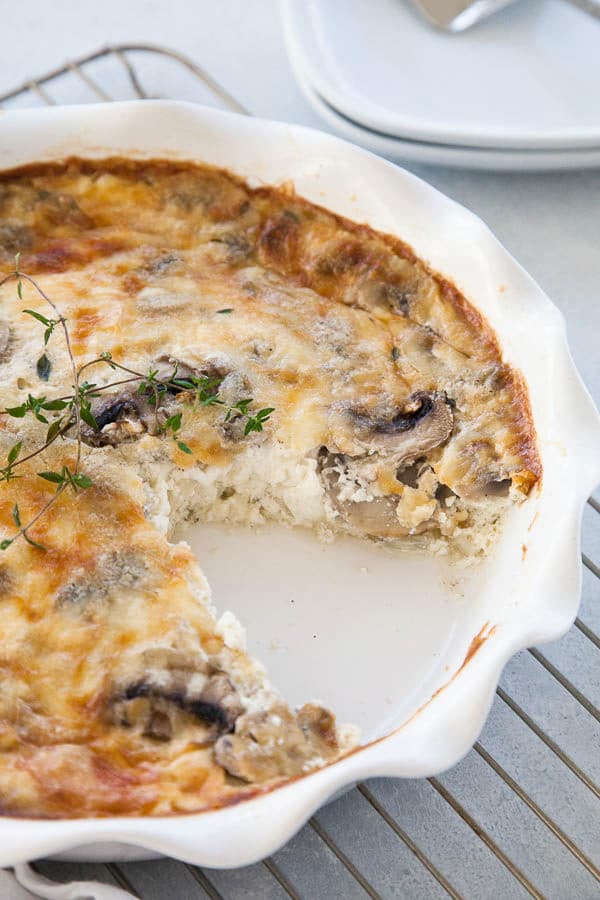 To assemble the quiche, the sauteed mushrooms are added first, then splashed with half of the egg custard mixture, then sprinkled with shredded gouda or cheddar cheese. Those tasty layers all get repeated  – mushrooms, eggs, cheese. That way, each bite is filled with mushroomy, cheesy, quichy goodness!
Serve Crustless Mushroom Quiche with a simple arugula salad and a mimosa or a spiked homemade eggnog and then your guests will be really happy 😉
Happy holiday brunch planning!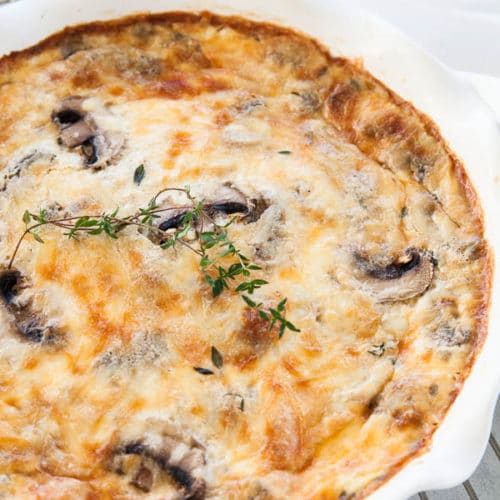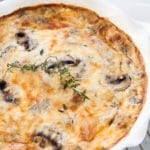 Crustless Mushroom Quiche
A very fluffy quiche filled with layers of mushrooms, cheese, and a hint of fresh thyme. Excellent for holiday brunching.
Keyword:
crustless, eggs, holiday breakfast, mushroom, quiche
Ingredients
1

tablespoon

olive oil

2

cups

sliced mushrooms

1

tablespoon

butter

1

shallot

thinly sliced

1

tablespoon

fresh thyme

3/4

cup

gouda or cheddar cheese

divided

2

cups

half-and-half

half and half is 12% - light cream 20% works too

4

eggs

pinch

nutmeg

freshly ground salt and pepper
Instructions
Preheat oven to 350 degrees and grease an 8" or 9" pie or tart dish.

In a large frying pan, add the olive oil, and saute the mushrooms on medium/medium-high heat until softened, approximately 5 minutes. Add butter, shallots, and thyme, and saute for another 5 minutes. The goal is to extract most of the moisture from the mushrooms, so if there's any moisture still in the pan, let it simmer off for another few minutes. Set aside.

In a blender, add the half-and-half, eggs, pinch of nutmeg, and a few grinds of salt and pepper. Blend on high until frothy. (Alternatively, you can vigorously whisk these ingredients together in a large bowl.)

To arrange the quiche, spoon half of the mushroom mixture into the prepared pie/tart dish. Pour half the blended custard mixture on top, and sprinkle with half of the cheese. Then repeat: add half of the mushrooms, pour the rest of the custard mixture, and finish with sprinkling the rest of the cheese.

Bake the quiche for 40-45 minutes, or until the eggs are set and the middle is still slightly jiggly. Let cool for 10 minutes before serving.
Recipe Notes
If you don't extract most of the moisture from the mushrooms, you will end up with a quiche that has a bit of excess liquid in the dish. Still tasty, but less attractive when slicing!
Recipe serves 6-8 people.