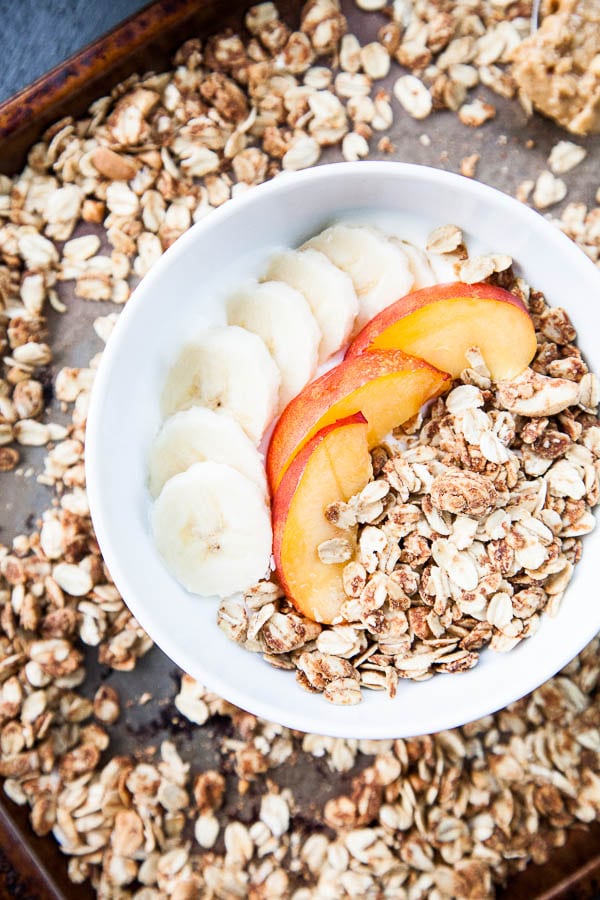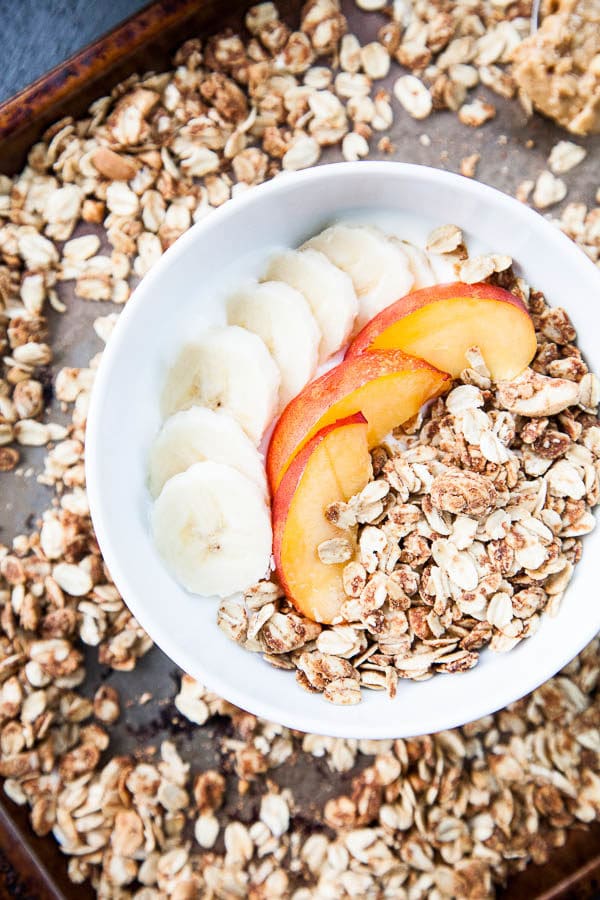 Everyone needs a quick and easy granola recipe in their back pocket. And everyone has peanut butter in their fridge. (Or in their cupboard… Do you keep your peanut butter in your fridge or in your cupboard? I say fridge all the way!)
This recipe for Easy Peanut Butter Granola only has 5 ingredients and you can whip it together in one bowl. I highly recommend using a large glass mixing bowl – because then you can throw the bowl in the microwave to melt the peanut butter and that just makes everything easier!
Here's all you do: Scoop the peanut butter, honey, and coconut oil into a glass mixing bowl. Melt it in the microwave. Take it out and resist dunking your finger in the bowl to taste – because ohhh man, melted sweet peanut butter is delicious!
Then add everything else – the oats, cinnamon, and chopped peanuts . Spoon the granola onto a parchment-lined baking sheet and bake for 20-25 minutes.
That's it. Feel free to mix in any dried fruit or chocolate chips (!!!!) after the granola has cooled.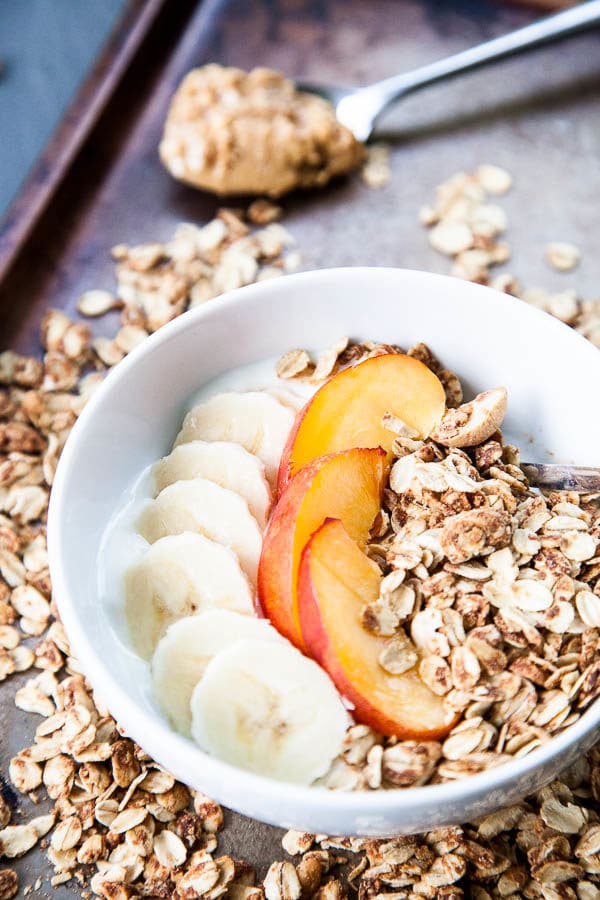 Easy Peanut Butter Granola will keep in an air-tight jar for up to a month. Some people insist granola can last up to 2 months, but if your granola lasts you that long, then try a new recipe – because mine doesn't hang around longer than a week or two 😉
Psst, check out Bon Appetit's tips for perfect granola every time.
Also, try my recipe with similar ingredients for No Bake Peanut Butter Oatmeal Granola Bars.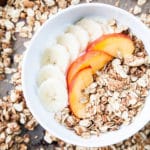 Easy Peanut Butter Granola
A simple granola recipe using ingredients already stocked in your kitchen - most importantly, peanut butter!
Keyword:
easy, granola, peanut butter
Ingredients
1/4

cup

natural peanut butter

1

tablespoon

honey

(increase to 2 tablespoons for a sweeter granola)

1

tablespoon

coconut oil

2

cups

old fashioned oats

1/2

teaspoon

cinnamon

1/4

cup

peanuts, chopped
Instructions
Preheat oven to 325 F and line a baking sheet with parchment paper.

Into a glass or microwave-safe bowl, add peanut butter, honey, and coconut oil. Microwave on low for 20-30 seconds, or until melted.

Remove bowl from microwave, stir, and then add remaining ingredients. Stir well, to ensure oats are fully moistened.

Spoon granola onto a parchment-lined baking sheet. Lightly press down on the granola - this will ensure clumps form.

Bake granola for 20-25 minutes, gently flipping large sections halfway through. Granola may look moist when it is removed from the oven, but will firm up as it cools.

Let granola cool, then store in an air-tight container for up to 1 month.