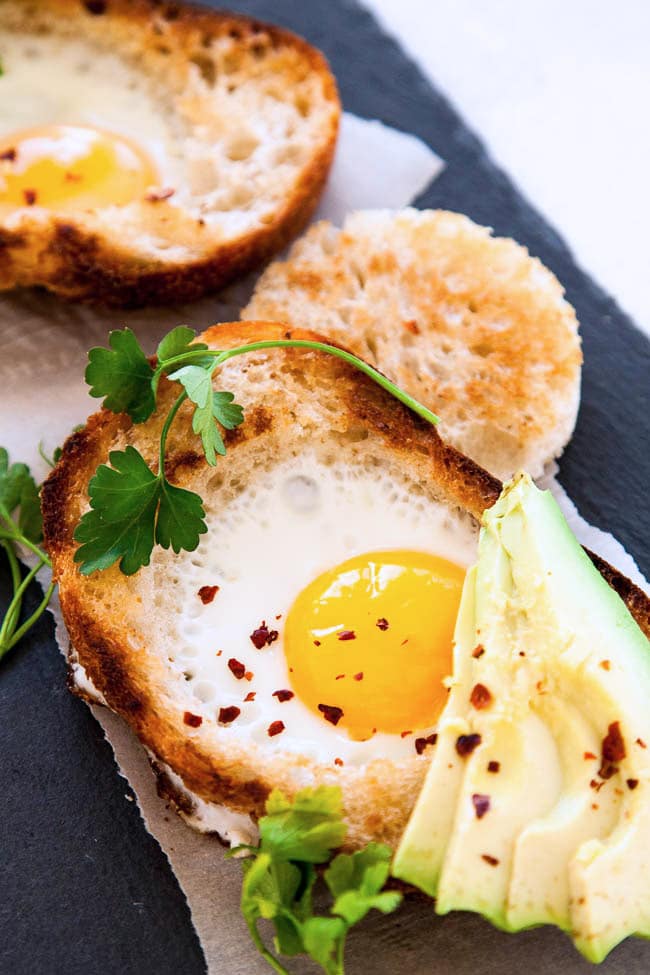 What do you call this dish? Egg in a hole? Toad in the hole? Eggs in a nest?
Frog in a basket? Birdie in a basket?
Breggs…?
Anyone…….?!
This dish goes by a thousand different names, but I'm partial to Egg in a Hole, if only because that is literally exactly what it is: an egg fried in the middle of a hole in a piece of bread.
As basic as that sounds, the combination of the two ingredients, toasted with a big pat of butter in a frying pan, elevate it to something way more than the sum of its parts.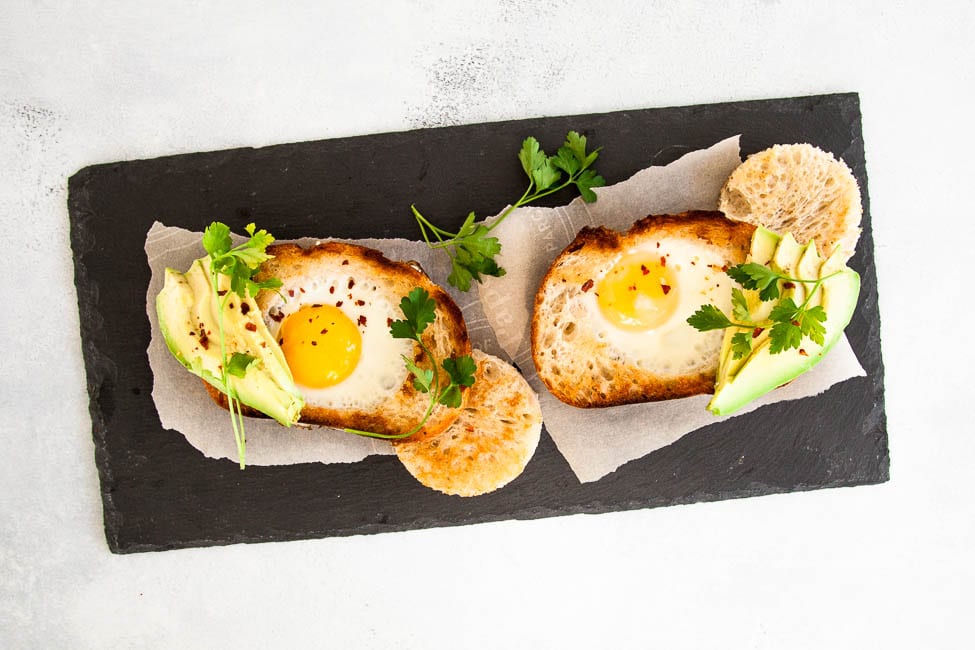 Cutting into an Egg in a Hole, your knife will first cut through the crispy, yet still chewy, buttery piece of toast. Then, you'll hit the fried egg, all cozied up in the middle of the bread, and pierce the centre of the oozy egg yolk.
Oozy yellow yolk magic gets sopped up with every bite of toast – and that is a little piece of heaven, my friends.
Egg in a Hole is simple to make – and that's one of the reasons why it's often one of the first recipes parents use to teach kids how to use a stove. Many people have fond memories of eating and making Egg in a Hole as a child.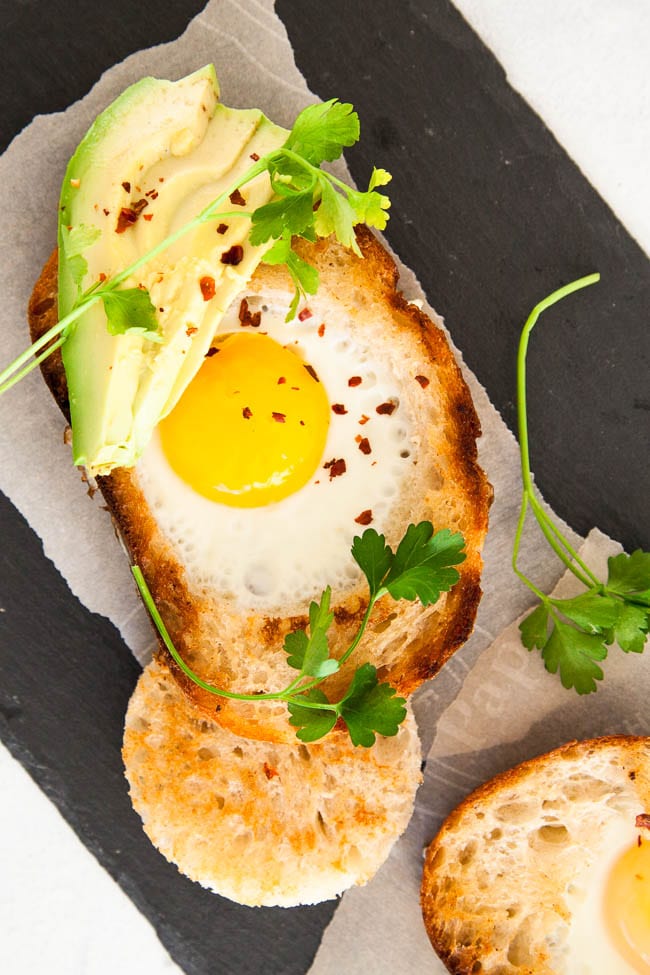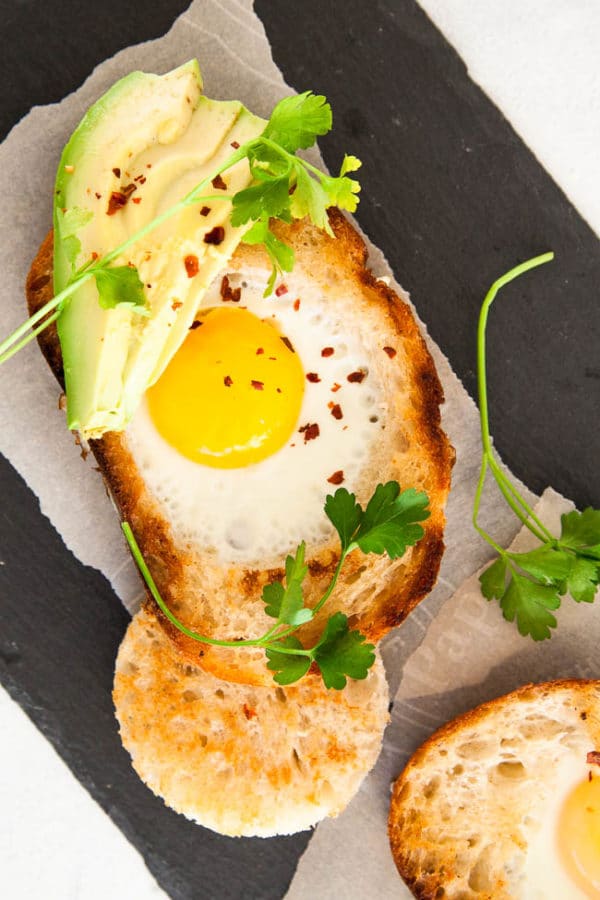 There are two tricks to this dish (if you could call them that):
Be generous with butter. Use as much butter as as you would use to fry a grilled cheese sandwich, since you are effectively doing a similar thing.
Use your favourite, high-quality, country bread.
The rest is simple. Melt a big pat of butter in a frying pan. While it's melting, use a glass or a cookie cutter and cut out a circle from a slice of bread (approx 2 inches / 5 cm wide). Then, add the bread-with-hole to the pan, swirling it around to make sure the underside gets coated with butter.
Crack an egg into the centre of the bread hole. Cook for a few minutes. Flip. Add more butter if needed, and again swirl around the bread to soak up the butter. After another 30 seconds or so, you'll have a perfectly soft egg, and perfectly toasted bread.
Perfection. No matter what you call it.
Egg in a Hole
A childhood favourite. Buttery toast surrounds an egg with a perfectly runny yolk, but the taste is so much more than the sum of its parts.
Course:
Breakfast, Brunch
Keyword:
egg in a hole, eggs in a basket, fried egg, toad in a hole, toast
Ingredients
1

tbsp

butter

1

egg

1

piece of good country bread
Instructions
Cut out a 2 inch (5 cm) hole from your piece of bread using a glass or cookie cutter. Set bread aside.

Melt butter in a small pan over medium-low heat. Add the bread-with-a-hole and the leftover bread circle, swirling them around in the pan, to soak up the butter.

Gently crack an egg into the hole. Cook for approximately 2 minutes, until the whites on the bottom have set. Carefully flip over the bread, as well as the bread circle, again swirling them in the butter, and cook for an additional 30 seconds to 1 minute. You should now have golden toasted bread and an egg with a soft yolk.

Serve topped with slices of avocado, your favourite herbs, and freshly cracked salt and pepper.