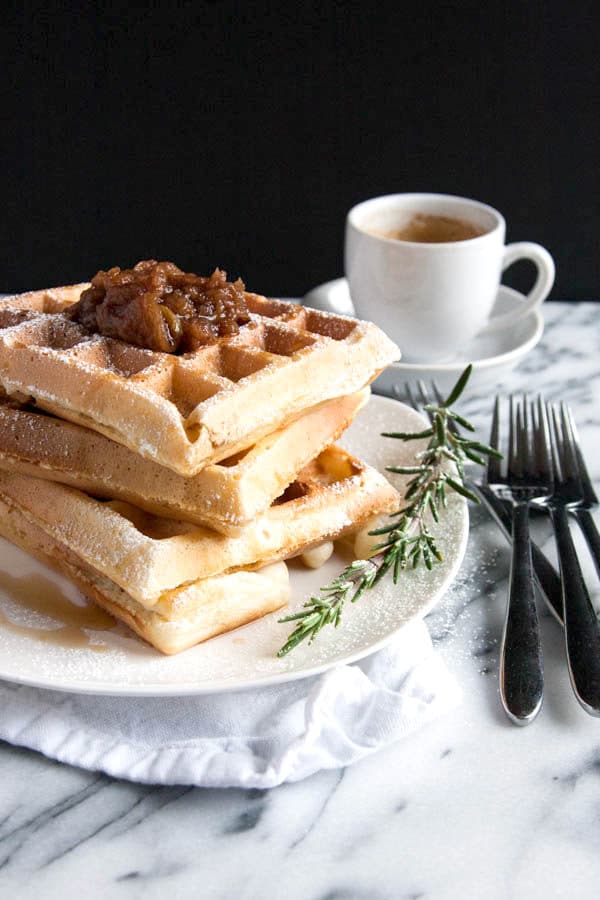 This waffle recipe is like a family secret. It's been passed down through generations – from Js' parents to J, and now we'll pass it down again.
There's a reason why we don't ever make any other waffle recipe – these waffles are the fluffiest, lightest, most delicious breakfast waffle EVER! 
Want to know the secret? (Okay, the recipe isn't an actual family secret.)
It's whipped egg whites.
Folding whipped egg whites into your waffle batter creates the absolute fluffiest waffles!
And you know what's great about light and fluffy waffles? You can usually eat an extra waffle before you're full 😉
Today I topped my fluffy waffles with the Homemade Spiced Apple Butter  I made the other day. Yowsa.
Waffles and apple butter go together like green eggs and ham. (Have you ever wondered exactly what green eggs are?! Anyway.)
This recipe creates waffles that are light on the inside, slightly crispy on the outside, and smothered with cinnamony Apple Butter. There's no real need for maple syrup, but I doused mine with some anyway.
Because dessert for breakfast = winning.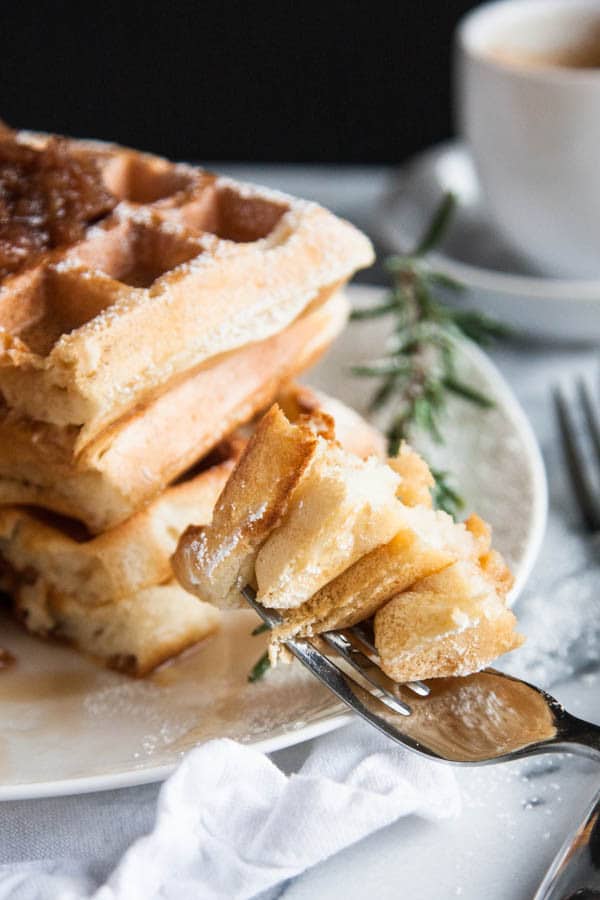 Give these fluffiest waffles a whirl. I bet they'll become your family's favourite too!
Top your fluffy waffles with Homemade Spiced Apple Butter.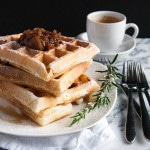 Fluffiest Waffles
Our family favourite recipe for the fluffiest waffles ever!
Ingredients
1

cup

all-purpose flour

1

teaspoon

sugar

1

teaspoon

baking powder

1/2

teaspoon

salt

1

tablespoon

melted butter

1

cup

milk

I use 1%

1

egg

separated
Instructions
In a small bowl, beat the egg whites on high until they form stiff peaks. Set aside.

In a large bowl, mix together the flour, sugar, baking powder, and salt. Pour in the melted butter and milk and beat ingredients together until smooth.

Gently fold in the beaten egg whites.

Pour your waffle batter into your waffle iron and cook according to the manufacturer's directions.

Recipe yields approx 6 waffles, serving approx 2 people.