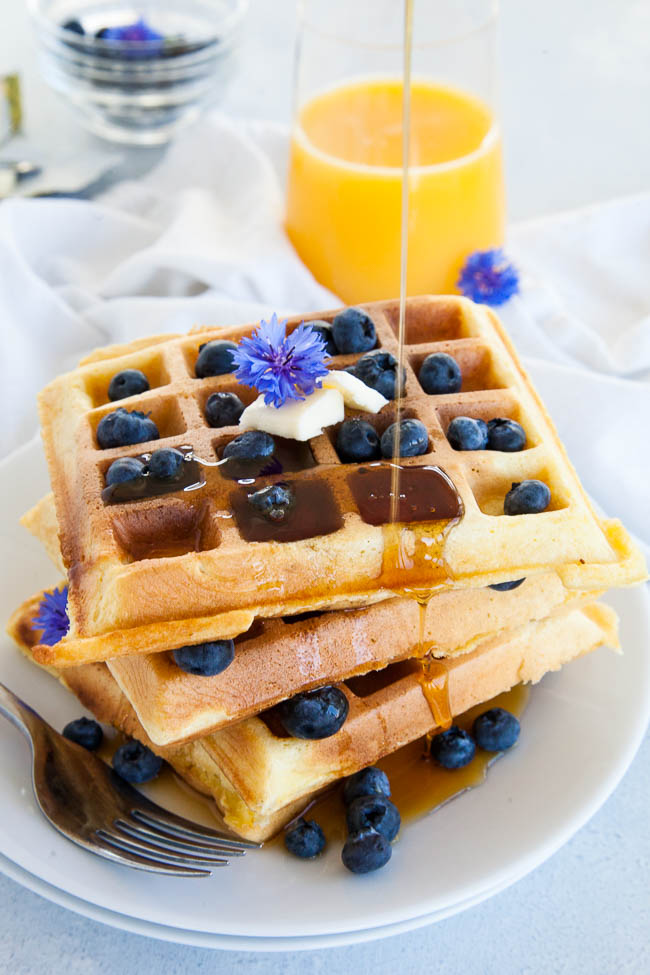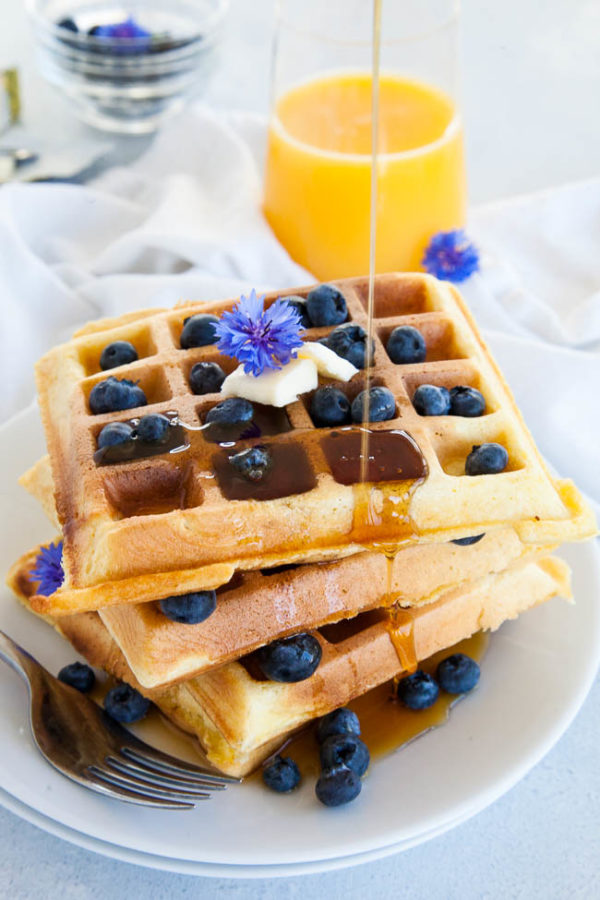 This recipe was originally posted on November 8, 2015 and has been updated with new content and fresh photos!
This fluffy waffle recipe is like a family secret. It's been passed down through generations – from my husband's parents to him, and now we're passing it down to my step-daughter.
There's a reason why we don't ever make any other waffle recipe – these waffles are the fluffiest, lightest, most delicious breakfast waffle – with crispy outsides and soft insides – EVER!
Want to know the secret? (Okay, the recipe isn't an actual family secret…)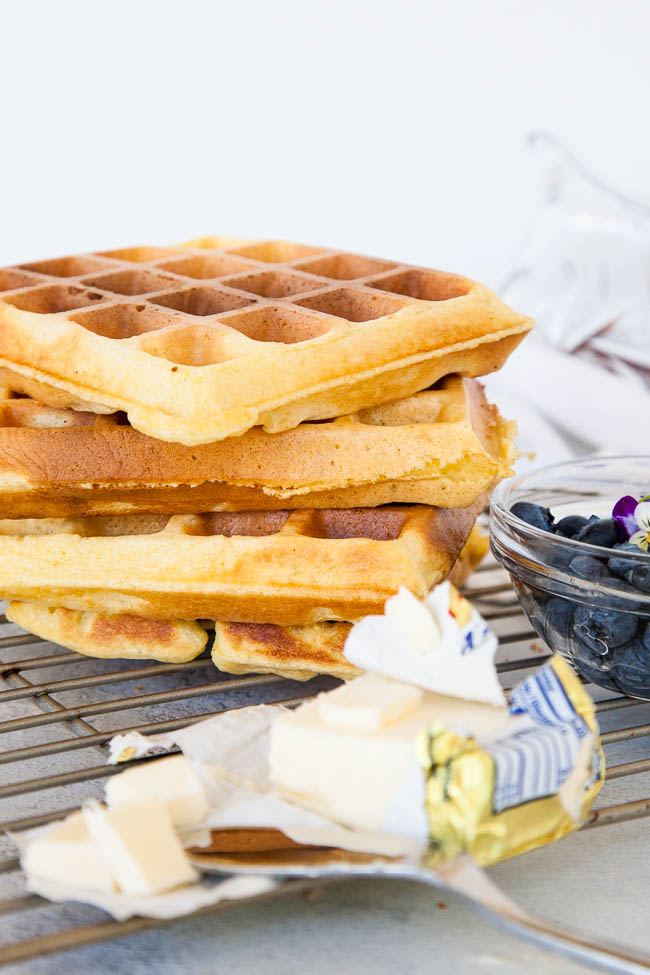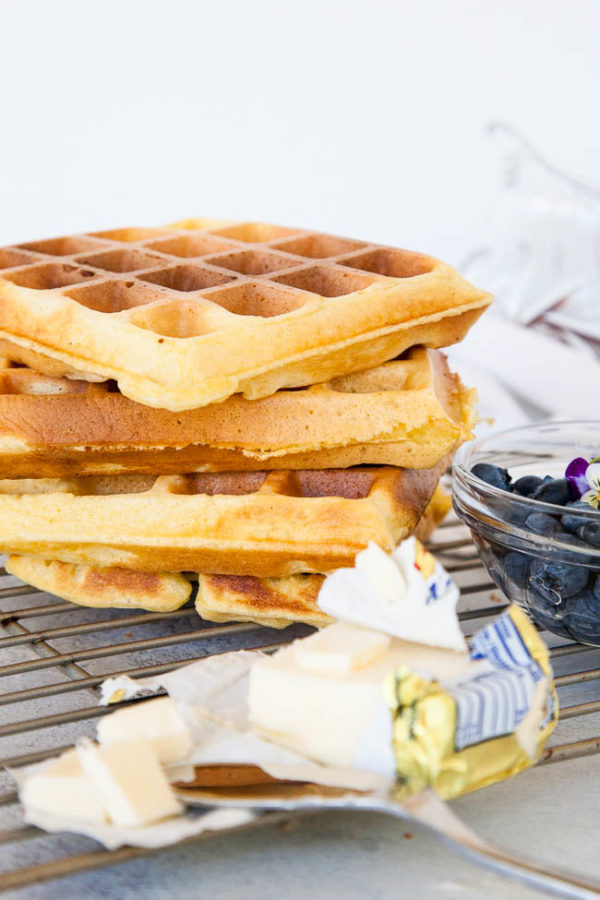 It's whipped egg whites.
Folding whipped egg whites into your waffle batter creates the absolute fluffiest waffles! The air bubbles get trapped inside the batter and form little pockets to create a spongy, delicate texture.
And you know what's great about light and fluffy waffles? You can usually eat an extra waffle before you're full 😉
Since I've made this recipe literally 1,000 times (that is likely no exaggeration!), I've figured out the best method that uses the least dishes. It goes like this:
Using electric beaters, whip your egg whites together in a small bowl. Set the bowl aside.
In a larger bowl, stir together the dry ingredients.
Then add the melted butter, milk, and egg yolk to the dry ingredients. Use the beaters (no need to wash them!) to briefly beat the ingredients together. (Don't over-mix! It's okay if you've got a few pockets of flour left in your batter.)
Gently fold the whipped egg whites into the batter. (Make sure to fold in one continuous direction, otherwise you'll collapse some of the bubbles.)
Pour the batter into your waffle iron and get cookin'!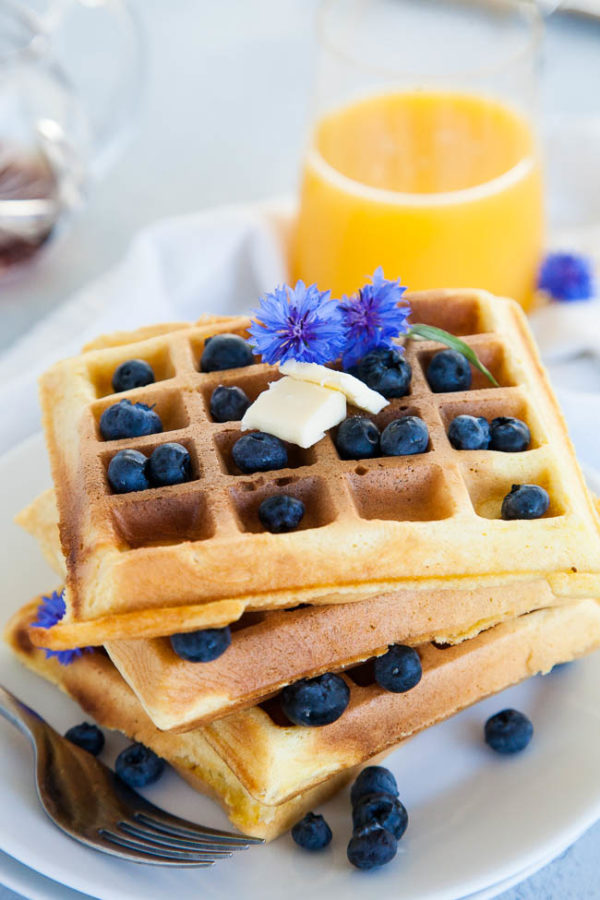 This recipe creates waffles that are light on the inside and slightly crispy on the outside – just how we like them. And I know you will too!
Top your fluffy waffles with Triple Berry Sauce,  Homemade Spiced Apple Butter, fresh fruit, or good old fashioned maple syrup.
Give this tried-and-true recipe for fluffiest waffles a whirl. I bet they'll become your family's favourite!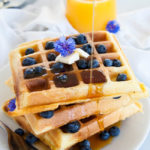 Fluffy Waffles
I bet our family-favourite fluffy waffles will become your family's favourite too! There's a reason why you won't want to make any other waffle recipe - these are light and fluffy with crispy outsides. Waffle perfection.
Keyword:
egg whites, fluffy waffles, waffles
Ingredients
1

cup

all purpose flour

1

tsp

sugar

1

tsp

baking powder

1/2

tsp

salt

1

tbsp

melted butter

1

cup

milk

1

egg, separated
Instructions
Turn on your waffle iron and heat to temperature. (My waffle iron does not need to be greased, but maybe yours does!)

In a small bowl, beat the egg whites on high until they form stiff peaks. Set aside.

In a large bowl, mix together the flour, sugar, baking powder, and salt. Then pour in the melted butter, milk, and egg yolk and briefly beat ingredients together until smooth. (Or use a whisk or spoon.)

Gently fold in the beaten egg whites, making sure to fold in one continuous direction.

Pour the waffle batter into your waffle iron and cook according to the manufacturer's directions.

Serve right away. Smother waffles with maple syrup, fresh fruit, or anything you desire!
Recipe Notes
Waffles are best served fresh out of the griddle. They will be slightly less crispy if you keep them warm in the oven before serving. 
Refrigerate any extra waffles, and reheat in the toaster!
Recipe yields approx 6 waffles, serving 2-3 people. (I often double this recipe!)