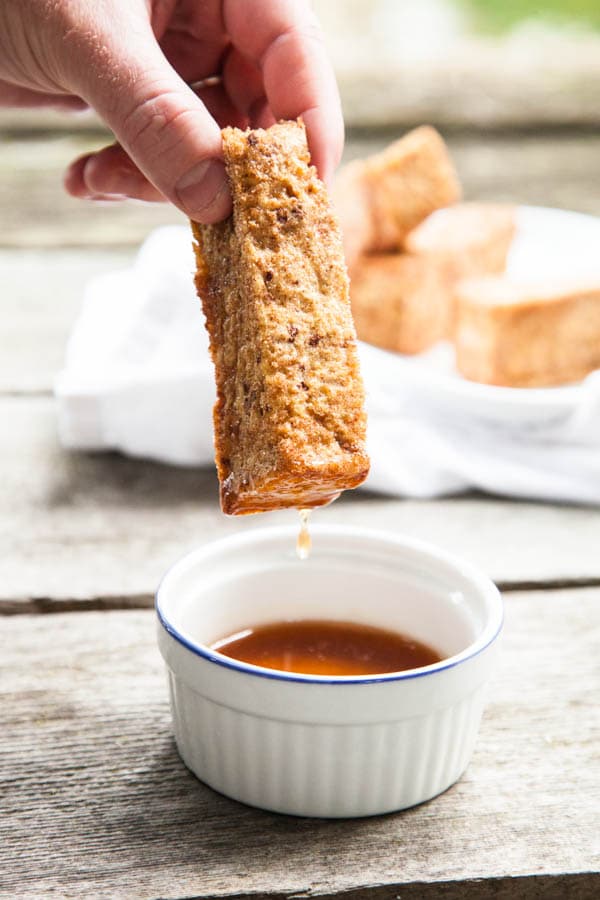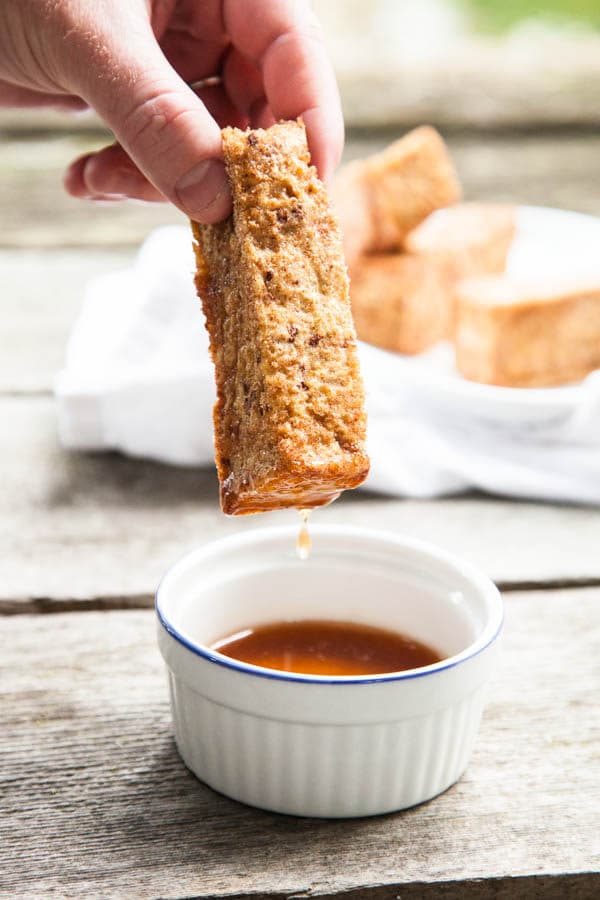 French Toast you can eat with your fingers! Rolled in a crunchy cinnamon sugar coating and ready to be dunked in maple syrup!
You'll never guess where this recipe idea came from… my dad! Yep, my parents were on vacation in Phoenix, AZ, eating breakfast in a random cafe and noticed what looked like strips of french toast being carried past them, leaving their lingering cinnamony scent behind…
"Maresa!" my dad said the next time he saw me, "You've got to make French Toast Strips for your blog!" And my mom wholeheartedly agreed.
The rest is history. All credit goes to my parents for these French Toast Fingers. 😉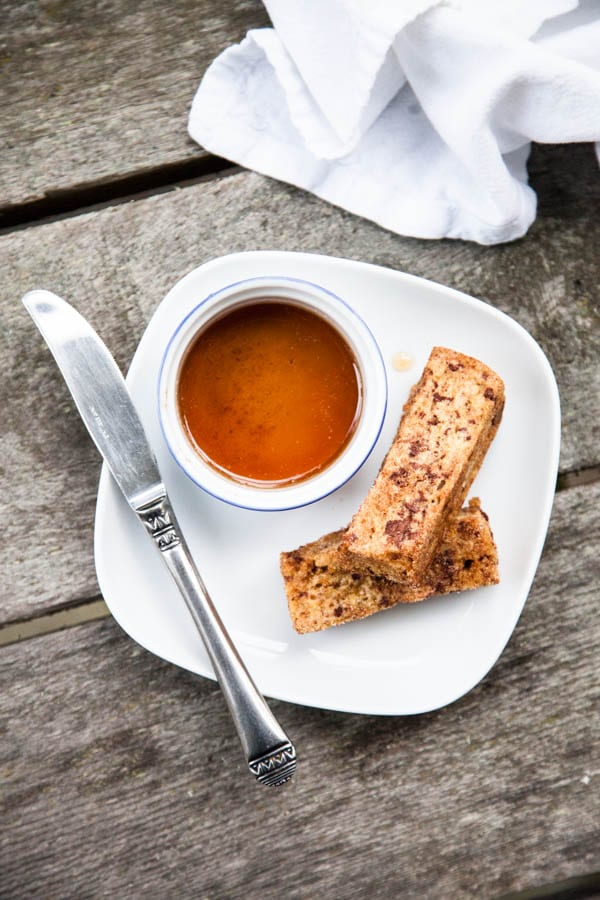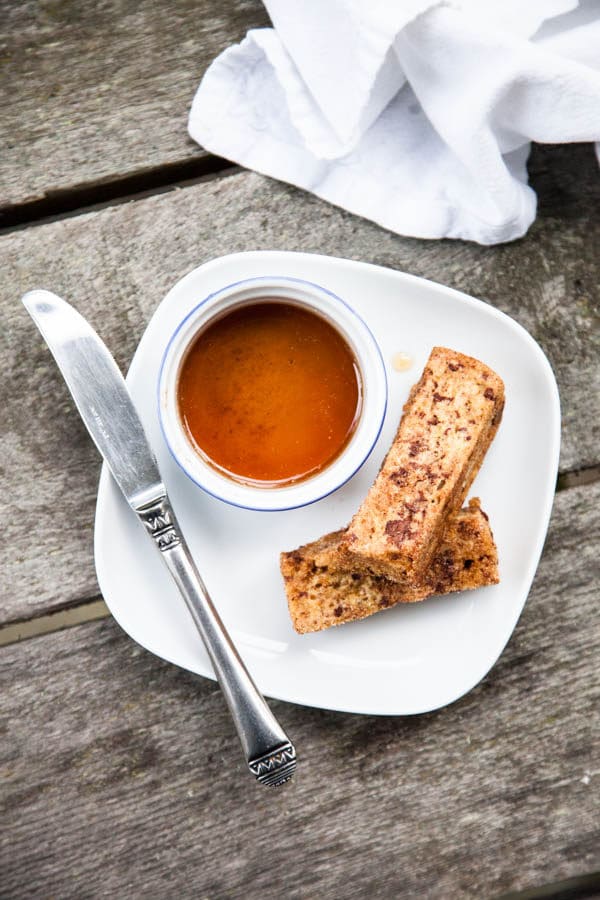 Which segues me into a question I get asked sometimes – where do I get inspiration for the recipes on this blog?
My eyes are always open for breakfast and brunch recipe ideas. As much as possible, I try to get inspired from the real world and not online. The internet can be like a vacuum and a creativity suck, so I try to focus on doing my own thing rather than imitate what others are doing. (But shhhh, I could never give up Pinterest!)
So internet aside, I get inspired by:
Family and friends! (My parents give me lots of ideas and also – J for Overnight Oats! A girlfriend for No-Bake Peanut Butter Granola Bars!)
Cookbooks that I own
Cookbooks checked out from the library (the library is a great FREE resource!)
Browsing cookbooks in the bookstore without paying for them 😉
My magazine subscription to Ricardo
Eating out at restaurants (This is very rare. Whenever we go out to eat, we go to our favourite sushi restaurant, so what's more likely is… see below)
Looking at restaurant menus online (so sneaky 😉 )
But I digress. Back to these amazing little French Toast morsels.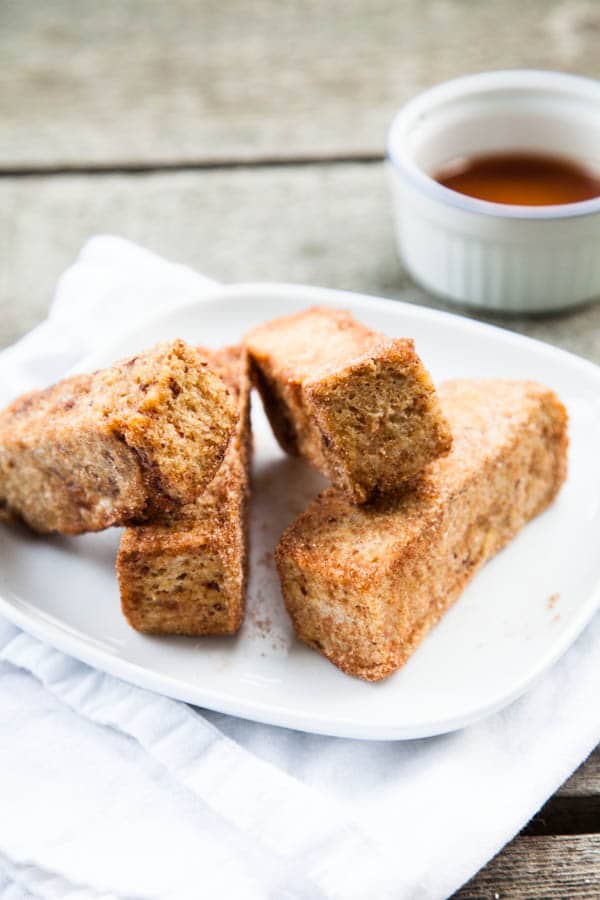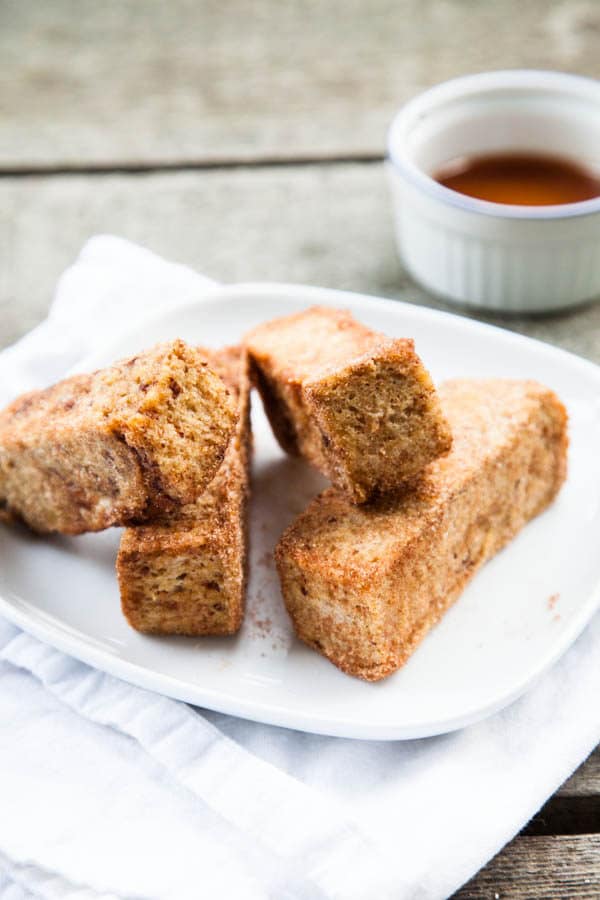 French Toast Fingers are the ultimate breakfast finger food! You can dip them in maple syrup, or nutella, or jam, or honey, or just about any other dip imaginable. They are so fun to eat – your kids will LOVE them.
Before you whip up a batch of these nuggets, I caution you to only use stale bread. If you do not use stale bread, the French Toast Fingers will not stand up to being soaked in the egg/milk mixture and will be limp. I left my slices of bread out overnight and cut them into fingers in the morning and they were perfectly stale.
Also, it helps to use a loaf of bread that is un-sliced, so you are able to slice your own to the desired thickness – again, thicker is better.
I hope you find these as fun to eat as I did!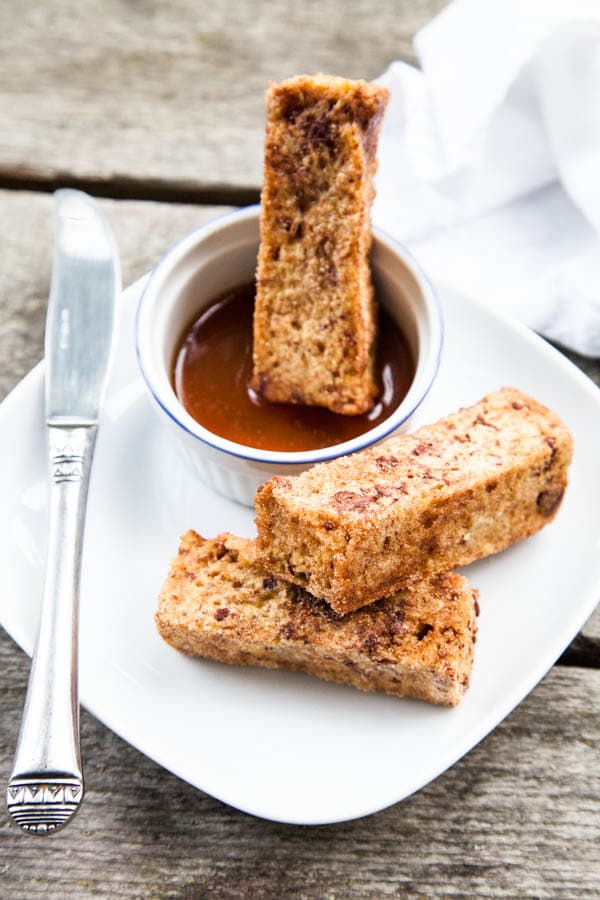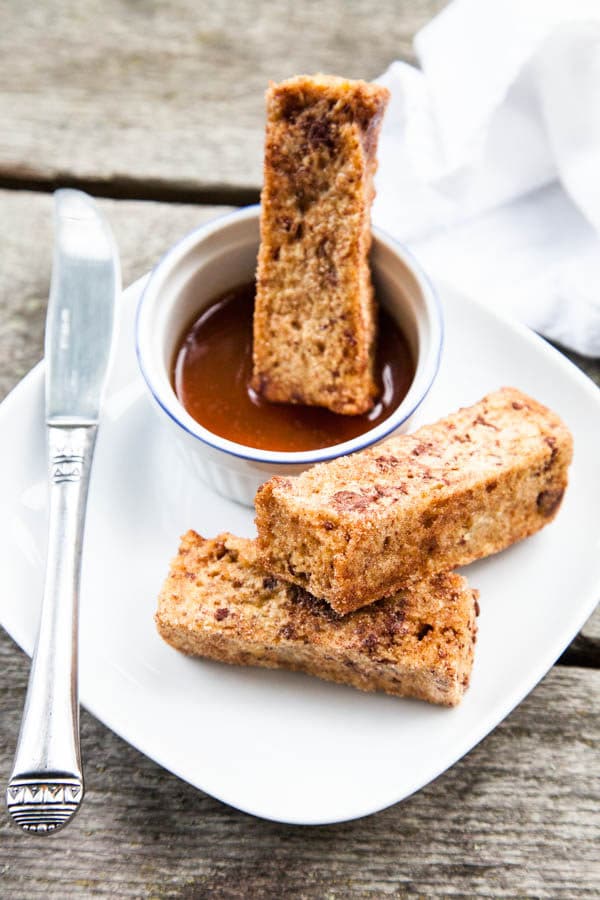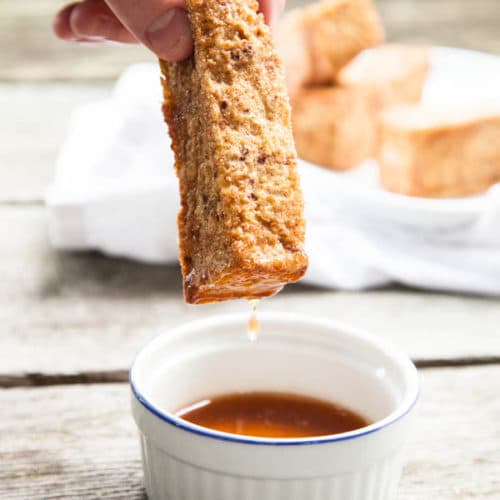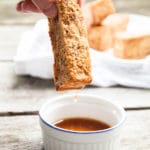 French Toast Fingers
French Toast Fingers are the ultimate breakfast finger food!
Ingredients
3-4

thick

stale slices of white or whole wheat bread

butter to grease your pan

2

large eggs

¼

cup

milk

¼

cup

sugar

1

teaspoon

cinnamon
Instructions
Cut each bread slice into 3 or 4 strips, depending on how thick you want your fingers. I cut mine into 3 strips each and removed the crusts.

On a small plate, combine the sugar and cinnamon, and set aside.

In a large frying pan, melt butter over medium heat.

In a small bowl, whisk together the eggs and milk. Quickly roll each bread stick in the egg mixture, making sure not to soak the bread. Shake off any excess, and place each stick in the pan.

Fry each side of the bread sticks until golden. (You may need to cook everything in two batches, depending how large your pan is!)

Immediately transfer each French Toast Finger to the plate with the cinnamon sugar and roll to coat.

Serve immediately, with maple syrup, nutella, jam, or honey for dunking.
Recipe Notes
Make sure to use stale bread, otherwise your French Toast Fingers will be limp.
Recipe serves 2-3, yielding approx 9-16 French Toast Fingers.
While the idea for this recipe was from my dad, I adapted from Recipe Tin Eats for proportions.