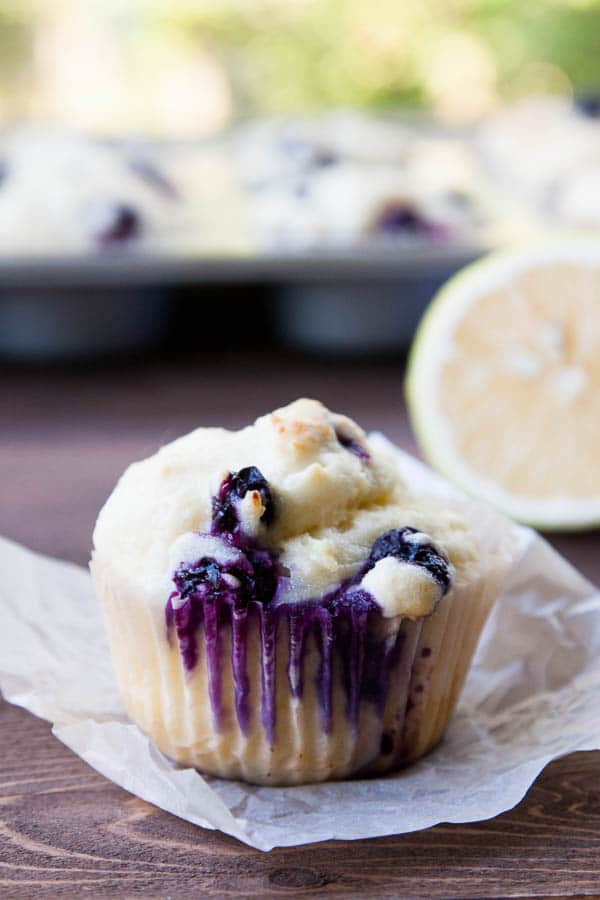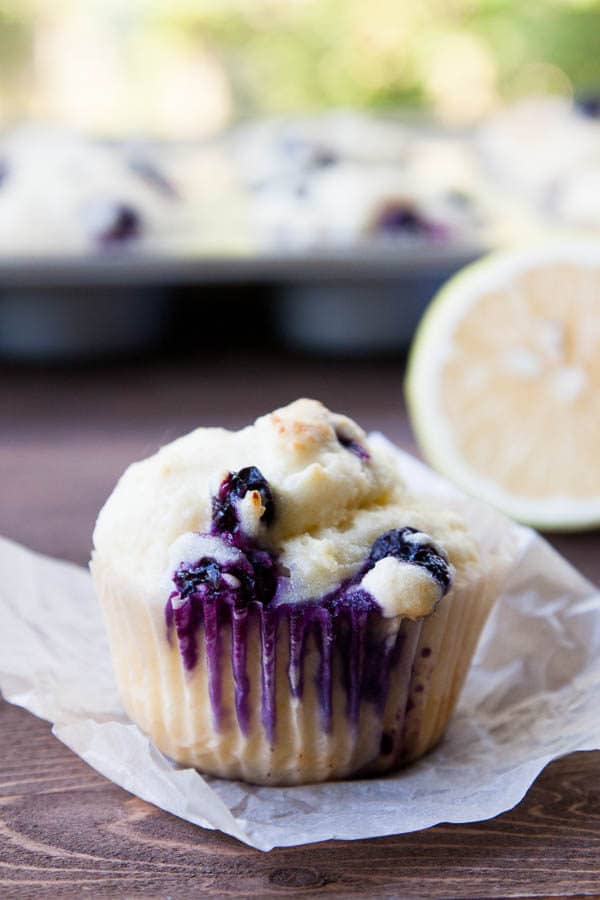 Lemon Blueberry Ricotta Muffins have pockets of bursty sweet blueberries enclosed in a moist, lemony fresh muffin. Bonus: They're made with gluten-free flour!
Do you know one of my favourite things about summer? THE FRUIT.
I have a summer fruit addiction. I could consume my weight in fruit every day. My happiest moment this past week was finding a company who will ship me fresh stone fruits from the Okanagan (best fruit growing region out here on the west coast) straight to my door – today I received 10lbs of apricots! Mmmmm… now to decide what to do with them all.
I also just bought a giant box of blueberries from the market last weekend and have been devouring them all week – truly, there are only a handful left. I knew I had to whip up some blueberry muffins – because there's nothing better than pockets of bursty sweet blueberries enclosed in a moist, lemony fresh muffin.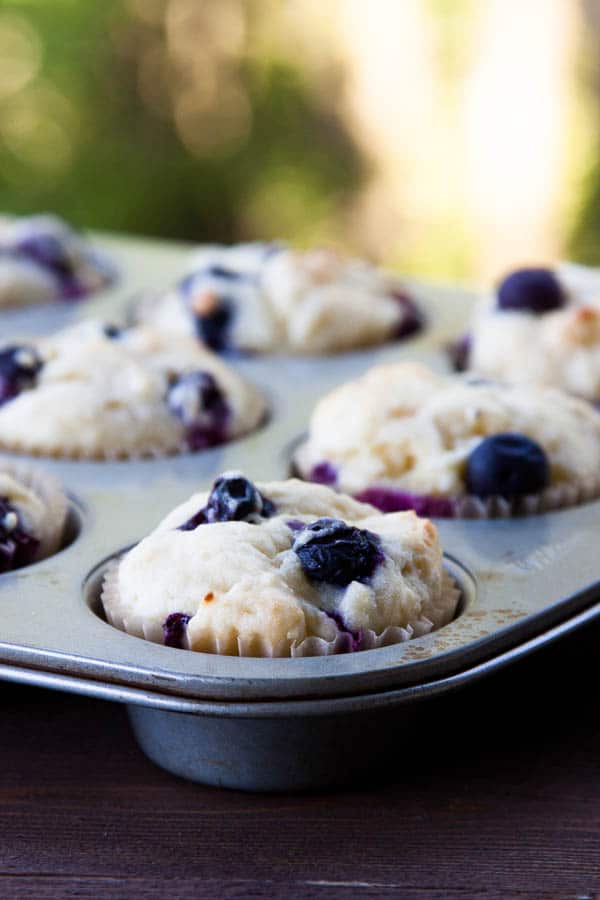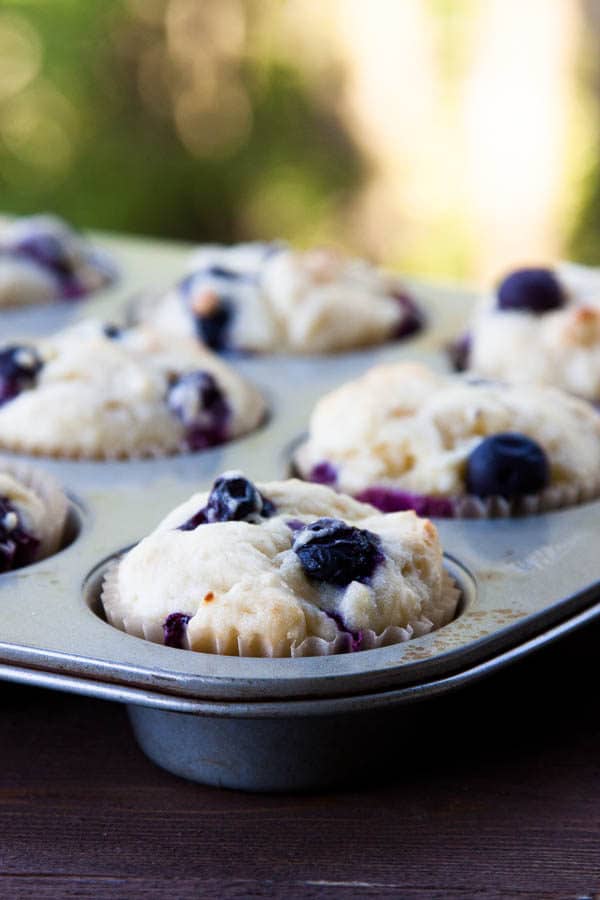 And yes, these Lemon Blueberry Muffins are GLUTEN-FREE!
I've spoken before about how I'm becoming more aware of my  grain/gluten intake (in addition to eating my weight of fruit every day, I could eat a loaf of bread every day!) and trying to reduce it. However, that's not to say that you couldn't substitute regular all-purpose flour for the gluten-free blend I've used here and the muffins would still turn out fabulously moist and fabulously blueberry-bursty.
A note about the gluten free flour blend – I've found an amazing blend by Cup4Cup (and no, this post is not sponsored). You just substitute the same amount of flour in a recipe for the Cup4Cup gluten-free flour and it yields amazing results. No messing around with xanthum gum or worrying about crumbly textures or throwing away an entire recipe. Cup4Cup is also GMO-free, which, hey, is also pretty sweet. You can find it at Whole Foods, or online.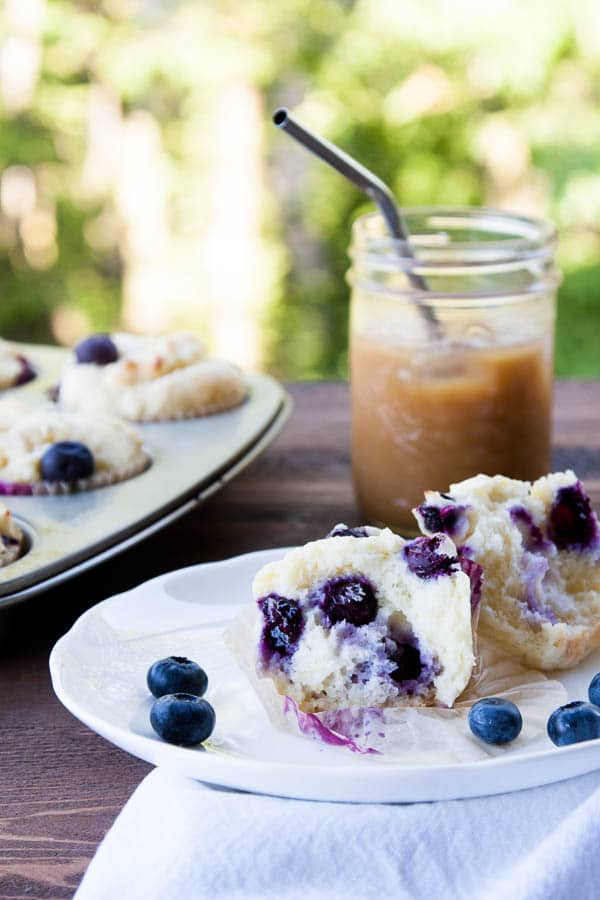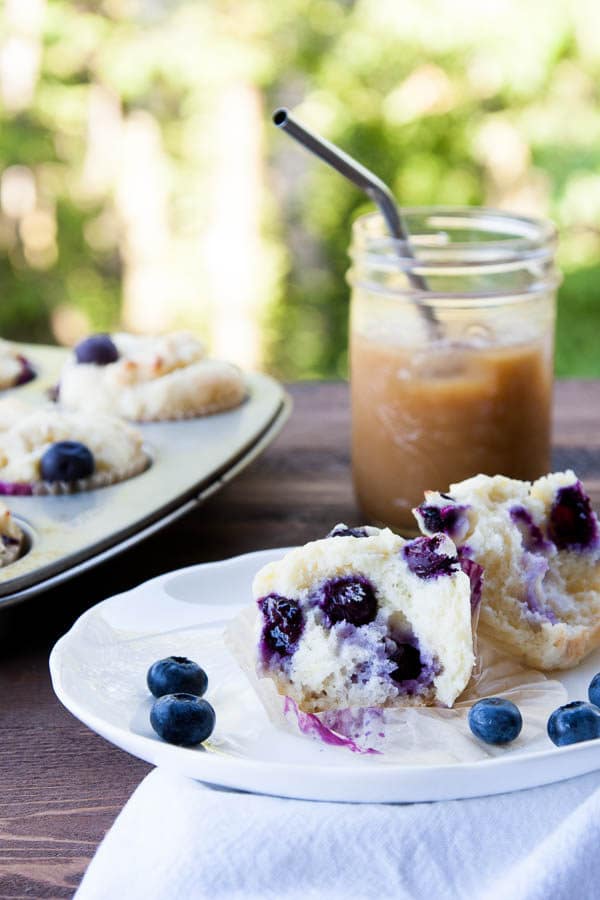 Let me know if you make these muffins – I promise you will love them! Happy Canada Day tomorrow to all my Canadian friends, and a Happy 4th to all the US readers!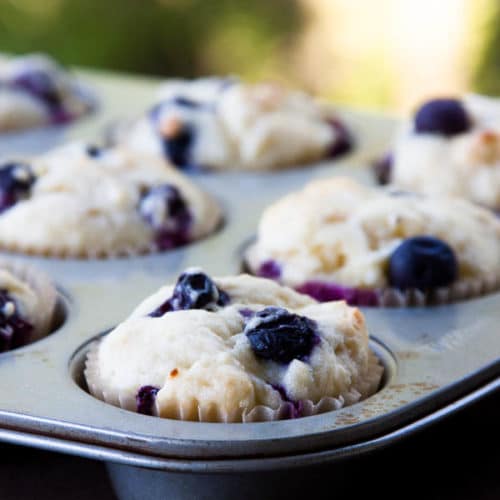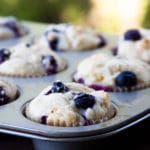 Gluten-Free Lemon Blueberry Ricotta Muffins
Pockets of bursting sweet blueberries are enclosed in a moist, lemony fresh muffin.
Keyword:
blueberry, gluten free, lemon, muffins
Ingredients
5

tablespoons

butter, at room temperature

1/2

cup

granulated sugar

3

large eggs, at room temperature

3/4

cup

part-skim ricotta cheese

zest of 1 lemon

(approx 2 tablespoons)

juice of 1 lemon

(approx 2 tablespoons)

1

teaspoon

vanilla extract

1 1/2

cups

Cup4Cup gluten-free flour blend

2

teaspoons

baking powder

1/2

teaspoon

salt

1

cup

fresh blueberries

(use 1 1/2 cups for extra berry flavour!)
Instructions
Preheat oven to 350F and line 12 muffin cups with muffin liners.

In a large bowl, beat together butter and sugar until creamy. Beat in eggs, one at a time, until fully incorporated. Reduce the mixer speed to medium-low and beat in ricotta cheese, lemon zest, lemon juice, and vanilla.

Stir in the gluten-free flour blend, baking powder, and salt, until wet ingredients are just moistened. Gently fold in blueberries.

Drop batter into each muffin cup, filling 3/4 full. Bake for 20-23 minutes, until a toothpick inserted into the center of a muffin comes out clean and tops are springy to the touch.

Let cool completely.