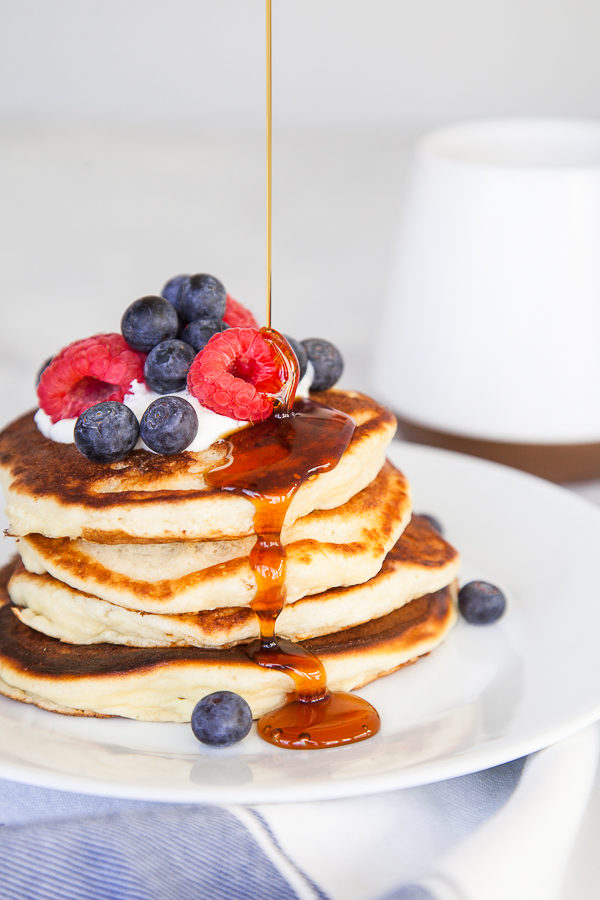 Like you, I'm stuck at home socially isolating myself while the COVID-19 pandemic happens around the world. It's a strange, strange time – I've been laid off work and we have asked my nanny to stay home, so I am caring full-time for my 15-month-old twins, and it is HARD. Sooo much harder than my day job. Ha!
One of the things that's bringing me comfort right now is delicious food. Life is slower, which means I have time to bake bread, to make homemade pasta from scratch, or flip Greek Yogurt Pancakes on a Tuesday morning.
Yes, friends, pancakes are no longer reserved just for weekends.
Over the last two weeks, I have made these specific Greek Yogurt Pancakes at least six times. They have absolutely, undeniably, without question replaced my Buttermilk Pancakes as my new go-to standard pancake recipe.
Why? The texture is moist, spongy, and light – all at the same time. And there's no whipping of egg whites required. The secret is the Greek Yogurt and the relatively small amount of flour.
Yes, that 1/2 cup of flour is no typo!
And that's what makes this pancake recipe so incredible – the batter is not weighed down by flour.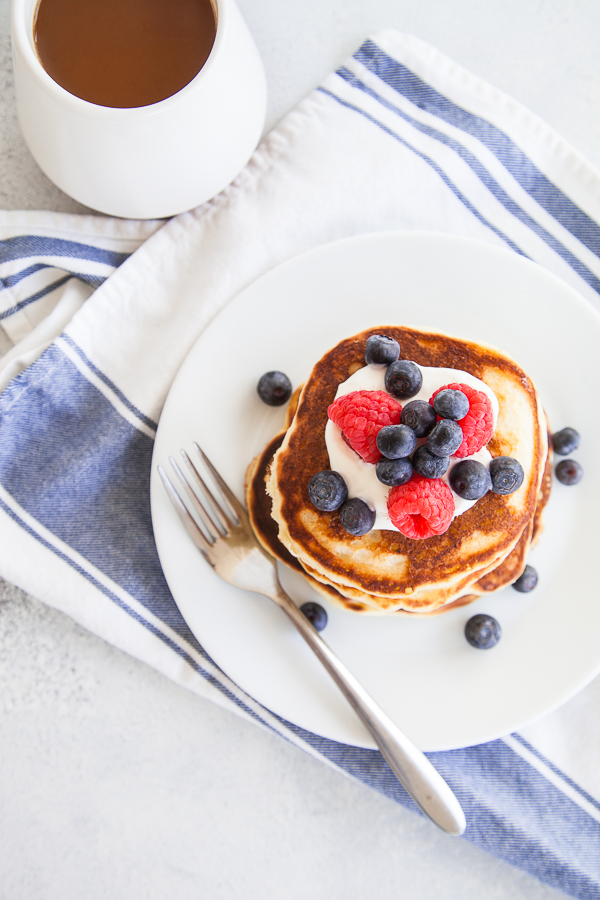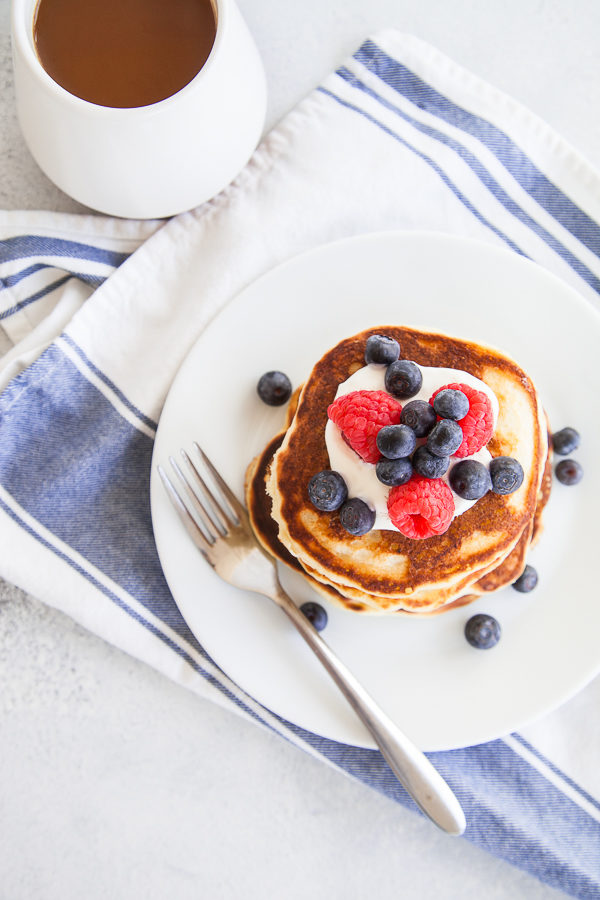 My 10-year-old step-daughter rated these Greek Yogurt Pancakes 10/10. And she can be a tough critic on my breakfast creations. 😉 Specifically, her review was, "Pancakes are usually so dry. These pancakes are so good!"
But don't take our word for it. It's time to make pancakes on a regular old Tuesday.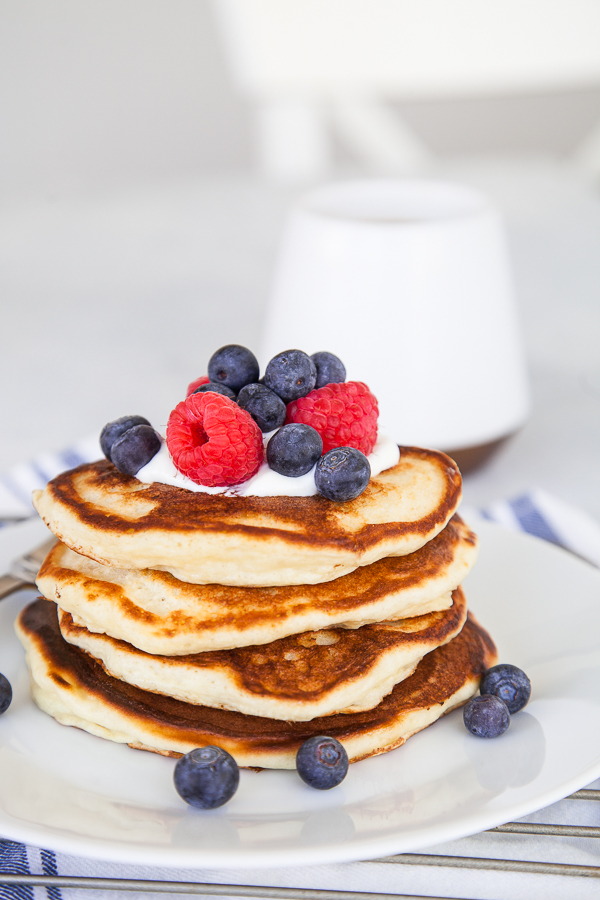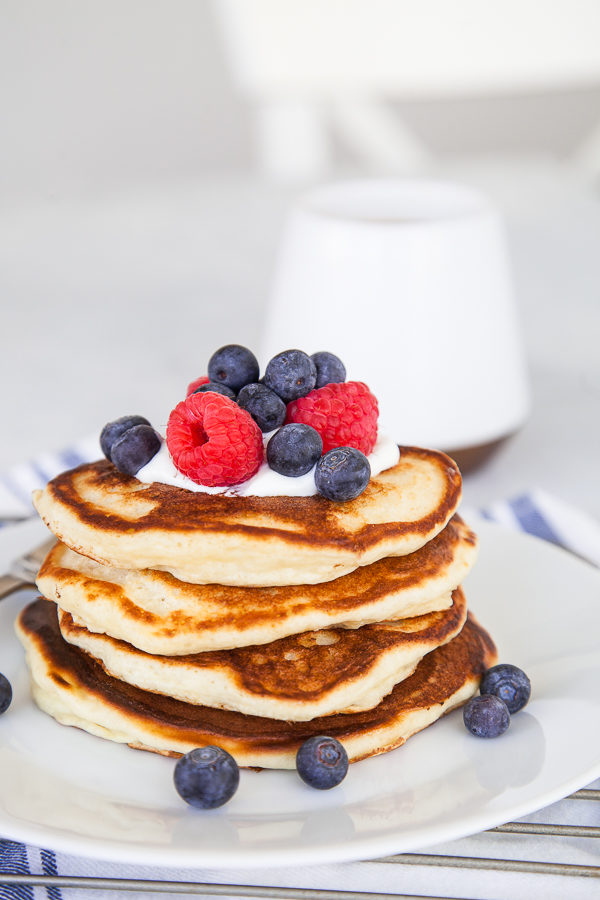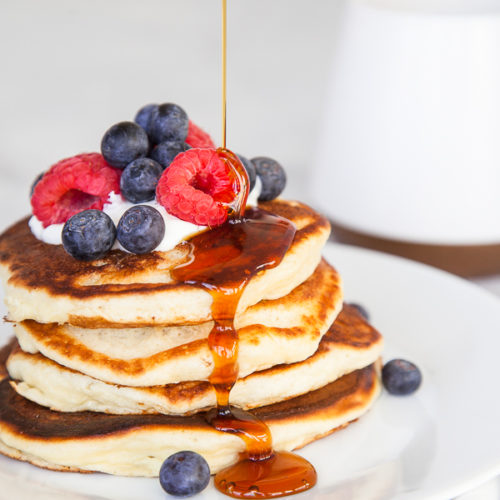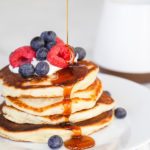 Greek Yogurt Pancakes
Moist, spongy, and light pancakes! And no whipping of egg whites required. These Greek Yogurt Pancakes are undeniably my new favourite.
Keyword:
greek yogurt, griddle, pancakes
Ingredients
2

eggs

1

cup

plain Greek yogurt

1

tbsp

milk

1

tsp

vanilla

1/2

cup

all-purpose flour

1

tbsp

sugar

1

tsp

baking soda

1/4

tsp

salt
Instructions
In a medium size bowl, whisk together the eggs, Greek yogurt, milk, and vanilla. Set aside.

In a large bowl, stir together the flour, sugar, baking soda, and salt. Add the wet ingredients to the dry ingredients and stir until just moistened.

Heat a griddle to medium heat and grease lightly with butter. Using a 1/4 cup measuring scoop, pour pancake batter onto the griddle. Cook until tiny bubbles appear on the surface, about 2 minutes. Flip and cook until the other side is golden brown, about 1-2 minutes.

Serve pancakes hot with maple syrup and fresh berries, if desired.
Recipe Notes
Recipe yields approx 6 medium-size pancakes, serving 2-3 people, depending on your appetites!
No, the 1/2 cup flour is not a typo! The little amount of flour is what makes these pancakes so spongy and moist.