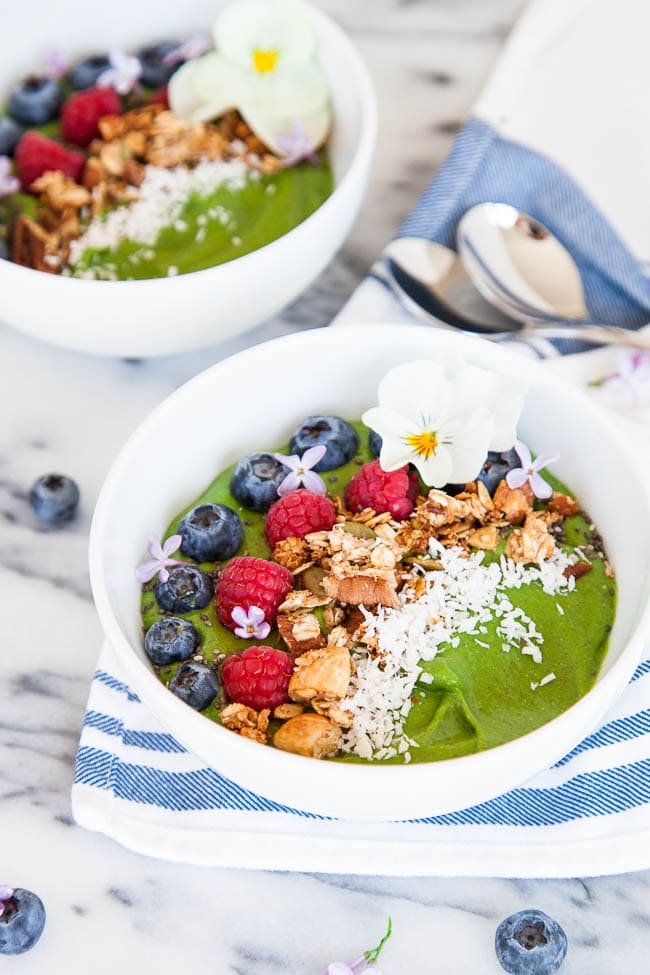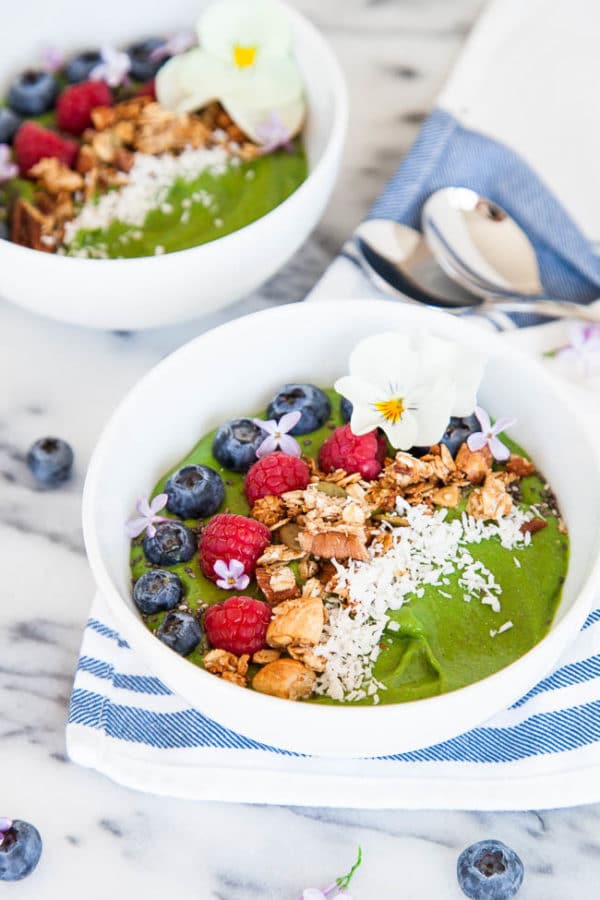 I hope whomever invented smoothie bowls is a rich (wo)man by now. They are SO popular. You only have to scroll through your Instagram feed (use the hashtag #smoothiebowl) to find a million snaps of beautiful, colourful bowls.
The best thing about smoothie bowls is that they combine two healthy breakfasts: smoothies and fruit/granola bowls. You get the healthiness of a smoothie and also get to load up on toppings. Because let's be honest – the toppings are the best part! 😉
What's the big deal with smoothie bowls?
Smoothie bowls are made just like a regular smoothie: with lots of fruit, veggies, and a little liquid blended together into a smooth consistency. However, to make a smoothie into a smoothie bowl, you simply add less liquid. The result is a thicker, more ice-cream-like consistency, that needs to be scooped out of the blender, rather than poured, is then be sprinkled with your choice of toppings, and eaten with a spoon.
Because smoothie bowls are thicker than smoothies, they feel more like a meal, and because of all the toppings, they are generally more filling than just drinking a smoothie for breakfast.
Your brain gets tricked when you're eating something with a spoon, rather than sipping liquid through a straw. Spoon foods = more filling!
The healthy ingredients of this green smoothie bowl
a full serving of greens
healthy fats from the avocado
omega 3s from chia seeds
natural sweetness from peaches and banana
fresh ginger to reduce inflammation
Making your smoothie bowl
Add all ingredients into a blender, just like you're making a smoothie. Then blend it up! You may need to add a little more milk/water, in small splashes, to find the right consistency.
Once you've blended everything together and found the right thickness, will most definitely will need to scoop your smoothie out of the blender and into a bowl.
Then the fun begins! Toppings time!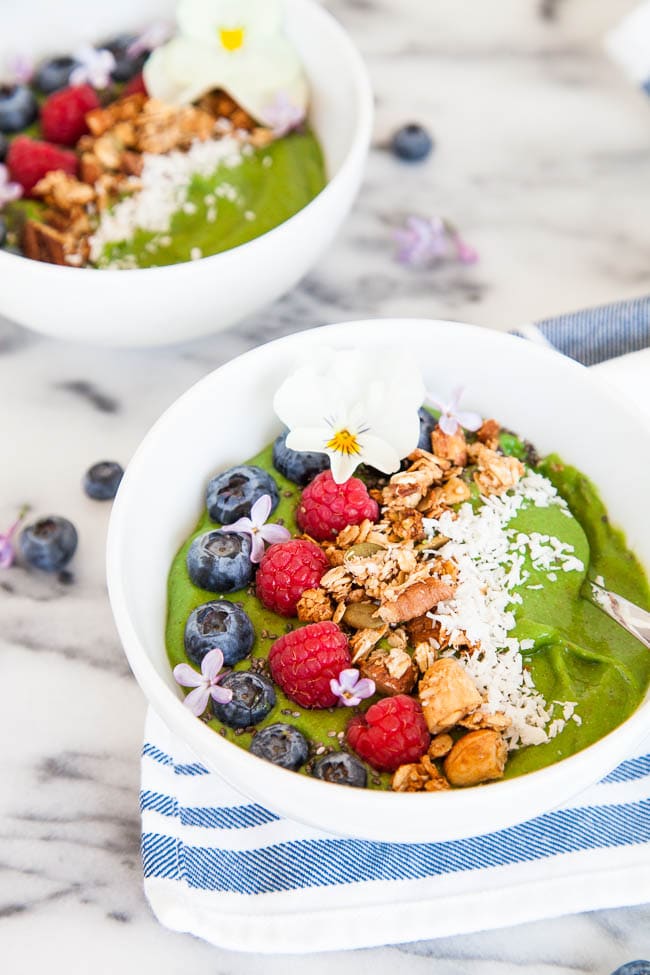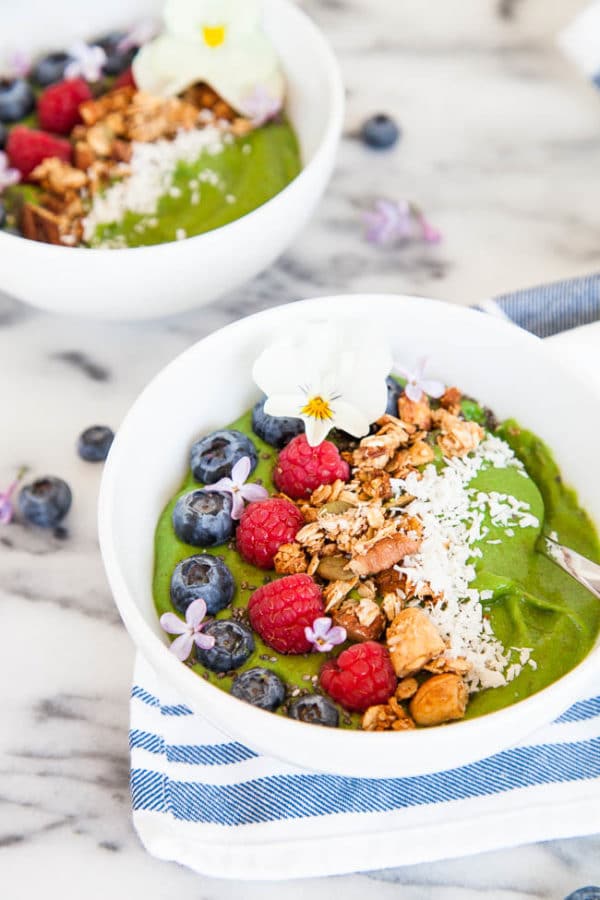 The toppings
My favourite toppings are granola and shredded coconut. But your green smoothie bowl topping options are endless:
sliced banana
sliced strawberries or other berries
chia seeds
chopped nuts
crumbles of baked oatmeal
shredded coconut
a drizzle of honey
a scoop of nut butter
Let me know what combinations you try! Tag me on Instagram @breakfastfordin with your creations.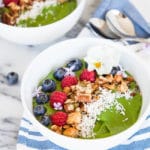 Green Smoothie Bowls
Smoothie bowls are a heartier and more filling breakfast than a smoothie. Load up on toppings - my favourites are homemade granola and shredded coconut. Recipe makes one very large or two smaller smoothie bowls.
Keyword:
breakfast, green, peach, smoothie bowl, spinach
Ingredients
1

banana

(can use a fresh banana or a banana that has been frozen in pieces)

handful

fresh spinach

1/2

cup

sliced frozen peaches

1/4

avocado

1/3

cup

milk, plant-based milk, or water

(may need to increase to 1/2 cup)

1/2

inch

piece of fresh ginger, peeled

1

tbsp

chia seeds

1

tsp

vanilla

1

pitted date, for sweetness

(optional)

your choice of toppings, see note below
Instructions
Add all ingredients to a blender. Blend on high. If mixture is too thick, try adding small increments of additional milk/water and blending in between, until desired thickness is reached. The trick is that you want the mixture to be thicker than a smoothie, almost an ice-cream-like consistency.

Using a spoon or spatula, scoop smoothie into 1 very large or 2 small bowls.

Sprinkle your choice of toppings. Serve.



Recipe Notes
You should either include frozen peaches or a frozen banana in this recipe - it will make the smoothie bowl nice and chilled. However, if you use both fresh peaches and a fresh banana, I would then recommend adding a few ice cubes.
Topping suggestions:
sliced banana
sliced strawberries or other berries
chia seeds
chopped nuts
crumbles of baked oatmeal
shredded coconut
a drizzle of honey
a scoop of nut butter