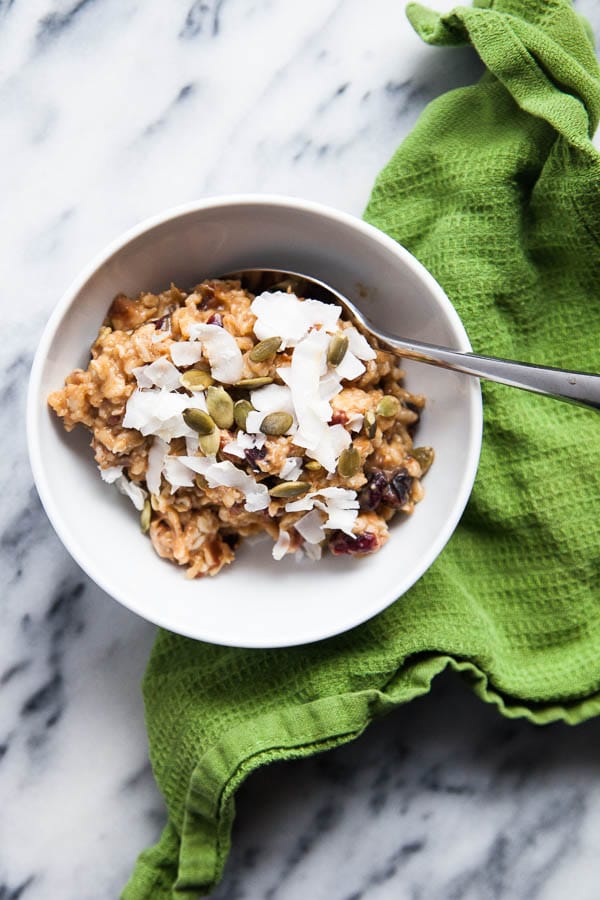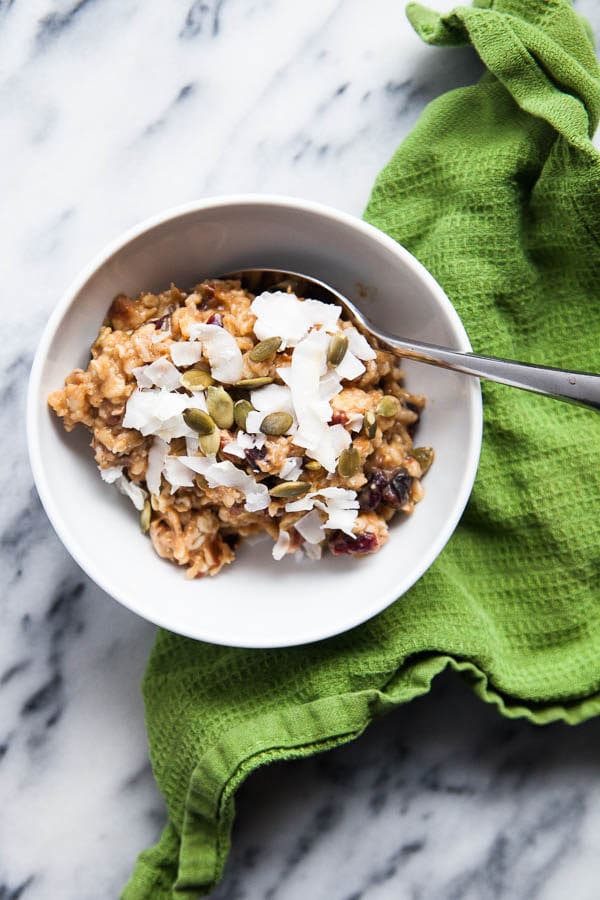 When the temperatures start dropping, I crave warm, cozy breakfasts. On this particular day, I had been out braving the cold on a drizzly morning run, the wind had blown me home through the front door,  and my stomach was rumbling. I needed a warm, filling, and satisfying breakfast. Enter Hearty Autumn Stovetop Oatmeal.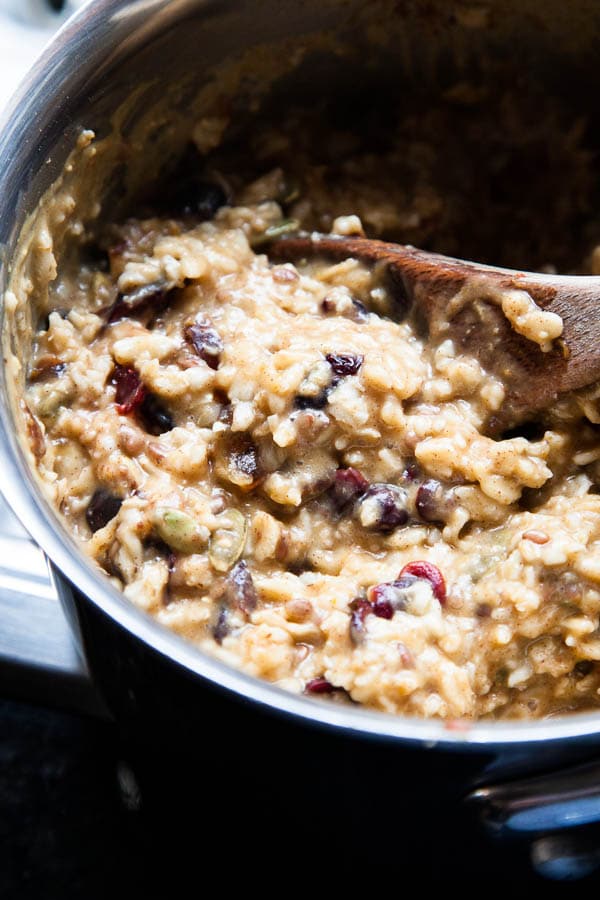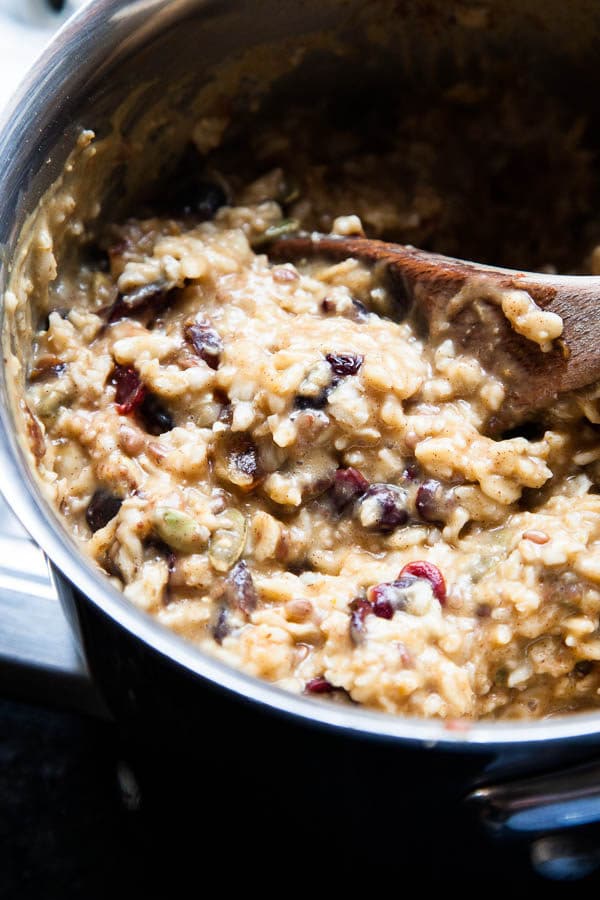 It's no secret that I'm obsessed with oatmeal for breakfast. Overnight Oats are one of my favourite quick workday morning breakfasts. But there's something altogether unappealing about eating a jar of cold oats on a cold day.
So I'm breaking out of my Overnight Oats box and committing to an additional few minutes to stirring together a bubbling pot of warm, creamy Stovetop Oatmeal instead.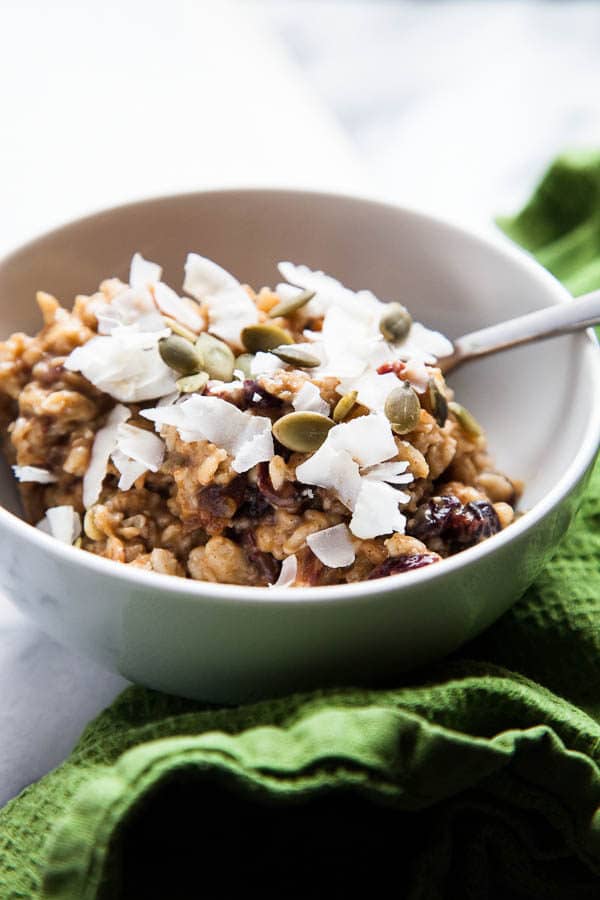 Stovetop Oatmeal literally only takes 15 minutes to throw together – and in 15 minutes you can go from a clean kitchen to a warm bowl of oatmeal on the breakfast table.
The combination of ingredients I've used in this recipe is an homage to the autumn season: pumpkin puree, dried cranberries, pecans, and warming spices.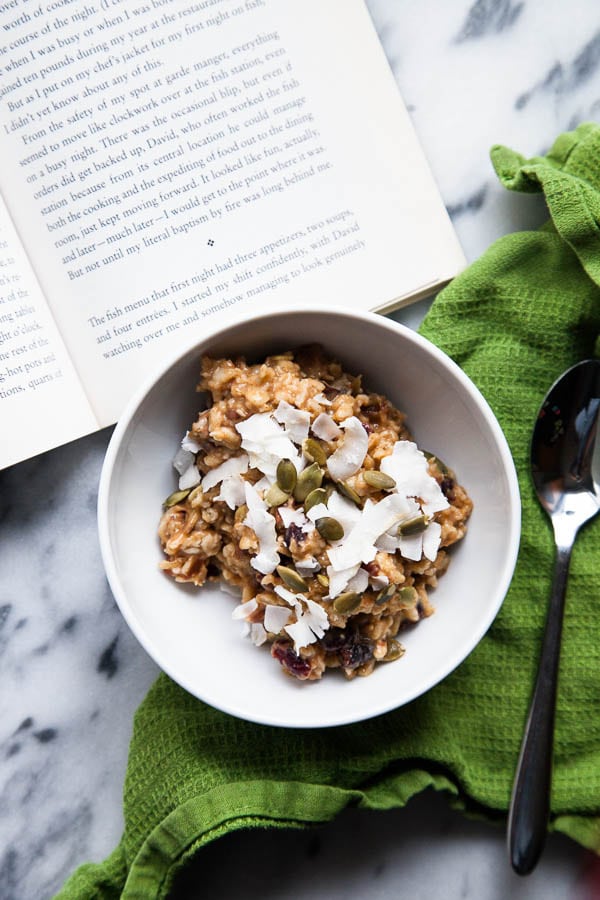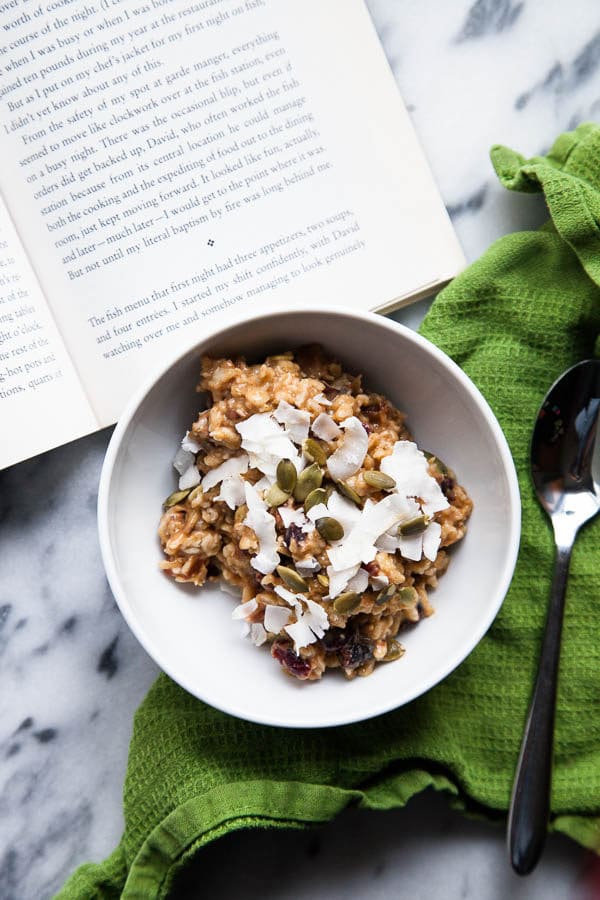 And let me tell you – when I sat down with my bowl of cozy oatmeal, it sure did thaw out my frigid my ears (is anyone else bothered by painful ear aches while running in the cold?!)
In addition to filling your belly with warmth, oats carry a host of health benefits: they claim to lower cholesterol levels, reduce risk of cardiovascular disease, and enhance immune response. Oats are also rich in anti-oxidants and their high level of fibre lead to an increased feeling of fullness.
Get ready to make this recipe one of your autumn staples!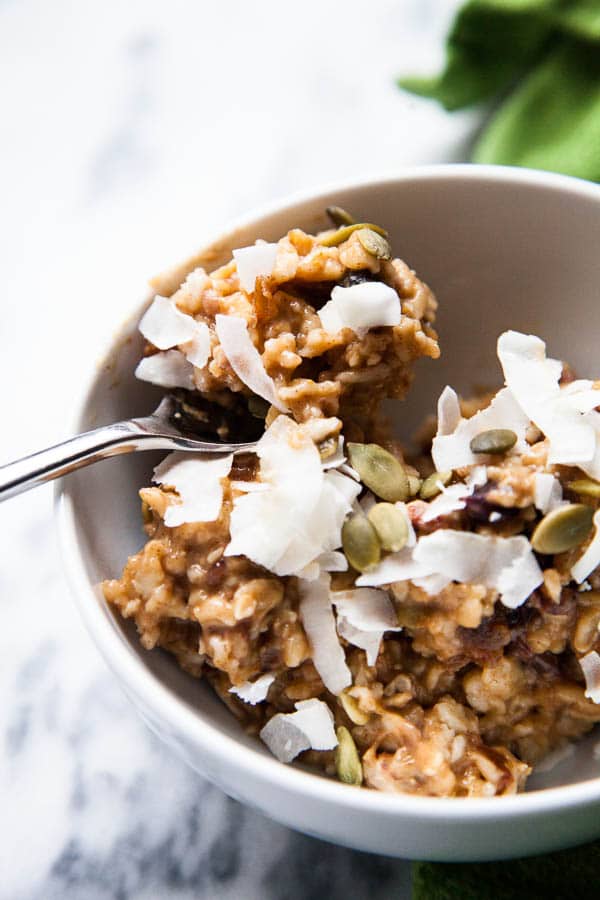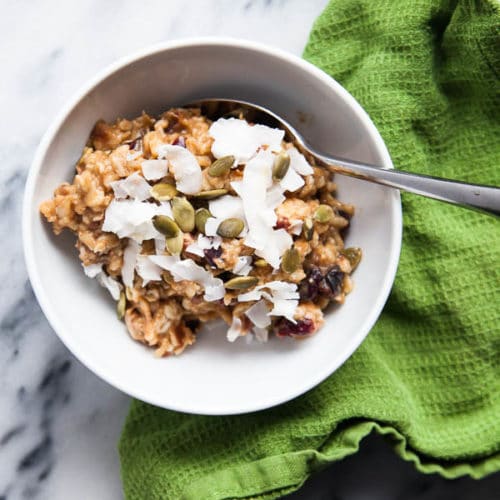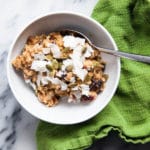 Hearty Autumn Stovetop Oatmeal
This bubbling pot of Hearty Autumn Stovetop Oatmeal is an homage to the autumn season with pumpkin puree, dried cranberries, pecans, and warming spices.
Ingredients
1

cup

old-fashioned rolled oats

1

cup

water

1

cup

milk of choice

1

teaspoon

vanilla

1/4

cup

pumpkin puree

(you could also substitute apple sauce)

1/2

cup

craisins

1/4

cup

dates, pitted and chopped

1/4

pecans, chopped

1

tablespoon

pumpkin seeds

1

tablespoon

flax seeds

1

tablespoon

maple syrup

(or more to taste)

coconut flakes,

to garnish
Instructions
In a medium-size pot over medium-high heat, add oats, water, milk, and vanilla, and bring to a boil.

Once oatmeal boils, lower heat to a simmer and simmer until thickened, approx 5 minutes.

Add all remaining ingredients: pumpkin puree, craisins, dates, pecans, pumpkin seeds, flax seeds, and maple syrup and stir well. Thin with additional milk, if desired.

Serve with extra milk, extra maple syrup, and a sprinkle of coconut flakes.
Recipe Notes
Use regular old-fashioned rolled oats - not quick oats!
Recipe yields 3-4 servings, depending on portion size.
Don't have 15 minutes? Looking for a super quick oatmeal recipe? Give Overnight Oats a try instead! (I have an amazing Carrot Cake Overnight Oats recipe!)