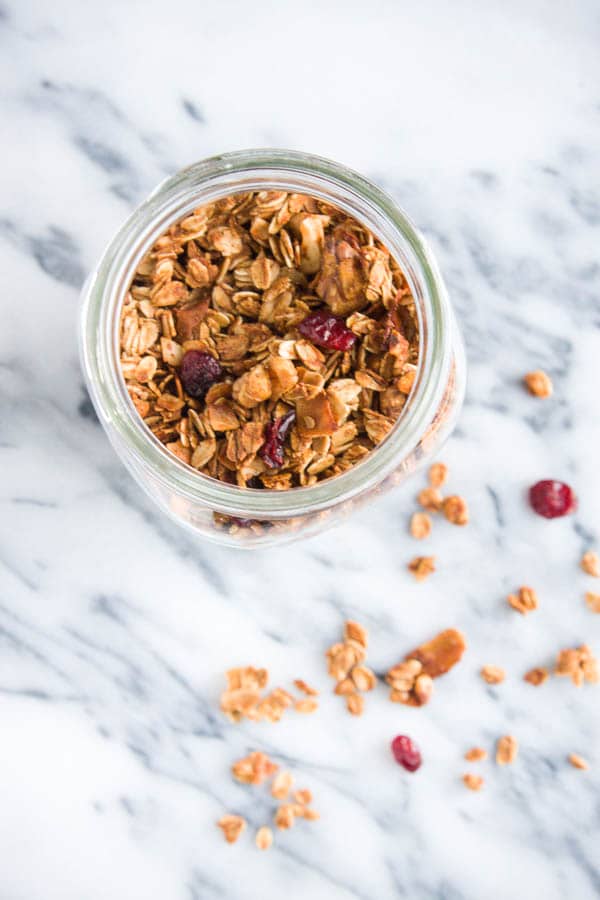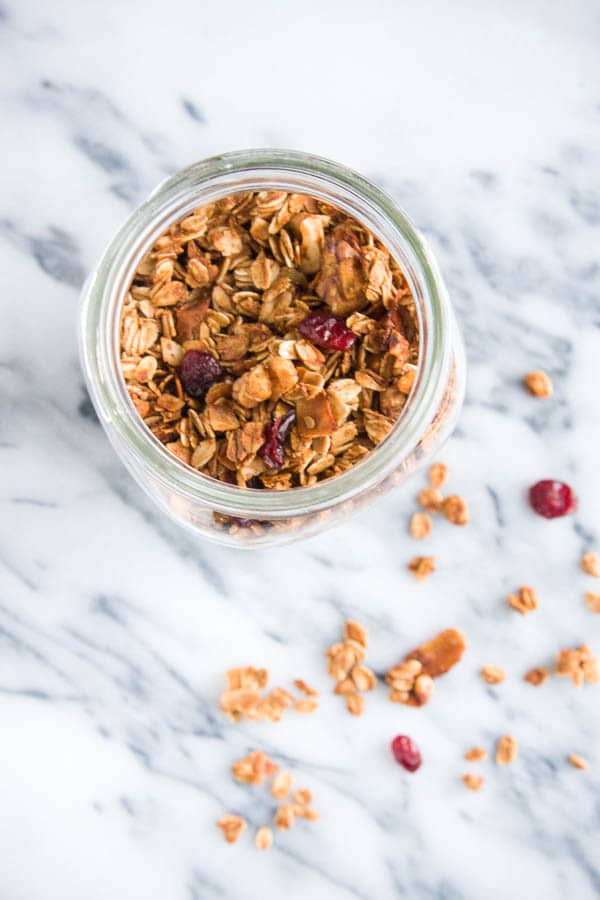 Have you ever made homemade granola? It's the best thing ever.
I used to spend lots of $$$ on store-bought granola, even occasionally buying the super fancy granola from specialty cafes. There was a while when I ate yogurt+granola for breakfast every day, so my granola consumption was HIGH.
Then I realised – why can't I make this myself? Granola is just oats, right?
Pretty much. Oats, coconut, some spices, and a few liquids to hold everything together.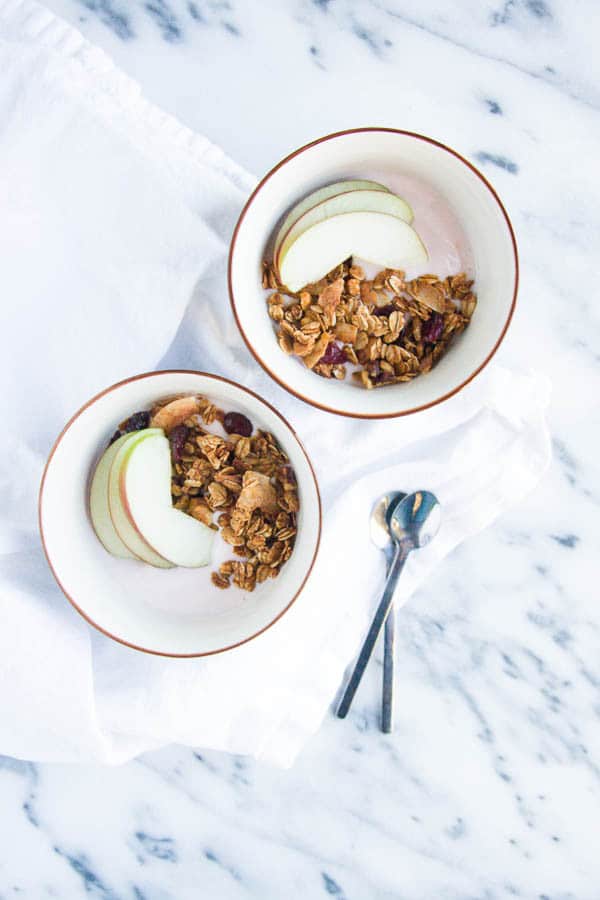 It has been cooooold these recent mornings! Have you noticed? We're down to just about freezing in the wee hours, and I have to say, I'm loving it. This morning I snapped some photos of the ice crystals on our herb garden – so beautiful!
To celebrate the cold weather, and the upcoming holidays (okay – by J's standards, I can't officially start celebrating until Dec 1), I flavoured this batch of granola like gingerbread – with cinnamon, ginger, a pinch of cloves, and molasses. Holiday Gingerbread Granola tastes like you're eating gingerbread for breakfast – but healthier.
I like using an egg white in my granola – it helps to create big granola clusters, but it's not essential if you'd rather leave it out to make this recipe vegan. Also, I've used walnuts and craisens to flavour my granola, but feel free to use your favourite nuts/dried fruit.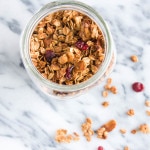 Holiday Gingerbread Granola
This granola tastes like you're eating gingerbread for breakfast!
Ingredients
1 1/2

cups

old-fashioned rolled oats

1/2

cup

unsweetened flaked coconut

1/2

cup

walnuts, chopped

1

tablespoon

coconut oil, melted

1

tablespoon

molasses

1

tablespoon

maple syrup

(increase to 2-3 tbsp if you prefer a sweeter granola!)

1/2

teaspoon

cinnamon

1/2

teaspoon

ginger

pinch

cloves

1

egg white

1/2

cup

dried cranberries
Instructions
In a large bowl, combine all ingredients except the egg white. Mix well.

Lightly whisk the egg white in a small bowl and then add, mixing to ensure it's thoroughly incorporated.

Line a baking sheet with parchment paper. Spread the granola onto the baking sheet in a thin layer.

Bake at 300 degrees F for 20 minutes, then remove from oven and carefully flip granola over. Return to oven and bake for another 15-20 minutes, until golden brown.

Once the granola has cooled, break up granola and sprinkle in dried cranberries.

Holiday Gingerbread Granola lasts in an air-tight container for up to 2 weeks.
Recipe is adapted from Smitten Kitchen's cookbook (recipe re-printed here).