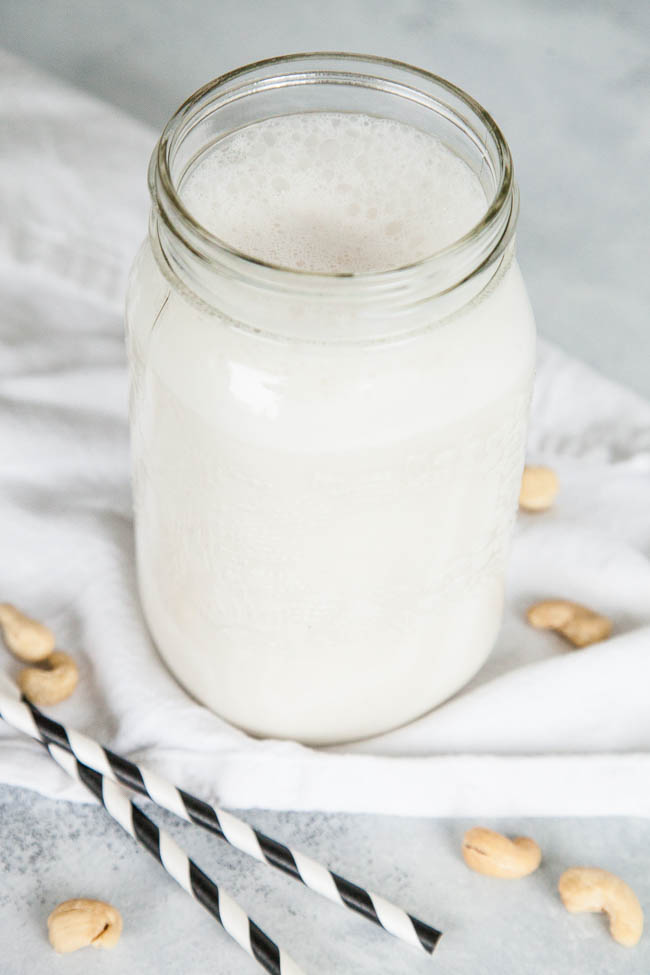 Do you make your own nut milk?
If you don't, I'm about to change your mind. Homemade Cashew Milk is my absolute favourite nut milk to make – there's always a mason jar full in my fridge! I drink it in smoothies, my morning coffee, and with granola and oatmeal.
Cashew Milk is my favourite nut milk to drink and make at home. It is MUCH easier to make and tastier than Almond Milk, in my opinion. I find Almond Milk can be a bit of an acquired taste, and if you are drinking an Almond Milk Latte, you taste a whole lot more almonds than coffee. It can be a little overpowering.
If you've had a Almond Milk Latte, didn't like it, and decided to swear off nut milks – give Cashew Milk a try!
Why I like Cashew Milk better than Almond Milk
Creamier consistency
Mild nutty taste
No peeling off almond skins
No straining required! (This is by far the best reason to make Cashew Milk over Almond Milk!)
The benefit of making your own Cashew Milk at home is that you can control the ingredients in it (unlike when you buy it from the store, it can be full of additives and thickeners). I LOVE that.
Because really, making your own Cashew Milk only requires two basic ingredients: WATER and CASHEWS.
Then you can add anything else you might like – usually I add a splash of vanilla, a shake of cinnamon, and a little drizzle of maple syrup for sweetness.
How to Make Homemade Cashew Milk
Making Cashew Milk requires a little bit of pre-planning because you'll need to soak the cashews before you turn them into milk. To soak, all I do is measure 1/2 cup of raw cashews into a small bowl, cover the cashews with water, and set it in the fridge. You can let them soak for at least 2 hours or overnight.
After your cashews have soaked, drain them, and add the cashews to a blender. Pour in 2 cups of fresh water, cover the blender with the lid, and blend on high for 1-2 minutes. The cashews will break down and turn into a frothy milk!
Once the cashews are completely blended into milk, add any of your additives, like vanilla, cinnamon, or sweetener. Then add an additional 1 cup of fresh water and blend again until incorporated.
For best results, use a high-powered blender. I use my Vitamix, which liquefies the cashews so that a nut milk bag is not needed to strain the milk. You'll get less smooth Cashew Milk using a less powerful blender, but if you're worried, grab a cheesecloth or nut milk bag to strain out any larger bits of cashew that did not get blended properly.
Store your cashew milk in a large 32 oz mason jar, or other bottle. Give your bottle or jar a good shake before each use – the cashew sediment will sink to the bottom causing a little separation.
Homemade Cashew Milk will keep refrigerated for up to one week – then it's time to make more!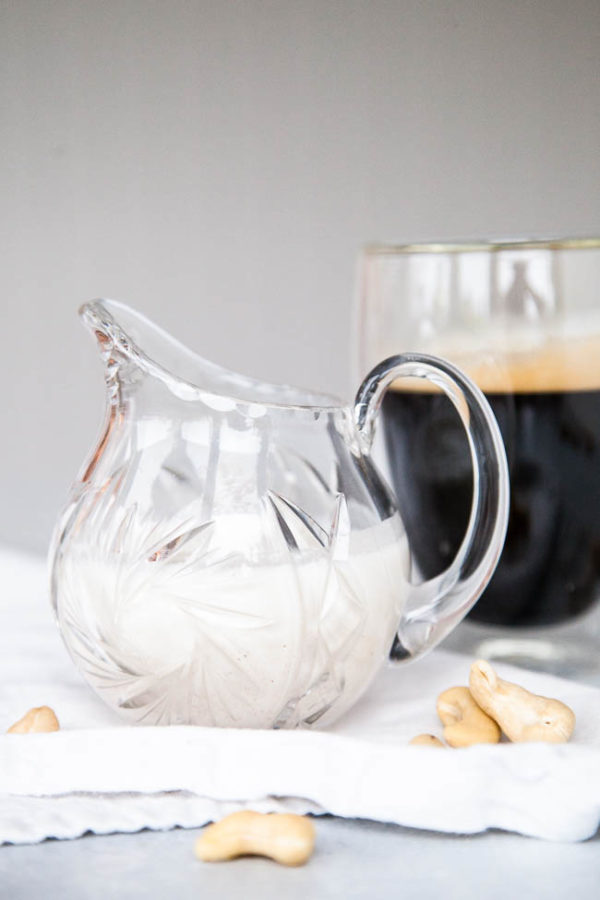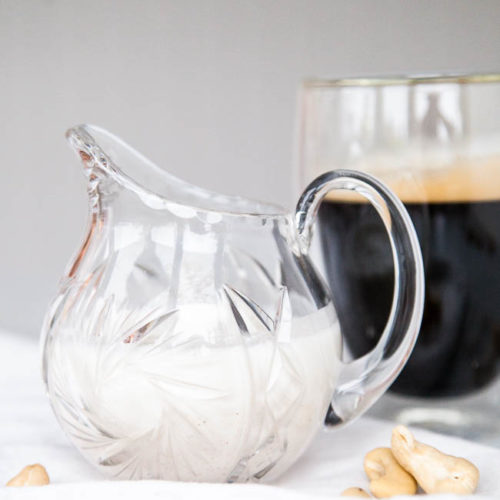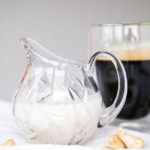 Homemade Cashew Milk
Make your own creamy homemade cashew milk - no straining required! Recipe yields enough to fill a 32oz mason jar, or approx 3.5 cups.
Keyword:
blender, cashew milk, nut milk
Ingredients
1/2

cup

raw cashews

(it is very important to use RAW cashews, and not roasted cashews)

water for soaking

3

cups

water, divided

1/2

tsp

vanilla

(optional)

1

tsp

maple syrup or honey

(optional)

sprinkle

cinnamon

(optional)
Instructions
Measure out 1/2 cup of raw cashews and place them in a bowl. Cover the cashews with water, and set in the fridge to soak for at least 2 hours or as long as overnight.

Drain the cashews from the water and add them into a high-powered blender. Add 2 cups of fresh water.

Blend on high for approximately 2 minutes, until the cashews have been completely broken down into a liquid.

Add vanilla, sweetener, and cinnamon, if desired, and an additional 1 cup of fresh water.

Again, blend on high for another minute, until all ingredients are smooth and you have beautiful cashew milk!

Pour into a 32oz mason jar or other bottle and store in the fridge. Cashew milk will keep for up to 1 week (I like to write the date of expiry on the jar, so I remember when I made it!)
Recipe Notes
I make Cashew Milk in my Vitamix blender, but you do not need one to make Cashew Milk. If you do not have a high-powered blender, you can still make Cashew Milk with great results. However, you may need to strain the Cashew Milk through a fine cheesecloth or nut milk bag before using, to remove any pieces of cashew that did not get broken down finely enough.
Have you made Cashew Milk before? What are your fav nut milks that I should try making next?