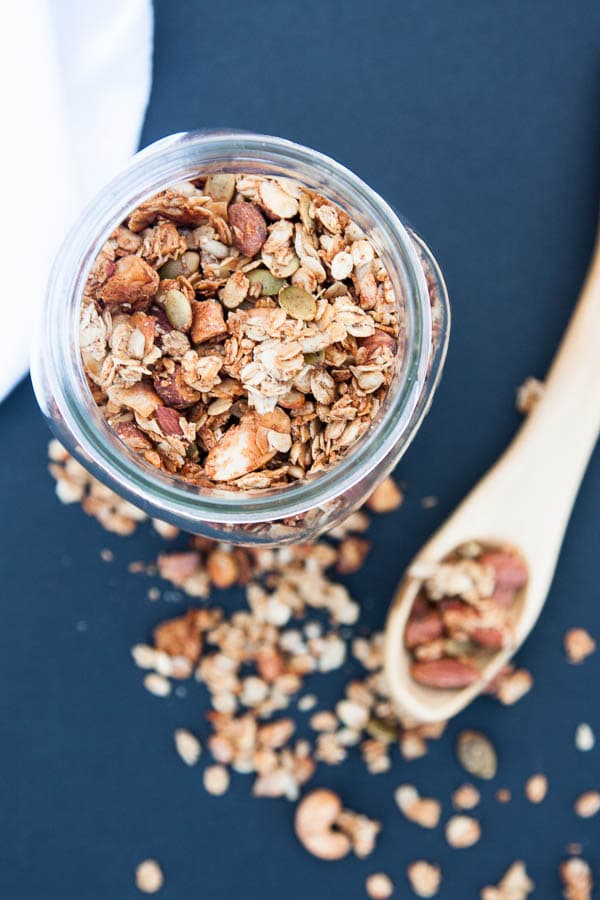 My two favourite breakfast foods to keep stocked in the house at all times:
Homemade granola
Muffins stashed in my freezer
Homemade granola is SO NECESSARY to have on hand. Sprinkle it on your yogurt! Douse it with milk, like a healthy cereal! Eat it by the handfuls and handfuls for snacks because you can't resist! (Just me?!)
You're in luck because homemade granola is also SO SIMPLE to make. There was a time when I used to eat yogurt and granola every day for breakfast, and I was ploughing through bags of store-bought granola. Those bags of granola from the grocery store are not cheap, and are full of added sugars and preservatives that your body can do without!
Once you try making your own granola (and I turn you into a granola snob!), there's no going back to those store-bought bags!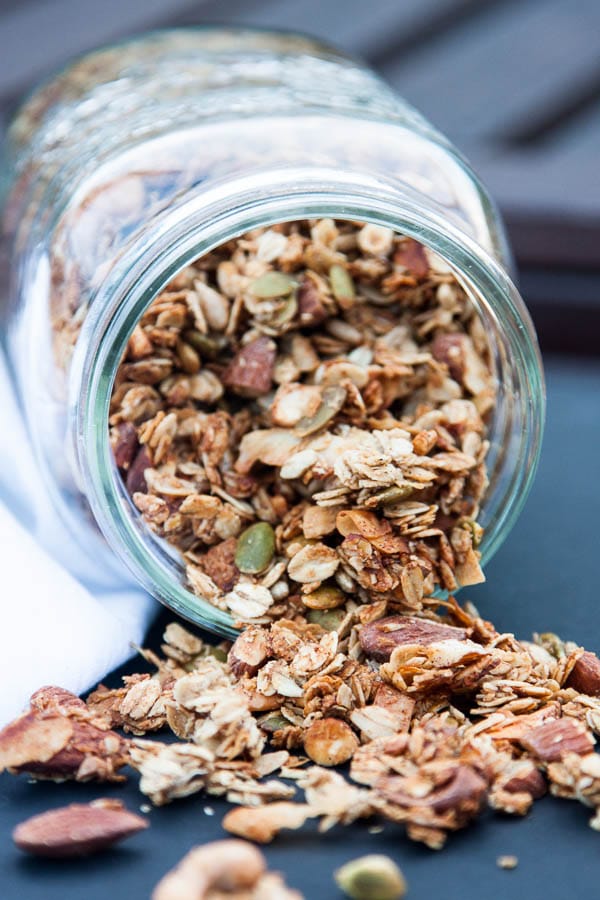 This recipe is full of nuts and seeds for flavor, texture, and extra nutrients – nuts and seeds are packed full with healthy fats and protein to keep you feeling full until lunch. I've used: almonds, cashews, pepitas (pumpkin seeds), and sunflower seeds.
However, as long as you keep to the ratios I've specified, feel free to substitute your own favourite nuts/seeds! Hate cashews (how could you, you crazy person?!?!) – substitute walnuts! Hate sunflower seeds? Add sesame seeds!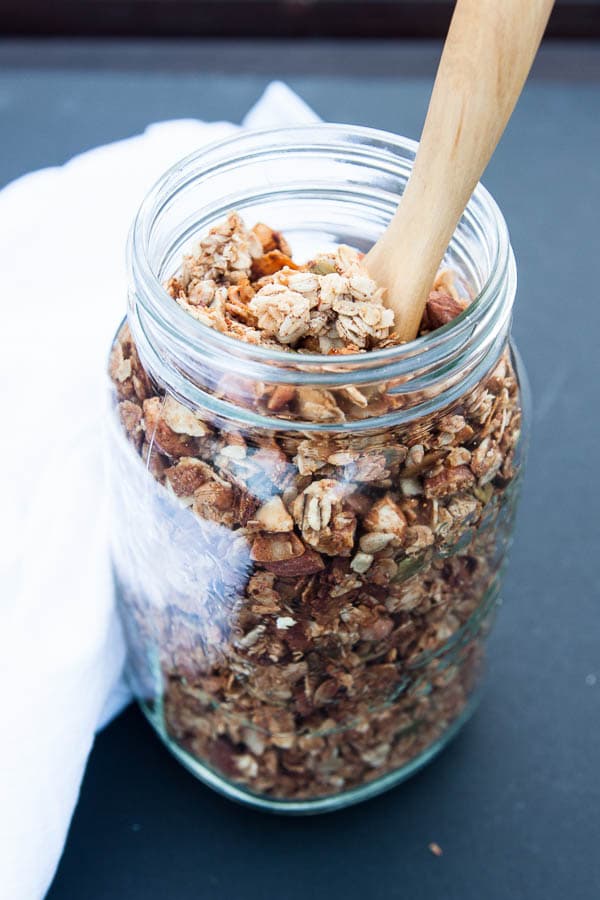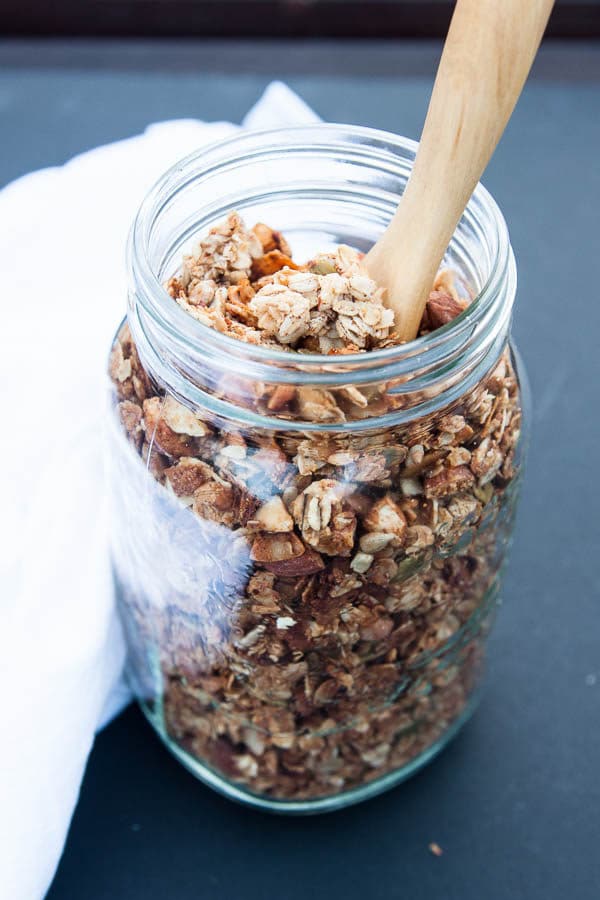 On a non-granola-related note, guess how many days are left until my wedding?? 14!!! I don't know what happened to the last year and a half – all of a sudden there's no stopping time and this wedding is a freight train hurtling towards us. A very lovely and exciting freight train, of course. 😉
The wedding is all I can think about these days – I am up to my eyeballs in seating charts and vow writing and menu planning and organizing galore. So I apologize that I haven't been as present on this blog for the last month or so – breakfast thoughts have been overtaken by wedding thoughts. Things should get back to normal around here by the end of September when I'm back from my honeymoon! Although I do have posts scheduled to go out while I'm away.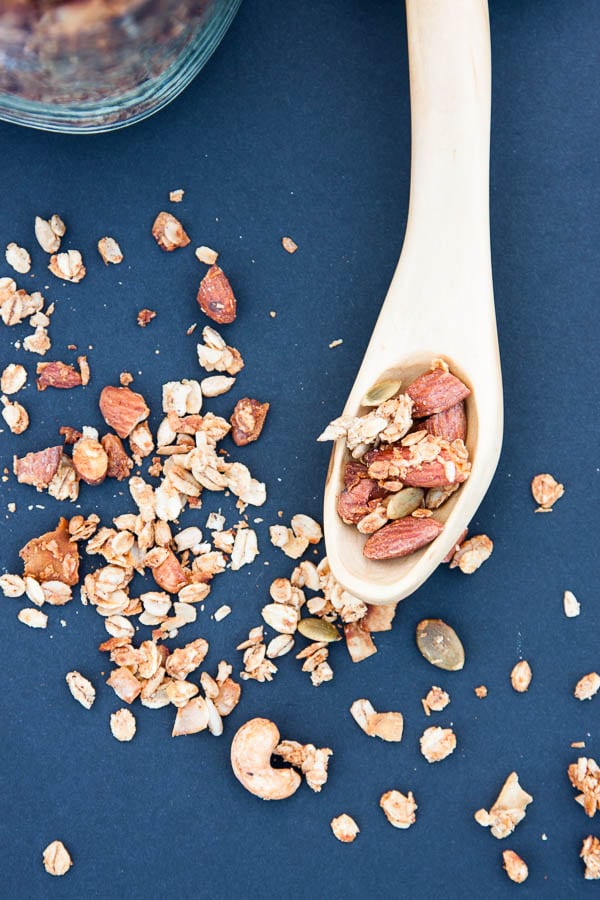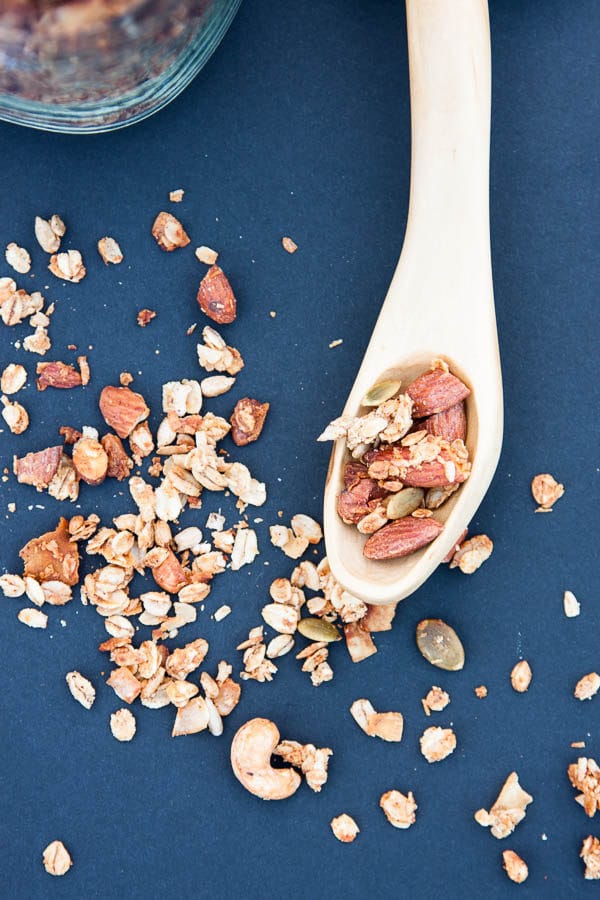 In the meantime, you really should stock your kitchen with this Nut and Seed Granola. Did you know that you can keep granola fresh for up to to 3 months in your freezer?!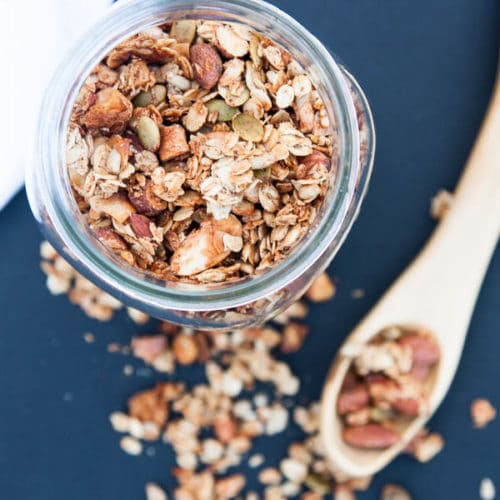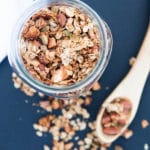 Nut and Seed Granola
Nut and Seed Granola is a crunchy and protein-filled breakfast, to top on yogurt or your favourite fruit.
Ingredients
1 1/2

cups

rolled oats

(NOT quick oats!)

1

cup

unsweetened flaked coconut

1/2

cup

cashews, chopped

1/2

cup

almonds, chopped

1/4

cup

pepitas / shelled pumpkin seeds, chopped

1/4

cup

sunflower seeds

2

tablespoons

coconut oil, melted

1

tablespoon

honey

(or more if you prefer a sweeter granola!)

1

teaspoon

cinnamon

1/4

teaspoon

nutmeg

1

egg white
Instructions
Preheat your oven to 300F.

In a large bowl, combine all ingredients up until the egg white.

Lightly whisk the egg white in a small bowl and then add, mixing to ensure it's thoroughly incorporated.

Line a baking sheet with parchment paper. Spread the granola onto the baking sheet in a thin layer.

Bake for 20 minutes, then remove from oven and carefully granola over with a large spatula. Return to oven and bake for another 15 minutes, or until golden brown.

Once the granola has cooled, store in an air-tight container. Granola will keep for up to 2 weeks.
Also try Gingerbread Granola and Coconut Buckwheat Granola!