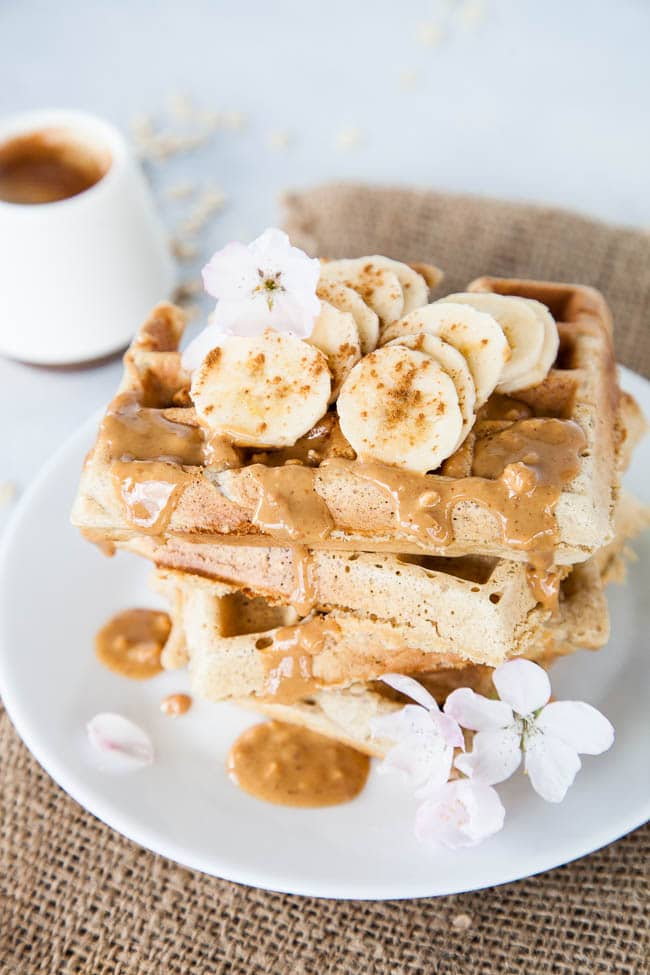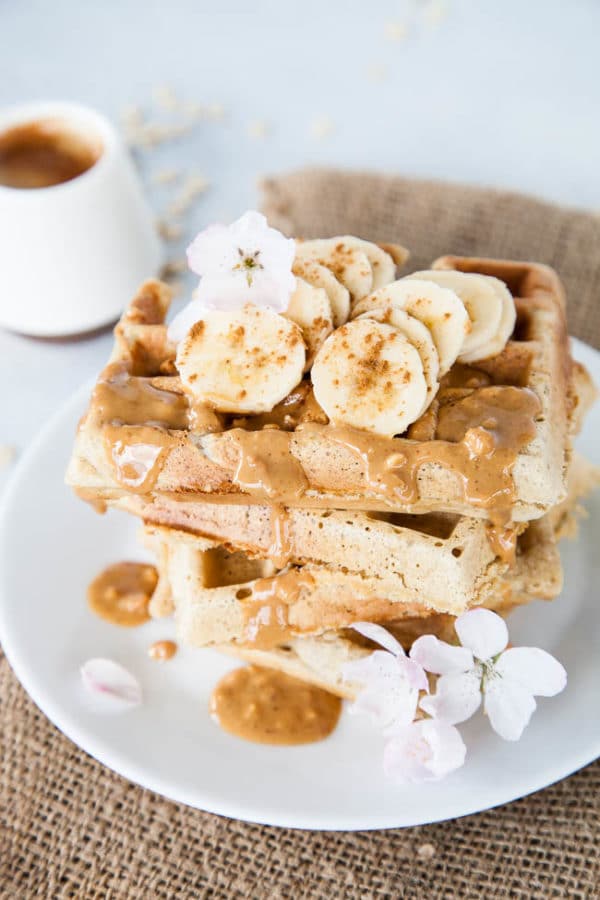 Oat flour!
It's my new best friend. Seriously. I have been cooking with it non-stop lately.
My love of oat flour started with my amazingly moist and healthy Gingerbread Blender Muffins. Then I explored oat flour pancakes with these Chai Spice Oat Flour Blender Pancakes.
And today we are talking about oat flour WAFFLES!
I have strict requirements for waffles: they must be light, crispy, and fluffy. All at the same time.
There's nothing worse than a soggy waffle!
I started with my favourite fluffiest waffles recipe, but tweaked the quantities and substituted oat flour.
The use of oat flour in waffles creates a slightly denser waffle with a more coarse texture, but all of the benefits of using healthy oat flour rather than un-nutritious white flour outweigh EVERYTHING.
Benefits of oat flour:
gluten-free (as long as you're using certified gluten-free oats)
controls blood sugar with a low glycemic-index
diabetes-friendly
minimizes risk of heart disease
keeps you feeling full
Because if you didn't know – oat flour is just rolled oats finely ground into a flour-like consistency! (I didn't know this at first. Then my mind was blown.)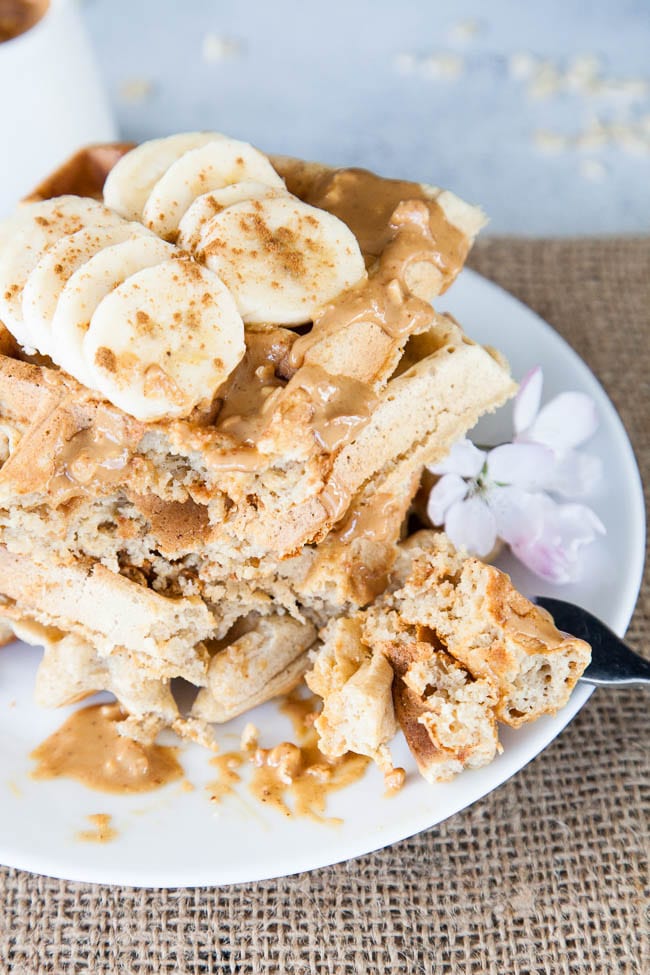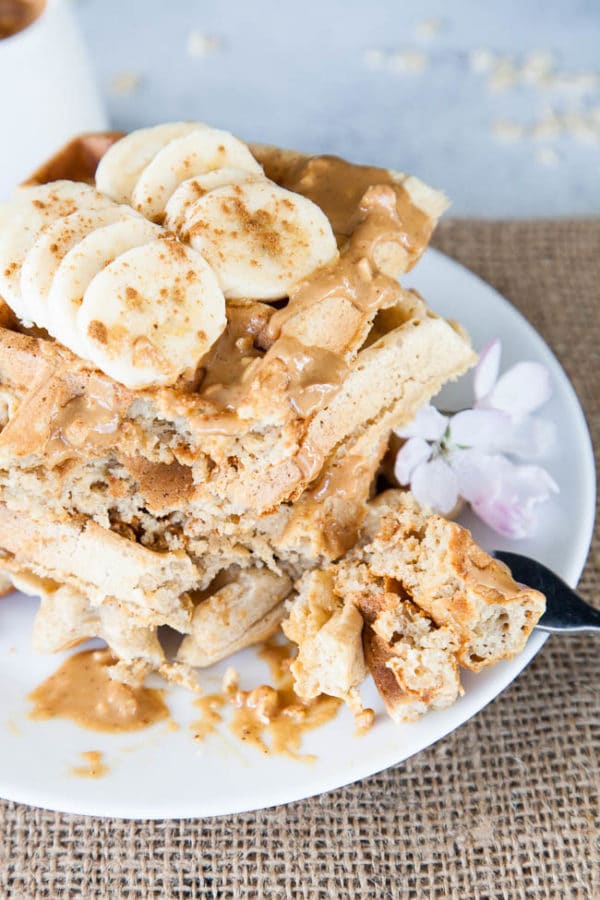 Make your own oat flour at home:
To make 1 cup of oat flour, use 1 and 1/4 cups rolled oats. Put the rolled oats into your blender (I use my my high-powered Vitamix blender), and blend on high until the oats are pulverized into a powdery flour-like consistency.  For this recipe, we need 2 cups of oat flour, so use 1 and 1/2 cups rolled oats.
I've heard some people use a spice grinder instead of a blender, but I haven't tried that method myself.
I would not recommend substituting the oat flour for any other type of flour in this recipe. Flours can be finicky, especially when you're deviating from all-purpose flour. If you're feeling lazy, you can always purchase ready-to-go oat flour – and as a bonus, it's certified gluten-free.
Now there's nothing standing in the way between you and oat flour waffles!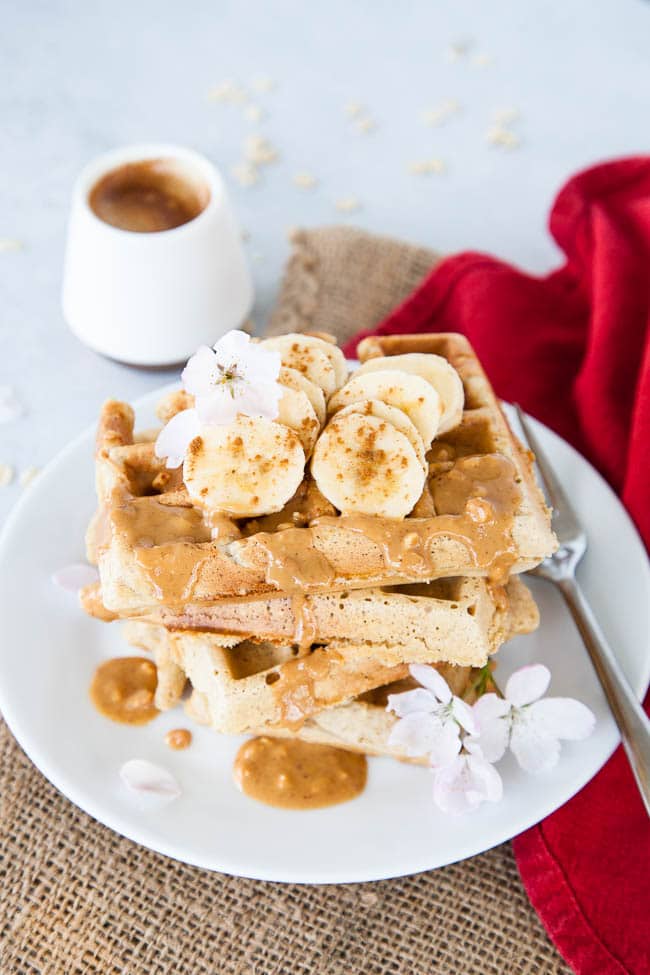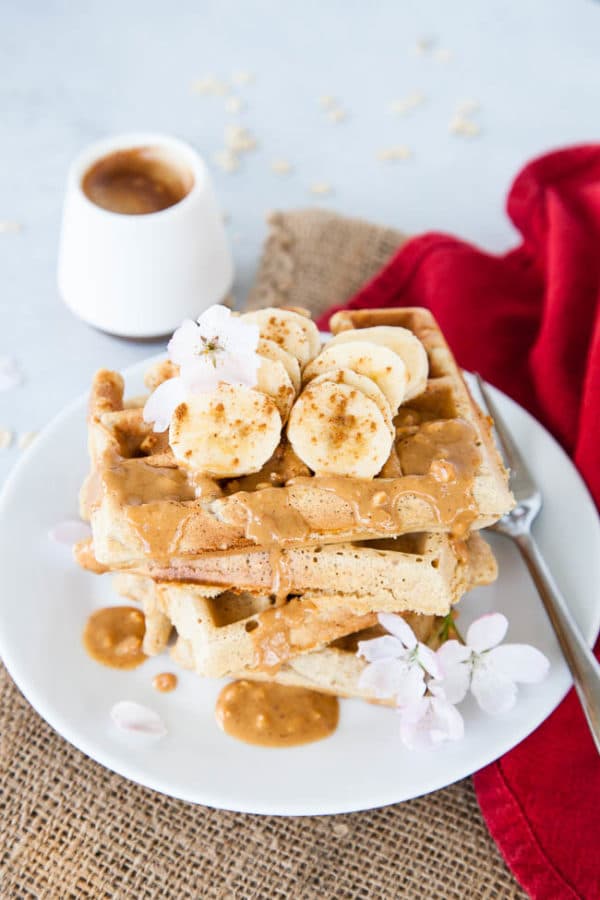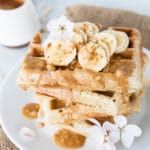 Oat Flour Waffles
Gluten-free oat flour waffles are light, fluffy, and crispy - just like regular waffles! Use certified gluten-free oats to make your own oat flour.
Keyword:
breakfast, brunch, gluten free, oat flour, waffles
Ingredients
2

cups

oat flour

1

tsp

sugar

(can substitute an equal amount of coconut sugar)

2

tsp

baking powder

1/2

tsp

salt

2

tbsp

melted butter

1

cup

milk

1

tsp

vanilla

2

eggs, separated
Instructions
Preheat your waffle iron, according to manufacturer's directions. (Grease your waffle iron if you normally do - I never have to.)

In a large bowl, add oat flour, sugar, baking powder, and salt, and whisk to combine. Then add melted butter, milk, vanilla, and egg yolks and again whisk to combine.

In a separate small bowl, beat the egg whites on high until medium-stiff peaks form.

Gently fold the beaten egg whites into the waffle batter.

Pour waffle batter into your waffle iron, and cook according to the manufacturer's directions.

Serve warm with maple syrup. (Or drizzle with peanut butter for added protein!)
Recipe Notes
Recipe yields approx 8 waffles, serving 4 people.
Make your own oat flour: add 2 1/2 cups of rolled oats into a blender and blend on high until oats are pulverized into a powdery flour-like consistency. You will yield 2 cups of oat flour.
Let me know if you try these! Snap a photo and tag me on Instagram @breakfastfordin – I'd love to see your creations!