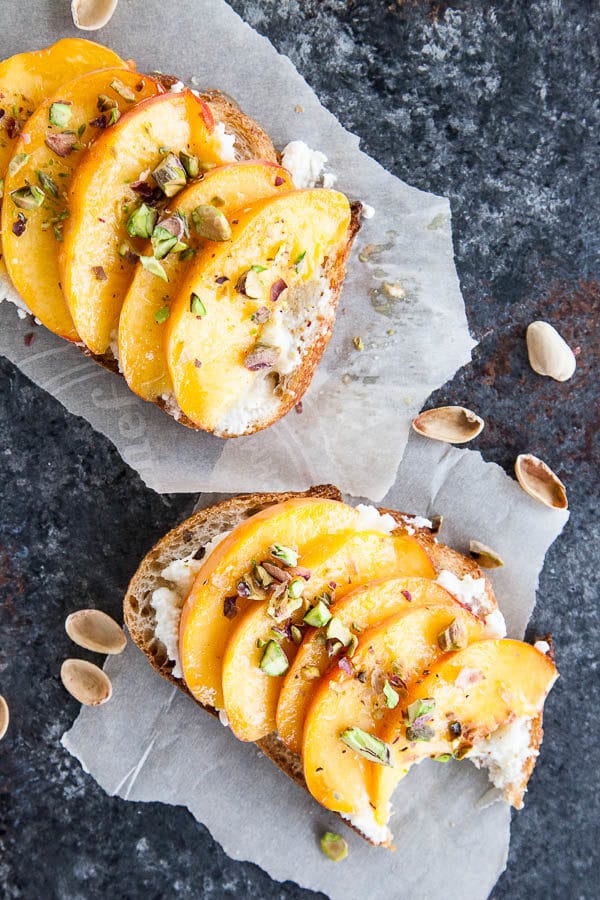 Oh, peaches.
Peaches are the one fruit that unequivocally spells summer. When eaten at their ripest they are so sweet, tender, and juicy – no other fruit compares! Peaches have such a short season, so let's take advantage and eat ALL the peaches while we can!
Peaches grow a few hours inland from where I live – in the Okanagan region. It's an area that gets hot dry summers and has perfect growing conditions for fruit (and wine! yum!)
I vacationed at a lake in the Okanagan two weeks ago, and peaches were the one thing I was set on bringing back home. (Besides cherries. And apricots. And blueberries. And tomatoes. Oh, and lots and lots of wine. 😉 )
At 8:00 am on the morning we were set to leave, before we had eaten breakfast or even had a cup of coffee, J and I drove to the produce farm that sells the peaches. Our produce season has been delayed this year due to a cold spring, and now that peach season has finally arrived, we were told the peaches were selling out quickly.
We marched out of our car with perfect timing as the tractor rolled in with the morning's peach harvest from the field. And that is how I found myself with a large 10lb box of peaches, now keeping cool in my basement.
And now I have peaches on peaches on peaches!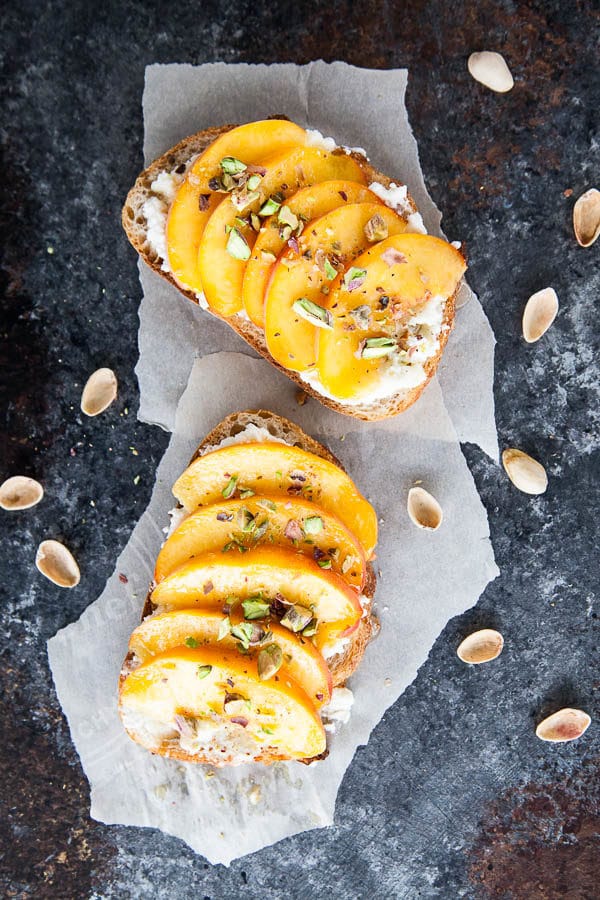 Peach Ricotta Toast isn't a recipe so much as it's a combination of flavours – a combination of delicious flavours, I might add, and one that you must make for your next breakfast pronto!
Toast your favourite bread (I used sourdough). Slather a generous smear of ricotta, arrange slices of fresh ripe peaches on top, sprinkle with chopped roasted and salted pistachios, and drizzle a little honey on top.
Then close your eyes and taste absolute heaven.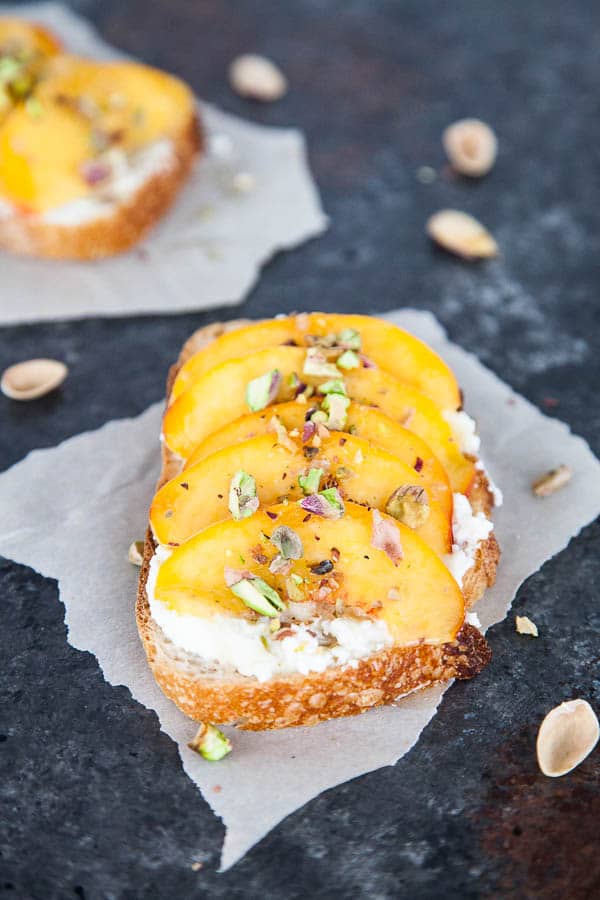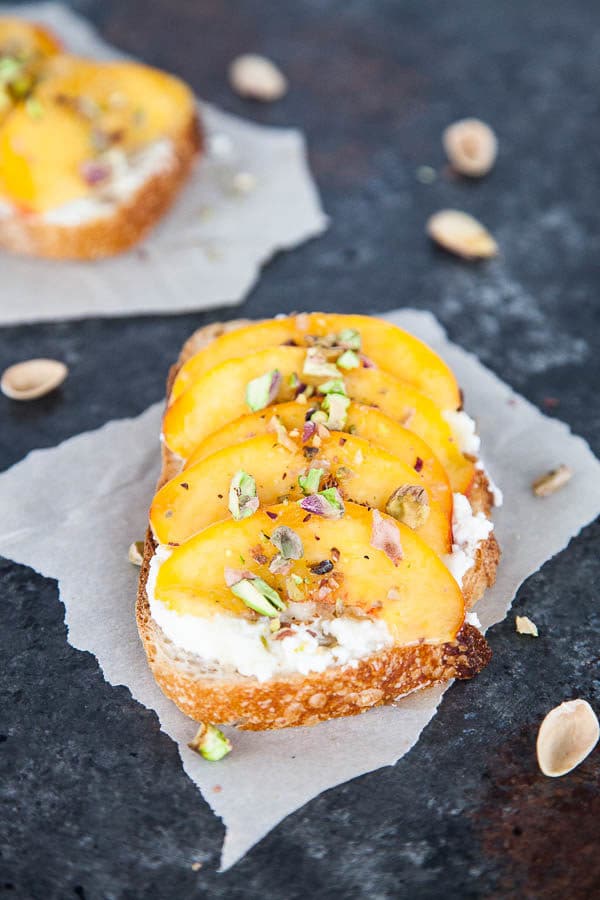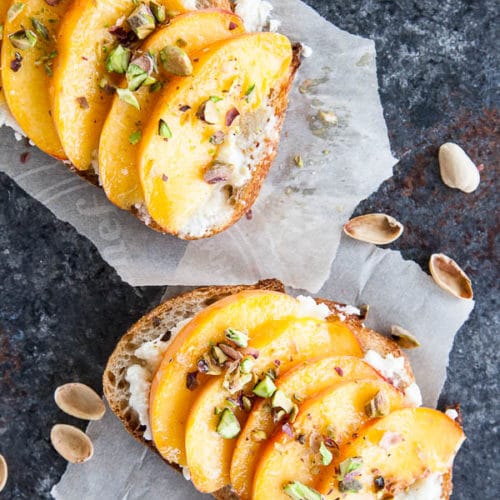 Peach Ricotta Toast
Peaches picked at the height of summer are sweet and juicy - and pair perfectly with the creaminess of ricotta cheese and the crunch of toasty, salted pistachios.
Keyword:
avocado toast, peach, ricotta, summer snack
Ingredients
2

slices

of bread

ricotta cheese

(approx 2 tablespoons)

1

ripe fresh peach, pitted and sliced

roasted and salted pistachios, chopped

honey, if desired
Instructions
Toast both slices of bread. Spread approximately 1 tablespoon of ricotta cheese on each piece of toast. Layer peach slices over top and then sprinkle pistachios. Drizzle with honey, if desired, for extra sweetness. Devour.