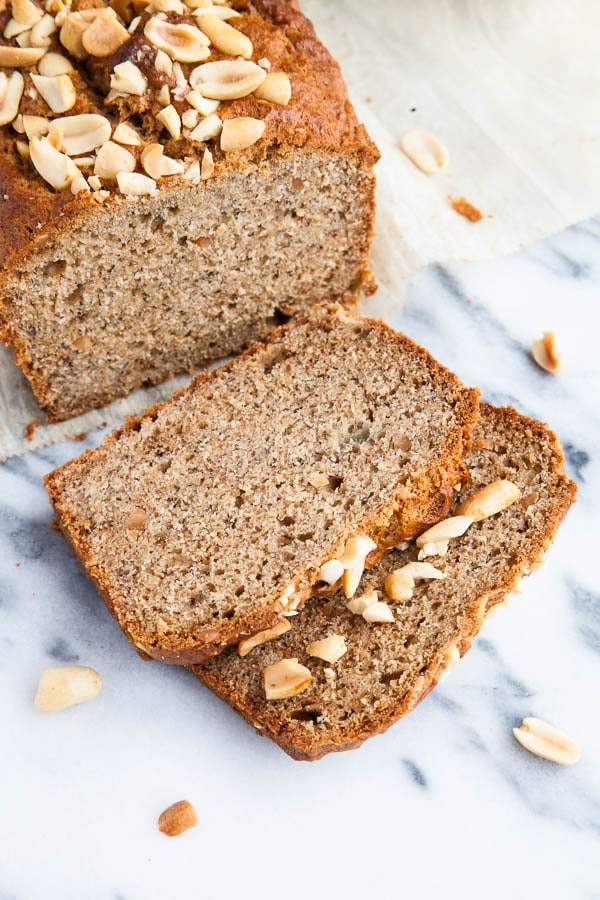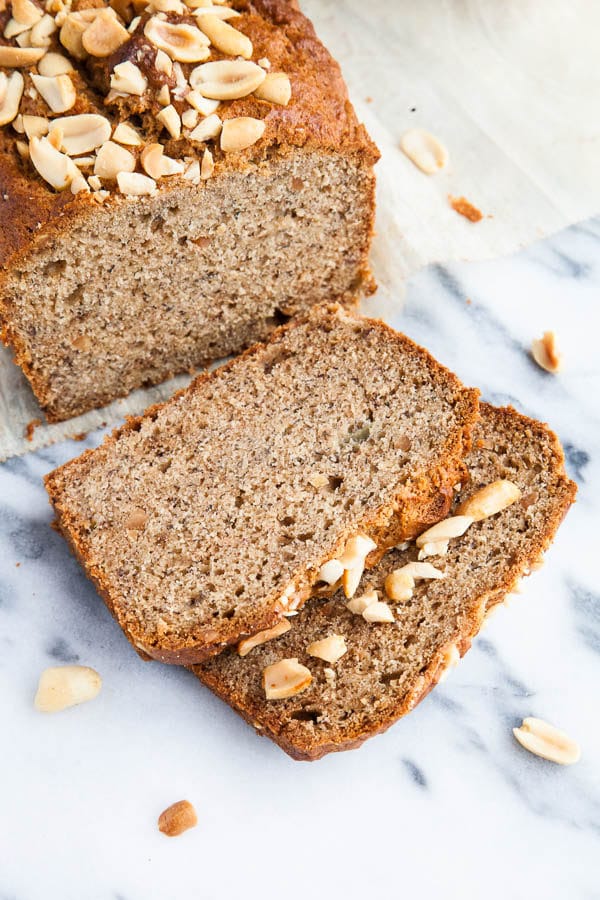 Have you ever stopped to consider how many perfect pairings there are with peanut butter?
Peanut butter and banana
Peanut butter and chocolate
Peanut butter and jam
Peanut butter and honey
Peanut butter and celery and raisins
Peanut butter, you poly-amorous little minx! 😉
Let's consider the first perfect pairing: peanut butter and banana. Peanut butter is one of my absolute Favourite Foods. Right up there with avocados, chocolate chips, and pie. I like to eat spoonfuls of peanut butter straight from the jar. You too?
Then you'll definitely be with me in loving this Peanut Butter Banana Bread.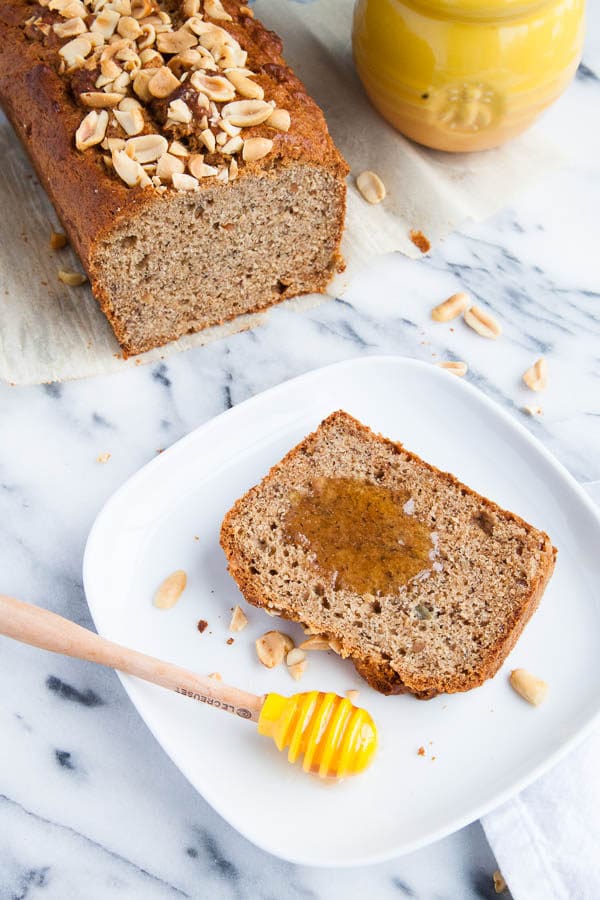 My very favourite 3-banana Banana Bread recipe is thrown together with a big scoop of peanut butter and sprinkled with a crunchy peanut topping. That's when the magic happens. The result is a creamy, nutty breakfast loaf that will fly off your counter and into your tummy.
Your kids will love this Peanut Butter Banana Bread recipe too! Just don't send any to school because: peanuts (duh). (Kids' lunches are so deprived these days! 😉 )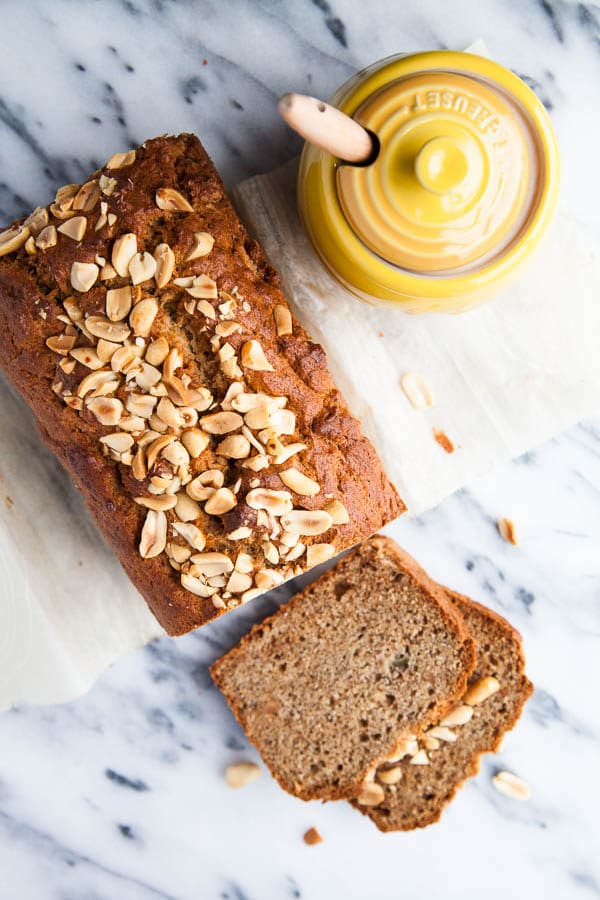 Have a happy peanut butter and banana love affair!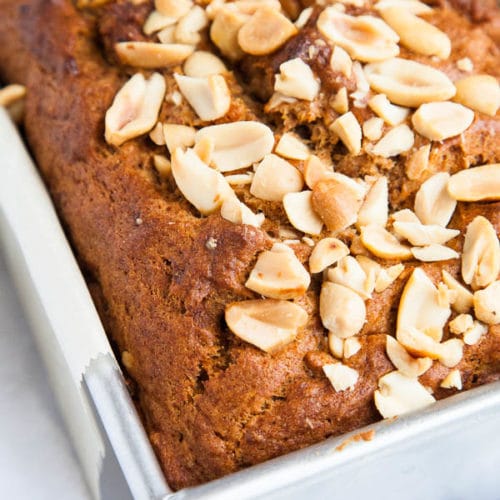 Peanut Butter Banana Bread
My favourite banana bread recipe meets its perfect pair - peanut butter! A moist and nutty breakfast loaf.
Keyword:
baking, banana bread, loaf, peanut butter
Ingredients
½

cup

butter, softened

½

cup

dark brown sugar

2

eggs

1

teaspoon

vanilla extract

3

ripe bananas, mashed

3/4

cup

natural peanut butter

crunchy or smooth

1

and ¾ cups all-purpose flour

1

teaspoon

baking powder

1

teaspoon

baking soda

½

teaspoon

cinnamon

approx 1/4 cup chopped peanuts, to garnish
Instructions
Preheat oven to 350 F and grease a loaf pan.

In a large bowl, cream the butter and sugar together. Add in the eggs and beat until combined. Stir in vanilla, mashed bananas and peanut butter.

In a separate bowl, sift together the flour, baking powder, baking soda, and cinnamon. Add the dry ingredients to the wet ingredients and stir until just combined.

Pour batter into a greased loaf pan and sprinkle chopped peanuts on top to garnish.

Bake loaf for 1 hour to 1 hour 10 minutes until a toothpick inserted into the center comes out clean.

Let bread cool in the pan for approx 10 minutes, then turn out onto a rack and cool completely.