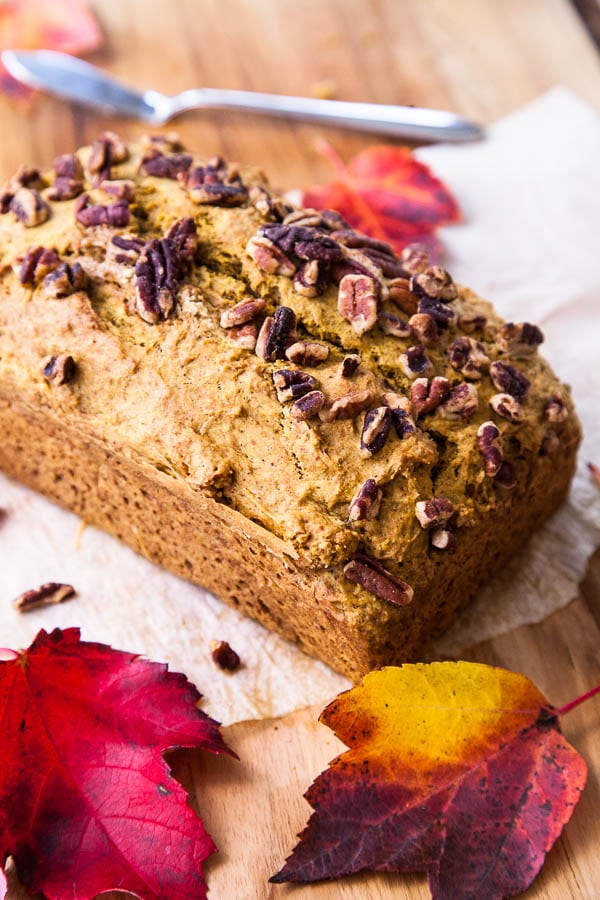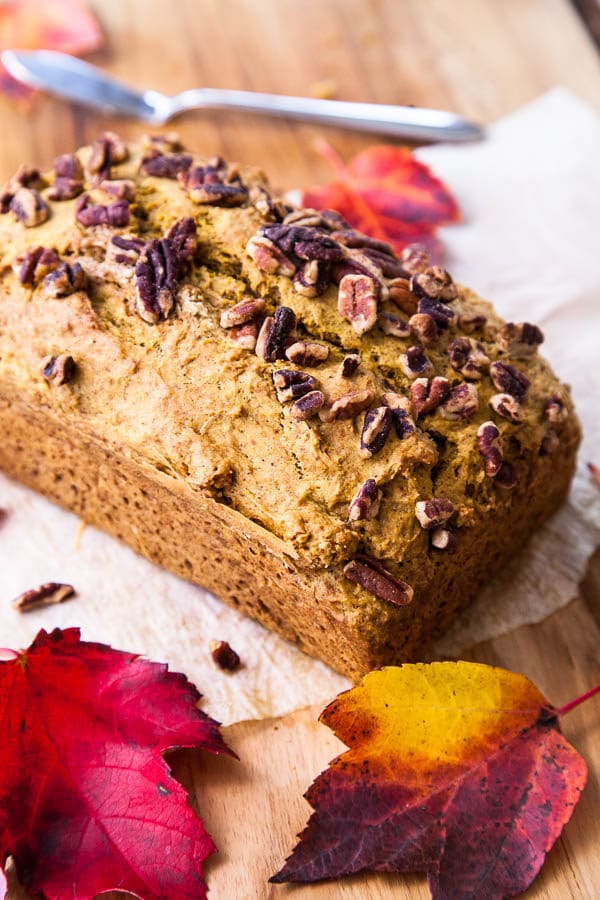 I have a confession – I don't like Pumpkin Spice Lattes. And I don't like pumpkin pie.
I will tolerate eating one slice of pumpkin pie per year on Thanksgiving – and only because every year, J needs his pumpkin pie and strongly encourages me to bake one 😉 The pumpkin pie recipe that I make is light, fluffy, and heavily spiced – more importantly, J loves it, and I tolerate it.
This Pumpkin Spice Loaf has very similar flavours – heavily spiced and uses 1 full cup of pumpkin puree. J gave it his seal of approval – and for me, I much prefer a warm slice of Pumpkin Spice Loaf slathered with melty butter over pumpkin pie or a PSL any day. 😉
Basically, this recipe follows the formula of my favourite moist and flavourful Banana Bread – a recipe I have perfected over many bakes! Here, I've substituted mashed banana for pumpkin puree and added generous sprinkles of cinnamon, nutmeg, ginger, and cloves. Pumpkin Spice Loaf also includes my secret ingredient to keeping quick breads moist and soft – sour cream.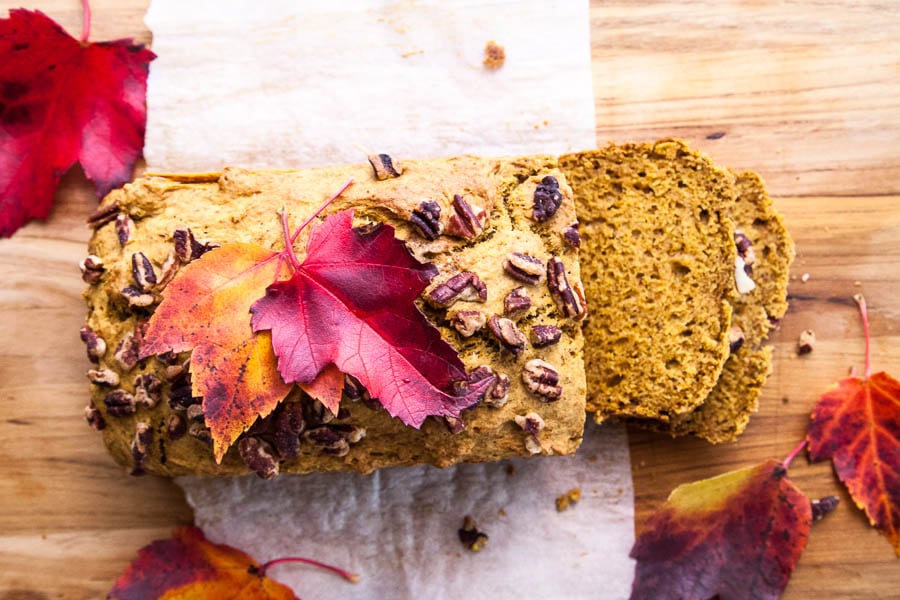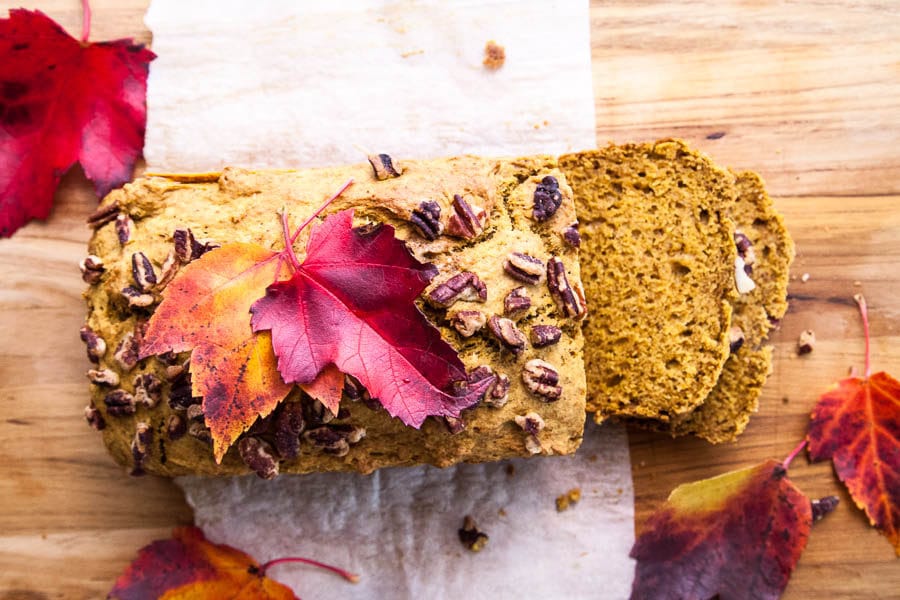 I recommend portioning your baked loaf into slices, saran wrapping each piece, and popping them in the freezer for quick breakfasts to go. Stash one in your purse and it'll be thawed by the time you get to work. And then you can eat pumpkin spice year round 😉
(How long is pumpkin-spice-everything season supposed to be, anyway? Until Starbucks switches over to their red cups? (Now, their Gingerbread Latte… that's one seasonal Starbucks drink I can get behind 😉 ))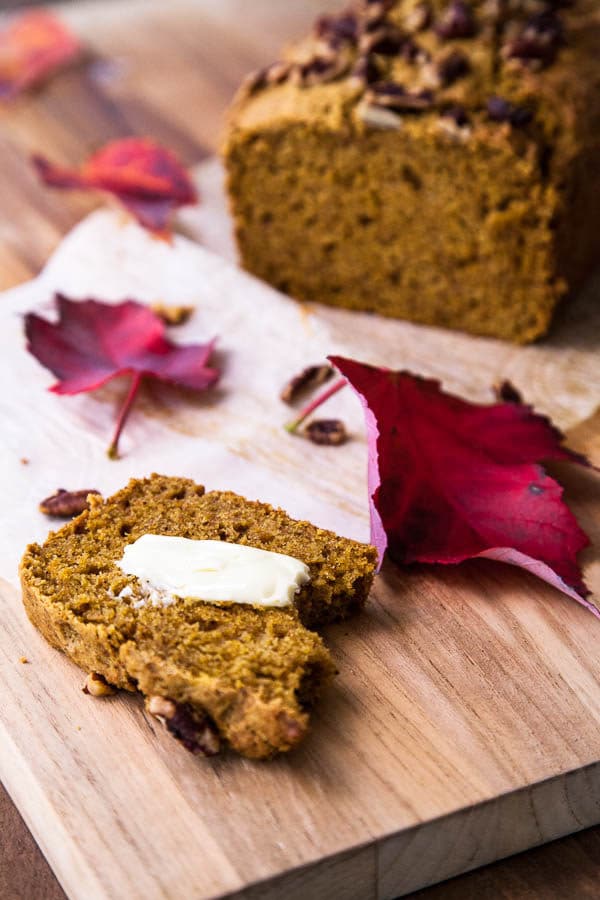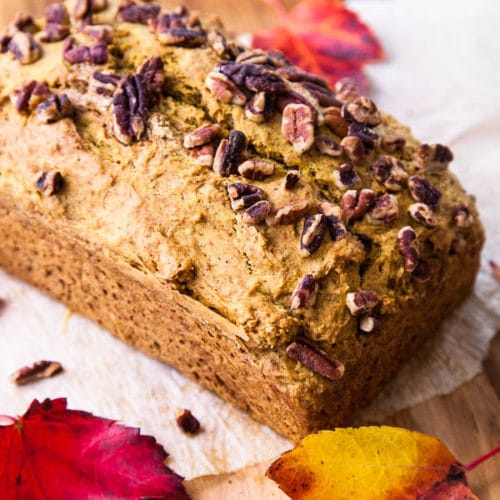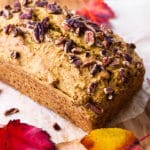 Pumpkin Spice Loaf
I much prefer a warm slice of Pumpkin Spice Loaf slathered with melty butter over pumpkin pie or a PSL any day!
Ingredients
½

cup

butter

softened

½

cup

dark brown sugar

2

eggs

1

teaspoon

vanilla extract

1

cup

pumpkin puree

2

tablespoons

milk

¼

cup

sour cream

1

and ¾ cups all-purpose flour

1

teaspoon

baking powder

1

teaspoon

baking soda

1

teaspoon

cinnamon

1

teaspoon

nutmeg

1

teaspoon

ginger

1/2

teaspoon

cloves
Instructions
Preheat oven to 350 F.

In a large bowl, cream the butter and sugar together. Add in the eggs and beat until combined. Stir in vanilla, pumpkin puree, milk, and sour cream.

In a separate bowl, sift together the flour, baking powder, baking soda, and all spices. Add the dry ingredients to the wet and stir until just combined.

Pour batter into a greased loaf pan and bake for 1 hour to 1 hour 10 minutes at 350 F degrees until toothpick inserted in the center comes out clean.

Let bread cool in the pan for approx 10 minutes, then turn out onto a rack and cool completely.