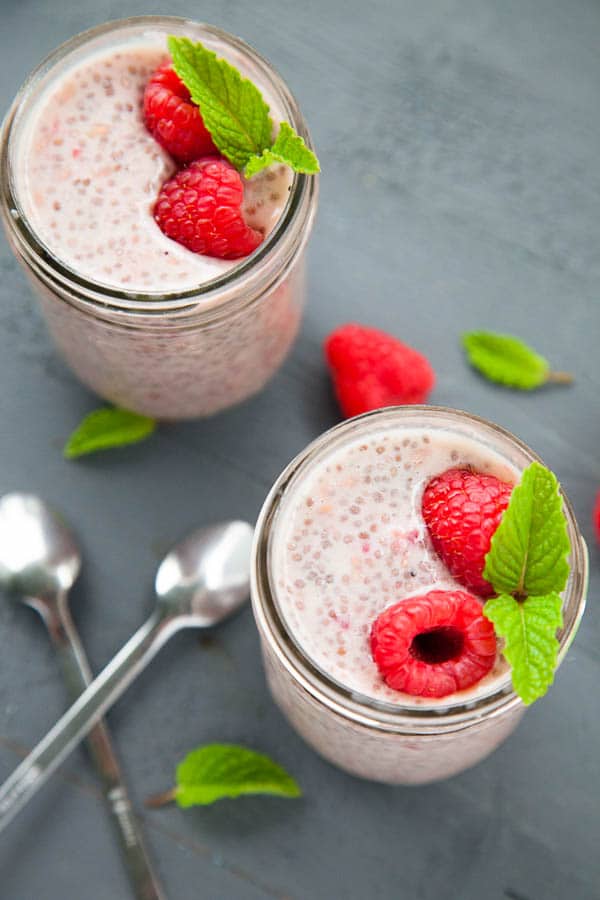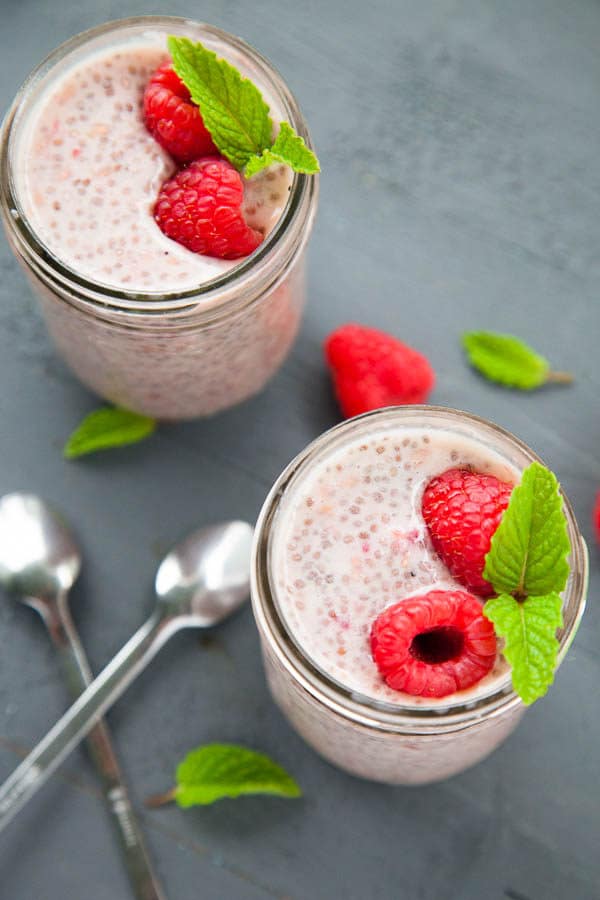 I've been buying a TON of berries from the market lately. Spring just gets me so obsessed with eating fresh berries – it's like a drought has ended! Berry Banana Bread has been constantly in my oven lately and Raspberry Gin Fizzes are on constant rotation in my belly 😉
So let's keep the love affair with berries rolling and dish up a super healthy RASPBERRY breakfast! These beautiful pink nuggets are stirred in with chia seeds and milk to create a simple and nutritious Raspberry Chia Pudding.
Chia Pudding is the perfect lazyperson's breakfast because it is:
super duper healthy (chia seeds are packed full of omega-3 fatty acids, protein, fiber, antioxidants, and calcium)
low effort (literally you dump all the ingredients into a mason jar and shake)
quick (make it the night before and grab it out of the fridge in the morning)
portable (throw the mason jar into your bag and bring it anywhere)
filling (chia seeds control your appetite)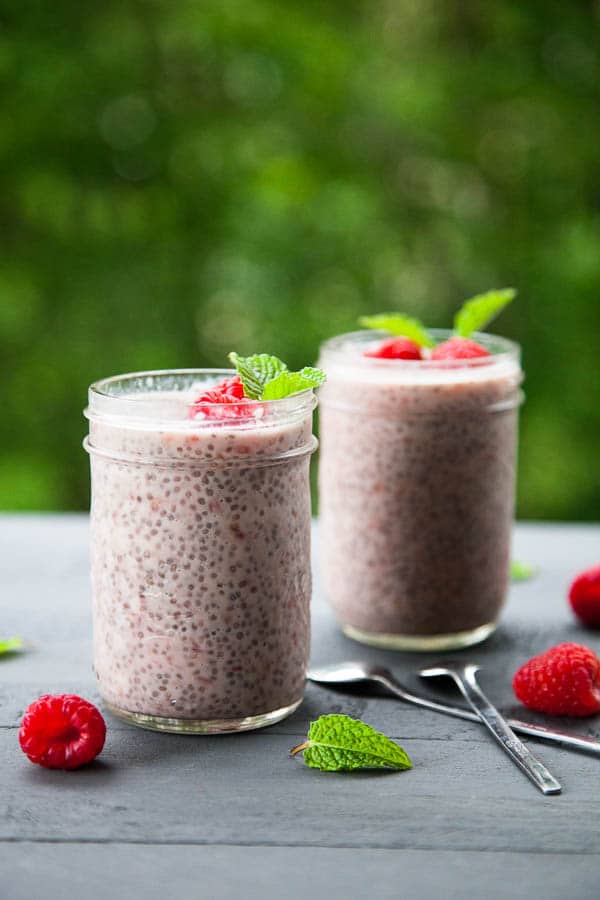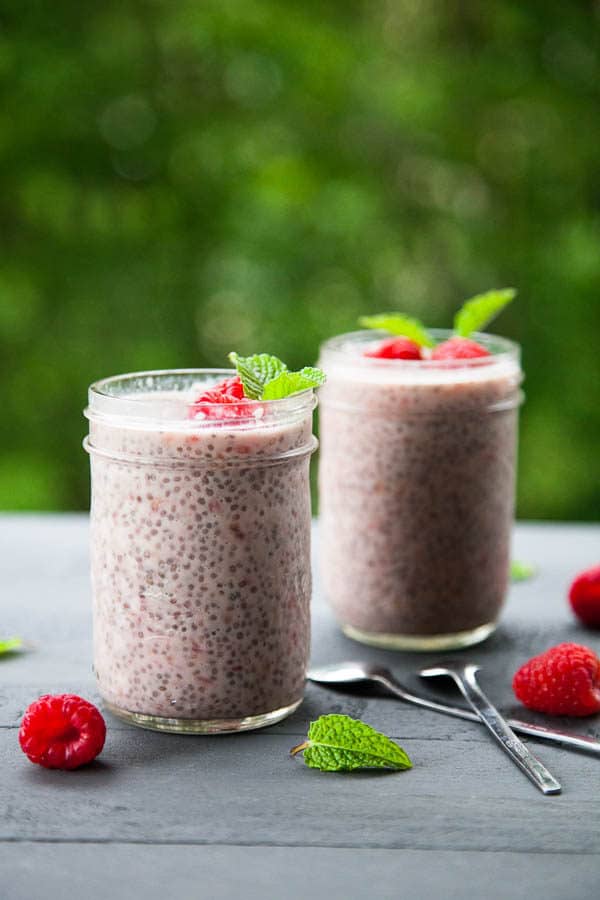 To make Raspberry Chia Pudding, all you gotta do is this: put a handful of raspberries in a mason jar, mash them with a fork, then mix in the chia seeds. Fill the rest of the jar with milk, add a dot of maple syrup for sweetness, screw on the lid, shake it up, and set the jar in your fridge overnight.
In the morning, your mason jar will have transformed into a beautiful pink-coloured (Millennial pink, might I add 😉 ) Raspberry Chia Pudding. All that's left to do is remove the jar from the fridge and dive in with your spoon! Or pour into a bowl and sprinkle more fresh raspberries and crunchy granola on top.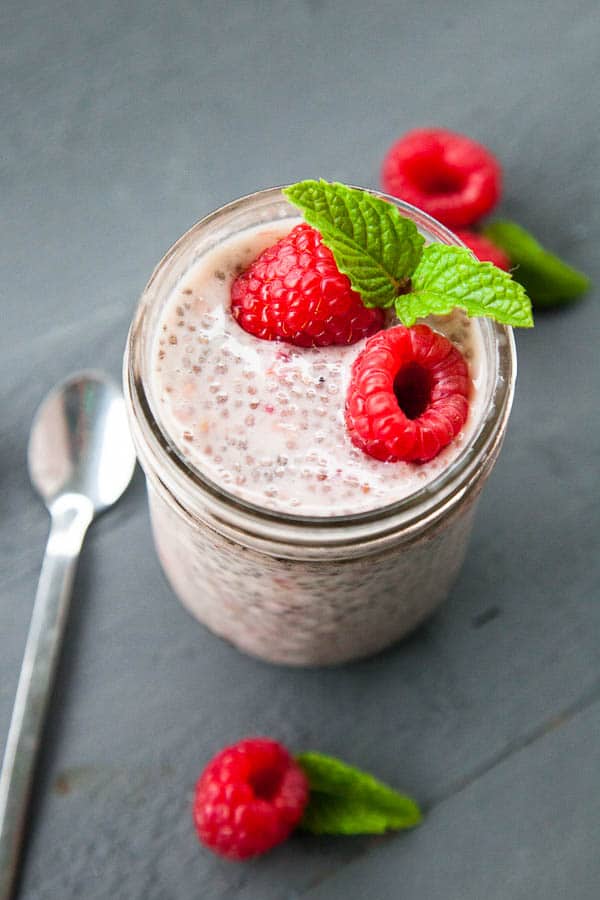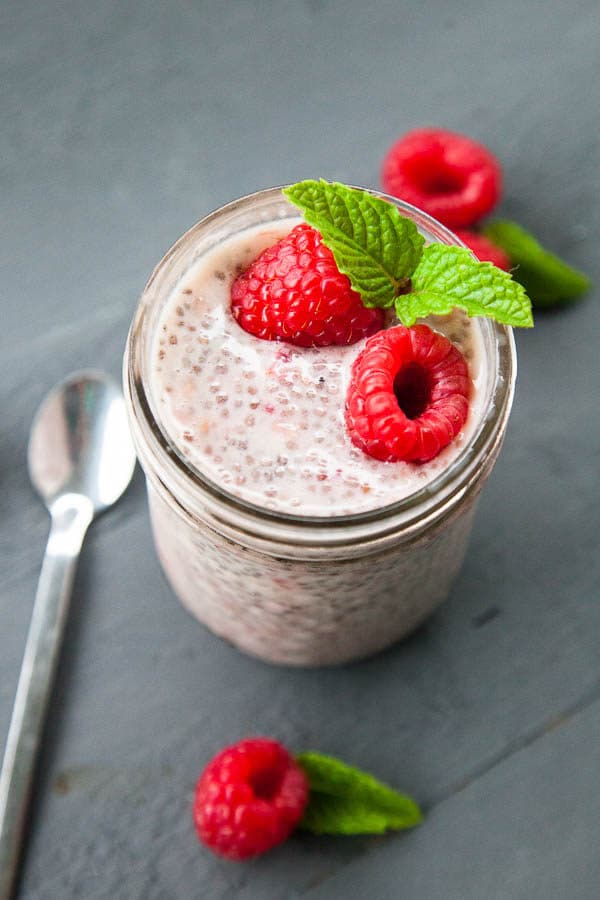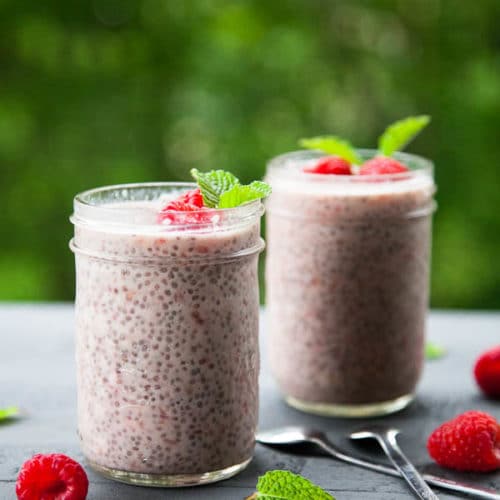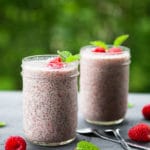 Raspberry Chia Pudding
Take this nutritious Raspberry Chia Pudding to go! Recipe yields one half-pint (8 oz) mason jar.
Keyword:
chia pudding, chia seed, mason jar, raspberry
Ingredients
handful fresh or thawed raspberries

(approx 1/4 cup)

2

tablespoons

chia seeds

scant ¾ cup milk of your choice

(see note)

2

teaspoons

maple syrup
Instructions
In a half-pint (8 oz) mason jar, add raspberries and mash with a fork. Add all remaining ingredients, screw on the lid tightly, and shake all ingredients together.

Set jar in the fridge for 8 hours, or overnight.

In the morning, pudding will have gelled together and thickened. Dive in with a spoon! Or pour into a bowl and sprinkle with more fresh raspberries and crunchy granola.
Recipe Notes
A "scant" cup means not quite filling the measuring cup. In this case, you will likely need just under 3/4 cup of milk.
"Cook time" in this recipe refers to the length of time the chia pudding needs to set in the fridge overnight.
Pssst, looking for more Chia Pudding recipes? Try
Vanilla Chia Pudding
, which is the most popular recipe on this blog!