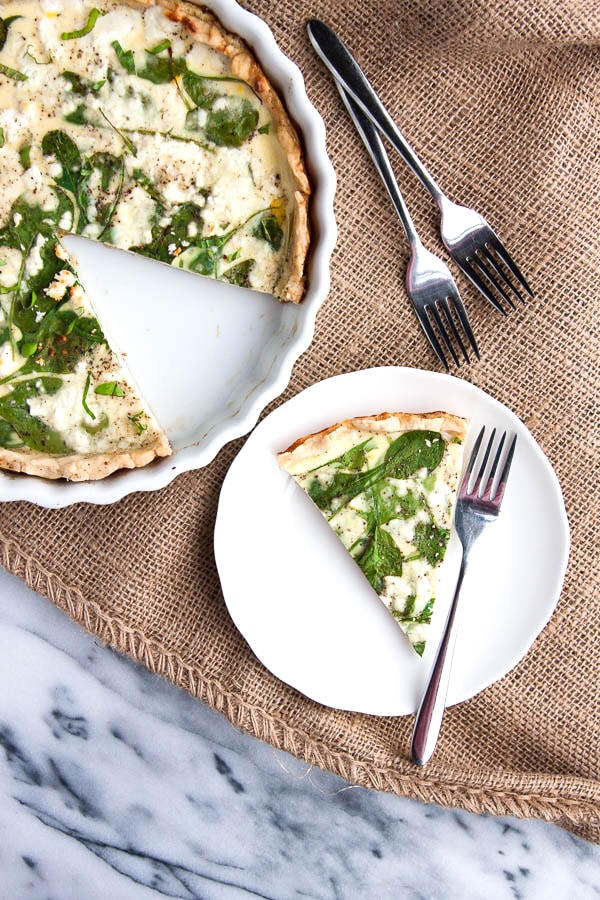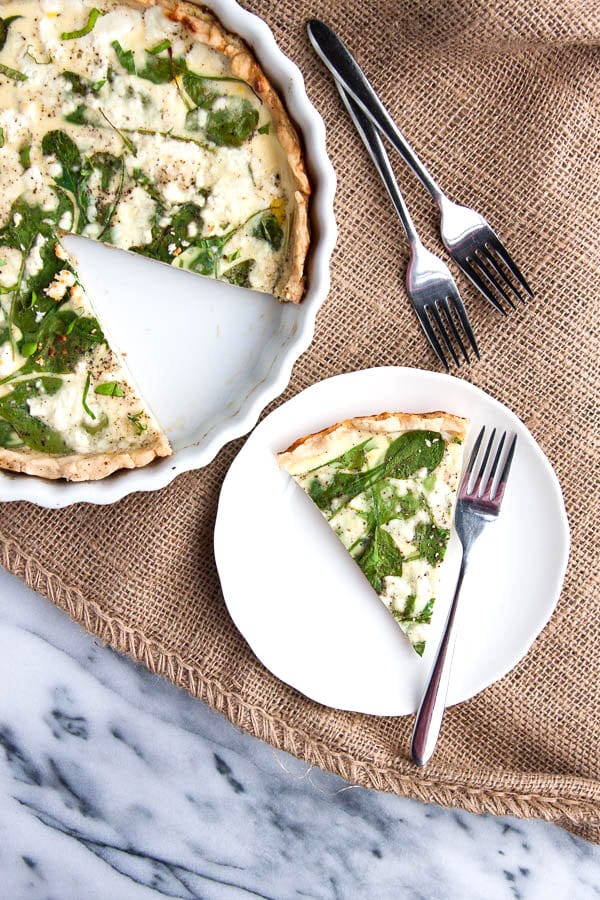 Important question: are a quiche and a frittata the exact same thing except one has a crust and one does not? (I had to google it. They are not the same.)
I am obsessed with frittatas – they are one of my favourite savory weekend breakfasts, since they take a little extra love to create, and the extra time allows me to sit with a hot cup of coffee and the iPad and catch up on my blog feed while it cooks in the oven.
Quiche, however, has the addition of a buttery, flaky, crust – and a fluffier, custardy filling.
And it doesn't get much better than eating pie crust for breakfast, if I do say so myself. 😉 You could make this Spinach and Goat Cheese Quiche with a store-bought frozen pie crust, but I encourage you to make your own.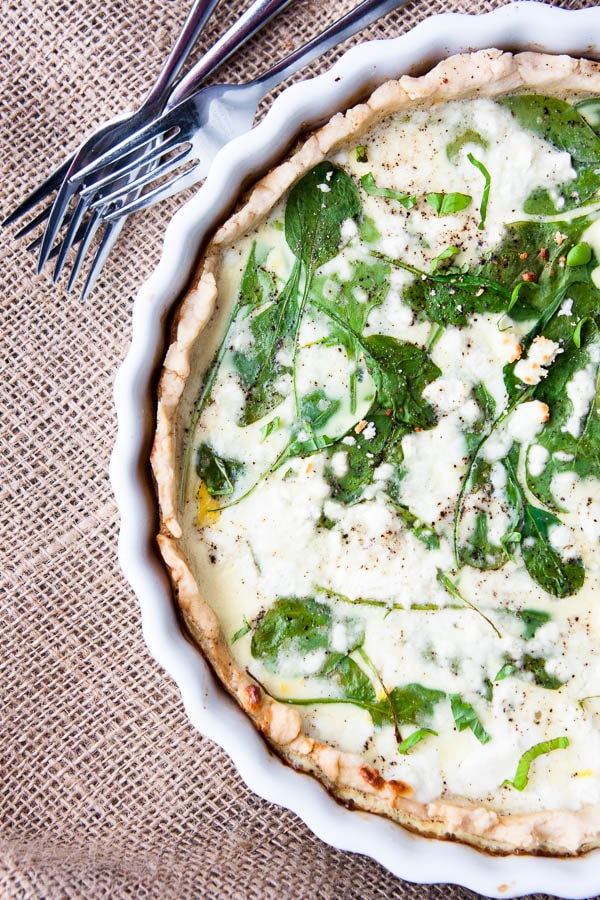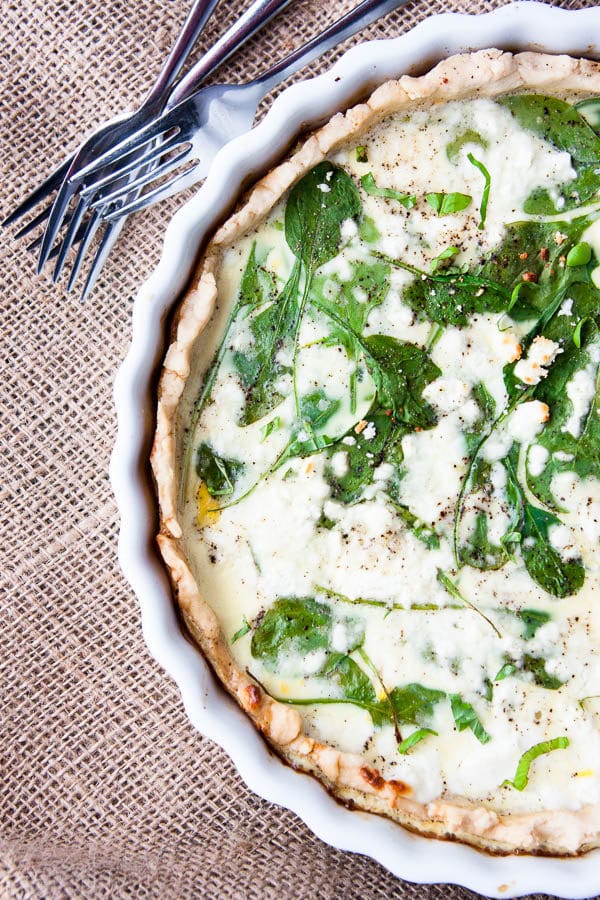 The pastry recipe I've included makes the perfect amount for an 8″ or 9″ pie/tart dish. My second time making this recipe, I experimented using the same recipe but substituting Cup4Cup flour – highly recommended if you're gluten-free.
(I'm currently reading the book Brain Grain and am scared away from eating gluten at the moment! I hope the fear will pass – not sure I can give up pie crust forever!)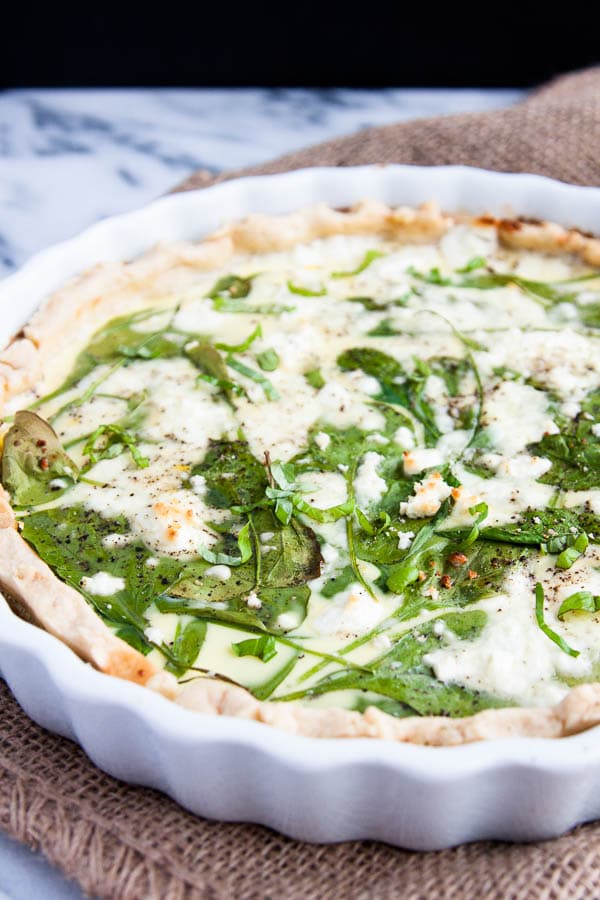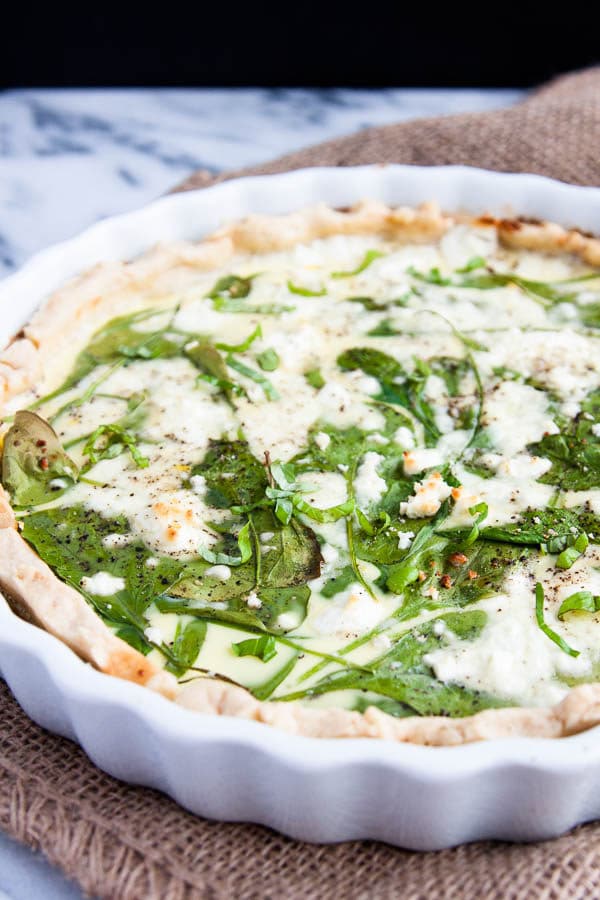 For this quiche, I've paired spinach with creamy goat cheese. Are you a goat cheese fiend, like me?!  I know goat cheese can be polarizing (what's wrong with you people?!) so if you dislike goat cheese, then substitute feta, or any grated hard cheese. I'm sure grated cheddar would still be lovely.
The spinach I've used is picked fresh from our garden – how amazing is that?! Make sure to use baby spinach, if you're buying it from the grocery store. I've thrown in a few handfuls – no need for measurements.
And the best part about this Spinach and Goat Cheese Quiche? The leftovers. Make it on the weekend and have an easy breakfast to re-heat during the busy work week! Love that.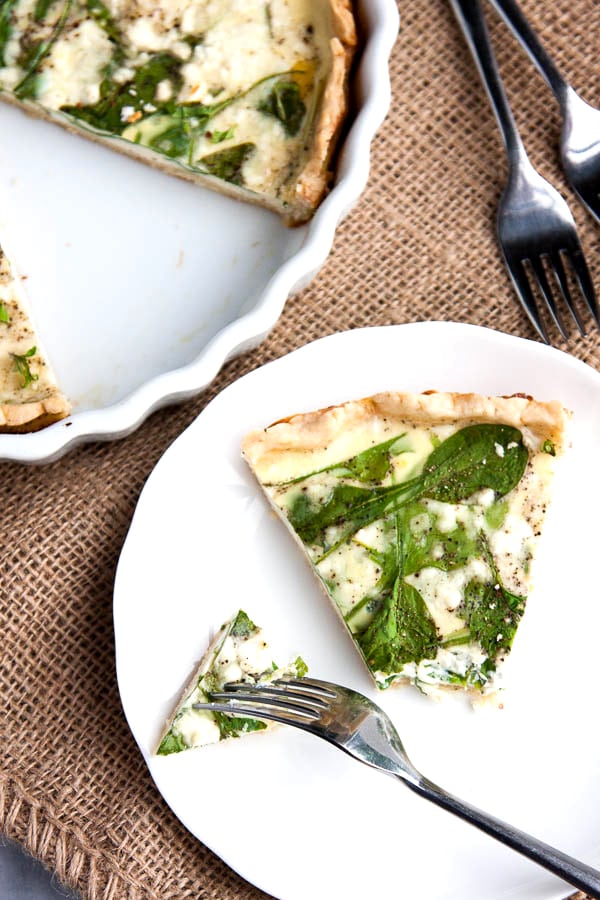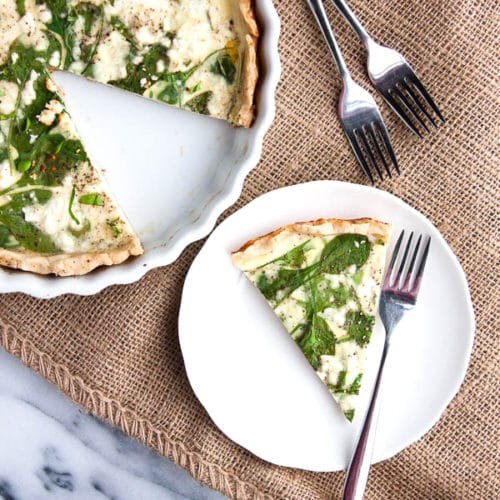 Spinach and Goat Cheese Quiche
Fresh spinach and creamy goat cheese pair together in fluffy Quiche, perfect for a lazy Sunday morning.
Ingredients
For the pie crust:
1 1/4

cups

all-purpose flour

(see note)

1/4

teaspoon

salt

7

tablespoons

unsalted butter,

chilled, and cut into pieces

1-2

tablespoons

ice water

(or more as needed)
For the quiche:
4

large eggs

1

cup

half-and-half

(half-and-half is 12%)

two large handfuls of baby spinach, washed and dried

1/4

cup

crumbled goat cheese

(or use an amount to your tastes)

freshly ground salt and pepper
Instructions
To make the pastry:
In a food processor, combine the flour, salt, and butter and process briefly until the mixture is crumbly. With the machine running, slowly add the ice water, and pulse quickly until the mixture just starts to come together. Gather the dough into a ball and knead a few times on a floured counter top. Wrap dough in plastic wrap and let chill for at least 1 hour.

When ready to use, preheat oven to 375 F, unwrap dough and roll out on a floured counter top. Fit into an 8" or 9" pie/tart pan and trim the edges. Line the pastry with parchment paper and fill with pie weights or dried beans. (I never bother with this, to be honest - I just poke the pastry a few times with a fork, and it's all good.)

Bake pie crust for 12-14 minutes, remove weights, and bake for another 8-10 minutes.
To assemble the quiche:
In a medium-sized bowl, whisk the eggs and half-and-half together, and set aside. Arrange spinach in pie crust and pour the egg mixture over top. Sprinkle with crumbled goat cheese and freshly ground salt and pepper.

Bake in a 375 F oven for 30-35 minutes, or until the quiche is set around the edges and slightly wiggly in the centre.
Recipe Notes
Alternatively, you can use Cup4Cup gluten-free flour blend in place of the all-purpose flour in the pie crust.
Or feel free to substitute a ready-made pie crust instead of making your own!