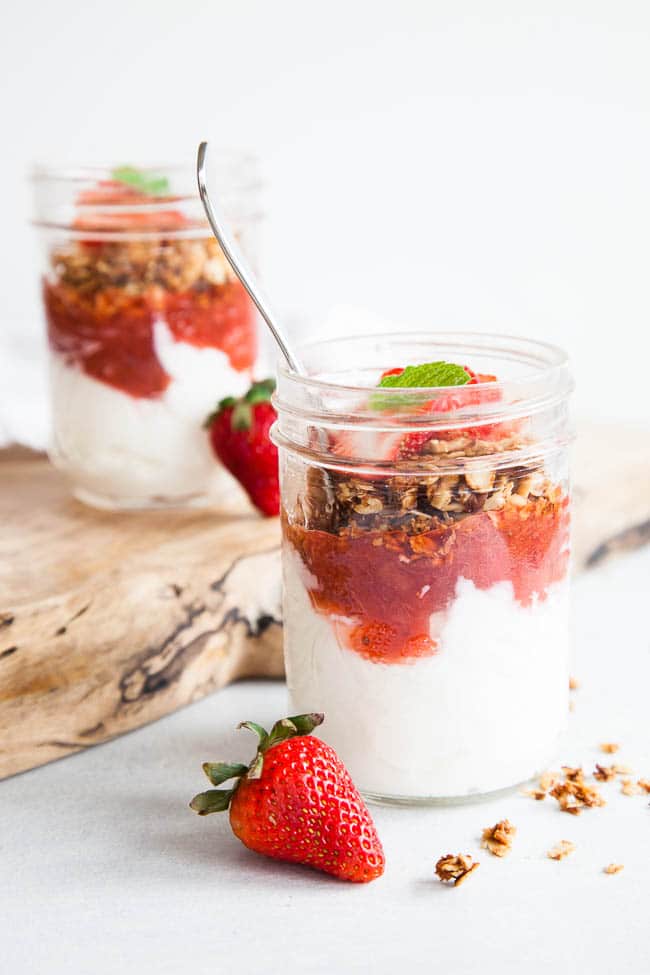 It's rhubarb season!
Recently my friend chopped down and gave me all of the rhubarb from her back yard, so my fridge has been OVERFLOWING with rhubarb these last few weeks! (This is never ever a bad thing.)
I have been making rhubarb crisps, these stewed strawberry rhubarb yogurt jars, and next up on my list: strawberry rhubarb jam.
These yogurt jars might just be my new favourite way to eat rhubarb! Essentially we're making breakfast parfaits by layering Greek yogurt, stewed strawberry rhubarb sauce, and granola into a mason jar.
If you weren't already aware, I looooove mason jar breakfasts. (Case in point here, here, and here.) Mason jar breakfasts are fantastic for meal prepping, because you can make a whole bunch in one night and set the jars in the fridge for the week. And because mason jars are spill-proof, you can easily toss one into your purse and take it with you to work or anywhere on-the-go.
The best thing about this strawberry rhubarb compote is that it is refined sugar free! This recipe uses honey instead of sugar – which is a huge win in my books. The fruit cooks down into a honey jam consistency, which is perfect for drizzling on top of yogurt.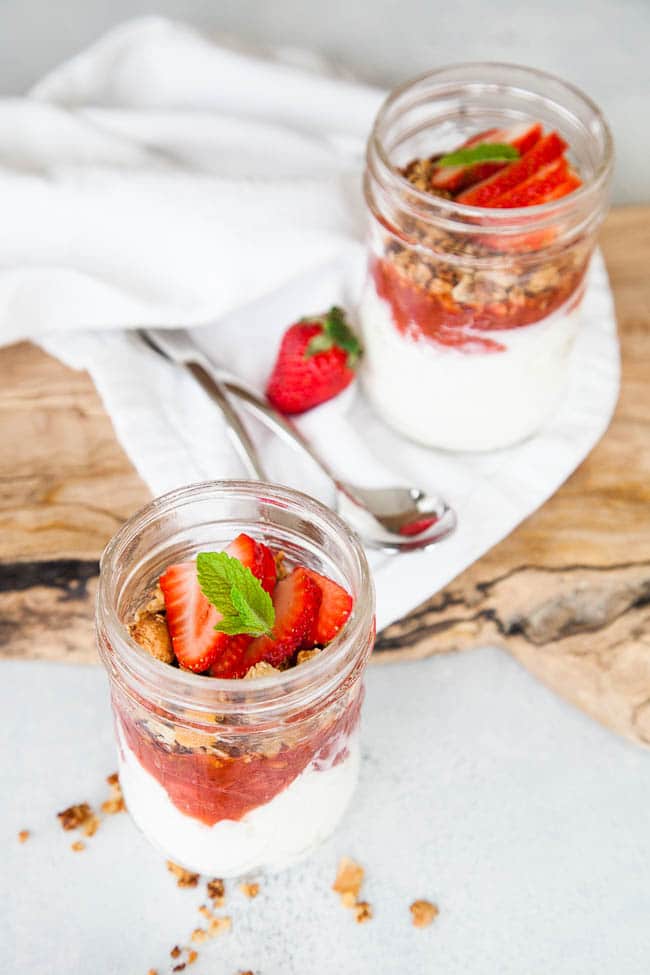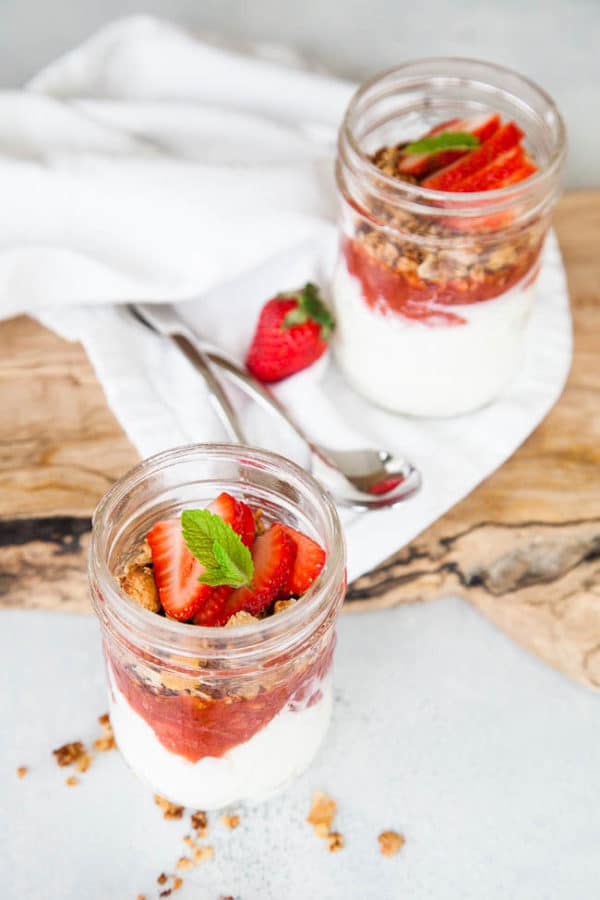 Making the strawberry rhubarb sauce
The strawberry rhubarb sauce comes together in about 20 minutes. Once the strawberries and rhubarb are chopped, they are added to a saucepan along with a little honey and lemon juice. (The addition of the lemon juice is important, as it will help thicken the sauce – although this compote will in no way be as thick as a jam.)
The fruit simmers for 15 minutes, until it has broken down and thickened into a compote. Give the sauce a taste test (the most important part 😉 ), and then pour it into a glass dish (a large glass measuring cup works well) to let it chill in the fridge before using it.
It's important to chill the sauce before using it, otherwise it will essentially "melt" your yogurt and break it down into a yucky runny liquid.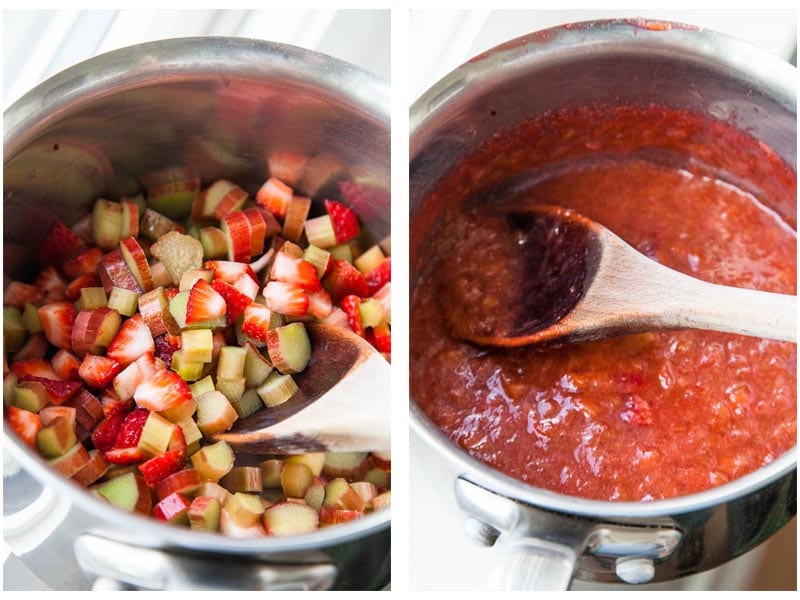 Assembling the parfait jars
To assemble the jars, add a large scoop of plain Greek yogurt into the bottom of each jar. Then drizzle the chilled strawberry rhubarb sauce on top. For the last layer, sprinkle granola (store-bought or homemade is even better!) on top of the sauce.
Meal prepping tip: If you're going to be meal prepping or otherwise not eating your parfait jar that morning, I would recommend adding a layer of sliced banana, berries, or other chopped fruit in between the strawberry rhubarb sauce layer and the granola layer. This will provide a buffer between the sauce and the granola, so the granola does not get soft. (This is my husband's pro tip, since he frequently assembles yogurt and granola jars the night before and then takes them to work the following morning!)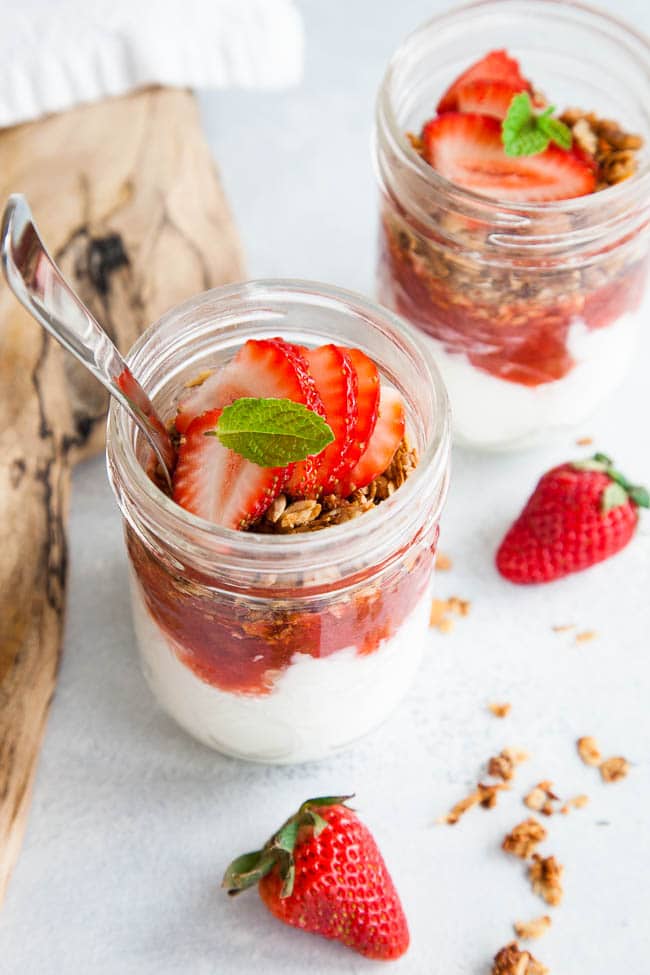 Let me know if you make these Stewed Strawberry Rhubarb Yogurt Parfaits by leaving a comment or a rating!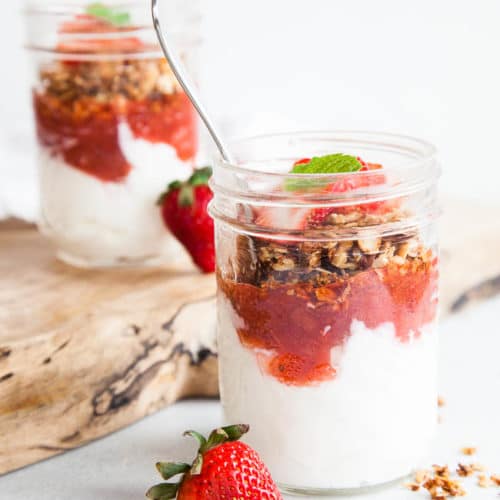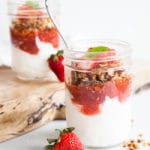 Stewed Strawberry Rhubarb Yogurt Parfaits
Breakfast parfaits with homemade strawberry rhubarb compote layered with Greek yogurt and granola. Recipe yields up to 6 half-pint mason jar servings - perfect for meal prepping!
Keyword:
mason jar, parfait, stewed rhubarb, strawberry rhubarb, yogurt jar
Ingredients
For the strawberry rhubarb sauce
2

cups

rhubarb, chopped

1

cup

strawberries, chopped

1/4

cup

honey

1

tbsp

lemon juice
To assemble
plain Greek yogurt

granola

sliced fruit, if desired
Instructions
Make the strawberry rhubarb sauce
In a medium-size pot, add chopped rhubarb, chopped strawberries, honey, and lemon juice. Bring to a simmer over low heat.

Simmer for 15 minutes, until fruit breaks down and becomes soft, and the sauce thickens.

Remove from heat and pour into a glass jar or large measuring cup. Cover with saran wrap and chill for at least 1 hour.
Assemble the parfait jars
Pull out desired number of half-pint (8 oz) mason jars. (Recipe will yield up to 6 mason jar servings.)

In each mason jar, add a large spoonful of Greek yogurt. On top, drizzle approx 1/4 cup of strawberry rhubarb sauce. Then sprinkle with granola and sliced fruit, if desired.

If you're eating your parfaits right away, enjoy! If not, screw on mason jar lids and take to go!

Any leftover strawberry rhubarb sauce will keep in the fridge for up to one week.
Recipe Notes
Recipe yields approx 1 1/2 cups of strawberry rhubarb sauce, which can make up to 6 half-pint mason jars (assuming you use 1/4 cup of sauce per jar). 
Other uses for the strawberry rhubarb sauce: spread it on toast, spoon it over ice cream, or mix it into a cocktail! The sauce will keep refrigerated for up to one week.