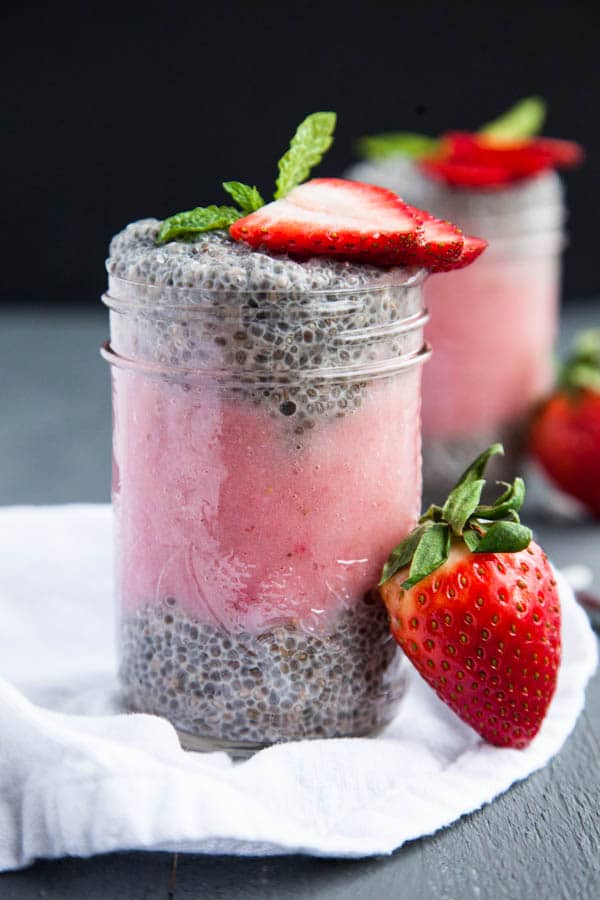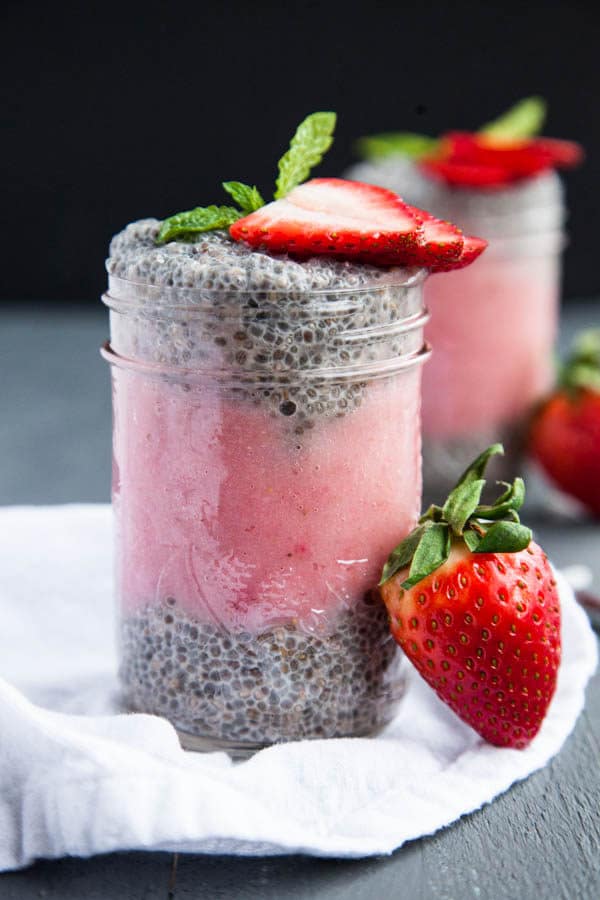 Mason jar breakfasts may be my favourite thing. I'm always that girl at work, toting around my mason jar breakfast and my mason jar smoothie. #Basic much?
But seriously. Mason jars are so cute and fun and therefore mason jar breakfasts are in my permanent rotation. My absolute favs:
Today I'm comin 'atcha with another mason jar breakfast: Strawberry Chia Pudding Parfait.
This breakfast is similar to a yogurt and granola breakfast, but it's dairy-free and so much healthier! Layers of thick Greek-style Vanilla Chia Pudding are layered with pureed strawberry and banana, all topped with fresh strawberry slices (and crunchy granola if you like!)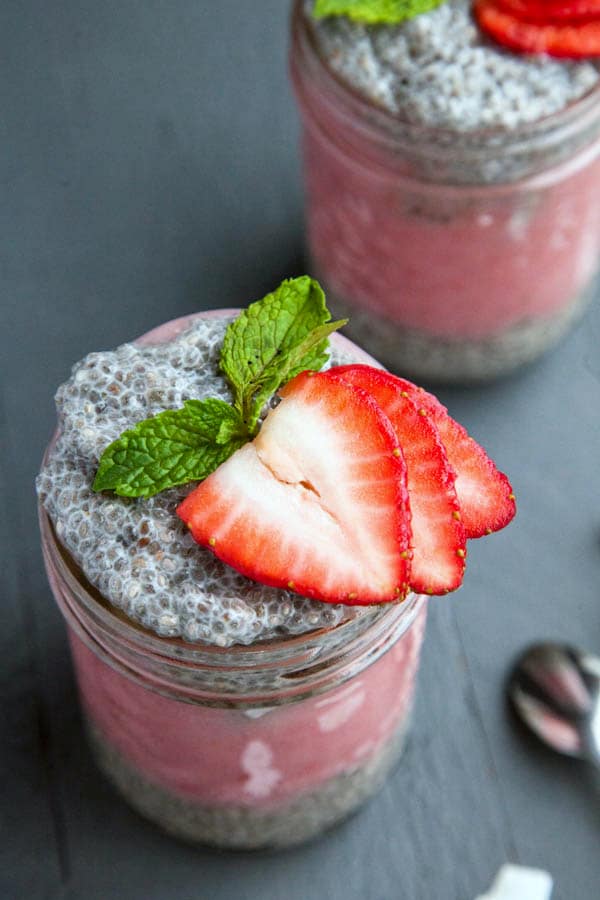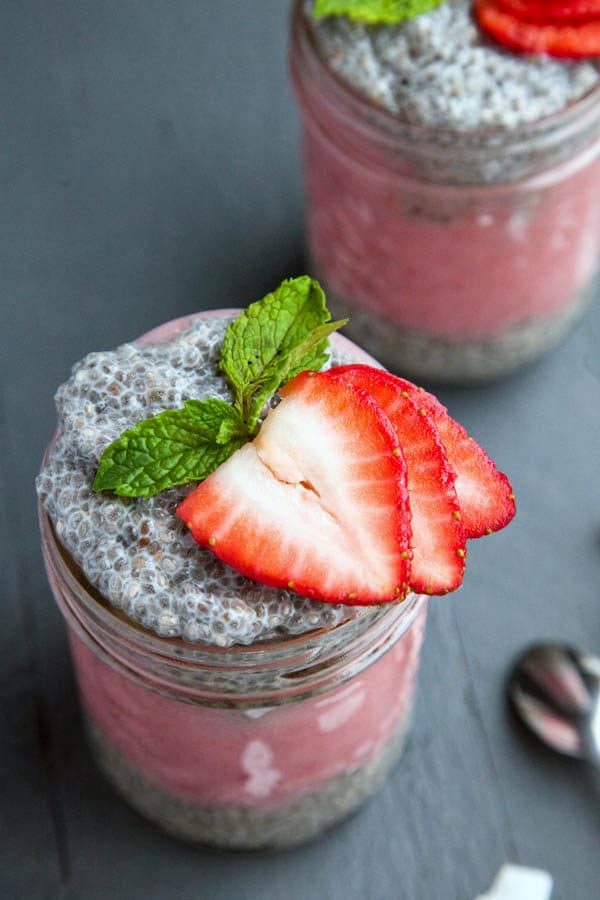 This recipe makes two mason jar Strawberry Chia Pudding Parfaits, perfect for make-ahead breakfasts to stash in your fridge, or give the extra one to your hubby if you're feeling generous.
Although you may have to save this tastiness all for yourself 😉
So does anyone else find that it's such a chore to make photo books online? Don't get me wrong, it's a chore that I LOVE, but it always seems to take WAY longer than I anticipate, and at the end I'm just slapping photos all over the place to get it finished.
Maybe I'm feeling this way because I'm drowning in many half-made (to put it very generously) photo books. I've been meaning to create one with all our wedding photos (from last August….) and I want to create one for all of our Italy honeymoon photos, but it's just felt like such an insurmountable task!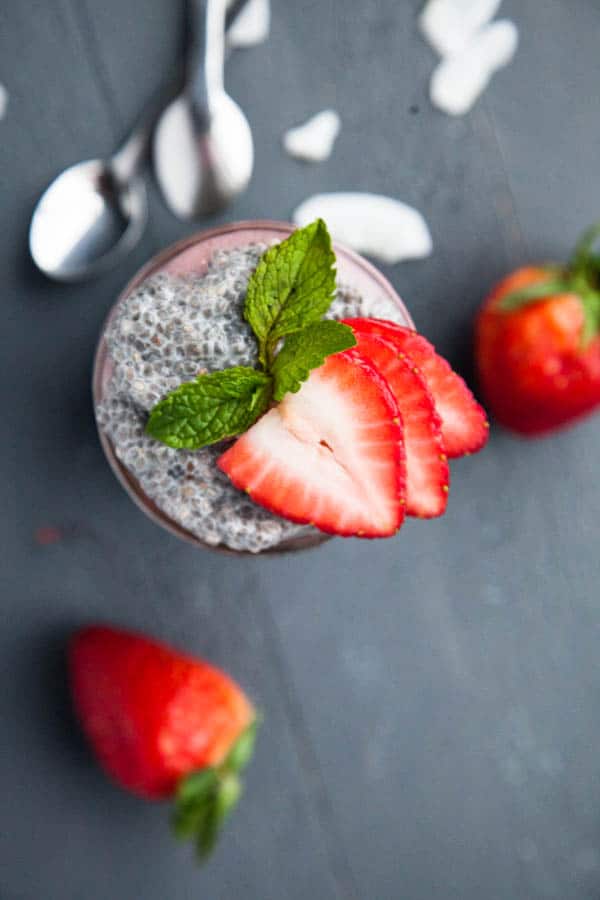 I FINALLY finished sorting through my honeymoon photos and chose and edited my selects this weekend. Now to create the actual photobook!
What are your favourite sites to create photobooks? Any tips to make this project go faster?!
I'm good at creating fast breakfasts but definitely under-perform in the fast photobook realm…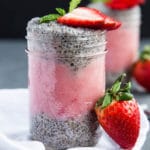 Strawberry Chia Pudding Parfait
Layers of thick Greek-style Chia Pudding are layered with Strawberry Banana Smoothie and topped with fresh strawberry slices. Recipe yields two half-pint mason jars.
Keyword:
breakfast, chia pudding, chia seed, mason jar, parfait
Ingredients
For the Greek-style chia pudding layer:
3/4

cup

almond or regular milk

4

tablespoons

chia seeds

1/2

teaspoon

vanilla

1

teaspoon

maple syrup
For the strawberry puree layer:
1

banana

1

cup

strawberries, hulled and quartered

1/4

almond or regular milk

sliced strawberries, to garnish

granola to garnish

(optional)
Instructions
First, make a thick chia pudding. You'll want to make this ahead of time, at least 2 hours or the night before. In a half-pint (8oz) mason jar, stir together the milk chia seeds, vanilla, and maple syrup. Set mason jar in the fridge to set for at least 2 hours.

After chia pudding is set, blend together the strawberry smoothie layer. Add bananas, strawberries, and milk into a blender, and blend on high until smooth.

To assemble the parfaits, fill two half-pint (8oz) mason jars with a quarter of the chia pudding each, then half of the strawberry puree each, then the last quarters of the chia pudding.

Garnish with sliced strawberries and granola, if desired.