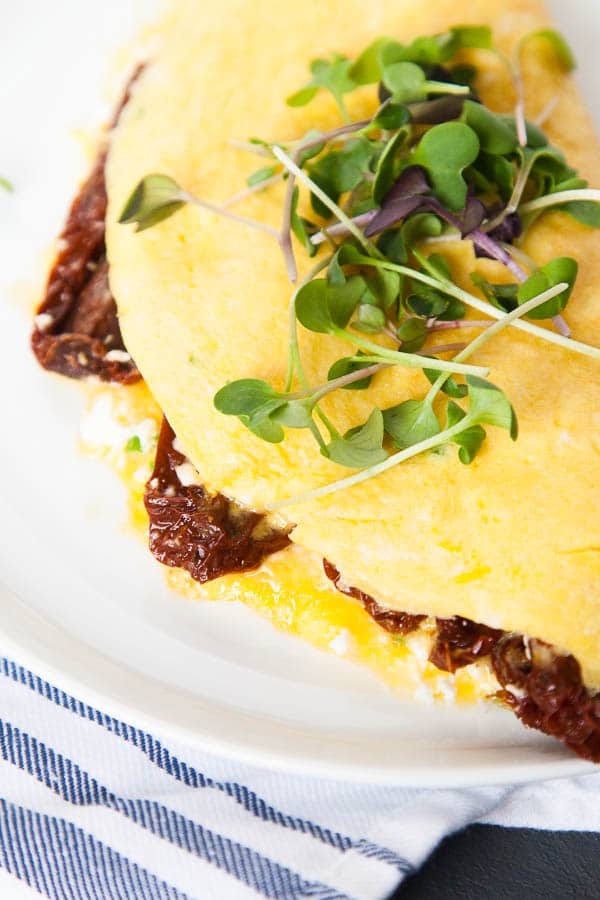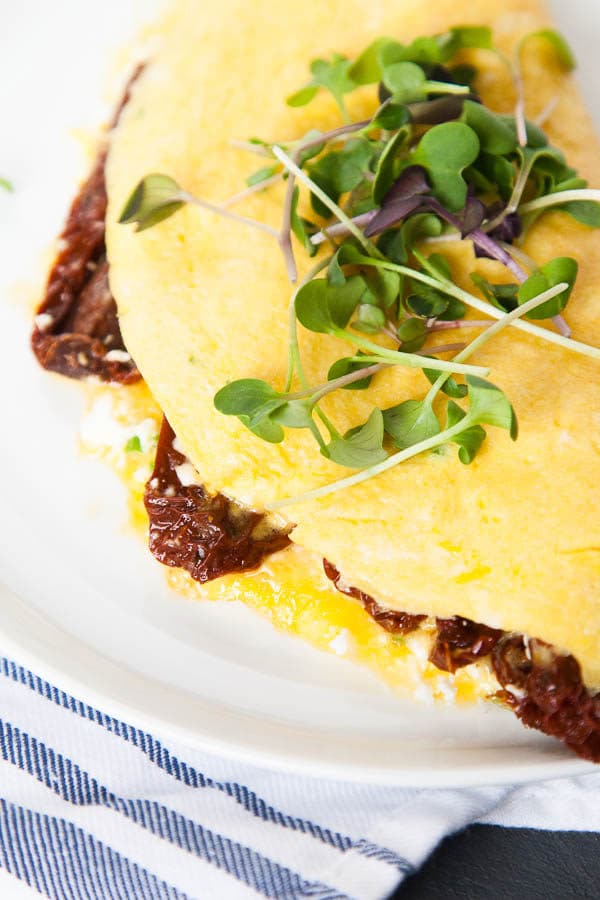 An omelette is the perfect breakfast for dinner food. Just about anything in your pantry or refrigerator will make a beautiful omelette filling – they are that versatile! Omelettes are also quick, filling, and rounded out with a fresh green salad, they make the perfect dinner. Or breakfast. Or brunch.
In this Sundried Tomato and Goat Cheese omelette, I've paired bold, flavourful whole sundried tomatoes with crumbles of creamy goat cheese. The eggs are seasoned with finely chopped chives, and the whole omelette is garnished with fresh radish sprouts.
That's a whole lotta delicousness – makes me want to climb in and wrap the omelette around myself like a giant sleeping bag.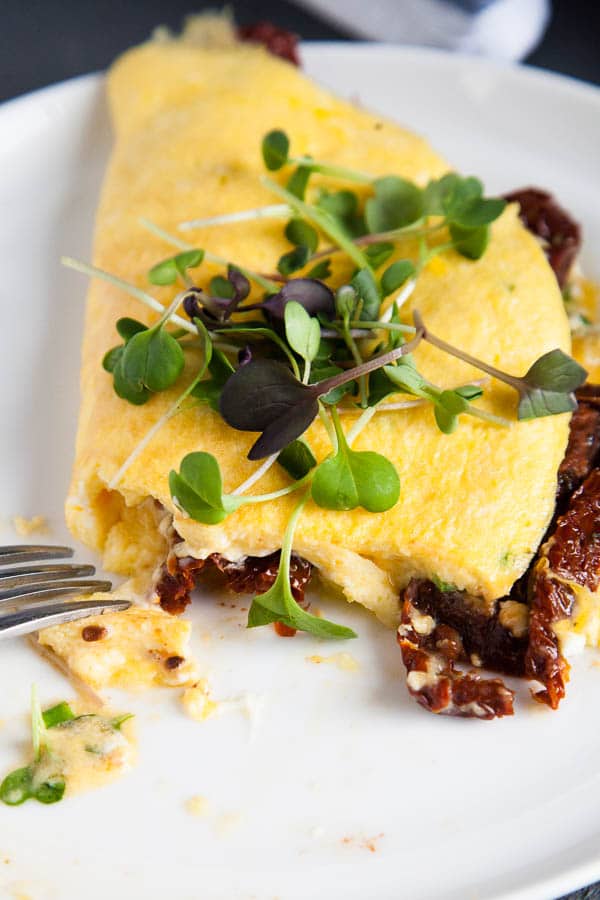 I could eat sundried tomatoes forever, who's with me?! We buy ours from this amazing Italian deli down the street where a giant tub only costs a few dollars. It's the best. I have a habit of eating them straight out of the tub! Make sure to drain the sundried tomatoes of most of their oil before using, otherwise you will have a seriously oily omelette.
Now let's talk omlette tips! A good omelette is soft and custard-like, and golden on the outside, not brown. Making an omelette is simple, but making a great omelette requires a little bit of finesse.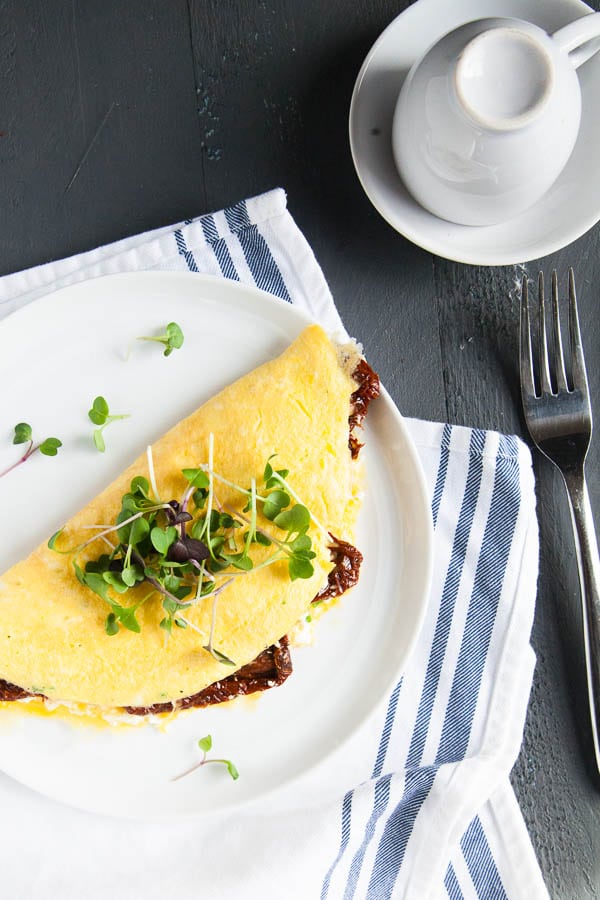 To make a great Sundried Tomato and Goat Cheese omelette:
Heat your pan with butter instead of olive oil! Not only does butter keep the omelette from sticking, it also adds flavour to the eggs, so use good unsalted butter.
Make sure all of your filling ingredients are prepped ahead of time. Omelettes cook quickly!
To prevent an ugly brown omelette, you need to do a lot of stirring once the eggs are added into the pan. This is very important!
You'll know the omelette is ready to flip when you lift a small corner and see that it's holding together.
Serve immediately!
Now… ready, set, omelette time!
Just look at all that deliciousness that wants in your belly.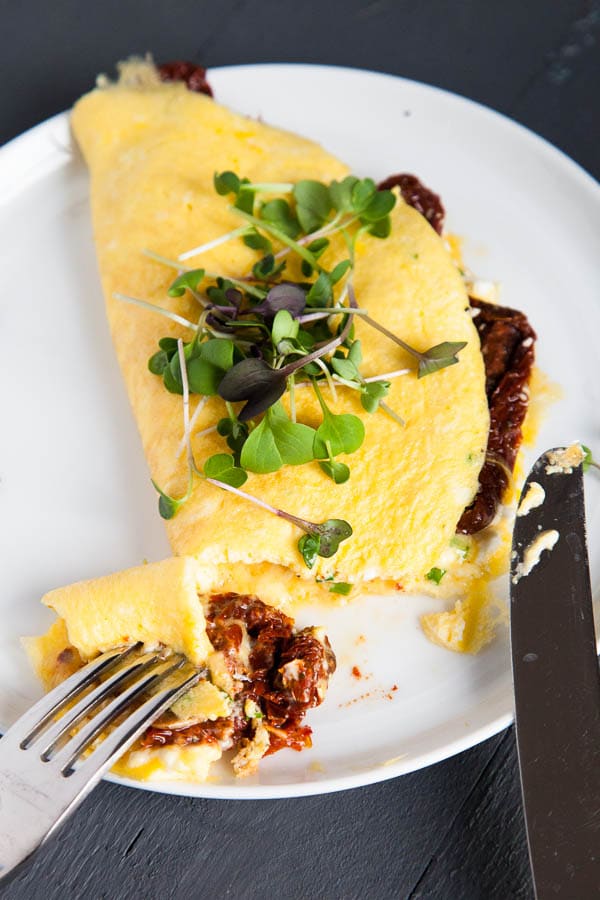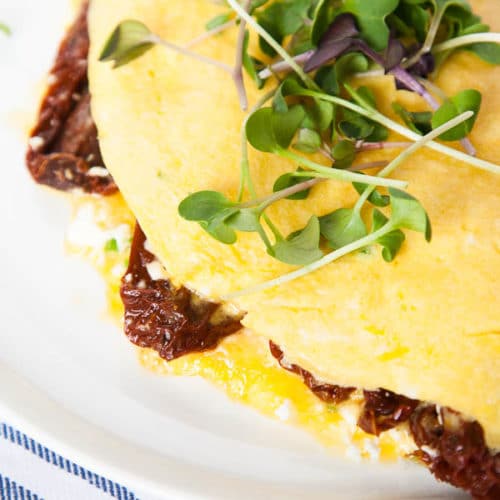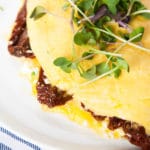 Sundried Tomato and Goat Cheese Omelette
In this Sundried Tomato and Goat Cheese omelette, I've paired bold, flavourful whole sundried tomatoes with crumbles of creamy goat cheese. Makes a hearty breakfast for dinner.
Keyword:
breakfast for dinner, eggs, goat cheese, omelette, sundried tomato
Ingredients
2

large eggs

1

teaspoon

chopped chives

1

teaspoon

butter

for melting

4-5

sundried tomatoes

(I use jarred sundried tomatoes in oil - either chopped or whole)

goat cheese, crumbled

radish sprouts, to garnish

(optional)
Instructions
In a bowl, whisk together eggs and chopped chives. Make sure all other ingredients are prepped as omelette will come together quickly!

Heat an 8" nonstick skillet over medium-low. Melt butter until small bubbles appear. Add egg mixture and stir vigorously with a rubber spatula, shaking pan constantly (this is so the eggs don't turn an ugly brown!) When the eggs begin to set, about 2 minutes, stop stirring and reduce heat to lowest setting.

Scatter sundried tomatoes and crumbled goat cheese over half of the egg. Cover and cook for about 2 minutes. Turn off heat and set sit 1 minute more.

Lift a small portion of the egg to make sure it's holding together. Then, use spatula to loosen edges, fold omelette in half, and transfer to a plate.

Garnish with radish sprouts.
Recipe Notes
Recipe yields 1 omlette which serves 1 person. To serve 2, you will require double the ingredients and will repeat the entire process to make an additional omelette.