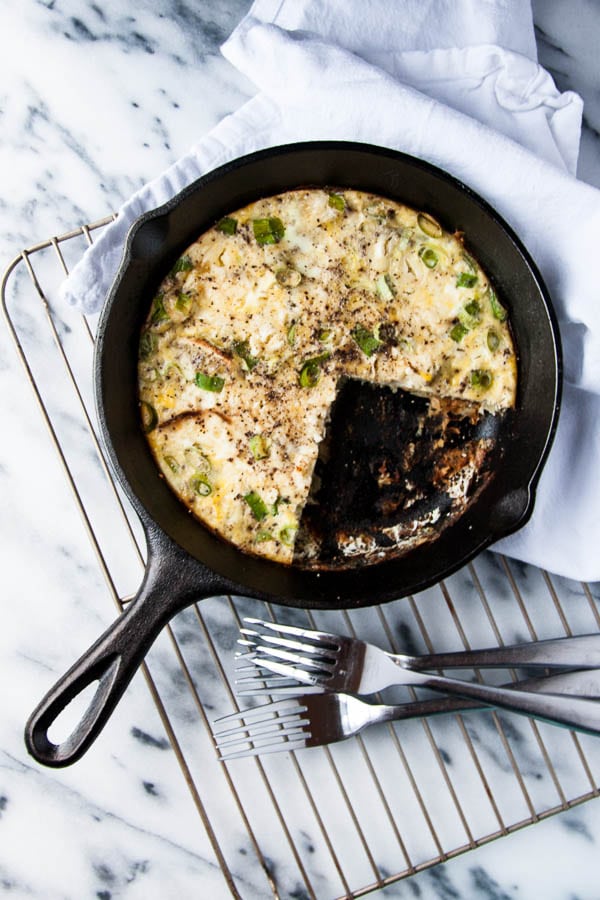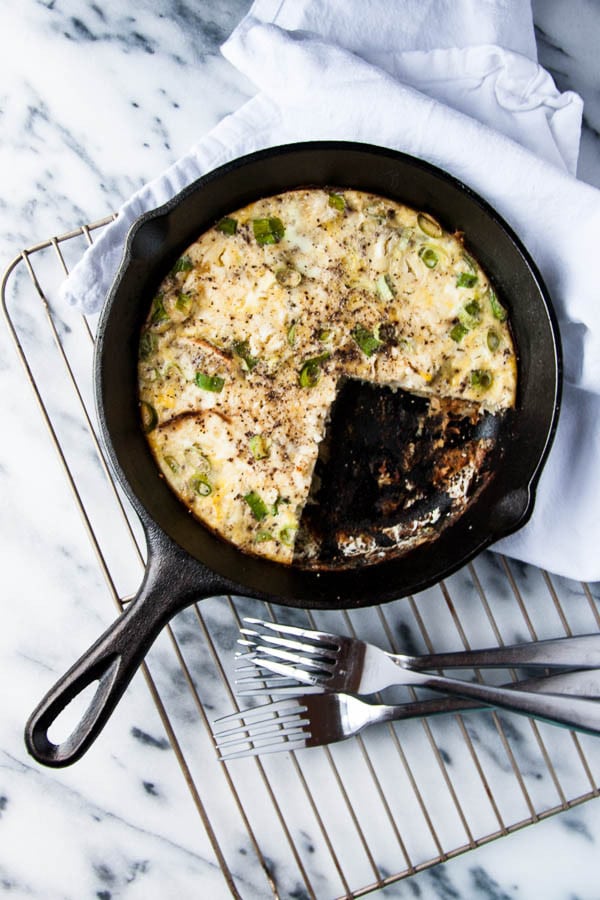 Frittatas are one of my go-to weekend breakfast dishes when I'm feeling a little fancy. They're also a great dish to serve for a brunch party (love those!) because you literally just throw the dish in the oven and then cut and serve – which means more time with your brunch guests! 
But, on a regular old Sunday when I'm not having a brunch party, I like to throw together a Sweet Potato Feta Frittata and spend the time it's baking sipping my mug of coffee and catching up on the blogs I follow.
Lazy mornings are absolutely the best.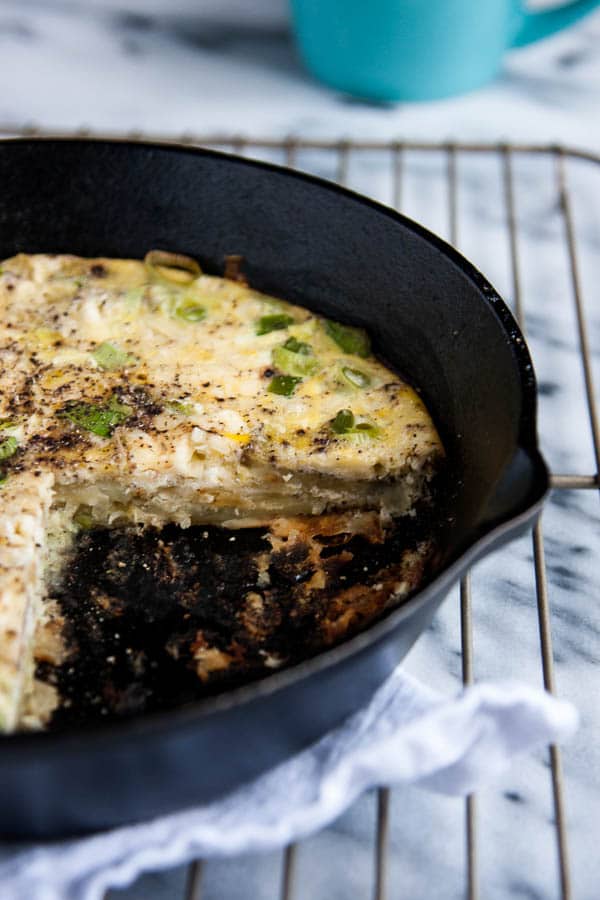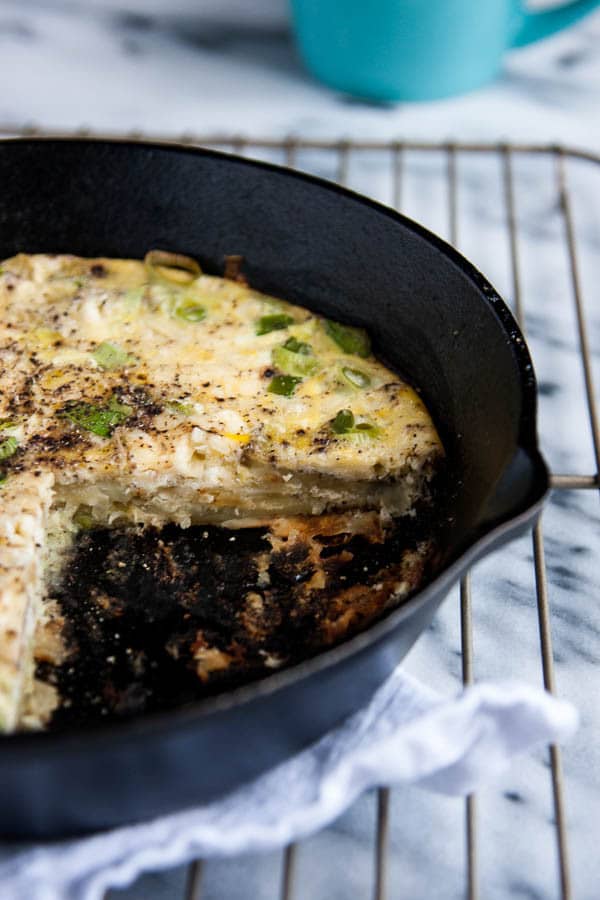 Frittatas are hard to mess up and endlessly customizable – throw some veggies in a cast iron skillet, dump in the egg mixture, and you're good to bake.
The key is that your veggies need to already be cooked before you throw your frittata in the oven.
Here, I've used sweet potato, which are thinly sliced and quickly baked before the eggs are added. (I'm addicted to sweet potato, but you could use regular potatoes, if you prefer.) I've also added Feta cheese and green onion – their salty and tangy flavours pair well with the sweetness of the sweet potato.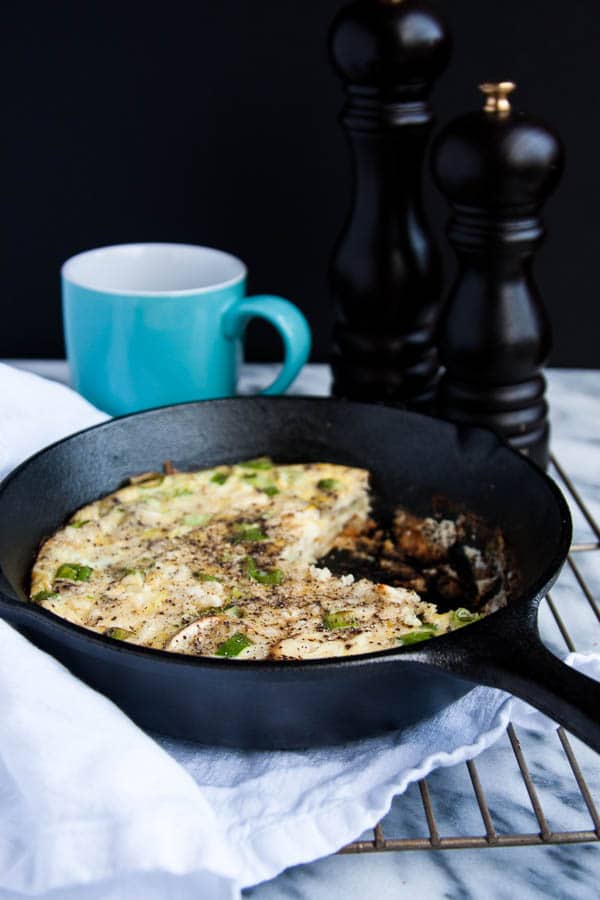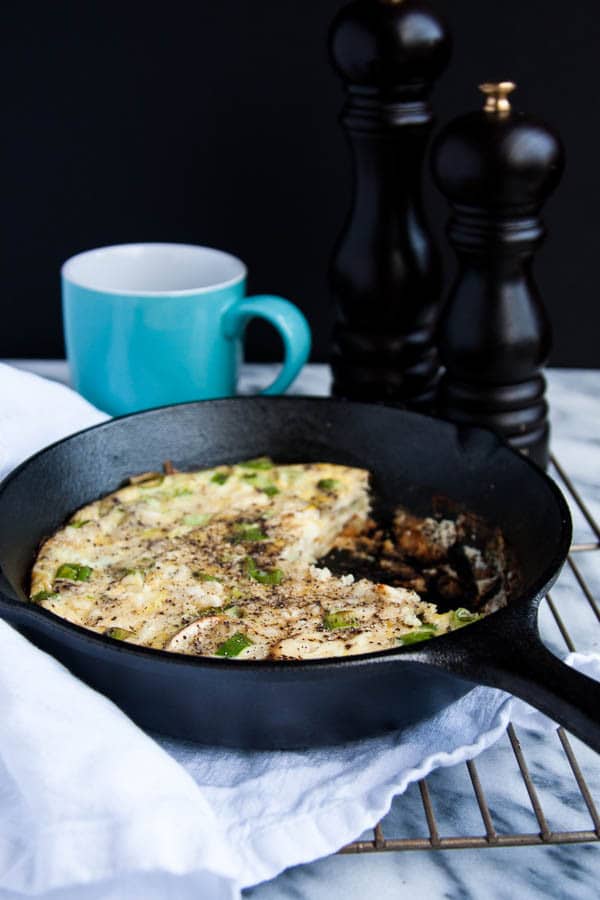 It's the last day of November today guys! I can hardly believe it.
Tomorrow, J will officially allow me to listen to Christmas carols, and I plan to blast them LOUD! I have already started writing my Christmas cards (yes I mail out holiday cards and I love it!) and made my first batch of Homemade Eggnog.
Let the Christmas season begin!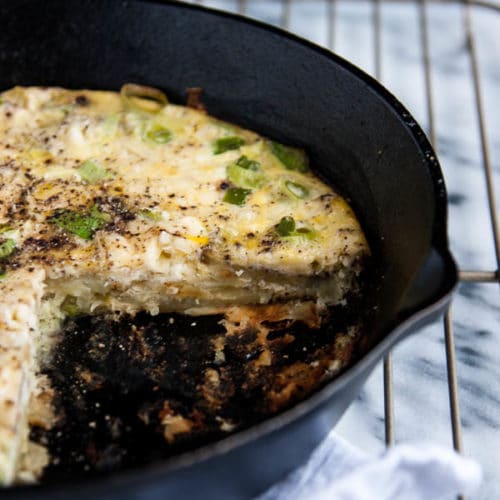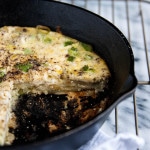 Sweet Potato Frittata
A frittata is a baked egg dish that is endlessly customizable. Bake this one in an 8" cast iron skillet to serve 4 people, depending on their hunger!
Ingredients
2

tablespoons

olive oil

1

medium sweet potato

freshly ground salt and pepper

1

green onion,

sliced

1/2

cup

crumbled Feta cheese

3

large eggs

1

tablespoon

milk or cream
Instructions
Preheat your oven to 400 degrees F.

Coat a 8" cast iron skillet (or other similar size oven-safe baking dish) with olive oil.

Peel and thinly slice the sweet potato. Arrange sweet potato slices in the skillet, overlapping them. Sprinkle with freshly ground salt and pepper. Roast for 20-30 mins, or until sweet potatoes are mostly cooked.

Remove skillet from oven and let cool for a few minutes. Sprinkle baked sweet potatoes with sliced green onion and feta cheese.

In a small bowl, whisk together the eggs and milk/cream. Pour into skillet. Grind more salt and pepper on top.

Cover skillet with foil, and bake for 20 minutes. Remove foil and bake for an additional 10 minutes, or until frittata is puffed at the edges and set in the centre.

Cut into 4 wedges and serve from the skillet.