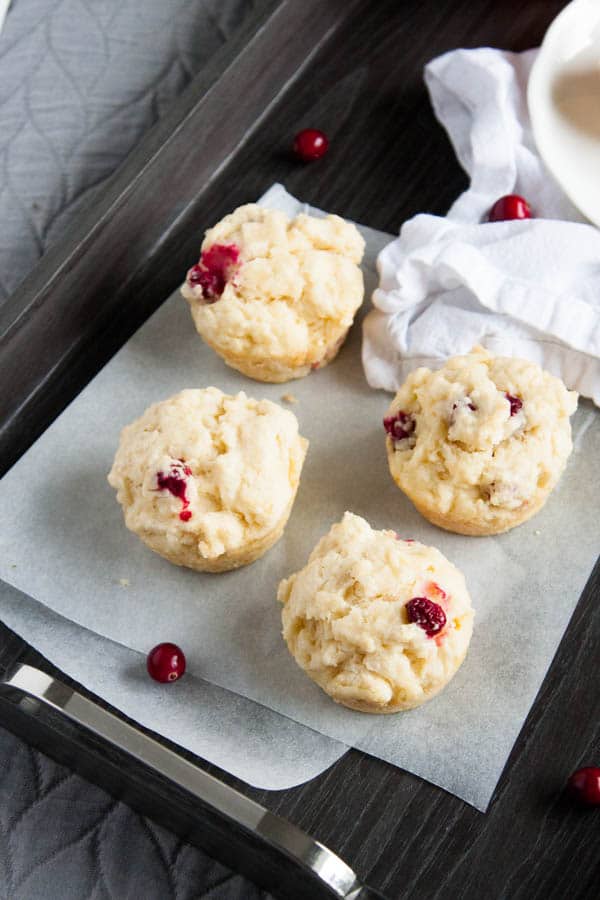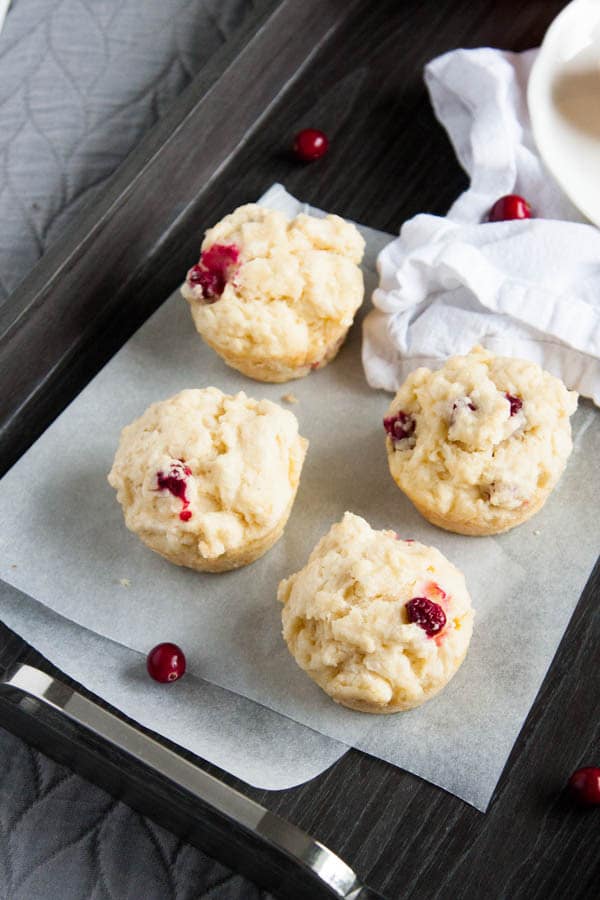 What's a scuffin, you ask? Well, scone + muffin = scuffin!
A scuffin is essentially a scone baked in a muffin pan, therefore retaining its crumbly texture, and often they are fruit or jam filled. Scuffins were invented in San Francisco, of course, the birthplace of Toast, and numerous other food trends.
These Tart Cranberry Scuffins are a simple scone/muffin recipe – and not jam filled (although I think that would be highly delectable, so if you modify this recipe, let me know how it goes!)
I used fresh tart cranberries, so these scuffins are not very sweet – definitely more of a scone than a muffin, and definitely a great vehicle for slathering with warm butter and homemade jam.
(And psssst, I still need to go get myself some Toast the next time I'm in San Francisco – any recommendations for the best SF Toast?!)
Tart Cranberry Scuffins
What's a scuffin, you ask? A hybrid of a muffin and a scone - a yummy morning treat! This recipe is made with tart cranberries and is not very sweet - they are great slathered with homemade jam!
Ingredients
1

egg

lightly beaten

1

cup

cream or milk

3

cups

all-purpose flour

2

tablespoons

granulated sugar

1

tablespoon

baking powder

1/4

teaspoon

salt

1/2

cup

unsalted butter

1/2

cup

fresh cranberries
Instructions
Preheat oven to 350 degrees F and grease or line a dozen muffin cups with paper liners.

In a small bowl, combine the egg and cream and set aside.

In a large bowl, stir together flour, sugar, baking powder, and salt. Cut in butter with a pastry cutter or two knives, until the butter is in pea-sized pieces. Stir in the cranberries.

From your milk/egg mixture, scoop out 2 tablespoons to reserve for brushing the tops of the scuffins. Set aside.

Make a well in the centre of the dry ingredients and add the milk/egg mixture (except for the reserved 2 tablespoons). Using a fork, stir until just moistened.

Scoop batter into muffin tins, filling each half full. Brush each scuffin with the reserved 2 tablespoons milk/egg mixture.

Bake for 20-25 minutes, or until tops are lightly golden. Cool in muffin tray on a wire rack.

Serve warm with butter and homemade jam.
Recipe Notes
Scuffins are best served warm on the day they are baked.