Print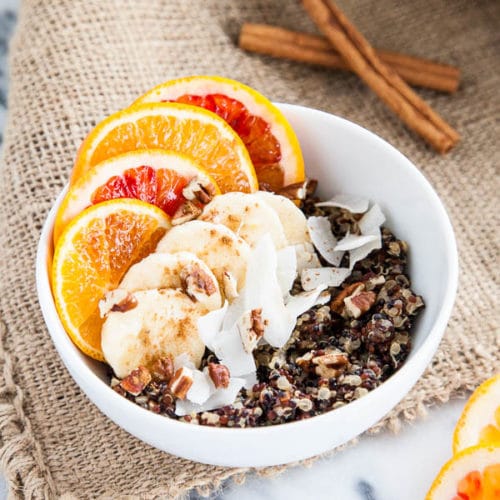 Breakfast Quinoa Bowls with Vanilla and Cinnamon
Quinoa is not just for dinner - try it for breakfast with these hearty, nutritious breakfast quinoa bowls, swirled with vanilla, cinnamon, and creamy milk.
1/2

cup

quinoa

1/2

cup

water

1/2

cup

milk

(can use almond/cashew/coconut milk)

1/2

teaspoon

vanilla

1

teaspoon

maple syrup

(increase to 1 tablespoon for more sweetness)

1

teaspoon

cinnamon
Measure out quinoa and put into a fine-mesh strainer. Rinse under tap water for a few minutes, tossing and swirling the quinoa with your hand. (Rinsing the quinoa prevents it from tasting bitter.) Drain completely.

Add rinsed quinoa to a small saucepan, then add water, milk, vanilla, maple syrup, and cinnamon. Turn on heat to medium-high, and bring quinoa to a boil.

Reduce heat to a simmer, and cover the saucepan. Simmer, covered, for 15 minutes.

Remove from heat and let stand, covered, for a further 5 minutes.

Remove the lid and fluff with a fork. Portion into bowls and add a splash more milk, additional maple syrup, sliced banana, pecans, or any of your favourite fruits or nuts.
Recipe yields approximately 2-3 portions. To serve 4-5, just double the recipe.