Print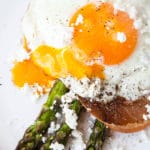 Roasted Asparagus with Prosciutto and Fried Eggs
This Roasted Asparagus with Prosciutto and Fried Eggs breakfast comes together quickly on a sheet pan to celebrate Spring flavours - easy peasy!
Preheat oven to 400F.

Wash asparagus and trim the bottom woody ends (approx 1/3 of the stalk). Place asparagus stalks on one end of a sheet plan, drizzle with olive oil, and rotate so each stalk is evenly covered. Roast asparagus in the oven for 5 mins.

After 5 mins, remove sheet pan, and add 2 slices of prosciutto to the empty end (alternatively, use another sheet pan). Place sheet pan back into the oven for another 5 mins.

While you are waiting, fry two eggs until whites are set and yolks are still runny.

Remove sheet pan from oven and assemble plates. Stack each plate with half the asparagus, then a slice of crispy prosciutto, then a fried egg, then crumbles of goat cheese. Garnish with freshly ground salt and pepper.

Serve warm.