Print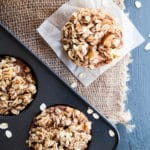 Baked Apple Cinnamon Oatmeal Cups
Apple Cinnamon Oatmeal is prepared in muffin cups to take to go!
Preheat oven to 350 F.

In a large bowl, stir together the oats, baking powder, cinnamon, and nutmeg.

In a separate small bowl, whisk together the eggs, milk, coconut oil, and maple syrup. Pour the liquid ingredients into the oats mixture and stir well to combine. Add the apple and stir again.

Spoon into 12 greased muffin cups.

Bake for 20 minutes, or until lightly browned at the edges and dry in the middle.